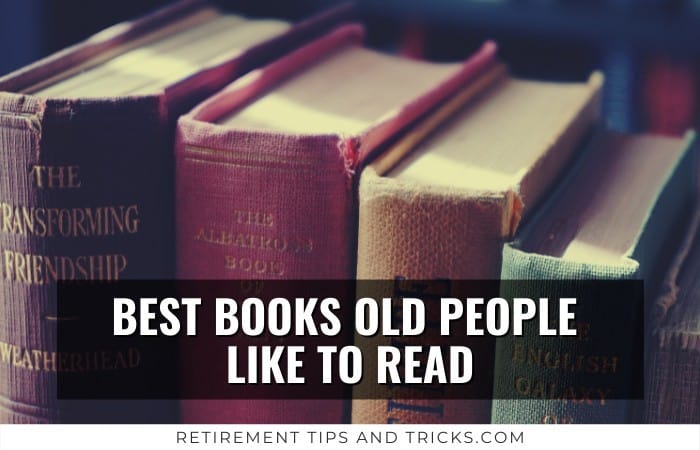 If you wonder, what kind of books do old people like to read? Then you've come to the right place because I've listed 25 of the best books older people like to read in this article. From #1 New York Times Best-sellers, classics to lesser-known must-reads. But first, let's get to the most straightforward answer:
Old people (75+-year-olds) like to read more nonfiction books than fiction books, according to the NEA . Men are more likely to read non-fiction than fiction, while women are likely to read more fiction than non-fiction. Another research shows that 65+-year-olds spent the most time reading for personal interest (an average of 1 hour and 47 minutes a day).
Now because everyone's tastes, interests, and likes are different, I've made things easy for you and made an amazing list with 25 great books in all genres. This way you can find the perfect book for that older person that loves to read books.
Just a heads up, this post contains affiliate links. As an Amazon Associate I earn from qualifying purchases. Purchases you make through these links may earn us a small commission, at no extra cost to you.
Classics
1) To Kill A Mockingbird – Harper Lee
The classic book To Kill A Mocking Bird is a Pulitzer Prize-winning masterpiece written by Harper Lee. It is a young girl's coming-of-age story about honor, love, prejudice, racism, and injustice in Alabama in the mid-1930s.
When it first came out in the 60s it was an instant success. It was voted one of the best novels of the 20th century by librarians across the country.
2) The Great Gatsby – F. Scott Fitzgerald
The Great Gatsby book is an F. Scott Fitzgerald classic novel that is widely considered to be a literary masterpiece and a contender for the title of the Great American Novel. And made into a movie in 2013 starring Leonardo DiCaprio.
The story is a book about modernism, social satire, and the tragic story about the impossibility of recapturing the past. It is set in the Jazz Age in the 1920s in New York City and Long Island and tells the story of the self-made millionaire Jay Gatsby and his love pursuit of Daisy Buchanan who he loved in his youth.
3) The Old Man and The Sea – Ernest Hemingway
The Old Man And The Sea is one of the most-read books of Nobel Prize Awarded Autor Ernest Hemingway and can be read in a single setting.
It is an unforgettable story about an aged Cuban fisherman, Santiago, who set out to sea in search of one last victory and is tested to his limits when he catches a huge marlin that is longer than his boat. He returns empty-handed.
4) Beloved – Toni Morrison
The book Beloved is also a Pulitzer Prize winner and New York Times Best-Seller and a story about the life of a black woman named Sethe in her pre-Civil War days. She was born a slave in Kentucky and escaped to Ohio in the 1870s. She doesn't feel free, because she feels haunted by an abusive ghost at her new house. That everyone believes to be the spirit of her dead daughter, who died namelessly and whose tombstone is engraved with the word: Beloved.
Non-Fiction
5) Travels with Charley in Search of America – John Steinbeck
Travels with Charley in Search of America is a travelogue by John Steinbeck, published in 1962 and a New York Times Best-Seller. At age 58, John wanted to travel through his country to find answers about what the real Americans of his day were like. He made a nearly ten thousand miles road trip in a camper named Rocinante and together with his poodle, Charley. He started in Long Island, New York and drove to California, and looped back to New York. Steinbeck writes about the sight, the locals, and the socio-economic situation at each place he stopped.
6) Diary of a Young Girl – Anne Frank
The Diary of a Young Girl Anne Frank has become a world classic. It is a real testament to the human spirit during world war 2 in Europe.
The young Jewish girl Anne Frank went hiding in Amsterdam together with her family during the occupation of Holland during the second world war. They hide from the Gestapo in a "Secret Annex" of an old office building that is now a famous museum. In her diary, she writes vividly about her experiences during this period while facing hunger, boredom, the cruelties of living in a small room with many other people, and the ever-present threat of getting betrayed and discovered.
7) Man's Search for Meaning – Viktor E. Frankl
The Man's Search For Meaning is an international best-seller and has been translated into more than fifty languages and sold over sixteen million copies worldwide since it has published in 1946.
An inspiring book that helps the reader in finding their purpose and strength in times of great despair. The writer tells about his time in the Nazi concentration camps and how he finds the meaning of life in the most horrific period of his life. His theory is that the human drive is not pleasure but the discovery and search for whatever a person finds meaningful.
Fiction
8) A Man Called Ove – Fredrik Backman
The book A Man Called Ove is a treasure and popular read amongst many seniors. A New York Times bestseller and widely considered as Most Charming Debut Book of over-night sensation Swedish writer Fredrik Backman.
The story is about a grumpy 59-year-old man called Ove and is written in a subtle-but-heartwarming style. When his life is turned upside down when a young family moves in next door, he is very reluctant to get to know his "needy" neighbors or any other human being that doesn't obey the sign that restricts parking in the residential area. The book is about love, friendship, compassion, grief, and the importance of being surrounded by a community and friends in times of dealing with loss.
9) Where The Crawdads Sing – Delia Owens
The book Where The Crawdads Sing is a #1 New York Times bestseller and a Reese Witherspoon x Hello Sunshine book club pick. It has sold over 12 million copies worldwide and gets over 200.000 5-star ratings on Amazon. A perfect pick for anyone but especially for an older woman or older man, because the story takes place in the late 1960s.
It is a coming-of-age story about heartbreak, hope, crime, drama, and an ode to the natural world. The story is about 'Marsh Girl', Kya Clark, a sensitive and intelligent woman that survived for years alone in the marsh that she calls home. And after years of rumors about her in the North Carolina town, of Barkley Cove, she becomes an immediate suspect when handsome Chase Andrews is found dead.
10) The Nightingale – Kristin Hannah
Another #1 New York Times bestseller is the novel The Nightingale, which tells the seldom-seen history of the women's war during WWII. The book is about survival, bravery, fear, courage, freedom, heartbreak, and love in a time of war. But most of all the novel celebrates the resilience of the human spirit and especially that of women.
It tells the story of two sisters who have been separated by years, ideals, passions, and circumstances but have always been close despite their differences. As the war progresses in a German-occupied, war-torn France their relationship and strength get tested. And each of them has to embark on her own dangerous path toward survival, love, and freedom.
A perfect pick for an older woman who is part of a book club as this book provokes thought and discussions long after they finish listening.
11) The 100-Year-Old Man Who Climbed Out the Window and Disappeared – Jonas Jonasson
I gave this book to my 80+ years old grandparents and they loved it.
The 100-Year-Old Man Who Climbed Out the Window and Disappeared is the first book of a series of 2 and a European phenomenon. It tells the charming and funny story of Allan Karlsson. A 99-year-old who has moved into a nursing home, but climbs out the window when he doesn't want to be part of the big 100th birthday celebration they have planned for him. And then a remarkable journey begins that reveals his past but also involves a suitcase full of cash, a few thugs, a very friendly hot-dog stand operator, a few deaths, an elephant, and incompetent police.
Humor / Delightful Treats
12) The Little Old Lady Who Broke All the Rules (Trilogy) – Catharina Ingelman-Sundberg
Another amazing book pick for an older person is the humorous and heartwarming book The Little Old Lady Who Broke All the Rules. It tells the story of 79-year-old Martha Andersson, that loves to break all the rules and has no intention to spend all her days sitting in a chair. Instead, she dreams about escaping her care home and robbing a bank to get funds for a more exciting kind of life. And so together with her four oldest friends, she decides to rebel against all rules and go on an adventure outside the walls of their nursing home.
This book is a #1 International Bestseller and part of a series of 3 books that are called the League of Pensioners.
13) All Creatures Great and Small – James Herriot
All Creatures Great and Small & Small is a multi-million bestseller from James Herriot, the world's most beloved veterinarian, and the realities of his practice in rural Yorkshire. An older person who loves animals will love this book about the heartwarming, funny, and tragic stories of James Herriot's animal patients. A book about the never-ending challenges of being a vet told with humor, compassion, and where love for the animal world shines through.
14) The Secret Diary of Hendrik Groen – Hendrik Groen
A fan of the books The Little Old Lady Who Broke All the Rules and The 100-Year-Old Man Who Climbed Out the Window and Disappeared will also love this book: The Secret Diary of Hendrik Groen. A trilogy book series about friendship, love, and an 83-year-old elderly man who is young at heart. An inspiring and laugh-out-loud comedy book that is a perfect gift for any older person.
Hendrik Groen lives in a retirement home but is bored of weak tea and sitting looking at the geraniums and decides to rebel. He secretly writes the day-to-day life in his retirement home and founds the Old-But-Not-Dead Club with a group of old friends who turn into local heroes while enjoying their new adventures.
Adventure
15) Life of Pi – Yann Martel
The book Life of Pi tells the story of Pi, a young man and son of a Zookeeper who survives a shipwreck and spends months on a lifeboat with a large Bengal tiger named Richard Parker. In addition to the tiger onboard, Pi faces other challenges such as the lack of food and water, predatory marine life, treacherous sea currents, and exposure to the elements. Even though he fears Richard Parker, the tiger's presence also helps Pi to stay alive. Everything changes when they finally reach the coast of Mexico after spending 227 days lost at sea and when Richard Parker flees to the jungle.
16) The Three Musketeers – Alexandre Dumas
The Three Musketeers tells the story of the early adventures of the young Gascon gentleman, D'Artagnan, and his three musketeers – Athos, Porthos, and Aramis. The four men defend the honor of the regiment fight against the devious schemes of Cardinal Richelieu. Set in the 17th century in France the story is about daring, friendship, intrigues, swordplay, and revenge. A fast-paced narrative with a gripping and dramatic conclusion.
Detective / Mystery
17) The Adventures Of Sherlock Holmes
A detective classic is of course The Adventures Of Sherlock Holmes and also a perfect read for an older person who is a fan of mystery, crime, and detective novels.
Together with his sidekick Dr. Watson, Sherlock Holmes uses his powers in pursuit of justice and truth in Victorian London. In this book, he tries to solve the mystery of a greedy stepfather, Dr. Roylott, who kills one of his two stepdaughters and then attempts to kill the other.
18) And Then There Were None – Agatha Christie
And Then There Were None is based on one of the most famous murder mysteries of all time and the best mystery novel ever written by many readers.
It is a story of ten strangers who have little in common but all hide and fear something. They're lured to an island mansion on Indian island by U.N. Owen who fails to appear but uses his voice to accuse each person of hiding a guilty secret. One by one, the guests share the darkest secrets of their pasts. And one by one, they die… so the question is… who is the killer? And will anyone survive?
Romance
19) The Wish – Nicholas Sparks
From the author of The Notebook comes a #1 New York Times bestselling love story called The Wish. And is a perfect fit for a 70+, 80+, or 90+-year-old woman who loves a good romance story.
It tells the story of Maggie Dawes in the last year of her life. She is a famous travel photographer and is unexpectedly grounded over Christmas because she has been diagnosed with terminal cancer. When a young man Mark visits her gallery, she becomes very close to him and begins to reflect on her life and tells him the story of another Christmas, deceased ago. And the teenage love that changed her life she never could have imagined.
20) Pride and Prejudice – Jane Austen
Pride And Prejudice is the ultimate "happily ever after" love story and Jane Austen's most popular novel. It has become the establishment for romance novels and is nominated as one of America's best-loved novels by PBS's The Great American Read.
The story tells about the unforgettable relationship where opposites repel than attract. Elizabeth Bennet, the daughter of a country gentleman who is a witty and independent spirit, meets eligible bachelor Fitzwilliam Darcy, a rich aristocratic landowner who she feels is sullen and arrogant. Both have to overcome pride and prejudice in order to fall in love and marry.
Historical Fiction
21) The Help – Kathryn Stockett
The Help is a #1 New York Times bestselling novel and nominee as one of America's best-loved novels by PBS's The Great American Read. And was also the basis for the Academy Award-winning film.
The story is set in the early 1960s in Jackson, Mississippi, and tells the story of black maids working in white Southern homes. As 22- year old Miss Eugenia also known as "Skeeter" graduates from Ole Miss and returns to her family's cotton plantation and finds out that her beloved maid and nanny, Constantine, has left and no one will tell her why.
22) One Hundred Years of Solitude – Gabriel Garcia Marquez
One Hundred Years of Solitude is considered to be a masterpiece in the art of fiction and is written by Gabriel Garcia Marquez, winner of the Nobel Prize in Literature.
It tells the story of the seven generations of the Buendía family and the postcolonial times from the 1820s and 1920s. The rise and fall of the Buendía family, the founders of the Colombian utopian town Macondo thas, was built in the middle of a swamp.
According to a New York Times book review from William Kennedy; "One Hundred Years of Solitude is the first piece of literature since the Book of Genesis that should be required reading for the entire human race. . . . Mr. Garcia Marquez has done nothing less than to create in the reader a sense of all that is profound, meaningful, and meaningless in life."
Thriller
23) The Last Thing He Told Me – Laura Dave
The Last Thing He Told Me is a Reese Witherspoon Book Club pick, a #1 New York Times Bestseller, the best book of 2021 by Vogue, and many more best books nominations. An absolute winner for an older man or woman who loves to read thrillers with dizzying plot twists.
It is a thrilling story about a woman Hannah who thinks she has married the love of her life until he disappears and she finds a note: protect her. Even though she is anxious, she knows exactly who she needs to protect: her 16-year old stepdaughter, Bailey, who wants absolutely nothing to do with her.
Science Fiction
24) The Handmaid's Tale – Margaret Atwood 
The Handmaid's Tale is a #1 New York Times bestseller and also an award-winning Hulu series starring Elizabeth Moss.
It is the story of life in the dystopia of Gilead set in Cambridge, Massachusetts. A totalitarian society that is faced with environmental disasters and a plummeting birth rate. And has forced a class of fertile women to be the "handmaids" and produce babies for elite couples. These women are denied all rights and reduced to state property,
Set in Cambridge, Massachusetts, The Handmaid's Tale presents a totalitarian theocracy that has forced a certain class of fertile women to produce babies for elite barren couples. These "handmaids," who are denied all rights and are severely beaten if they are uncooperative, are reduced to state property. Offred is one of these "Handmaids" that is forced to produce children for one of Gilead's commanders. She is deprived of her husband, her child, her freedom, and even her own name, Offred clings to her memories and her will to survive.
Childhood
25) Charlotte's Web – E. B White
For a little bit of nostalgia you can always go for a child classic and America's top 100 most-loved novels Charlotte's Web.
​Small books are sometimes hard to read for seniors, but there are large print books also available which you can check out here.