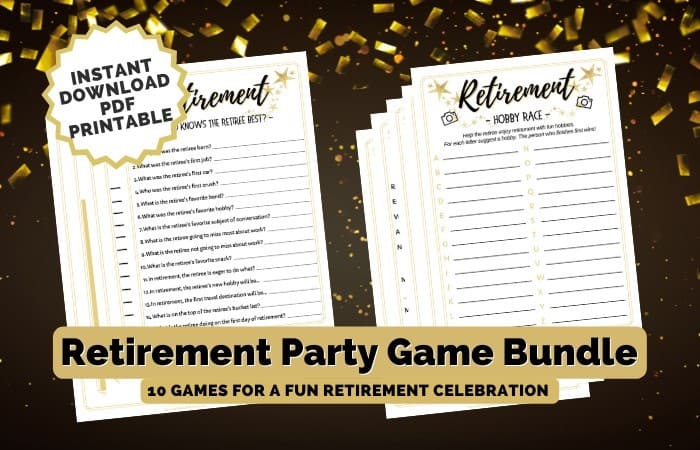 – Do You Want To Make A Retirement Party A Lot Of Fun?
– Do You Want To Honor The Retiree In A Unique Way?
Download The Retirement Party Game Bundle!
Only $15
After years of organizing many retirement parties, researching, and writing articles about (celebrating) retirement, I discovered the secret to a retirement party success: and that is… fun party games!
So that is why I have created a printable Retirement Party Game Bundle with 10 amazing party games.
This games bundle is the perfect addition to any retirement celebration. It creates laughs, tears, and special moments. And the best part is: you don't have to do anything!
Well, almost… You only have to click download, press print, and you're ready to play (within minutes from now)!
Why?
When it comes to any celebration in life: it is not about how big or extravagant it is.
It is about the experience that produces a positive feeling.
What party do you remember most?
Probably the one that made you feel awesome, excited, emotional (in a good way), and had a lot of fun.
The trick for a fun retirement celebration is to create memorable moments and fun experiences everyone enjoys.
A game is a great icebreaker and will make guests happier and more entertained. It creates positive energy and funny moments which will be the reason why guests won't forget this retirement party soon.
And most importantly the retiree feels honored in the most enjoyable and memorable way. It makes any celebration (big or small) special and unique. Something reminisce about for a long long time…
Only $15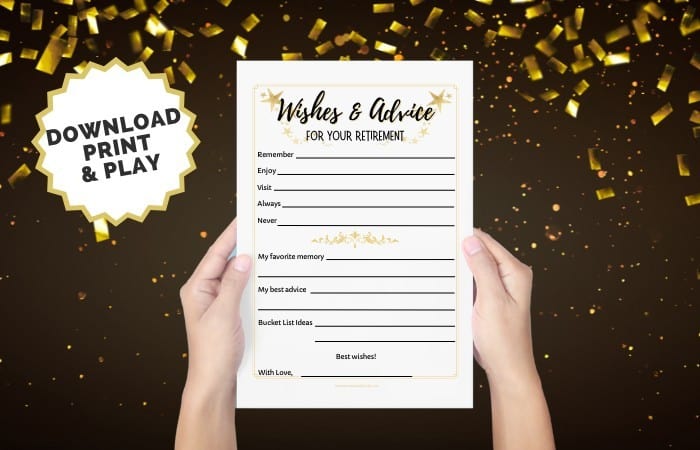 What Is Included?
10 Fun Games:
Who Knows The Retiree Best?
Happy Retirement Around The World (including answers)
Tips To Have Fun For Retirement
Would Retiree Rather…
Wishes and Advice For Retirement
Guess Me!
Photo Scavenger Hunt
Never or Ever
Retirement Hobby Race
Find The Guest Bingo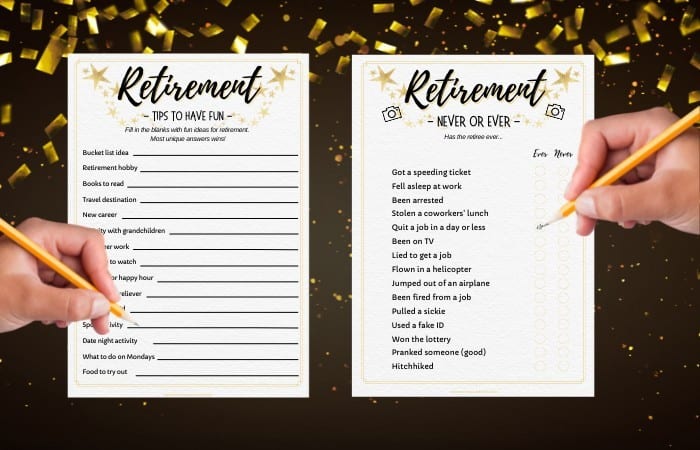 Only $15
How Does It Work?
This retirement party games bundle is an instant download. Within minutes of your order and payment, you'll receive an email with a download link. Download the PDF files and print out the games and you're ready to have fun.
You receive 2 PDF files: 1 file with 1 game per page and 1 file with 2 games per page so you can save a bit of paper.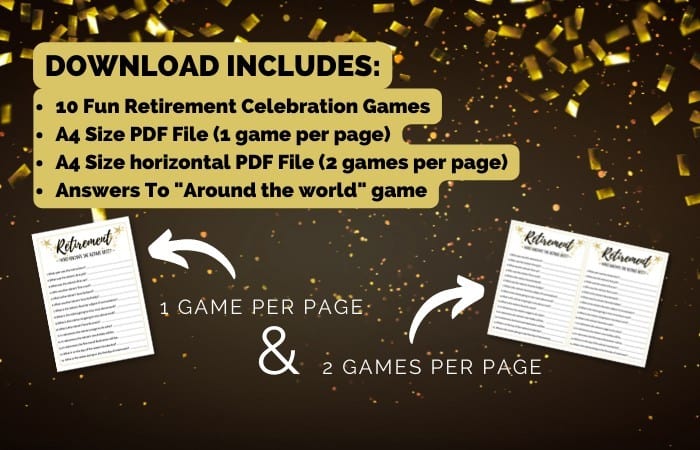 Only $15
*** Please note: this is a digital product. No physical items will be shipped to you.***