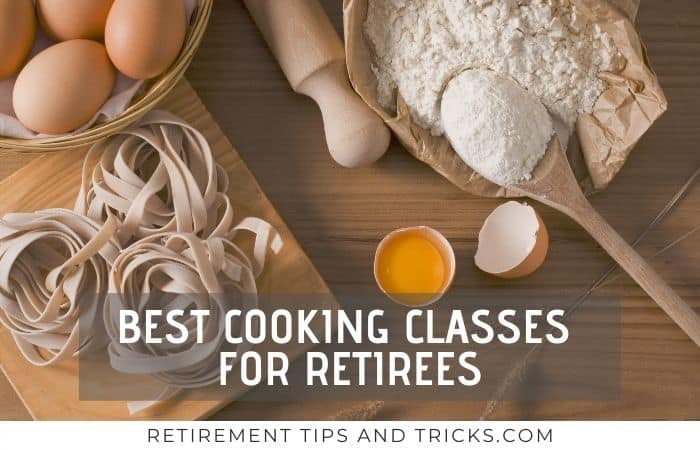 In retirement, you want to enjoy good food. Perhaps you're a great cook, and you want to learn some new skills and recipes. Or you don't know how to cook but love to learn as a new retirement hobby. And you might wonder: what are the best cooking classes for retirees? No need to look further.
I've listed the 15 best cooking classes for seniors and retirees in this article. So, are you ready to learn from the world's best chefs? Continue reading!
Purchases you make through some links in this article may earn us a small commission, at no extra cost to you.
1) Gordon Ramsay Cooking Class
What better way to learn how to cook in retirement than from a seven-star Michelin chef? Yes, it's possible, you can follow an online cooking class from celebrity-chef Gordon Ramsay from the comforts of your own home. 
He gives you a Masterclass from his home kitchen and teaches you all aspects of cooking in 20 different videos. And don't worry he doesn't get angry or calls you out in this class ;). He passionately teaches you how to make his favorite dishes: poached eggs, scrambled eggs, chicken Supreme, salmon with shellfish, lobster ravioli, and beef wellington.   
Besides recipes, he teaches you the basics of cooking, knife skills, preparing fish and chicken in the best way, and how to roll pasta. And master ingredients such as vegetables & herbs, fish, beef, lamb, and pork.
This Masterclass from Gordon Ramsay is a great cooking class for any skill level. It's a great introduction to cooking and a fun cooking class for retirees that want to perfect and elevate their cooking skills. Make sure to watch the trailer of this cooking class here to get more info. 
When you apply for this cooking class on the streaming platform Masterclass, you can follow 15 different cooking classes from world-renowned and celebrity chefs and other classes from the world's greatest in their field—all for one price. You'll have unlimited access to an endless amount of masterclasses taught by the best in the world—a great way to enjoy yourself in retirement. 
2) Gabriela Cámara Mexican Cooking Class
Do you like Mexican food? You can follow an online cooking class from Gabriela Cámara – the star of modern Mexican cuisine.
The chef from the famous restaurant Contramar shares her skills, secrets, and richness of Mexican culture with step-by-step recipes. She teaches you how to make tuna tostadas, tacos al pastor, roasted fish, salsa, tortillas, quesadillas, and other Mexican favorites.
It's a great class for everybody and anybody interested in the art of food. It's mouth-watering even to watch the trailer. So, check it out.
The cooking class contains 13 different video lessons where each video is focused on a new Mexican dish. You can view the lesson plans and a sample of a video lesson;
3) Aaron Franklin Texas-Style BBQ Class
Always wanted to learn how to make the perfect brisket? Now that you have more time in retirement, why not?!
Follow the Texas- Style BBQ Class from Aaron Franklin, one of the most influential pitmasters in the USA, and you won't be disappointed.
Aaron Franklin started grilling as a hobby, but now he owns his popular restaurant, Franklin Barbecue, where crowds stand in line for hours to taste his delicious brisket. And in his Texas-Style BBQ Class on Masterclass, you can learn how he makes that famous brisket and become a true pitmaster yourself.
In this class, he teaches you how to handle an offset smoker, build and maintain fires and make mouth-watering ribs, pork butt, steak, and brisket from start to finish. You'll learn about the low and slow process, perfectly seasoned cuts, and optimal temperatures. He gets into detail and shows you all the ropes to become a BBQ Genius in retirement. Want to know more? Check out the lesson plan and trailer here.
4) Massimo Bottura Italian Cooking Class
If you can't travel to Italy in retirement, get a taste of Italy with an Italian cooking class from world-renowned chef Massimo Bottura.
Massimo Bottura is a three-Michelin-star chef. He runs one of the world's best restaurants: Osteria Francescana, based in Modena, Italy. And he is famous for turning regional classic Italian recipes into exciting modern dishes.
He teaches you how to make delicious tagliatelle al ragù, pesto, pumpkin risotto, tortellini, and Emilia Burger. This cooking class is a great culinary adventure for your retirement days. And you can watch a demonstration of this cooking class here.
5) Alice Waters The Art of Home Cooking Class
If you want to cook more organically in retirement, follow the online Cooking Class from Alice Waters. She teaches you the art of home cooking and shows you how to pick seasonal ingredients, create healthy and beautiful meals. Probably one of the best ways to live a happy and healthy retired life.
Alice Waters started the farm-to-table revolution in America. She earned the James Beard Award for Outstanding Chef when she founded the iconic restaurant Chez Panisse, which uses local and organic ingredients. And you can learn from her in her first-ever online cooking class.
In 17 lessons, Alice Waters teaches you how to buy ingredients from a farmers market, how to prepare vegetables in three ways: roasted, steamed, and raw. She shows what her kitchen essentials are and how to make the Chez Panisse famous desert and ravioli. Watch the trailer and a video lesson sample here to get more information about this cooking class.
6) Thomas Keller Cooking Techniques Class
Do you want to elevate your cooking skills in retirement and want to be a better chef? Follow the Cooking Techniques Class from Thomas Keller. 
He has won more Michelin stars than any chef in America. He is also the founder of famous restaurants: The French Laundry and Per Se that serves classic French cuisine. And one of the best teachers that can teach you how to cook and perfect your cooking skills.
In his online cooking class, he teaches you how to make awesome food with techniques such as blanching, glazing, braising, roasting, puréeing, confiting, and pasta making. You'll learn how to confit vegetables, poach perfect eggs, make hand-shaped pasta, and shares his kitchen essential tools and set-up. Check out his 36 lesson plan and trailer;
7) Wolfgang Puck Cooking Class
Follow the 4-hour online cooking class of Wolfgang Puck and learn how to master starters, mains, sides, cocktails, and how to create recipes of your own. 
Wolfgang Puck became famous with his flagship restaurant, Spago, in West Hollywood on the Sunset Strip, where he served the first-ever smoked salmon pizza because they ran out of bagels. Now he is a five-time James Beard Award-winning chef and wants to share his skills, stories, and secrets with you in his online cooking class on Masterclass.
You'll learn how to make tuna sashimi, veal stock, and Demi-Glace, pepper steak with red wine sauce, farro salad, Béchamel sauce, seafood gazpacho, and so many more recipes. Check out his cooking class video trailer here;
8) Dominique Ansel French Pastry Class
Do you have a sweet tooth?
The French Pastry Class from Dominique Ansel' world best pastry chef' and creator of the Cronut® is a great cooking class for you. 
He is famous for his innovative twists on classic desserts. In his MasterClass, he teaches you the fundamentals and essential techniques of French pastry. You'll learn how to make your own desserts but also how to make classic pastries such as mini Madeleines, fruit tart, chocolate cake, bonbon, the perfect croissant, and the story of the Cronut®.
A great cooking class to learn new skills, a fun activity to do in retirement, and a great way to delight your friends and family all wrapped into one.
9) Yotam Ottolenghi Modern Middle Eastern Cooking Class
Are you in love with hummus and Middle Eastern Cuisine?
You can follow an online cooking class from Yotam Ottolenghi, one of the most influential chefs working today.
In 26 video lessons, Yotam Ottolenghi teaches you in simple steps how to make hummus, labneh, roasted eggplant salad, mezze, brunch spreads, Mafalda pasta, confit garlic oil, dukkah, and so many more Middle Eastern-inspired recipes.
When you apply for Masterclass annual membership, you get access to all 90+ classes plus the following features;
Audio-only lessons
Download and watch offline
PDF workbooks for every class
Watch on your desktop, phone, or TV
New classes added every month
10) The Kitchn Cooking School
When you're interested in a full program and learn the ins and outs of cooking in retirement, you can follow an online cooking course on The Kitchn. And the best part is it's free.
You can become a confident chef with their 20 days, 20 lessons cooking journey. These cooking lessons are crash courses that anyone can practice with a lot of time or little time during the week. Each day they cover a new topic, and you have the opportunity to socialize with other classmates through the Kitchn's, Facebook group, Instagram, and Twitter accounts.
If you're a busy retiree and want to know how to cook great meals quickly. The Kitchn Cooking School is a great choice. Check out more about them here.
11) BBC Food Mini Cooking Lessons
When you're looking for specific recipes, cooking tips, or techniques in retirement, you can check out BBC food. You can look up anything on their website. How to boil an egg, roast a chicken, make pancakes, and anything in between for preparing fruit, vegetables, meat, poultry, and desserts.
They have free mini cooking instruction videos on specific recipes on their website. Most of these videos are one-minute long. So it's great when you're in a hurry. Each one comes with detailed information, which equipment to use, and tips to succeed.
The downside is that it's UK measurements. So you'll have some math conversions to do before cooking.
12) Ron Finley Gardening Class
Are you interested in growing your own food in retirement so you can make delicious meals with home-grown fruit and vegetables?
Make sure to check out "gangster gardener" Ron Finley's gardening class on Masterclass. He teaches you how to grow your own food and when to harvest them, from greens, legumes to sweet potatoes and herbs. He shows you how to keep your plants alive and how-to gardening, no matter the size of your garden. Your meals will taste a lot better when it's from your own garden.
13) Community Colleges & Senior Center Cooking Classes
A great place to check out cooking classes is at your local senior center. Or check out a community college near you and see what kind of classes they have to offer. It's a great way to socialize and meet other like-minded retirees in your area.
You can type in at Google: "community cooking class near me" or "senior center near me" and see what pops up. Contact them and ask about the possibilities.
14) Top Chef University
With the Top Chef University app, you can learn how to cook like a Top Chef.
You can learn professional cooking techniques and food preparation methods from your favorite contestants of Bravo's hit show Top Chef.
When you download the app on your tablet, Ipad or iPhone and sign up, you'll have access to more than 200 free video lessons and recipes. In total, there are 60 hours of video for you to watch. It's divided into different courses: global cuisine, entertaining, stock and soups, all about vegetables, eggs, and dairy, etc.
The videos are between 10 to 20 minutes long, so you learn how to prepare a dish within a matter of minutes. Download the app here.
15) Udemy Cooking Classes
Udemy is an online learning and teaching marketplace with over 130000 courses and 35 million students. You can follow a variety of cooking courses taught by instructors around the country.
You can use filters to find the best culinary course for you. For example, you can browse specific cooking techniques you want to master, a certain type of cuisine you're interested in, or the cooking skill level. After you've filtered, you will get a selection of instructors you can choose from. The bios and ratings are visible, so you can check them out before signing up for a cooking class.
The courses on Udemy come with lifetime access and a 30-day money-back guarantee. And the prices range between $10 – $25.
Recommended Articles
If you liked this article, you might want to read the following articles: