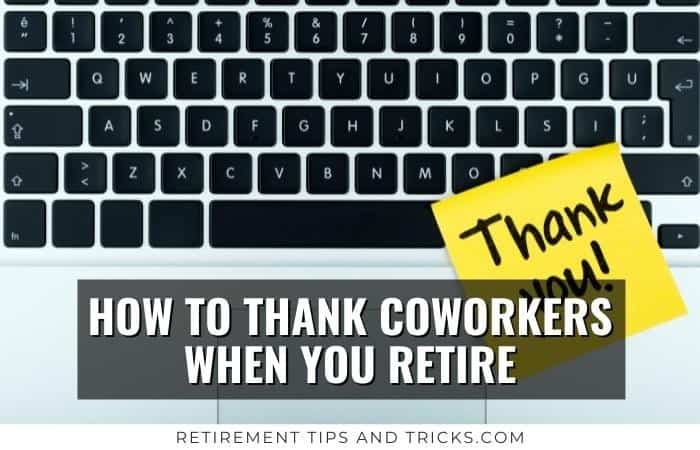 You're retiring and you loved working with your coworkers and that is why you would like to do something for your coworkers to say thank you. And that is why you might wonder, how do you thank your coworkers when you retire? Well, no need to look further, I've listed 11 fun ideas in this article to help you out. Let's get started!


---
1) Send A Thank You Card
Sending a thank you card is a great way to show thanks to your coworkers. Especially if it's handwritten and includes details of your personal relationship. The more personal the better the card. And there are multiple opportunities for you to send a thank you card. Below are a couple of examples:
Hand out thank you cards on your last day of work
Hand out thank you cards during one of your last meetings
Send thank you cards after your retirement party
Send thank you cards after receiving a retirement gift
Send thank you cards a little later in retirement after everything sank in and you have time to perfect your words of gratitude.
One is more time-consuming than the other. Collecting addresses can take up a long time, but receiving a personal thank you card at home is priceless. It is what you prefer. The timing doesn't matter. A thank you card will always be well received.
Now, what to write in a thank you card? I've got some examples below that you can use as inspiration:
Dear (name), thank you for all the amazing years of working together. It was a true pleasure working with you every day. I get a smile on my face every time I think of our moments of fun, laughter, and delicious lunches. You're one of the biggest reasons why I loved going to work. And that is why I want to say thank you. Thank you for being you and making my last working years a fun ride. All the best, (your name)
Dear (name) Thank you for making me feel special at my retirement party with your wishes and amazing gift. I've already used it. Guess you know me very well. Thank you from the bottom of my heart.
I loved working with you! Thanks for the amazing memories. Good luck with your already successful career.  
Here is a pack of beautiful thank you cards including envelopes you can send to your coworkers.
2) Give A Gift
Another great thing to do is to show thanks is to give coworkers a gift. This can be the same gift for all coworkers as a joke or sign of appreciation. Or a gift for only the closest coworkers. Or even both.
Perhaps you share the same hobby or interests with a close coworker and you want to give them a gift in that direction as a sign of gratitude. Or gift them a gift box with all their favorites. Anything is possible. And here are some amazing gift ideas:
Thank You Gift Basket
You're Awesome Tumbler
Funny Coffee Mug
3) Send A Thank You Letter
When love to write letters you can consider writing personal thank you letters to coworkers. This is a great idea when you have built a strong relationship with one or multiple of your coworkers over the past years. It will be very much appreciated. And putting thought and eventually your words on paper helps you reflect on the past and process your feelings towards your upcoming retirement. It will make your transition into retirement more smooth.
4) Record A Video
It's the time for binge-watching series, uploading videos on Social Media, and sending happy birthday videos to loved ones all around. So why not record a video to say thank you to your coworkers? This can be a funny video or a video on a more serious note. That is up to you.
If you're not comfortable with public speaking and you would like to avoid giving a retirement speech, you can consider recording a video and showing this to people at your retirement party instead of giving a speech. Or you can record separate videos for each coworker you want to thank and send them via email or messaging after you officially retire.
You can record a "talking head" video where you talk to the camera to say thank you. Or you can do all sorts of other things such as singing a song, doing a dance, creating a blockbuster movie trailer that says Thank You at the end, recording a funny typical office sketch, or making a montage of amazing pictures of all coworkers from the past years and end the video with a thank you.
The advantage of recording a video is that you can do it over and over again until you're satisfied with the result. And the difference with a letter or thank you card is that people see your emotions so the message and the words you say are much more impactful. And the receiver is able to watch it over and over again.
5) Hand Out Thank You (Cup) Cake/ Cookies
A very sweet way to say thank you is with delicious (cup) cake or cookies with the words Thank You on top. You can hand them out on your last day and create an opportunity to say goodbye on your own terms.
Thank You Cookies
Thank You Cup Cake Topper
6) Organize A Party
A party is also a great way to say thank you to coworkers. You can invite all or some of your coworkers to your retirement party (at home) as a thank you. Or organize a different party and call it a Thank You party. And invite coworkers for a lunch, dinner, back yard pool party. You can express your gratitude with delicious snacks and drinks and enjoy each other's company.
7) Give Out Thank You Party Favors (In A Goodie bag)
A nice touch at the end of a party is to give away small gifts to all guests as a thank you and a fun reminder of the party. You can apply this idea also to your upcoming retirement. Whether you're having a retirement party or not you can drop a goodie bag with fun party favors at your coworker's desk, lunch table, or when they leave the office or meeting room. As a thank you for the good times and a reminder of you.
In the goodie bag, you can include party favors such as:
– Happy Retirement Keychain & Bottle Opener
– Bag with Sweets that says A Sweet Ending To A New Beginning
– Funny Candle A Wise Woman Once Said, I'm Outta Here And She Lived Happily Ever After
8) Go On A Trip
You can say thank you to your coworkers by inviting them on a trip. This can be a day trip including a lunch or dinner and a fun activity. Or go boating, fishing, golfing to the beach, or going to your favorite sports game. And if you enjoy your coworker's company a lot then you can consider taking them on a weekend trip somewhere.
9) Give A Speech
The most popular way to say thank you to coworkers is with a speech. You can give a thank you speech at the end of one of your last meetings, your last day, or during your retirement party.
If this is something that you would like to do then I can highly recommend reading my article: 20 Expert Tips To Give The Best Retirement Speech
10) Leave A Note On Their Desk
Just like in the picture of this blog you can leave a thoughtful sticky note on your coworker's desk. It can be that simple but highly effective to get your message out there. Perhaps a cool idea is to leave a note at their desk when your coworkers already left the office for the day. So the next morning they come in they'll read the note you left them. It will be a sweet little surprise.
You can find awesome sticky thank you notes here.
11) Call To Say Thank You
The old-fashioned and very appreciative way to say thank you is to call up your coworkers individually and say thank you. The nice thing about this idea is that it isn't a one-way street where you only say Thank You. You'll have a conversation where you can say your part and your coworker also has the opportunity to say nice things to you too.