Are you looking for a retirement gift for yourself or for a female retiree? Perhaps, your mom, wife, grandma, co-worker, boss, teacher, etc. Look no further. We've spent many hours researching great retirement gifts. And we put together a list of the best retirement gifts for women out there.
We have categorized the gifts in traditional, baskets, personalized, beauty, travel, books, outdoor, electronics, hobby and funny, so you can see what matches the retiree's plans in retirement. Because the best retirement gifts are the gifts that match her personality, hobby or plans for retirement.
Thank you for supporting Retirement Tips and Tricks: Please note that the links below are affiliate links. When you make a purchase using these links, we get a small commission, at no extra cost to you.
Best Traditional Gift: a Watch
Giving a (gold) watch is the most traditional gift you can give someone who is retiring. The tradition started in the 1940s at Pepsi Co. where they gave away 18kt gold watches to their retiring (male) employees. It was a symbol of "you gave us your time, now we are giving you time".
That tradition has evolved and modernized but the symbol of giving time is still used today. And that's why it's still one of the most popular retirement gifts. Besides giving a watch as a company to a retiree you can now give it as a spouse, friend or family member. Where it can symbolize: "let's spend more time together" or "have the best time in retirement".
We researched through dozens of watches and picked our favorite watches:
Rose Gold-Tone Watch from Michael Kors: If you like to stick to the gold watch tradition then this rose gold-tone watch is a great option. Facts: Quartz movement with analog display, 39 mm stainless steel, three subdials and date window, water-resistant to 330 ft (100m): which makes the watch suitable for swimming and snorkeling.
Touchscreen watch from Michael Kors: The appearance of a traditional watch and the interior of a smartwatch. Facts: 42 mm, quartz movement, battery life 24 hours, compatible with Android OS 4.3+ and iOS 9.0+.
Rose Gold Samsung Galaxy Smartwatch: This watch is a great watch for the retiree's who like to be active and want to track their health. Facts: built-in health tracking, Bluetooth connection, go for days without charging, available in two sizes and three colors, pairs with both Android and iOS smartphones.
GPS Golf Watch – Garmin: This is the perfect traditional retirement gift for Golfers. A watch that measures shot distances with auto-recording for post-round analysis and step tracking.
Best Gift Baskets
Best Personalized Gifts
Best Beauty & Wellness Gifts
Best Travel Gifts
If you or the retiree is going traveling in retirement then a travel gift is the best retirement gift you can give her. We're full-time travelers and have a lot of experience when it comes to travel gear. And that's why we created a list with the best high-quality travel products out there.
GoPro Hero 7 Black or GoPro Hero 8: The best and most easy travel camera there is. What better way to celebrate his or your retirement travel plans by giving one of the best travel cameras out there to capture the adventures. The GoPro Hero 7 & 8 has a built-in stabilizer (earlier versions doesn't!) that gives you smooth images and videos. These cameras are so easy in use and produce such high-quality pictures, videos, and audio recordings. It is the go-to camera for everything on a travel adventure (in & outside the water). And it's small so it can fit in any day pack or bag.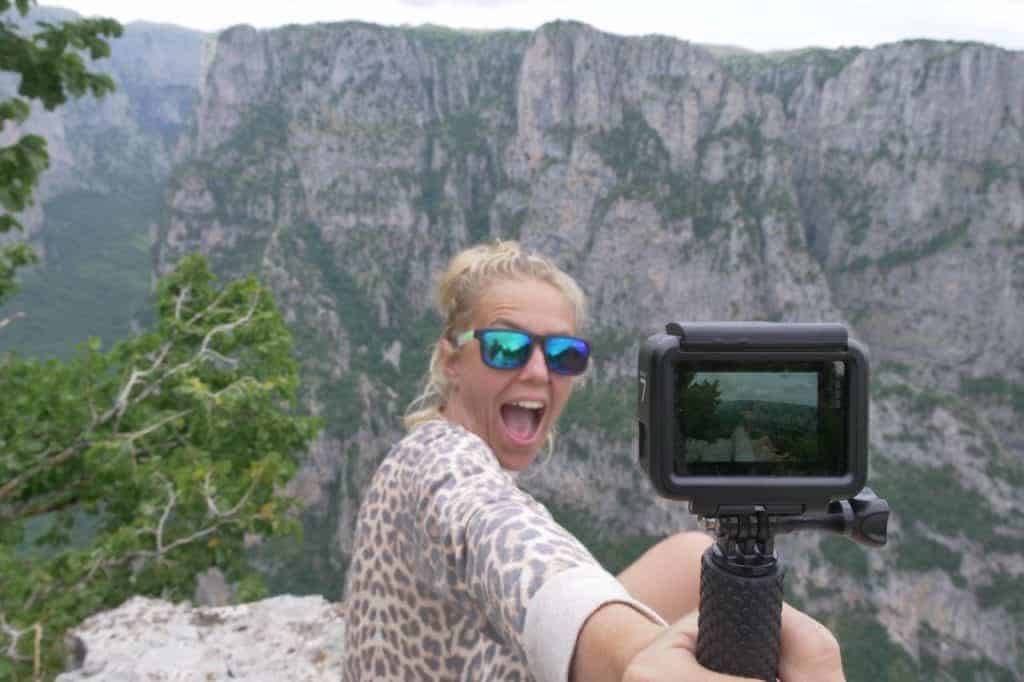 Suitcase – Samsonite: This suitcase has 4 wheels that spin 360 degrees. We recommend this suitcase to anyone who is planning on going on travel trips. It's perfect for long stay travel trips or trips that include paved roads and streets to roll your suitcase over. Or where you hop from one hotel to the other. Facts: large volume capacity 55lbs (121 L), double zipper and TSA approved travel lock.
The North Face – Daypack: A high-quality daypack is a must-have for every traveler. And it took us a while to find the perfect daypack until we found this daypack from The North Face. It's is very versatile and has a 15-inch laptop compartment, big compartment for electronics, travel gear, and clothing and two smaller compartments in front for your wallet, passports, journal, etc. It has custom injection-molded shoulder straps, a padded mesh back panel, and a breathable lumbar panel which makes it very light and comfortable carrying it on your back no matter how many lbs you put in it.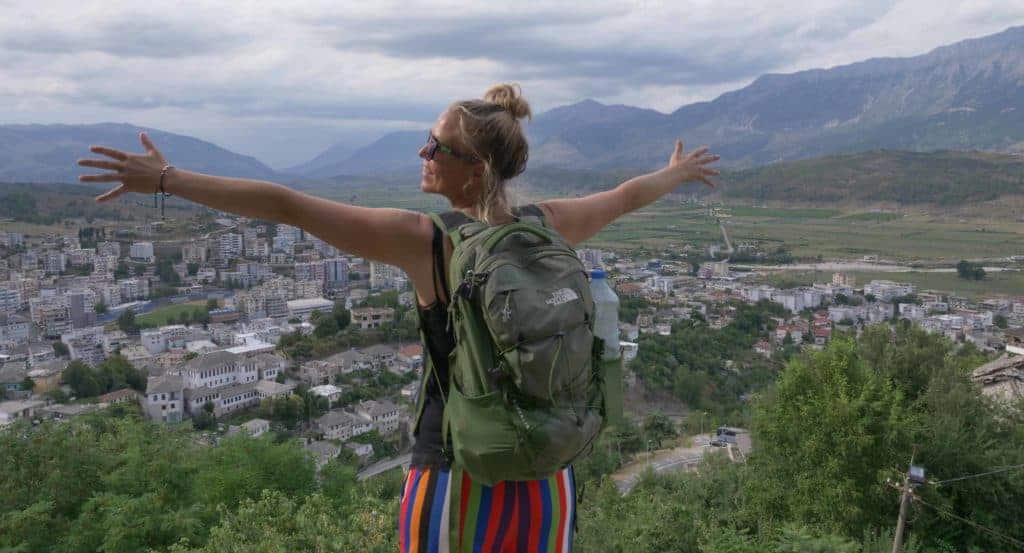 Leather Hanging Travel Toiletry Kit: A lot of the time you don't have enough space in the bathroom to put down your toilet bag and that's why a hanging toiletry bag is a traveler must-have.
Scratch Off Map of The World: With this map, he can celebrate his travel memories and adventures in retirement by scratching off all the places he has traveled to. You can buy a World Map but also a Scratch-off USA map poster with US capitals, 59 National Parks and state flags if the retiree is planning on traveling through the USA.
Best Book Gifts
Tom Ford: This coffee table book is a great gift for a fashionable retiree. This book is a complete catalog of Ford's design work for both Gucci and Yves Saint Laurent from 1994 to 2004.
Homage to Humanity: This coffee table book from Photographer Jimmy Nelson is a great and inspiring book with amazing photographs he made of tribes and ancient cultures around the world. The writer wants to uplift us, humans, individually, unite us spiritually and help motivate us to save our humanity, with this book. We have the coffee table book Before they Pass Away also from Jimmy Nelson with amazing pictures and information about tribes he visited worldwide. And we gave it as a retirement gift to Kirsten's father. It lays open at beautiful pictures from tribes around the world at his table at home. Both books are great gifts for retirees who love to travel or are interested in people around the world.
If I Live to Be 100: The Wisdom of Centenarians: In this book, Paul Mobley photographed and interviewed America's oldest and wisest citizens. More than fifty extraordinary Americans, who have all celebrated their one-hundredth birthday, share a century of insights. A great retirement gift for anyone that wants to be inspired.
How to retire Happy, Wild and Free: This book gives inspirational advice on how to enjoy retirement to its fullest. It shares wisdom about how to live an active and satisfying retirement. The wisdom you won't get from your financial advisor. A great gift for everyone who is retiring.
Best Outdoor Gifts
Inflatable Stand Up Paddle Board: Supping has become such a popular sport worldwide. And mostly because it's not too difficult, it's relaxing and doable for any age. A lot of retirees love to do it in retirement. So it's a great gift for someone who likes to be active in the water.
Inflatable Kayak: A perfect retirement gift for someone who lives near lakes and mild rivers or is going traveling in areas and loves to be active. This 2-persons inflatable kayak from Intex is the #1 bestseller on Amazon.
Towable Tube for Boating: This is a towable tube that fits up to for 3 persons. Perfect gift for a retiree who loves boating and an adrenaline rush. Or if she wants to spend time with her grandchildren up and around the water.
Best Electronic Gifts
Polaroid Camera – Fujifilm Instax: A gift to capture the most amazing moments in retirement on polaroid. A great retirement gift for someone who's going traveling or want to take fun pictures together with her grandchildren. The polaroid camera from Fujifilm comes in different colors and variations: Classic, Mini and Square.
Noise-canceling Headphones – Sony: Noise-canceling headphones are designed to reduce unwanted ambient sounds using active noise control. They help you sleep better in a noisy vehicle and alleviate fatigue when traveling. Because constantly being exposed to low-frequency noise can be tiring. The headphone from Sony is the industry leader and does not only cancel noise but is also a great headphone for listening to music.
Portable Projector – Vankyo: Ranked #1 portable projector for playing videos, TV series, photos sharing, football matches, etc. It can be easily connected with a smartphone, PS3, PS4, X-Box ONE or Wii to also enjoy games. If the retiree loves to watch sports, TV series, or movies than this will improve her experience. And makes it possible to watch entertainment anywhere she wants.
Smartphone – iPhone 10: Giving one of the newest Iphone's is giving a tool to make amazing pictures for special moments in retirement, to contact family members easier, and staying up to that with the latest "fashion" and technology. An overall great retirement gift.
Hobby Gifts
Funny Retirement Gifts