Having good travel gear makes your travel experience better. And because we're traveling the world full-time we know that having high-quality travel gear is important. And that's why we put together a collection of what we think is the best travel gear out there. We use most of the products listed below ourselves and we recommend them without any hesitation.
Thank you for supporting Retirement Tips and Tricks: Please note that the links below are affiliate links. When you make a purchase using these links, we get a small commission, at no extra cost to you.
Travel Bags
You want to have a high-quality travel bag: that suits your travel plans, can take a beating, is efficient, convenient and can store your items safely. And these are our two recommendations for Travel Bags:
It's our go-to travel bag and we love it. It's a high-quality bag made from polyester materials and is light-weighted. This bag is easy to travel around with. Its weather-resistant, the bag has shoulder straps and padded carry handles. So you can carry it as a duffel bag or as a backpack which makes traveling to different places around the world very easy. From backpacking to going on a city trip, cruise, safari or road trip.
The bag has 90 L of luggage space, which is more than enough. The best part about this bag is that it fits anywhere so you can stuff it into spaces in trains, cars, boats, etc. If you have all sorts of travel plans in retirement; from camping, bucket list adventures to road trips or European trips: this bag is your best pick.
This The North Face Duffelbag comes in different colors and you can lock the zipper with a travel lock so your items are safely stored. We prefer this bag over a backpack because you have one big compartment where you can organize your luggage with packing cubes.
Hard-side Suitcase – Samsonite
This suitcase is the very first hard-side suitcase from Samsonite. It has 4 wheels that spin 360 degrees. We recommend this suitcase to anyone who is planning on going on more luxurious trips where you don't want to carry around your luggage and you know there is enough space to store your suitcase. For example; in your hotel, in your cabin on a cruise, in your (rental) car/ RV while being on a road trip.
This Samsonite suitcase is perfect for long stay travel trips or trips that include paved roads and streets to roll your suitcase over. Or where you hop from one hotel to the other.
It has a large volume capacity up to 121 L which means about 55 lbs of luggage. And it comes with a double zipper and TSA approved travel lock so your belongings are safe.
This is the only product on this list we don't actually use, but we recommend Samsonite because it's one of the most trusted brands for suitcases and we want you to have reliable and good quality products on your travel adventures.
Backpacks
For a day pack, we use this backpack from The North Face. It took as a while to find the right daypack that has everything we need. And we love this bag: it's high-quality and very versatile. It has a large compartment for a 15-inch laptop. Which is rare to find. And it has another big compartment that can fit in a lot of stuff. We use it for electronics, extra camera equipment, power banks, sweaters, etc.
And in front you have two compartments: one is big enough to fit in a travel journal, your wallet, phones, passports, and other smaller travel necessities. And it has a smaller compartment for tiny stuff you want to easily reach. On the sides, there are pockets for your water bottle and tripod. And the front straps, you can use for shoes, a sweater or a jacket.
It has custom injection-molded shoulder straps, a padded mesh back panel, and a breathable lumbar panel which makes it very light and comfortable carrying it on your back no matter how many lbs you put in it.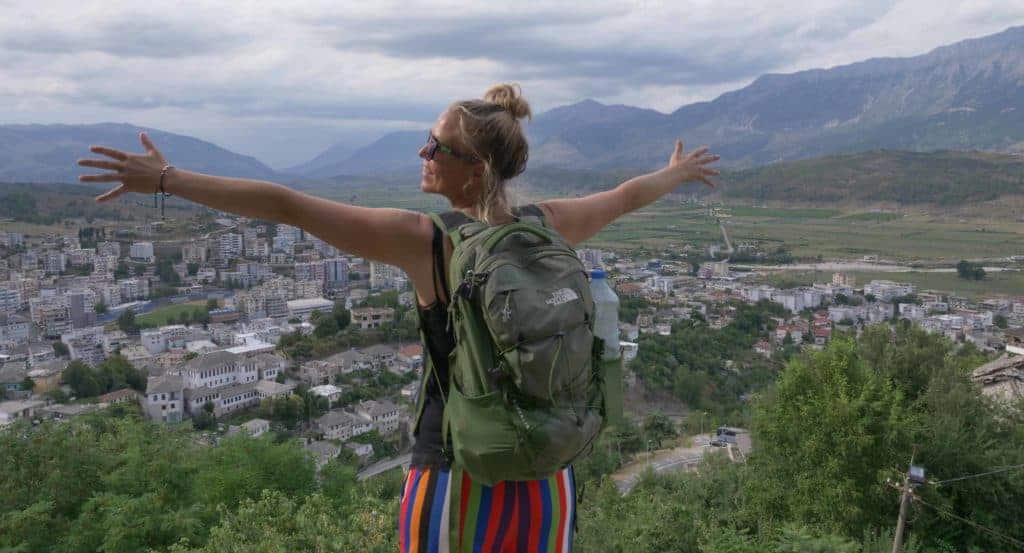 Camera Backpack – Lowepro
We use this bag from Lowepro for our camera equipment: drone, GoPro's, mirrorless camera, stabilizer, 13-inch laptop, and accessories. We invested a lot of time in finding the perfect camera backpack that is: high-quality, lightweight, weather-resistant, easy to lock, airline-approved as carry-on luggage and easy to organize our equipment with different compartments. After testing different bags we choose this bag and to this day we are very happy with our choice.
Travel Cameras
Action camera – GoPro Hero 7 or Hero 8
The best and easiest camera that we can recommend to bring on your travel adventures is the GoPro Hero 7 Black or the new version GoPro Hero 8. A lot of people think that the GoPro camera is only used for those into action sports, but that isn't true. We use it for so many different occasions: in and outside the water.
The GoPro Hero 7 & 8 has a built-in stabilizer (earlier versions doesn't!) that gives you smooth images and videos. And the GoPro cameras are so easy in use and produce such high-quality pictures, videos, and audio recordings. It can be your go-to camera for everything on your travel adventure. And it's small so it can fit in any day pack or bag.
You can get the complete package with a dual battery charger, extra battery bundle, and SD card.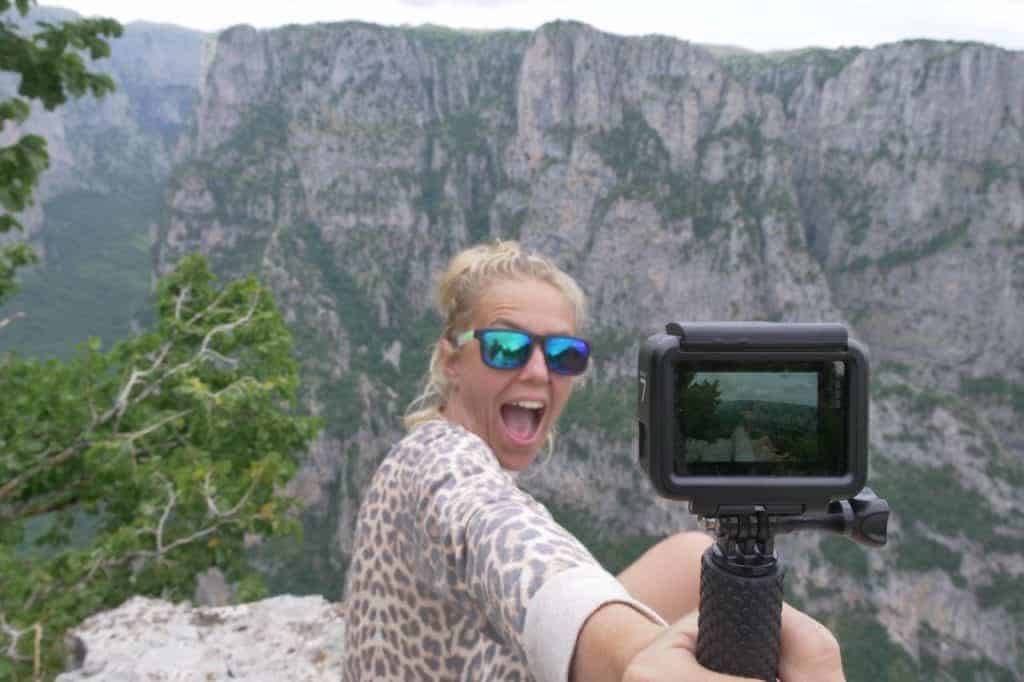 The most amazing travel moments are the spontaneous meetings you have with people from different cultures. At least that's what we think are the most magical moments about traveling. And for that occasion, we bring our Polaroid camera. We take pictures with people we meet or the special moments we have. And because you directly print the photos, you hand it out as a present or take it with you as a memory and souvenir.
So many local people liked it so much that we made an (old school) picture with them and gave it away as a present. The camera comes in different colors and variations:
We create videos: documentaries & travel videos while we travel. And we upgraded our video camera from a DJI Osmo Zoom to the Panasonic Lumix GH5 to make better videos. We spent hours and hours researching and testing to find the perfect video camera that fits our requirements best. And we are very happy with our choice of the Panasonic Lumix GH5. It produces such high-quality video. Especially the high-quality slow-motion options and inhouse stabilizer gave us the extra push to buy this camera.
It's a run and gun video camera for amateurs and professionals. Keep in mind that although this camera also is able to take great photos. It's not made for photography. It's produced to make great video footage. That's what the camera is best at.
We use Panasonic 12 – 35 mm F2.8 lens. It is wide enough to create landscape shots, and it has just enough zoom to make nice close-ups. Also, it has image stabilizing and with the light sensitivity of F2.8, we can film in low-light conditions. Our lens expansion in the future will be the Panasonic 12-60 mm F2.8-F4 lens or Panasonic 35-100 mm F2.8 lens.
Check out our Europe Roadtrip video we shot with our camera equipment:
We're using a DJI Mavic Pro, first-generation. A very good overall drone that you can easily travel with and use on a professional level. But we recommend the DJI Mavic Air over the Mavic Pro because it's smaller, it weighs less and has almost the same image quality.
And if you like to go for a cheaper and even smaller drone you can get the DJI Mavic Spark. The image quality and possibilities aren't as good as the Air and Pro. But there are still very good. Because DJI is the best drone brand out there at the moment.
Before flying with your drone check out the latest rules and laws of your flying area. The legislation for drones is changing all the time, so make sure you're up to date.
Travel Accessories
We love to be organized when we travel. We want to travel as light as possible but have enough clothing with us for a couple of weeks, without washing. And we're in love with packing cubes from Eagle Creek.
Within your travel bag, you can organize your luggage in different packing bags using different sizes and colors. And because of that, you carry more but using less space. And it's organized!! Because nothing is more irritating than not finding what you're looking for.
We use a combination of packing cubes: the medium size packing cubes for our shirts, shorts, and jeans. And the small size for underwear, swimwear, and socks. You can use the medium or expandible cubes for sweaters and towels.
Lightweight Hammock – La Siesta
The lightweight hammock is our favorite travel accessory. We use it all the time. Whether we're road-tripping through Europe with our own car or going backpacking in Asia; it's always in our travel bag.
The hammock from La Siesta is made from parachute silk, very easy to use and is rolled up in a small package. So you can take it anywhere you want. There is a one-person hammock and two-person hammock.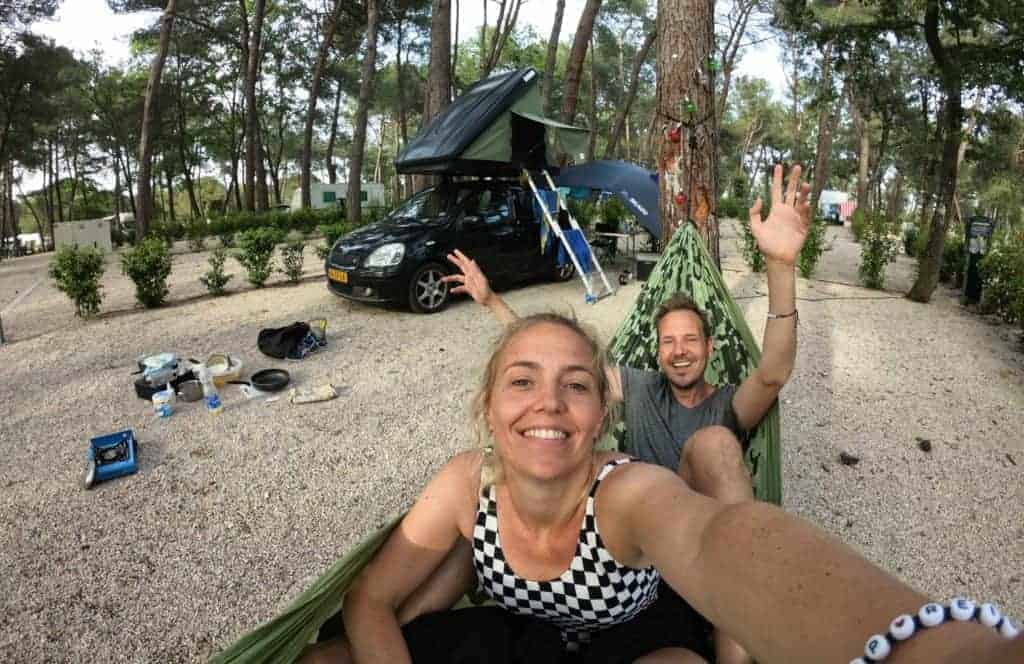 Lamzac Air Lounger – Fatboy
For the beach or lounge days, we like to use the Lamzac. When we don't have trees around for our hammock; we fill up the Lamzac with air to create a lounge seat. On a windy day, you just it up to catch air and on less windy days you run a bit to fill it up. Very easy and straightforward.
We have the original Lamzac from the brand Fatboy and a cheaper version. The cheaper version loses air quickly and needs to be refilled after 40 minutes. While you can lounge on the Lamzac for multiple hours without refilling it. So we definitely recommend buying the original Lamzac from Fatboy. The quality is way better.
There is also the inflatable Lamzac chair from Fatboy.
Travel Pillow – MLVOC
This travel pillow with curves shape design and made from 100% pure memory foam is the perfect travel must-have.
Hanging Toiletry Bag – Boacay
We like to use a hanging toiletry bag while we travel. A lot of the time you don't have enough space in the bathroom to put down your toilet bag and that's why a hanging toiletry bag is must-have. You can hang it everywhere, without getting it wet and dirty.
And the toiletry bag from Boacay is rated as the number one toiletry bag by travelers.
Travel Bottles Container Set – Dot & Dot
We like to use travel bottle containers for our shampoo, douche gel, lotion, etc. And these travel bottles are refillable, TSA approved and safe for carry-on luggage.
Bouncing Water Ball – Waboba
When we get in the water, whether it's a pool or the ocean, we like to play with this small ball from Waboba. It's a bouncing ball on the water, which is very fun especially with your grandchildren.
A First Aid Kit is a must-have travel accessory for all the obvious reasons.
Sand Repellant Beach Blanket – Eccosophy
Do you like the beach, but not the sand? Then this sand repellant beach blanket is definitely something for you. It's 9×10 feet, lightweight and packed in a small bag so you can take it anywhere you want. Great for beach days, hiking, picknicks, and festivals.
Stainless Steel Water bottle – Hydro Cell
Nothing beats a high-quality water bottle that keeps hot liquids hot and cold liquids cold. In this stainless steel water bottle, your cold liquids stay cold for 24 hours, and hot liquids will stay hot for up to 8 hours. 
Backpack Rain Cover – Joy Walker
If you have a lot of electronics in your backpack or other valuables that you don't want to get back you can get this backpack rain cover that protects your backpack from getting wet: rain, fog, and snow. And it's also rip-resistant to protect your backpack from dirt and scratches.
Microfiber Towel – Wise Owl
When you're a light traveler just like us. Then sometimes you don't want to carry towels with you; they take up a lot of space and are heavy. And for that, a microfiber towel comes in handy. It's small, very soft and is super absorbent. You can use it while camping, at the beach, shower, or pool.
Travel Games
We love to play all sorts of games while we travel. And here's a selection of travel version games we like to play or are highly popular games:
Electronic cable organizer bag – Bagsmart
As I mentioned, we like to be organized while traveling. And using a bag to organize the cables from our electronics makes it easier to reach for what we need and also makes sure that they maintain their quality and last longer.
Travel Electronics
Wireless Bluetooth Speaker – JBL
We bring our JBL speaker everywhere with us: in our car, by the pool, at the beach or in our (rented) camper or apartment. And JBL is our favorite brand and is one of the best speaker brands worldwide. The quality of sound from that small device is amazing.
Power Bank – Anker
We can't live without a power bank. It's always handy to have a power bank ready as a backup. You want to take pictures or videos at beautiful locations with your phone or camera battery dying. Check out these power banks.
To work online worldwide from writing blog articles to editing video's we have our MacBook laptops with us on the road, everywhere we go. If you like to process or edit your travel photos or do other creative (digital) work we highly recommend to use a MacBook. These are the newer versions of the Macbook laptops we use:
Noise-canceling Headphones – Sony
This is at the top of our list to buy next. We hear so many great things about noise-canceling headphones from friends and other travelers that this on our Christmas list. The amount of noise in a plane, bus or other vehicles can be canceled out and makes it so much more relaxing to travel and listen to music in high-quality. And this headphone of Sony is the industry leader.
Having a phone that makes beautiful pictures has become a must-have for travelers. It's so much easier to grab your phone to take a picture then to set up your (much bigger) camera. And the quality of the camera's in the phones is getting better each year.
We don't like to buy the newest iPhone when it comes out. Most of the time you pay for the hype and the upgrade isn't that much of a big deal. It's better to wait a bit longer or buy an earlier version that has produces almost the same quality pictures. If you want to take beautiful pictures on your trip, you can't go wrong with these iPhones:
Outdoor Gear
We travel around Europe with a rooftop tent on our small Toyota Yaris. And we love it so much. So we can highly recommend to everyone. And the great part about it is that you don't have to own a big car to be able to sleep on the roof of your car. And we can recommend using the best roof racks in the market from Thule. (buy the perfect fit for the type of car).
You can use this canopy cover tent from Hasika to cover your car when it rains and being able to have a BBQ or picknick when you're camping or if you're at a festival.
Personal Walter Filter – Lifestraw
This award-winning LifeStraw water filter is a must-carry tool if you're going hiking, camping, traveling in an area without safe water, and for any other type of emergency.
Inflatable Kayak – Intex
When you're traveling through areas with lakes and mild rivers then this inflatable kayak is a cool thing to bring with you on the road. It's inflatable so much easier to store than a normal kayak.
Towable Water Tubes – Wow
If you love boating, water sports and lake holidays then you're probably would have a lot of fun with this 3 person's towable water tube.
Floating Waterproof Dry Bag – Marchway
This waterproof dry bag is an absolute must-have for travelers who like to be around water. Whether you're on a boat, going to the beach or hiking through rivers this bag will keep your valuables dry.