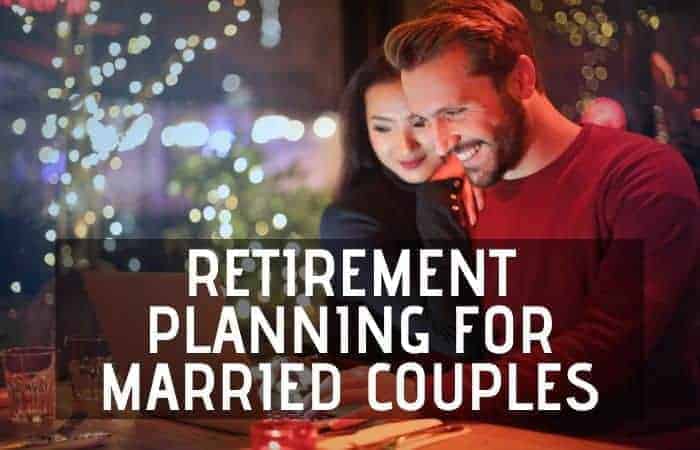 It's important to plan for the future together as a married couple, whether you're newlyweds or an almost retired couple. And planning your retirement as a married couple can be overwhelming, so that's why I created this article to help you out.
12 Step Retirement Planning For Married Couples:
Communicate your desired plans
Discuss housing
Organize (health) care
Estimate your life expectancy
Calculate your retirement budget
Save for retirement
Strategize your social security
Up-date your finances regularly
Stay updated about financial news
Keep track of your finances
Decide to retire together or separately
Plan retirement dates
To give you a better idea of how to plan your retirement as a married couple, I have compiled a TON of information in this article. I will guide you through these 12 steps of retirement planning in a simple way.
#1 Communicate your desired plans
You want to communicate with your spouse how you envision your life in retirement. Let your partner know what your goals, dreams, and plans are for retirement so you can see if you're on the same page. And this is also crucial information to estimate how much you need to save for retirement. A couple that would like to travel in retirement needs more money in retirement than a couple that wants to do volunteer work or only wants to spend time with family at home.
This part of retirement planning gets often overlooked but is equally as important as the financial part. You don't want to retire with a head full of dreams and not being able to afford it. And also many retirees retire cold turkey without any long term plans on how to spend time in retirement. And this isn't always the best approach, because many retirees suffer from depression because they didn't prepare for this major life change.
The biggest mistake for couples is not communicating properly of what they want out of retirement. Many people assume what their view on retirement is without talking to their spouse. And this can lead to disappointment, conflicts, and friction and sometimes even lead to divorce.
To be successful in retirement means that you find satisfying and fulfilling replacements for work and find happiness in (new) interests, relationships, and activities. And couples who live a happy retired life have found a right balance between doing fulfilling activities together and doing things apart in retirement.
It's can also happen that you or your partner change your mind about how you want to spend life in retirement. Maybe you thought you want to retire early, but you love your job so much you want to continue working past your retirement age. Or you want to move closer to your grandchildren because you just became a grandparent. And therefore you want to keep communicating with your partner regularly about your vision of life in retirement. By keeping each other in the loop, you will avoid disappointment and conflict later in life. 
[cp_modal display="inline" id="cp_id_fefb0″][/cp_modal]
If you're planning on traveling in retirement check out our recommendations for the best travel resources and the best travel gear here. We've been full-time traveling for many years now, so we put together a list of helpful booking recourses and travel gear we use all the time and we can recommend without any hesitation.
Read more: How To Plan Your Life After Retirement: 11 Tips
#2 Discuss housing in retirement
Discussing housing is also an important part of planning for retirement as a couple. Do you want to stay in your current house? Do you want to downsize? Do you want to move closer to your grandchildren? Do you want to live in a warmer climate?
These are all valid questions you need to question yourself and your partner. Sometimes downsizing or moving to another state that is more tax-friendly can be a wise decision in retirement. And maybe your current house is great for your early years in retirement but isn't an ideal home for later years in retirement due to stairs or maintenance sensitivity.
Your health condition also affects your housing needs in retirement. Go through different scenarios to understand what your partner wants when it comes to housing and long term care. And share your view on this as well. And discuss how you both feel about living in a retirement or nursing home when it comes to that.
Housing expenses can be a big part of your costs in retirement. So, you need to be aware of what your housing plans are so you can calculate how much money you need in retirement more precisely.
#3 Organize health care and longterm care
Health care is one of the largest expenses in retirement and is also one of the most common stress factors for retirees. Studies show that over a third of US adults are more concerned about covering health costs in retirement than paying off debt. And only half of US adults have a financial plan in place for the future to be prepared.
When it comes to health care and long term care in retirement, you want to be prepared. So, you're able to enjoy retirement and don't have to worry. But that's easier said than done.
The average retired couple today will spend at least $280,000 to cover healthcare costs until the end of life, and that's excluding long term care. While the average retirement age for Americans is 62, and that's three years before you are eligible for Medicare, which creates a retirement cost gap for many pre-retirees.
There are a couple of options to maintain coverage as a couple:
register in your employer's retiree health insurance plan and retire at 65 or retire when your younger partner is 65
choose an individual health insurance plan
extend your corporate insurance up to 18 months with COBRA to fill in the gap
But for the newer generation of pre-retirees, you won't likely have access to employer or union-sponsored retiree health benefits. So, health care costs are likely to be a larger portion of your retirement budget. And having a plan reading as a couple is essential. The Financial Solutions Group at Fidelity says: "We estimate that about 15% of the average retiree's annual expenses will be used for healthcare-related expenses, including Medicare premiums and out-of-pocket expenses".
Many people assume Medicare will cover all your health care cost in retirement, but it doesn't. The most basic Medicare plan is free for most people over 65, but there are still out-of-pocket costs that get often overlooked.
Here is a video that explains the basics of Medicare:
To save for medical costs now and in retirement, you can save with a health savings account (HSA). That is only available through high deductible health plans (HDHP). HSAs are a triple tax-free investment account. Contributions are made pretax. Earnings and interest on investments are tax-free, and withdrawals made for qualified medical expenses are tax-free.
This video explains HSA:
Long term care
There's a 70% chance to you need that you will need some type of long-term care after 65, and long-term care services aren't cheap.
The median cost for a home health aide is $20 per hour, which equals hiring a full-time employee for $42,000 a year. And a private nursing home can range from $80,000 to $100,00 per year.
Your health insurance or Medicare doesn't cover these costs. Medicare only covers short-term skilled nursing home care, and Medicaid only pays for your care if your assets are very limited. So that means you have to pay for long-term care with your personal savings or retirement fund. Or the financial burden falls on your family.
You can get long-term care insurance (LTC), but there are some pros and cons to it. So to get a better understanding of long term care insurance, you can download this PDF with all you need to know about long term care insurance from Life Happens.org.
#4 Estimate your life expectancy
It's impossible to predict how long you will live, but you have to estimate because that is crucial for the next step: calculate how much money you need for retirement. Because you want to avoid running out of money in later years in retirement for one of both of you.
It's impossible to rule out the risk of running out of money entirely, but you can reduce the risk to a minimum by planning it thoroughly and adjust it where needed over the years.
Currently, the life expectancy on average of men in the USA is 76, and women are 81, according to Statista (2018). So women should plan for a longer life expectancy because on average they live five years longer. But don't just take over these numbers to make your calculation. Because according to the Social Security Administration;
A man reaching age 65 today can expect to live, on average, until age 84.0.
A woman turning age 65 today can expect to live, on average, until age 86.5.
And one in four people who are 65 years old today can expect to get 90+ years old.
And about one out of seven will live past age 95
These are all numbers that help you to estimate your life expectancy better. But there is a good chance these numbers doesn't apply to you. So, you also have to take other factors into account when it comes to estimating your life expectancy;
your health history
family health history
longevity in your family.
You can use the Life Expectancy Calculator from the Social Security Administration here and estimate how long both of you will live. So you can start strategizing your finances for retirement. 
#5 Calculate your retirement budget
After estimating your life expectancy, you can figure out the length of your retirement in years. Use this formula:
Estimated life expectancy age – approx age you want to retire = length of retirement in years.
Example: I estimate to get 90 years old and want to retire at 65. Formula: 90 – 65 = 25 years of retirement.
Next step is to calculate how much money you need in retirement. So together with your partner, you have to run through all the expenses you expect to have in retirement: basic needs, housing, (car) insurance, healthcare, longterm care, activities, and plans you have for retirement, for example, buying an RV or traveling.
Keep in mind that the expenses you now have maybe don't apply anymore in for you in retirement. For example, childcare or your mortgage if you're planning on paying off your mortgage before retirement. But you need to predict what kind of other expenses you might have in retirement, that you maybe don't have now.
After you calculated your monthly expenses in retirement, you can multiply it by 12 to get your annual estimated expenses in retirement. And before you want to multiply this by the expected retirement years you calculated above, keep in mind that you need to apply 3% inflation annually. And to make sure you don't make any mistakes you can use:
Another way a lot of people do to get a rough estimating figure on how much they need in retirement is to apply the 80% rule. So for example, if your annual income is now $50,000 according to the 80% rule, you'll spend about 80% of that income in retirement, which is $40,000.
You can use the 80% rule as a start-off point, but you need to get more into detail to generate a relevant estimate of your retirement expenses as a couple. And the factor of 3% inflation annually isn't part of the 80% rule which can cause problems. A rough calculation now can have massive consequences in 30 years if you didn't estimate your expenses more precisely.
Once you know how much money you need in retirement, you can go through different scenarios with your partner and play around with different ages of retiring. So, you can see what happens to your total retirement expenses. Maybe with a bit of extra savings monthly, it's possible to retire earlier. Or you need to work a bit longer or save a bit harder so you can afford your retirement ultimate dream. 
[cp_modal display="inline" id="cp_id_fefb0″][/cp_modal]
#6 Save for retirement
Next step after knowing what you need in retirement is saving that amount of money or more for your retirement. Maybe you both are already busy with saving for retirement with a 401(k), an employer's pension plan or through personal savings. So now it's time to evaluate these plans and your savings with the estimated expenses you calculated for retirement. Are you on the right track? Or do you need to set aside more for retirement?
This video explains 401(k) vs. IRA pension plans:
If you haven't started saving for retirement, then you need to start now. The sooner you start, the more time you have to save enough money for retirement. And to give you a better picture, this is how most retirees income looks like:
Social Security retirement benefits
Employer pension plan(s)
401(k), 403 (b) or IRA savings
Personal savings
Income through investments
The salary of a retirement job (if necessary or desired)
A pension plan or a 401(k) isn't enough for your retirement. You need to save extra money through personal savings or investments. And sometimes couples must get a retirement job because they can't make ends meet.
Use this formula to calculate how much you need to save extra for retirement:
Total of estimated retirement expenses – 401(k), pension plans, expected social security benefits = how much you need to save extra for retirement.
Once you know what you need to save extra, you can create a monthly savings plan with your partner.
The video below explains why you shouldn't save for retirement in a 401(k) or IRA. It can give you a different perspective if you like to save for retirement that's different from the traditional way.
If you're interested in investing and you don't know where to start, then this video can help you get a better understanding of where and how, to begin with investing:
#7 Strategize your social security
As a married couple, it is very wise to strategize your social security payments. You can claim benefits on either your own work record and your (ex) spouse's work record.
You can maximize this income if you time your individual and spousal claims at the right time.
You can start collecting social security from the early age of 62. But the younger you start collecting your social security, the smaller your monthly benefit will be. And you're entitled to your full Social Security benefit at your full retirement age. And your full retirement age ranges from age 66 to age 67 depending on your year of birth (see table below).
Each year you wait, the benefit grows. And you'll receive even a higher benefit if you collect social security later than your full retirement age. For example, if your full retirement age is 66, and you start claiming social security at age 70, you'll receive 132% of your scheduled benefit per check. But if you begin claiming social security as soon as you're eligible at 62, you'll receive 70%-75% of your scheduled benefit per check.
So the perfect planning depends on your age, the age of your spouse, and the age of your claim. And how much social security payment you'll receive depends per person, but the average social security benefit was $1,461 per month in January 2019.
A strategy a lot of married couples do to maximize their benefits is to claim social security benefits for one spouse early. And wait with collecting the other spouse's social security as long as possible so that it can grow.
If you want to have an estimate of your social security retirement benefit now, you can use the calculator of the Social Security Administration here. And make sure you create a My Social Security account for an accurate estimate of how much you're entitled to per month based on your current work record. And you want to check your Social Security statement annually and see if your earnings history and taxes have been recorded correctly.
If you're married before (more than ten years) you can also claim social security benefits based on an ex-spouse's work record.
#8 Up-date your finances and beneficiaries regularly
As a married couple, you want to keep track of your finances frequently together. Make sure the information is up to date, and you keep your beneficiaries informed on major life events: marriage, the birth of a child, a divorce, or a family death.
#9 Stay informed about financial news
What you're planning today maybe isn't relevant in the future. Regulations, taxes, funds, and other finance and government rules can change over time. So if you hear about major changes within the financial industry, make sure you stay informed and evaluate if that change affects your financial situation.
It can be very likely that you need to adjust your financial retirement plans over a decade or later because regulations and laws have changed. We live in a fast-paced world, so the systems change too.
#10 Keep track of your finances
Keep each other in the loop when it comes to your finances. You both made a plan to save for retirement, so you want to know if you're on the right track regularly. And inform each other if any changes occur.
You can do this every month or quarter year basis. Because when you wait longer, you have to go through a large pile of papers which isn't pleasant and not something to look forward too. It becomes more effortlessly when you schedule it regularly.
Also, when you're the person in your marriage that doesn't handle the finances, it's best to also know your financial situation. What happens if your spouse suddenly dies and you don't know anything?
You have to have honest conversations with your spouse about this topic and see what you can do to make sure you both know what to do if this situation occurs. Maybe your child that is better at numbers can be the backup plan.
#11 Decide to retire together or separately
After going through the calculations, you probably concluded whether its best to retire together or at different times. But that's only the financial part.
There are other factors to consider before deciding to retire at the same time or at different times. Maybe you're not mentally ready for retirement at the same time. Or one partner would like to tiptoe into retirement by freelancing a couple of years and slowly reduce the working hours, while the other person wants to retire immediately.
Retiring is a process that takes time. It's a major life change where you need to find your identity, purpose, routine, hobbies, and social life again outside your job. That's a lot of adjustments that are sometimes difficult for two people to go through together. And it can be a reason for couples not to retire at the same time. To create space for the other person to adjust at his/ her own pace.
Read more: Should you retire as a couple at the same: good or bad idea?
#12 Plan retirement dates
To make retirement planning a bit more fun, you can organize dates with your spouse to talk about retirement together and spend quality time.
You can even go on double dates with other married couples to discuss retirement and get inspiration and solutions from other people who are in the same boat as you.
And if you want to take it a bit further, you can start a retirement club. Just like a book club, you start a retirement club to discuss the possibilities of retirement. This way, you'll get a broader understanding and learn more about retirement planning and get new ideas from other people.
Recommended Articles
The following articles might be interesting for you to read as well: