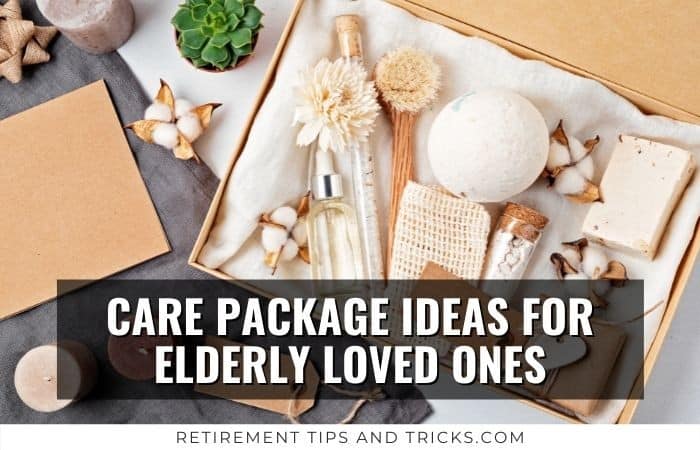 Do you want to send a special elderly person a care package to brighten up their day? Then you might wonder, what to put in a care package for the elderly?
Well, no need to look further because I've listed 100 amazing ideas and care package items that you can put in your care package for your elderly loved ones. Ready? Let's unpack!
Just a heads up, this post contains affiliate links. As an Amazon Associate I earn from qualifying purchases. Purchases you make through these links may earn us a small commission, at no extra cost to you.
Personal Care Items
An easy and affordable way to make elderly parents and loves ones feel pampered is to include self-care items in your care package. Whether they are at home feeling lonely, moving into a nursing home, or feeling sick these care package items below will make them feel taken care of even when you're not physically there.
1) Body lotion
2) Body Scrub
3) (Favorite) Soaps
4) Shower Steamers
5) Toothpaste
6) Toothbrush
7) Shampoos
8) Foot Scrub
9) Hand cream
10) Mini Handheld Back Massager
11) Foot Mask
12) Hand Mask
13) Face Mask
14) Foot Bath
15) Electric Toothbrush
16) Gratitude Journal
17) Manicure Tool Set
18) Vitamines
You can also send a ready-to-go Self-Care Gift Box from Cratejoy to your elderly person to save you some time. This particular box has many great reviews and has become very popular because of Oprah, Forbes, Today Show, and Good Morning America.
Snacks & Treats Package Items
A care package is not complete without a couple of delicious treats and snacks. If you don't know it's best to go for soft snacks as they are easier to chew and digest.
19) Freshly Baked Cookies
20) Their favorite snacks such as candy or chocolate bars
21) Fruit
22) Cookie dough (great if they're still able to bake/ cook)
23) Gourmet Coffee
24) Craft Beers
25) Bottle of Wine
26) Cannes of Soup
27) Cheese
28) Pudding
29) Cupcakes
30) Applesauce
31) Gift card to their favorite restaurant
32) Freezer meals
33) Dried Fruits
34) Muffins
35) Donuts
This 45 piece Snack Box from CraveBox at Amazon iincludes a mix of sweet, salty, savory, and healthy snacks.
Comfort & Relaxing Care Package Items
A typical care package always includes some comforting items and products to help people relax more. Below I've listed some ideas you can put in your care package, but you can also check out this Just Relax Gift Basket from Design It Yourself Gift Baskets that you can further personalize and customize.
36) Foot Bath Massager
37) Essential Oils and Diffuser
38) Calming Herbal Tea
39) Bath Bombs
40) Non-Slip Thermal Socks
41) Blanket
42) Scented (Stress Relief) Candles
43) Soft Towels
44) Slippers
45) Hooded Blanket Sweatshirt
46) Cozy Sherpa Fleece Blanket
47) Acupressure Mat
48) Sleep Mask
49) Fragrant Spray
50) Neck Pillow
51) Wearable Blanket with Sleeves
52) 'You're Amazing' Coffee Mug
53) At-Home Spa Kit
54) Back and Neck Massager
55) Scalp Massager
Activities & Entertainment Package Items
A great addition to your care package is some fun games and entertainment items. It's even very healthy for elderly people to exercise their brains with all sorts of puzzles and creative activities. Perhaps you know what they loved doing before so you can include these items in the care package. Or just send a couple of different fun activities for them to try out. Anyways, below are some great ideas.
66) Movie Gift Card
67) Sudoku Puzzle
68) Adult Coloring Book
69) Crossword Puzzle
70) Jigsaw Puzzle
71) Large Print Book
72) Google Home or Alexa as a virtual assistant
73) E-reader to read books and listen to audiobooks. Check best reviewed here >>
74) Word Scramble
75) Word Search Puzzles
76) Subscription to a video streaming platform
77) Sticker by number
A perfect ready-to-go care package is this Boredom Buster Gift box from Design It Yourself Gift Box, including tea, soup, puzzle book, adult coloring book, and colored pencils.
Arts & Crafts Gift Ideas
Doing a creative activity is a perfect brain exercise but also a powerful mood booster. So when you want to cheer up an elderly person for the long term, make sure to include an arts & crafts kit in your care package. Maybe they've found their new favorite hobby because of you.
78) Diamond Painting Set
79) Paint by Number Kit
80) Knitting Kit
81) Crocheting Kit
82) Painting Set
83) Adult Coloring Books (also available in large prints)
84) Stationery
85) Pens & Pencils
86) Water Painting Art Pack
Another great gift box is this Beat The Boredom Gift Box at Amazon that is especially designed for seniors including Coloring Books, Large Print Crossword and Word Search books, Playing Cards, Colored Pencils, Pencil Sharpener, Pens, and Pencils.
Personal Touch Care Package Items
A care package becomes more special with a personal touch and customized gifts. And here are some ideas you can put in the care package to make them feel extra special:
87) CD With Their Favorite Music
88) Framed (family) Photo
89) Coupons Made By Grandchildren
90) Photo Blanket
91) TIP! Digital Photo Frame >> (familymembers can send new photos to the frame within seconds)
92) Digital Photo Keychain
93) Photo Pillow
94) Engraved Candle with toughtful message or poem
95) Custom Moon Lamp With Photo
96) Custom Hand Painted Portrait Painting of their favorite portrait/ family photo or pet. For more information visit ArtToYourLife.com
Ready To Go Gift Basket Ideas For Seniors
To make things easy here are some ready to go gift baskets for different occasions:
97) Sending Hugs Care Package >>
98) Happy Birthday Gift Basket >>
99) Get Well Soon Cookie Gift Basket >>
100) Love and Support Care Package >> (all sorts of occassions)