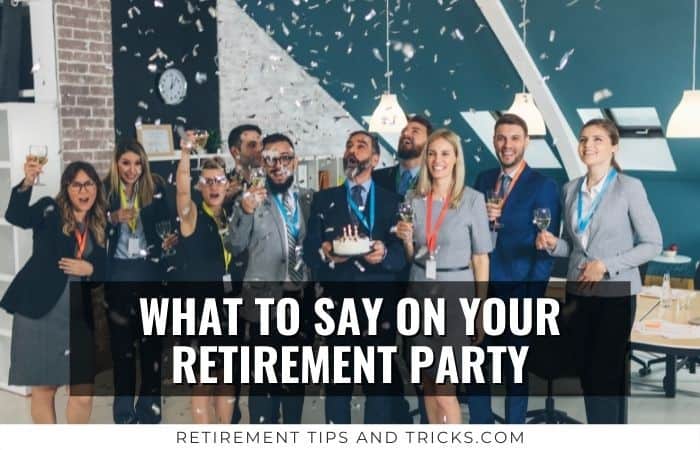 As your retirement party is coming closer by the minute you've probably been wondering what to say at your retirement party? Well, no need to look further I've got you covered!
Generally, you say the following at your retirement party:
– "Thank you all for being here to celebrate my retirement"
– "Cheers to my retirement. Let the real fun begin"
– "I've been waiting 40 years for this party. Let's make it a good one"
– "Thank you everyone for supporting me during my career. I couldn't have done it without you"
– "Toast to my wife. You've been my rock. Let's have the time of our lives together"
This is just the tip of the iceberg. I have so much more to share that you don't want to miss. So let's get started right away!
Six-Step Guide On What To Say At Your Retirement Party
It's not mandatory to say something at your retirement party, but it is good manners. Imagine attending a retirement party without the retiree saying anything. That is kind of weird, right?
Therefore, I recommend sharing a couple of words with all guests (even if you don't like public speaking) just to acknowledge everyone and express your gratitude. Everyone is there for you, so the least you can do is to say something. It doesn't have to be a long speech. That is totally up to you. As well as your tone of voice (sincere or funny or a combination). You can even create a video or use photos or props for your toast, or speech.
And to make things easier I created a six-step guide on what to say at your retirement party.
1. Thank guests for their presence
2. Express reason for the party
3. Tell a funny anecdote or important personal story
4. Express your gratitude and most cherished moments
5. Share your plans for retirement
6. End with a "Cheers to…"
And to help you out even further, I share great examples and ideas within this six-step framework below.
1) Thank Guest For Their Presence Examples
The first thing to say is a thank you to all guests. Below are a couple of examples:
Thank you all for being here. I appreciate your effort to celebrate the start of my retirement together with me and my family.
Thanks to all the guest being present today as I celebrate my retirement.
I'm so happy you all are here. I should say thank you for accepting an invitation to an evening with open bar. It was probably a hard decision to make ;).
2) Reason For The Party Examples
This may be a bit obvious but it's always good to let everyone know what exactly it is your celebrating. Of course, it's your retirement but that can mean different things to different people. For some, it's the start of an exciting chapter that and they're happy it is finally starting. And for other people, it means closing an important chapter of their lives and feeling sad about it. For most retirees, it's a mix of emotions. And here are a couple of examples of what to say:
We're here to celebrate my retirement, which I know for some people is the best news they've had in years.
I invited you all to this party, because you all mean the world to me. And I didn't want to celebrate one of my biggest achievements in life without you being a part of it.
I have been waiting so long to have this party. It's been 40+ years of hard work in the making but my retirement is finally here. And I'm so happy to celebrate this moment with all of you.
3. Funny Anecdote Or Personal Story Ideas
The best speeches are not a summary of all your career highlights. It's the personal stories and anecdotes that make speeches memorable. One good story can summarize your entire career and give you the opportunity to share what was important to you, what lessons you've learned, what you enjoyed most, what your favorite thing about the job was, etc. And here are some ideas:
The first day on the job
The most impossible project of your career
When you met your boss for the first time
The most embarrising moment of your career
The wildest office party you've attended
Something from the good old days
Then vs Now
Moment you met your favorite coworker/ client/ etc.
4. Gratitude Examples
No matter the reason for your retirement, you want to leave on a positive note. Therefore expressing your gratitude is important when you want to retire gracefully. Even if you hated your job, you can always find something or someone you're grateful for. And here are a couple of examples:
I want to thank a couple of people today. Thank you to my family. You have been my rock through all the ups and down. You've supported me in every step of my career and I could'nt have done it without you. And thank you to Jim and Ricky my closest co-workers who over the years become my closest friends. We will see eachother soon at the golf course. And thank you to all the people at company X for the last 20 years. You're so special and talented. I treasure our time together. Keep up the fantastic work!
Thank you to all my co-workers. It has been an honor and huge privilege to work with you. I consider you my family.
Thank you John for your guidance. I've learned so many valuable lessons and you've helped me become better at every part of my job. It has been truly a pleasure working with you these years. I'm going to miss you.
5. Plans For Retirement Examples
As you end a chapter, you also have a new chapter that is about to start. And guests definitely want to know what your plans are in retirement. That is why it's nice to let them know what you're about for the next few months. It gives them the opportunity to react to it when they say their goodbyes. Below are a couple of examples.
Altough I'm going to miss a lot of people in this room, I also look forward to this next phase in life where I get to spend more quality time with my family. I just become a grandfather for the second time and I'm looking forward seeing them grow up from up close.
My retirement is not the end of the road. It's the beginning of the open highway. Together with my husband we're going to buy a camper and start traveling through different states for the nex couple of years.
I'm very much looking forward to pick up my new/ favorite hobby: golfing. So next week when you're all in a meeting. I'll be at the golf course.
6. "Cheers to…" Examples
A retirement party cannot start without a "Cheers to …." moment. And here are a couple of great examples:
"Cheers to my retirement. Let the party begin"
"Cheers to neverending weekends"
"Cheers to a great retirement filled with many road trip adventures"
"Cheers to a happy, healthy and long retirement"
"Cheers to not having to work tomorrow!"
5 Tips For A Great Speech At Your Retirement Party
There are also a couple of tips I want to share with you that make your retirement speech a success.
1) It's All About How You Make Someone Feel
When it comes to memorable speeches, it is not about saying the right words. It's more about how you make someone will feel. Because people will forget what you said but never how you made them feel. So before you start preparing what to say it's important to first know what you want your guests to feel at the party.
2) Keep It Short
The best speeches are when people are fully engaged. Keeping their attention is crucial. Therefore you want to keep it short and simple. In general, the sweet spot of an average speech is between 5- 7 minutes. But it can be shorter if you wish and longer too. Only remember: "It's best to leave your audience before it leaves you".
3) Be Authentic
People are there for you. That is why speaking with sincerity and authenticity is key.
People will remember the speeches that have touched their hearts. And the only way to reach someone's heart is to speak from the heart. So don't be afraid to show emotion. Retirement is a huge achievement in life that only happens once. It is accompanied by all sorts of emotions and expressing these emotions or being overwhelmed by these emotions during a speech is normal. It will make it even more memorable.
4) Write Outline On A Note
It's not important to memorize all the words, but it can be helpful to write an outline of what you want to say on a piece of paper so you'll have something to fall back on.
5) Stay Positive
Whatever the real reason for your retirement, try to keep things positive. Always take the high road.
I have more helpful tips in my article: How To Give The Best Retirement Speech | 18 Helpful Tips