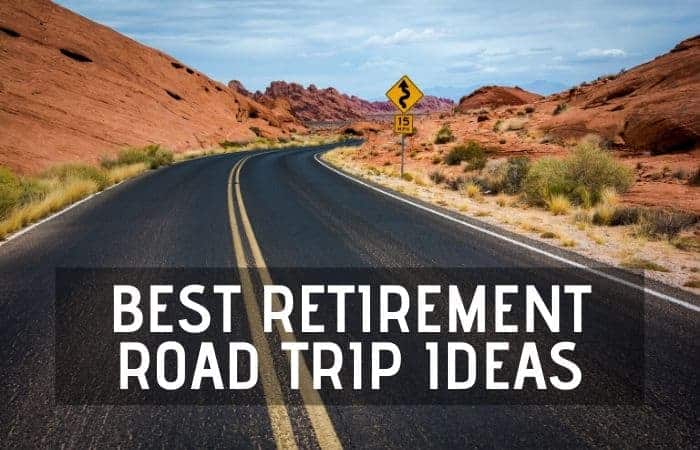 "Retirement is not the end of the road, it's the beginning of the open Highway." You can hop in your car or RV and hit the road today, but you might wonder, what are the best road trips for retirees?
I share the 25 best road trips in this article. And give you more practical travel information so you can plan your next trip right away. So, continue reading.
1) Pacific Coast Highway, California (656 miles)
The Pacific Coast Highway is one of the most popular routes in the USA. It's more than 650 miles long and takes you along the California 1 highway. It is known to be one of the most scenic routes in the USA. And therefore, it an excellent road trip idea for your retirement. 
You can start in San Francisco and drive south to San Diego or go the other way around and drive from south to north. Officially the Pacific Coast Highway begins in Southern California at Interstate 5 south of San Juan Capistrano, and it ends at US 101 in Leggett in Mendocino County. But most people describe it as the route between San Diego and San Francisco.
The route itself is beautiful, but don't forget to stop and explore as well. The best stops along the Pacific Coast Highway are:
San Francisco,
San Jose,
Santa Cruz,
Monterey Bay,
Big Sur,
San Simeon (visit Hearst Castle),
Pismo Beach,
Santa Barbara,
Ventura Beach,
Malibu,
Los Angeles,
Long Beach,
and San Diego.
2) Historic Route 66, Illinois to California (2,451 miles)
The historic Route 66 is 2,400 miles long and crosses eight different states (Illinois, Missouri, Kansas, Oklahoma, Texas, New Mexico, Arizona, and California). This historic and famous route, also knowns as Mother Road, starts in Chicago, Illinois, and ends at the Pacific Coast in Santa Monica, California.
Have you ever wanted to road trip the route 66? Well, now is the time to do so in retirement. Because whenever? Let me give you a couple of reasons why Route 66 is a great road trip idea:
You'll mostly skip Interstates and see lesser-known, small-town America. You can really enjoy cruising the open road.
You follow American History footsteps. From its origin, many people used this route to travel from North East across the Rocky Mountain to the Pacific Ocean. From the Native Americans in the 1800s, family migration seeking a better life in the 1930s to many travelers now. And you can experience this rich history along the way.
You can visit many ghost towns. You can find many deserted towns along the route that reflect the good old days from the past.
Eat at the most iconic American diners along the route.
Visit many quirky roadside attractions that are awesome breaks during your road trip.
3) Route 50, The loneliest road in America (3,200 miles)
This route is the transcontinental highway that takes you from sea to sea in the United States. It runs between West Sacramento, California, to Ocean City in Maryland, on the east coast. It was named The Loneliest Road in America by Life magazine in July 1986 because of the 287-mile portion of the route through the center of Nevada. In the magazine, readers were warned not to travel unless they possessed survival skills.
It's an awesome road trip idea for your retirement days because you can then say you survived the loneliest route in America. Who doesn't want that checked off their retirement bucket list?
It runs through 11 states and is 3,200 miles long and takes you to some of the best highlights in America. It's a great road trip when you're not in a rush and want to experience the freedom of the open highway.
You can visit four state capitals, as well as the nation's capital, Washington DC. And see beautiful landscapes such as the Sierra Nevada, the Appalachian Mountains, Rocky Mountains, endless farmlands of the Great Plains, and the deserts of the states Utah and Nevada.
Useful links:
4) Blue Ridge Parkway (490 miles)
The Blue Ridge Parkway is one of America's favorite routes that runs through Virginia and North Carolina. It is famous for its scenic beauty linking Shenandoah National Park to Great Smoky Mountains National Park.
It's a great retirement road trip if you're looking for a slow drive. And want to experience breathtaking landscapes and see green forests, misty mountains, blooming meadows, and blue horizons.
Beautiful stops you don't want to miss:
The Natural Bridge: Milepost 61.6, Virginia
Mabry Mill: Milepost 176.1, Virginia
Blue Ridge Music Center: Milepost 213, Virginia
The Blowing Rock: Milepost 291.9, North Carolina
Linville Falls: Milepost 316.3, North Carolina
Southern Highland Folk Art Center: Milepost 382, North Carolina
Chimney Rock State Park: Milepost 384.7, North Carolina
Biltmore: Milepost 388.8, North Carolina
Pisgah Inn: Milepost 408.6, North Carolina
Oconaluftee Indian Village: Milepost 469.1, North Carolina
5) Miami to Key West, Florida (160 miles)
Do you want to make a road trip in retirement and get a taste of tropical Florida? With beautiful white sandy beaches, crystal blue oceans, and many places to relax and do all sorts of watersport activities. Then road tripping the Overseas Highway from Miami to Key West is an excellent retirement road trip idea.
The drive is 160 miles long, and it will only take you approximately 4 hours when you drive straight to Key West. But you want to take a couple of days to really explore and experience all the best the Florida Keys has to offer. Because there is so much to see and do. You can relax at the many beaches, go sportfishing, boating, scuba diving, swim with dolphins and do watersport activities like jet skiing, paragliding, etc. You can eat delicious seafood along the route and drink as many cocktails as you want while enjoying a beautiful sunset.
Does it sound like a great road trip idea for your retirement? Here are not to miss stops between Miami to Key West:
Everglades National Park
Key Largo
Islamorada (visit Islamorada Beer Company)
Marathon (visit Turtle Hospital)
Big Pine Key
John Pennekamp Coral Reed State Park
Mile 88 Beach & MM88 Tiki Bar
Dolphin Research Center
Seven Mile Bridge
6) Route 12, Utah (124 miles)
This 'All-American-Highway' takes you through forests, two national parks, and many natural wonders. You will drive through some most rugged and diverse landscapes of the nation. It is only 124 miles long, so you can drive it in a day easily. But, many people like to spend multiple days to make the most of their road trip.
Highlights of Highway 12
Red Canyon
Dixie National Forest
Bryce Canyon National Park
Paunsaugunt Plateau
Grand Staircase-Escalante National Monument
Hell's Backbone Scenic Backway
Calf Creek Falls
The Blues Overlook
Burr Trail
Escalante River Trailhead
Anasazi State Park Museum
Capitol Reef National Park
The road trip is great for hiking, biking, horseback riding, ATV riding, snowmobiling, canoeing, swimming, fishing, picnicking, hunting, and camping. And it has plenty of beautiful viewpoints.
7) (Blues) Highway 61 (1,400 miles)
Highway 61 runs for 1,400 miles (2,300km) between the cities New Orleans, Louisiana, and Wyoming in Minnesota. The portion between Memphis and Vicksburg is known as the Blues Highway. The highway generally follows the course of the Mississippi River and was an important south-north connection in the days before the interstate highway system.
Many blues legends were born within spitting distance of Highway 61. They started out by performing at picnics, parties, and barbeques throughout the Mississippi Delta between Memphis and Vicksburg. To find fame, they needed to go to Memphis and further north to big cities like Chicago and Detroit. These artists recorded many songs about Highway 61 and their sometimes harsh life in the area.
So, when you want to road trip Highway 61, you need to listen to famous records, because that will add to your experience. And visit as many cafes and local music pubs to experience the roots of the blues.
8) Going to the Sun Road, Montana (50 miles)
This route is a 50 miles scenic mountain road in the Rocky Mountains in the Glacier National Park. It crosses the Continental Divide at Logan Pass. Its a great road trip when you want to see impressive glaciers, beautiful valleys, waterfalls, mountains, colorful wildflowers, and spot wildlife in retirement.
This road was earlier known as the Transmountain Highway. When officials wanted to formally open the road to the public in 1933, they decided to give the road a more fitting name: going-to-the-sun-road. Borrowed from the nearby Going-to-the-Sun Mountain.
The road is only open during summer months, but there is no specific date for the road to open. This all depends on weather conditions, but it generally opens around late June and closes half or the end of October. You can check past open and closing dates here.
This route is very popular and therefore can be very busy. The parking lot at Logan Pass is usually full between 9:30 and 4:00 that can lead to road delays. Preferably you want to leave as early as possible to beat the traffic but also to spot more wildlife. Because animals are more active earlier in the day to avoid the midday heat.
Before you plan your road trip, make sure to check out the latest information about Glacier National Park and the road status at National Park Service.
Best Travel Recourses To Book Your Trip
We travel full-time, so we put together a list of the best and most reliable booking recourses to book your trip in retirement. It can save you a ton of money and it will make your planning less stressful. We use the following recourses all the time so we can highly recommend them.
Rentalcars.com: For the best car rental deals, I can highly recommend Rentalcars.com. It's the world's biggest online car rental service, where you can compare rental car prices from over 900 companies. It can save you a ton of money that you can now spend on fun things to do on your trip. Check out Rentalcover for better coverage and cheaper car rental insurance.
Booking.com: For the booking the best accommodation, I can highly recommend Booking.com. They have over 800,000 properties worldwide including hotels, apartments, and hostels. You get the best price guarantee and free cancellation on most rooms. It's very easy to use and offers a wide selection for every type of budget. You can see scores about cleanliness, location, WiFi, comfort, facilities, and value for money from previous customers to you get a better impression of the accommodation.
AirBnB.com: We love using Airbnb while we travel. They connect homeowners who rent out their homes/apartments/ rooms to travelers like you and me. With Airbnb, you'll get all the comforts of feeling at home while traveling. And you stay at less touristy parts of a destination and get great local travel tips from your host. And often Airbnb is a lot cheaper than the cost of a hotel room. Create an account on Airbnb here.
CruiseDirect.com: If you would like to go on a cruise in retirement you should check CruiseDirect for amazing cruise deals around the world. They give the best price guarantee, have flexible payment plans and no booking fees.
Tripadvisor.com: World's best travel platform to get reviews on the best restaurants, attractions and hidden gems worldwide. But also to book cheap flights, hotels, attractions, and experiences.
Please note that these links are affiliate links. When you make a purchase using these links, we may get a small commission, at no extra cost to you.
9) US-93, Border to Border
Highway 93 is known to be the road from the border to the border, but it officially runs from Canada to Mexico. It starts in Jasper National Park, Canada, and takes you to Ambos Nogales in Mexico (or town Nogales in Arizona). Through the states: Montana, Idaho, Nevada, and Arizona. From Alpine paradise to the desert, this route is so diverse and takes you through the wildest and most rugged lands you can imagine.
Highlights Highway 93
The Canadian Rockies
Jasper National Park
Banff National Park
Rocky Mountains
Sun Valley, Idaho
Flathead Reservation
Bitterroot Valley
Snake River Plain
Glacier National Park
Great Basin Desert
Las Vegas
Sonoran Desert
Phoenix
Tucson
Read more: 20 Best Retirement Trips In The USA
10) US Highway 1 East Coast, Florida to Maine (2,369 miles)
This epic road trip takes you from tropical beaches in Florida to the rocky coastline in Maine. It runs 2,300 miles from Key West, Florida north to Fort Kent in Maine. And is the longest north-south road in the United States. The cool thing about this route is that is has something for everyone.
When you enjoy visiting big cities, then this road trip is a great idea for your retirement. Because the highway connects most of the major cities of the East Coast: Miami, Jacksonville, Richmond, Washington, D.C., Baltimore, Philadelphia, New York City, and Boston. So,
11) Cabot Trail, Canada (185 miles)
Cabot Trail is a scenic highway on Cape Breton Island in Nova Scotia, Canada. It is 185 miles longs and completes a loop around the northern tip of the island.
It is considered to be one of the world's best road trips and perhaps an excellent choice for your next road trip in retirement. Especially if you like to see rocky coastlines, waterfalls, vibrant bays, old forests, and enjoy amazing seafood and outdoor activities.
You want to drive it counter-clockwise direction to get the best views and spend at least 3 to 5 days. It's a great road trip to do in summer and winter. In the summer you can enjoy many foods, cultural and music festivals between May and October. And in the winter you can do activities such as snowmobiling, skiing and ice fishing.
12) Icefields Parkway, Canada (144 miles)
The icefields Parkway is one of the most beautiful and scenic road trips you can do in Canada. It goes through the heart of Banff and Jasper National Parks and serves as a connection between Lake Louise and the town of Jasper. When you don't stop anywhere, it takes you about 3 hours of driving. It takes you along beautiful glaciers, falls, and blue lakes.
Icefields Parkway Best Stops
Herbert Lake
Crowfoot Glacier
Helen Lake
Maligne Lake
Bow Glacier Falls
Peyto Lake
Mistaya Canyon
Panther Falls
Parker Ridge
Athabasca Glacier
Tangle Falls
Athabasca Falls
Maligne Canyon
The Jasper Skytram
Town of Jasper
Pyramid Island
Sunwapta Falls
Glacier Skywalk and Columbia Icefields
Generally, the road is open year-round but can be occasionally closed due to ice storms or avalanches.
13) Vancouver Island, Canada
If you love the wilderness, wildlife, and outdoor adventures, then you should definitely consider making a road trip on Vancouver Island in retirement. It's a stunning place to visit with beautiful forests, rugged shorelines, and beaches. It's a perfect destination for hiking, camping, surfing, bear spotting, and whale watching.
You can easily catch the ferry from Horseshoe Bay and Tsawwassen near Vancouver to the island or catch a seaplane and rent a car on the island. You can start your road trip in the south in Victoria and drive 300 miles to Port Hardy in the north of the island. And stop at several places along the way.
Popular Places to visit on Vancouver Island
Victoria
Butchart Gardens
Tofino
Pacific Rim National Park & Long Beach
Cathedral Grove
Clayoquot Sound
Mount Washington
Port Renfrew
To enjoy the most popular highlights, you want to spend at least spend a week on Vancouver Island. But you need much more time if you also want to travel to the smaller islands around the island or visit more remote places.
5 Retirement Travel Must-Haves
As full-time travelers, we've tested a lot of products over the years and that's why we created this list of items that are must-haves for every traveler. We can highly recommend them without any hesitation:
Check out more of my recommendations about the best travel gear here.
Please note that these links are affiliate links. When you make a purchase using these links, we get a small commission, at no extra cost to you.
14) Trans-Canada Highway, Canada
The Trans-Canada Highway travel travels through all ten provinces of Canada from the Pacific Ocean on the west to the Atlantic on the east. The main route is 4,860 miles long and is one of the world's longest national routes. It starts at Victoria, Vancouver Island, and ends at St. John's, Newfoundland.
When you have a lot of time for your travel adventure in retirement, and you want to explore Canada in the most in-depth way, this is your best road trip!
You cross Canada's most beautiful parks and best cities, so there is a lot to explore. You can drive passed Vancouver, Banff, Jasper National Park, Calgary, Winnipeg, Ottowa, Montreal, Novia Scotia, Cape Breton Island, and St. John's.
15) Great Ocean Road, Australia
One of the most famous ocean roads is the Great Ocean Road in Australia. It is a 249 miles long road in Victoria, the southeast state of Australia. It starts at the town of Torquay, 90 minutes from Melbourne, to the town Warrnambool. You can go surfing, wine tasting, whale watching and explore rainforests, pristine beaches, beautiful waterfalls, and witness the most scenic landscapes of Australia along this route.
You can drive it one day, but to make the most of your road trip, you want to spend a couple of days along the route. And you can combine road tripping the Great Ocean Road with visiting other places in Australia like Melbourne or Tasmania Island. Or while you there, why not make a big road trip along the east coast of Australia, starting in Cairns in the north and ending it with driving the Great Ocean Road in the south.
Amazing stops on the Great Ocean Road
The Twelve Apostles
London Arch
Loch Ard Gorge
The Grotto
The Bay of Islands
Great Otway National Park
16) South Island, New Zealand
Visit one of the most beautiful countries in the world, New Zealand. And road trip through the south island, renowned for its mountains, lakes, and glaciers.
New Zealand is famous for its natural beauty, amazing things to do, and some of the friendliest locals you will ever meet. And New Zealand has developed distinct biodiversity that you can't find anywhere else in the world, because of its isolation.
Although both islands are beautiful, the South Island is considered to be the most beautiful one. From turquoise lakes to snowcapped mountains, glaciers, rainforests, and tropical beaches, the South Island has it all. And the coolest part about road tripping through New Zealand is that within a small area, you will discover the most beautiful landscapes the country has to offer.
It's a great road trip idea, not only to explore the beautiful scenery. But also if you like hiking, adrenaline-filled activities, wine-tasting, delicious cuisine, whale watching, penguin watching, stargazing, etc. And to know more about the indigenous people of New Zealand: the Maoris.
Watch our documentary about the Maori below:
Highlights South Island New Zealand
Lake Tekapo
Lake Pukaki
Mount Cook
Queenstown
Milford Sound
Lake Wanaka
Franz Josef Glacier
Abel Tasman National Park
I traveled twice through New Zealand and spent a total of 10 weeks in the country. So, to get more in-depth information about the South Island of New Zealand, I highly recommend you to read my article on our travel Made For Travellers. 20 Places Every Traveller Should See on the South Island of New Zealand.
17) Amalfi Coast, Italy (37 miles)
The most famous coast in Europe is probably the Amalfi Coast in Italy. Its only a 37 miles long coastal route between Sorrento and Salerno, located just south of the Bay of Naples. Since 1997 the Amalfi Coast is listed as a Unesco World Heritage Site.
It's famous for its picturesque villages, lemon terraces, vineyards, and stunning cliffs. Driving down the Amalfi coast, you can experience beautiful views, eat delicious Italian food, and drink the famous Italian drink: Limoncello.
It's a great road trip idea in retirement when you're looking for a second honeymoon destination. This road trip is not about driving the route but experiencing the south Italian vibe and amazing scenery of this route. So you might want to spend a couple of days along the Almafi Coast to really experience it.
When you like to know more about road tripping the Amalfi Coast check out the following articles:
18) Tuscany, Italy
A road trip through Tuscany is on many people's bucket lists. And it is also a great idea for your retirement. The Tuscany region is famous for its landscapes, vineyards, olive gardens, history, and artistic legacy. And you can find the world's most recognizable Renaissance art and architecture in the capital of Florence, Italy.
You can explore historic cities, beautiful medieval towns, drink Italy's best wineries and amazing food while overlooking the beautiful rolling-hills landscapes. Tuscany has it all, and that is why it is one of the busiest regions of Italy.
To observe the vibe, visit Florence and drive from historic town to historic town to explore most of the region, I advise you to spend at least 7 days in Tuscany. And extend your stay longer to get a better understanding of the region and its culture. And that shouldn't be a problem in retirement. Also, traveling slower will even lower your daily travel costs. Check out my article: How To Retire And Travel Cheap: 20 Helpful Tips. For more information about cheap travel tips.
Not To Miss Places In Tuscany
Florence
Pisa
Siena
San Gimignano
Volterra
Prato
Trequanda
Do you want to know more about the Tuscany region? Read our article: What is Tuscany Best Known For?
19) Ruta 40, Argentina
Are you an adventurous retiree? Then road-tripping Ruta 40 in Argentina is something up your alley. Ruta 40 is the ultimate Argentine road trip that is 3,227 miles long, running along the slopes of the Andes. It starts from the town La Quiaca in the North on the Bolivian border in the Puna highlands (+12,000 feet altitude). And it travels all the way South to Cabo Vírgenes on the Strait of Magellan in Patagonia.
This route takes you along magnificent sceneries, extreme heights (16,050 feet above sea level), and also the variety of regions makes it a road trip of a lifetime.
Highlights Along Ruta 40
Cusi Cusi in the Jujuy province, also known as The "Valley of Mars."
Salinas Grandes Salt Flats in the Puna Highlands
Abra del Acay, the highest point along Route 40, and it is the highest pass on a national highway in the whole world.
Quebrada de las Flechas in Calchaquí River Valley, you'll see amazing rock formations.
Shinkal de Quimivil is a National Historical Monument that preserves Inca ruins.
National Park Talampaya and Provincial Park Ischigualasto: both a UNESCO World Heritage Site.
El Payén or Payunia is a volcanic region along the Ruta 40.
Ruta de Los Siete Lagos, meaning "The Seven Lakes Road."
Perito Moreno Glacier; Patagonia's most famous glacier.
20) North Coast 500, Scotland (516 miles)
The North Coast 500 is a complete loop of a 516-mile scenic route around the north coast of Scotland. It starts and ends at Inverness Castle. It links many features in the north Highlands of Scotland in one touring route. So, if you like to drove the coastal road, then this is a great retirement road trip idea.
Ideally, you want to take at least five days or more to make this road trip and have enough time for sightseeing and exploring the region. And the springtime would be the best time to make this road trip as flowers bloom and enough activities to do. But temperatures in the spring are between 7°C (45°F) to 13 °C (55°F) so bring warm clothes. There is an old Scottish 'there's no such thing as bad weather, only the wrong clothes!'
21) Ring Road, Iceland
The ring road, also known as Route 1 in Iceland, is an 828 miles national road that runs around the island and connects most of the inhabited parts of the country. And visiting Iceland means visiting a country of extreme geological contrasts.
Iceland is also known as "The Land of Fire and Ice" because it's home to some of the largest glaciers in Europe, and some of the world's most active volcanoes. Driving around Iceland is seeing nature at its finest, and there aren't many places in the world with such natural diversity. It has some of the world's most beautiful waterfalls and many long, deep fjords and glaciers. Also, Iceland is an excellent place to see the Northern Lights.
Must-Sees Along The Ring Road
Reynisfjara Black Sand Beach
Skogafoss Waterfall
The Golden Circle
Jokulsarlon Glacier Lagoon
Dettifoss Waterfall
Lake Myvatn
Vestrahorn
Stokksnes
Hvitserkur Basalt Stack
Godafoss Waterfall
It takes you approximately 13 hours to drive around Iceland if you don't stop anywhere. But you want to at least spend between 7 – 10 days to explore the ring road and have time for sightseeing, activities and not just have short photo stops. If you drive the route counterclockwise, you'll to hit the most touristy parts of Iceland first. Or you can drive the other way around, there is no best answer.
22) The Gobi Desert, Mongolia
Do you want to go on an off-the-beaten-track road trip adventure in retirement? Well, a road trip through the Gobi Desert in Mongolia and sleeping in Mongolian yurts can be an excellent idea.
The Gobi Desert is the coldest desert in the world, and only 5% of it is covered by sand dunes. The rest of the land is grassy steps and has rugged mountains, oasis, rivers, and lakes. Also, it is the home to many dinosaur species discoveries. Not what you normally expect from a desert.
You start your trip at the capital of Mongolia, Ulaan Bataar, and drive southwest to the Gobi Desert. Many travelers like to hire a driver and car (mostly this will be UAZ vans) because they feel more comfortable. It is possible to explore the Gobi Desert on your own, but a lot of preparation goes into it. And preferably, you want to have a little or a lot of experience in navigating through inhabited terrain.
23) Garden Route, South Africa (190 miles)
The Garden Route is a famous route in South Africa and loved by many travelers. It gets its name from the vividly colored wildflowers along this coastal route.
It officially starts in Mossel Bay in the west and ends at Storms River in the east. But many travelers like to refer to the Garden route as the road between Cape Town and Addo Elephant Park. And is around 600 miles if you drive along the coast.
This route takes you along beautiful landscapes, the most southern part of Africa, the possibility to see whales (August – October), endless activities like surfing, swimming with white sharks or seals, African wildlife, wineries, so many different cultures, and exquisite cuisine.
You can fly into Cape Town and have your road trip end in Addo Elephant Park, where you will fly out the city of Port Elizabeth. But I can highly recommend ending your road trip with a few days in Cape Town. Because in my opinion you want to leave the best for last, and spending a couple of days in Cape Town is an excellent choice.
24) Algarve Coast, Portugal
The Algarve is the most popular region in Portugal amongst tourists. And no wonder, it has beautiful dramatic cliffs, turquoise waters, fishing villages, historic towns with traditional mosaic tiles and more than 150 beaches. It's a beautiful area to explore by car and spend a couple of days for sightseeing and relaxing among the many beaches.
The hottest months and the busiest months are in July and August. These months are also the most expensive. So, it's best to book your trip to the Algarve is in the spring or fall time. Temperatures are still great, and it's less crowdy.
You can easily pick one city or town in the Algarve to stay at and explore the Algarve region from there. And the best place to stay is in the town of Lagos.
25) Bollenstreek Route, The Netherlands (40 miles)
Bollenstreek is the flower region in The Netherlands, my home country. It is a very popular area to explore in the springtime because that's when all the flower fields bloom. The Bollenstreek, also known as the Flower Route, is the area between the cities of Haarlem and Naaldwijk.
The best time to visit is in April and May because that's when the tulip and other flower fields are in full bloom. And its also the time when The Netherlands has its most cultural, national events: Kingsday (27th of April) and Liberation Day (May 5th). Those are the most fun days to be in The Netherlands.
The area between Haarlem and Leiden in the south offers the highest concentration of gorgeous blooms in the spring. And that's also the place where the biggest flower garden in the world: Keukenhof is located.
You can rent a car or hop on a bike the Dutch way to explore the region. You can also get around easily with public transport. The best city to stay in is Amsterdam, but cities like Haarlem, Leiden, and The Hague are also beautiful historical cities to stay at and to explore the Bollenstreek Region.
For more information, check out our articles on our Made For Travellers Travel blog:
Recommended Articles
The following articles might be helpful for you to read as well: