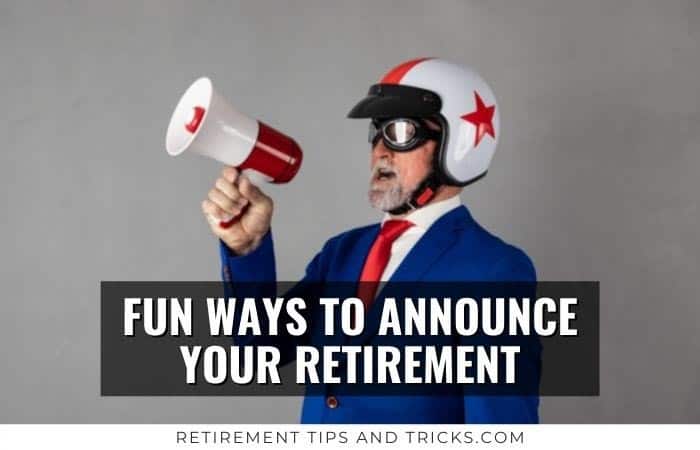 Congratulations. You're retiring soon and you're looking for fun ways to announce it. No need to look further, I've listed 21 fun ways to announce your retirement in this article that you can use at work and privately.
Before we start unpacking make sure you announce your retirement verbally and written to your boss first. Just to give you a smooth start. You can read more about that in my article How To Announce Your Retirement: A Step-by-Step Guide. Now let's continue with all the fun ways to announce your retirement.


---
1) Announce It On A Cake
Announce your retirement with a cake or with cupcakes with a funny text on top. You can have it delivered at the office, distribute cupcakes to the entire department or bring it in at the end of a meeting. To help you out here are some funny text examples you can write on the cake or cupcakes:
Funny Retirement Cake Sayings
"Congratulations to me: I'm retiring!"
"Goodbye Tension, Hello Pension"
"Happy Retirement (your name)"
"Let the fun begin (retirement date)"
"Work is going to suck without me"
"Retirement is going to be sweet, take a treat"
"Jippie Kayee, I don't have to work anymore"
"Retirement just ahead (road sign cake)"
2) Give Out Funny Business Cards
Another funny thing you can to announce your retirement at work but also at your next family reunion or dinner party is to give out your "new business card". For example, you can use this funny retired business card, available on Amazon.
3) Give Out Funny Gifts
Surprise your spouse, co-workers, or family with a nice small and funny gift that reveals that you're are retiring. You can go all out with funny coffee mugs, forks, t-shirts, keychains. Here are a couple of funny examples: I'm done fork Funny Can Coolers, Funny coffee mug: (your name) The Legend Has Retired. Or give out these funny can coolers below.
Do you want to make sure you have the best time in retirement? Make sure to read my Ebook: Five Steps To Happiness In Retirement.
4) Throw An Announcement Party
Why not go big and throw a party just to announce your retirement. You can send out funny invitations (check out Zazzle) that will make everyone speculate about what's happening. Your announcement party will automatically turn into your first retirement celebration.
For example, if you're the boss you can throw a staff party and announce your retirement during the party. Or you can host a family dinner party to announce your retirement to friends and family and celebrate it together right away.
5) Make A Funny Video
Sometimes the best announcements are video announcements. If you like creating videos and don't mind starring in it you can get creative and make a funny retirement announcement video. You can send it to everyone you know on the day you want to announce your retirement via WhatsApp, email, and post it on your Linked In and other social media.
Funny Retirement Announcement Video Idea
6) Wear A Funny T-Shirt
Another seriously funny way is to announce your retirement by wearing a T-shirt. You can even spread out the announcement by wearing multiple t-shirts that ultimately reveal your message. For this idea, you need to customize your own t-shirts and that is easy to fix. Or just turn up to work one day or a family gettogether with a funny retirement t-shirt on. For example the funny T-shirt: Does this shirt make me look retired?
7) Create A Funny Poster
If you love to design or know someone that is good at it you can design your own retirement announcement poster. For example a blockbuster movie type of poster. You can hang it up at your office door, break room, or outside your home. Even with no designing skills, you can easily create a retirement announcement poster online with Canva, like these examples below.
Retirement Announcement Poster Ideas
8) Send A Funny Email
One of the easiest and fastest ways to announce your retirement is by email. You can write up different emails for different persons or write up one email and send it to everyone in the company to announce your retirement. Especially if you're known as the funny guy at the office or the hilarious lady then people will expect a fun email from you. You can start formally and end it on a funny note to make people laugh and remember you in a positive way.
Make sure to announce your last day on the job or first day of your retirement in the first paragraph, some highlights and accomplishments in the second paragraph, thank you's to people and anecdotes in the next paragraph, and end your email with sharing your future retirement plans. You can all do this in a fun and positive way. Use your creativity and take the time to really wordsmith your email to make it perfect. And ask someone else to proofread it before you send it out.
9) Wear A Funny Necktie
When you don't have casual Fridays at work, you can wear a funny necktie to announce your retirement. It can be a subtle way to let everyone know that your retirement is coming soon. You can wear a different necktie every other day to hint towards your retirement. It's definitely fun when no one will notice at first. They'll definitely notice you wearing something different or will talk about that weird tie you're wearing, but perhaps can't put their finger on it.
For example, if you're looking forward to going fishing every day in retirement you can start wearing different fishing neckties to give people a hint. Or wear tropical neckties to hint towards beach days and planned travel trips (to Hawaii) in retirement. And if you definitely don't care anymore because you're retiring soon you can wear all sorts of funny neckties to make a statement.
10) Walk Around With A Funny Coffee Mug
Let everyone in the office know that you're soon retiring by walking around with a funny coffee mug. Especially if you can't wait anymore to be retired this funny coffee mug below is a funny way to announce your retirement. If you have a good reputation and people get your sense of humor this coffee mug joke is a hit. Or it can cause you some awkward encounters with your bosses. But if you don't care anymore, why not. Right?
11) Plan A Prank
Plan the ultimate office prank to announce your retirement. You can watch the TV show The Office for some ideas and inspiration for great office pranks. You can even have it filmed so you can laugh together later or use to send it as an retirement video announcement as well.
12) Write Funny Post-Its
Show up to work early and stick post-it notes to your coworker's computer or desk to announce your retirement. You can use all sorts of funny messages to let them know.
Funny Post-it Notes
Yep, I'm Outta Here
What do you call someone who is happy on Mondays? Retired!
I have made my mark, paid my dues, now I'm putting on my party shoes!
I have permission to relax, sit back and enjoy the ride.
I beat you to it. Retirement ahead this July
Good luck without me!
I don't want to, I don't have to, I'm retiring soon.
13) Post A Funny Picture On Social Media
Make a picture of yourself, write a great and funny caption and post it on social media to announce your retirement. Perhaps your kids or grandkids can help you out and come up with funny ideas. Make sure you don't post things on social media before you've announced your retirement at work and told the most important people in your life to avoid awkward conversations and problems at work.
14) Hold A Special Meeting
Another way to announce your retirement at work is to hold a special meeting. You can come up with a funny and secretive agenda for the meeting, send out an invitation for the meeting and prepare a short speech or create a slideshow to announce your retirement during the meeting.
15) Write A Funny Letter
Do it the old-fashioned way and write a funny letter to announce your retirement. You need to send in a letter anyway to formally announce your retirement at work, why not make it a funny one. Especially if you have that type of relationship with your boss he or she can appreciate receiving a funny retirement letter.
16) Host A Funny Speech
Prepare a funny speech to announce your retirement. Whether it's a meeting at work or a family gettogether, this way you're prepared to give the speech on any occasion in the near future.
Do you want to make a great impression with your retirement speech? Make sure to read my article: How To Give The Best Retirement Speech | 18 Helpful Tips
17) Send Out Greeting Cards
Just like sending out a greeting card for a holiday destination, or for any other occasions in life you can send out greeting cards to coworkers, friends, and family to announce your retirement. There are funny greetings cards out there that are perfect for this occasion. You can expect a couple of congratulatory phone calls after sending out these cards, so make sure you're not too busy when the cards arrive at their destination.
18) Use A Megaphone
As the top image of this article already suggests, walk in with a megaphone, use the siren to get everyone's attention, make your retirement announcement and leave as nothing happened.
19) Bust A Move
Another fun idea is to walk in with a 1980's ghettoblaster and 80s outfit, dance your socks off, and reveal a message that you're retiring. For example, revealing a banner, ripping a piece of clothing to reveal a t-shirt with a text or something else you can think of that is funny.
20) Sing Your Announcement
When you have a great singing voice, or even when you're not. Customize the lyrics of your favorite or popular song and sing your retirement announcement. A couple of funny songs you can use are: I Want To Break Free from Queen, She Works Hard For The Money from Donna Summer, Feeling Good from Michael Bublé, Hit The Road Jack from Ray Charles, Shout from The Isley Brothers.
21) Give Out Funny Flyers
Instead of hanging up a funny retirement announcement poster, you can give out flyers like an old-fashioned salesman. You can show up at work early and give the flyers out at the front door when everyone is arriving, distribute them on the lunchroom tables, put them down on everyone's desk or under your coworker's cars windshield wipers.