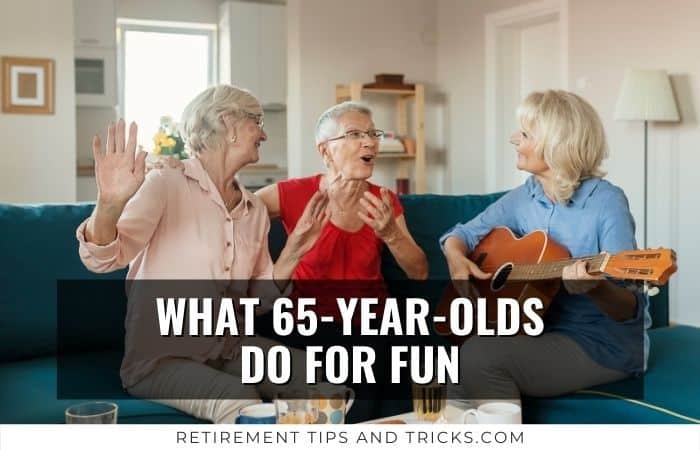 When you wonder, what do 65-year-olds do for fun? You're are at the right place! I'm a retirement activity expert and listed 30 awesome things 65-year-olds like to do for fun. So, let's start right away!


---
1) Gardening
Gardening is a very popular hobby amongst 60-plus-year-olds because it is a fun and relaxing way to get in touch with nature. You can see the results of all your hard work slowly growing and blooming and you can enjoy eating delicious fruits, herbs, and vegetables that you grow.
And it is not only fun, but this active hobby has many health benefits that help seniors stay flexible, strong, and happy in retirement. Being outdoors while gardening gives you the necessary sunlight, natural vitamins, and regular exercise.
Research shows that gardening strengthens mobility and coördination, reduces stress, and increases social interactions and problem-solving, which helps maintain the brain's cognitive functions. Seniors who are actively gardening reported benefits like better physical and mental health.
Read more: 11 Science-Based Benefits Why Gardening Is Good For Seniors
2) Cooking
Many seniors who retire love to spend more time in the kitchen. Even just retired men love to explore new recipes and try cooking their meals, instead of their spouses. But also many 65-year-old women love to entertain and pamper their guests with delicious food.
A great way to upgrade your cooking skills is to apply for a cooking class. And you can find the most fun and best cooking classes (for any skill level) on Masterclass. Over 20 world-renowned chefs share their secrets, tips, tricks, and favorite recipes. Gordon Ramsay, Thomas Keller, Aaron Franklin, Alice Waters, and many more. And the best part is… it is all online. So you or a 65-year old can learn at your own pace, time, and device. It is a great gift for anyone in retirement.
3) Host Parties
Seniors like to organize parties so another fun thing to do when you're 65 and older is to step up your game when it comes to hosting. You can organize all sorts of gatherings for family and friends such as game nights, BBQ Pool Parties, and family dinners, or rent out extra space as an Airbnb host.
And if you're very good at organizing parties and hosting you can do it more professionally by setting up your own business as a party organizer or event manager. Why not earn some extra bucks while having fun.
Did you know that staying socially active in retirement is one of the most important keys to avoiding depression? It is one of the key factors for a happy, healthy, and fun retirement.
4) Follow Classes
Many retirees and seniors love to learn new things and that is why they love to follow classes.
So, if you always had a thought or desire to learn more about a specific subject, why not learn more about it now when you're 65 or older? And when you think that learning at an older age is impossible this article will prove you otherwise.
For example, you can follow art classes, music classes, or go back to college. Many colleges and universities give classes to seniors at reduced prices or even for free.
But many retirees like to be in charge of their own schedule and that is why they like to follow online classes, where they can learn at their own pace, time, device, and from the comforts of their own home.
And that is why 65- year olds love Masterclass, the video education platform I mentioned earlier in this article. All the best experts in their fields (e.g. Samuel L. Jackson, Gordon Ramsay, Serena Williams, Dan Brown, etc) share their secrets and most valuable lessons in their online classes on Masterclass. You can have access to all classes. From science, writing, wellness, art, business, and tech to music, cooking, and business classes. These videos are for everyone that wants to learn something new or upgrade their skills, no matter their skill level. When you're interested you can visit their website for more information.
5) Hike National Parks
A best-seller book on Amazon is 100 Parks, 5,000 Ideas. It is what many people receive as a retirement gift because with the endless free time they can finally enjoy traveling to the beautiful national parks. And as a lot of 60-plus-year-olds like to be physically active they love to hike through these national parks.
People like hiking through National Parks because you get to experience the beautiful surroundings more intensely, compared to driving through the parks. You're more in touch with nature and feel the sun on your skin, and breathe the fresh air when you're hiking. It feels more satisfying when you completed a beautiful hike. And it is also very healthy as I explain more in-depth in my article: Why Hiking Is Good For Seniors: The Complete Guide
6) Make Roadtrips In RV
If you ask a 65-year-old what is your biggest dream? Or what is on your bucket list? Big chance you'll get an answer such as: doing a road trip in an RV.
Even in Europe, we have met a lot of seniors who bought a camper/ RV in their 60s to travel and enjoy life.
And there are 65-year-olds who take it to an extra level and sell their house to live in RV, because why not?
7) Do Volunteer Work
One of the most popular activities for 65-year-olds is doing volunteer work. It gives people a sense of purpose when they help others. It also is a great way to keep being active when you give your energy and time to local charities.
Did you know that retirement success is replacing working hours with other activities that keep you mentally, physically, and socially active? Doing volunteer work does all that for you and even more. It gives more meaning to your life and helping others makes you instantly happy. And it gives you a daily or weekly structure, which many retirees struggle with. It also prevents loneliness, because you interact with other people or animals constantly.
8) Write Books
Also, many 65-year-olds like to write books for fun. Writing a book takes time, and what do many retirees have endlessly? Yes, time. That is why many seniors like to take up writing. From writing poems, and novels to their family history book.
If you're interested in taking up writing and upgrading your skills. There are amazing online classes from the best writers in the world.
9) Sing
Singing is fun. I have never met a person who doesn't love singing. Do you? In the shower, car, or on stage. Secretly everyone loves to sing. It lifts up your spirit and research has shown that regular singing even increases your immune system singing is a good workout for the brain and lungs.
So why not do it more often? Get yourself a shower radio, create a playlist in the car with your favorite songs, or organize a karaoke party at home and sing, just sing. And if you're more serious, find a (senior) choir in your area to join.
10) Swim
Another activity 60-plus-year-olds love is swimming. Many pools provide special swimming hours for seniors because they know seniors love to swim. It is a great physical activity that increases flexibility. And swimming is a low-impact whole body workout with the smallest chance of injury. It is even the number one activity for injury recovery.
Besides all the physical health benefits, swimming and being near water reduce feelings of stress. The sound of water is soothing. And outside swimming (e.g. lake, ocean) is a great way to enjoy fresh air, sunshine, and water all at the same time. A dip in the salty ocean gives you a refreshing energy feeling, not much other activities can do for you.
11) Play Games
If you look at a senior community center activity board. You'll see a lot of activities that have to do with playing games. Also, I've seen it firsthand. I've traveled to many (southern) European countries and cities and that is where it is very common for seniors to meet each other outside on a daily basis, and what do they do? Play games.
60-plus-year-olds love to play games; board games, online games, outdoor games, etc. Playing is a great workout for the brain because it improves cognitive function.
Read more: 15 Best Outdoor Games For Senior Citizens
12) Solve Puzzles
Another fun activity 65-year-olds love is solving puzzles. For example, jigsaw puzzles, crossword puzzles, sudoku, (online) escape room, scavenger hunt, there are all sorts of fun ways to do puzzles.
And doing a puzzle helps to slow down cognitive decline for older adults and prevent diseases such as Alzheimer's and dementia. It is why many caregivers encourage people to do puzzles as they get older.
"When you don't use it, you lose it" is a good motivation to stay mentally active. And solving a puzzle every day is one piece of the big puzzle when it comes to healthy aging and keeping life fun.
13) Listen To Podcasts
Listening to podcasts has become extremely popular over the last 5 years. And that is not only because young people like to listen to podcasts. Even my 94-year-old grandfather loves to listen to podcasts.
You can find an interesting podcast on almost any topic and if not, you can start your own podcast.
It is a great way to learn from other people and get new insights, which will give you new material to discuss for the next social gathering.
14) Have A Fun Part-time Job
As I mentioned earlier, being successfully retired means that you have replaced your working hours with new meaningful activities that you love and that keep you mentally, physically, and socially active. Having structure and a purpose in life is what many 65-year-olds strive for in retirement. And that is why they love to have a fun part-time job.
Doing something you love doesn't feel like a job and it gives you everything you lose once you retire: a fun activity, structure, social interactions, a purpose, and more.
My father-in-law has a part-time job in retirement as a skipper and guide and he has the time of his life.
15) Read Books
We live on a campsite in the spring and summer. We have a season pitch. And most season pitches at the campsites and all other campsites are from 65-year-olds because let's be honest. Younger people have jobs to go to, we can work from the campsite. So we live amongst retirees.
And when I look around. Almost everyone sits outside every day to read. To be able to enjoy a good book, you need time and a relaxing mind. And that is what most 60-plus-year-olds all have in common.
Read more: 25 Best Books Old People Like To Read (All Novel Genres)
16) Bird Watching
My dad, like many 65-year-olds, loves to watch birds in his garden. My parents have a glass veranda attached to their house and their garden is adjacent to a big park, so many birds fly around. And to invite them into the garden, my parents created a lot of birdhouses and filled them with seeds and peanut butter. I have seen many other retirees do the same thing. And without a garden, you can go bird watching in nearby parks.
17) Restore A Classic Car
The ultimate retirement dream for many retirees is to restore a classic car. Same story for my dad.
He is restoring his Chevrolet corvette 1959. And we have had many far-away family members (also 65-years) that restored classic cars in their retirement. But it is not just my family. There are many 65-year-olds out there that have a lot of fun restoring.
18) Dance
Dancing is a fun activity that also helps as a mood booster and has many health benefits. According to a recent study, it even can reverse the signs of aging in the brain! It is a fun therapy for body, mind and soul.
If you're interested in taking up dancing you can consider following a dance class, or a zumba class. To remind you that dancing is ageless, look at this older couple who never stopped jiving.
19) Do Arts & Crafts
My 65-plus-year-old mom and her friends love to get creative. She even has a whole room filled with arts and crafts materials. It is not surprising that anyone that seniors (especially women) love to have a creative hobby and explore hobby ideas such as knitting and crochet.
Read more: 140 Amazing Hobbies For Your Retired Mom (That She'll Love)
20) Genealogy
Besides gardening, and doing volunteer work many older people like spending time on their family history, which is also called genealogy. You can even do a DNA kit to find out more information about your ancestors and explore databases to find faraway family members.
21) Go On A Cruise
I have been on a lot of cruises and the majority of guests onboard are 60 years or older. And I get it. It is such a fun and convenient way to travel and visit different destinations. Every night you see the sunset at a different location, the ship sails away and you enjoy a great dinner and entertainment. And the next morning when you wake up you'll have a new beautiful view and many new adventures scheduled for the day.
22) Go To The Gym
Staying physically fit is an important goal for many 65-year-olds. You haven't worked that hard to not be able to enjoy retirement as long and as healthy as possible. That is why a lot of retirees go to the gym a couple of days a week. A good activity to stay strong, in good health, and socialize.
23) Photography
Photography is a fun hobby but it also has a therapeutic effect. Immersing in a creative activity such as photography lowers the stress hormone level. And it improves cognitive function and creativity.
Photography is also a very cheap activity and easy to get started because you don't have to buy or have an expensive DSRL camera to create beautiful pictures. Get your phone out and go outside and just start shooting. And share with the world if you like.
24) Learn A New Language
You'll find learning a new language on many seniors' bucket lists. It is so much fun to be able to communicate in another language (while traveling), even if it is just a couple of words.
And if you think that learning a new language is impossible at an older age, I highly recommend reading my article: Scientific Proof That Seniors CAN Learn A New Language!
25) Play A Musical Instrument
Next to learning a new language, many older adults have the desire to learn to play a (new) musical instrument. Many describe it as scratching an itch they've had all their lives and never had the time to pursue. But now their wage-earning and child-raising years have ended they can give it a go.
According to this article from Washington Post, learning to play an instrument is a growing trend amongst older adults.
While it can be fun to play an instrument and learn more than just 'Happy Birthday' it also improves moods, brings back older and happy memories, encourages socialization, and promotes overall mental and physical health.
Read more: 15 Of The Easiest Instruments To Learn For Seniors
26) Join Community Groups
Not a lot of people know this, but many retirees miss work. Not the actual job part but the social interactions that came with the job. And so seniors seek new ways to be social and that is why many 65-year-olds join community groups. It is the best way to find like-minded people with the same interest who can possibly be a new best friend.
27) Metal Detecting
60-year-olds who loved treasure hunting as a kid, do metal detecting for fun in retirement.
Beginners like to start by searching for coins, which is almost always fruitful. Others are on the hunt for jewelry and watches and try to find their long-lost owners. And the more fanatic seniors try to find Civil War pieces such as colonial buckles, buttons, swords, and highly collectible older coins.
28) Babysit Grandchildren
As almost any grandparent, you want to spend as much time with your grandchildren as possible. And that is why so many 65-year-olds like to babysit their grandchildren. It gives them something fun to do and they help out their kids too.
29) Babysit A Pet
Seniors who love animals like to babysit a pet. Sometimes they adopt a dog or cat, but for some, that is too much responsibility. They like to walk dogs as a professional dogwalker are take care of a pet for a couple of hours or days a week.
30) Home Brewing
Home brewing has become extremely popular in the last decade. Nowadays you can very easily brew your own wine, beer, cider, or other liquor. Many 60-plus-year-olds consider home brewing as their new and fun hobby in retirement.