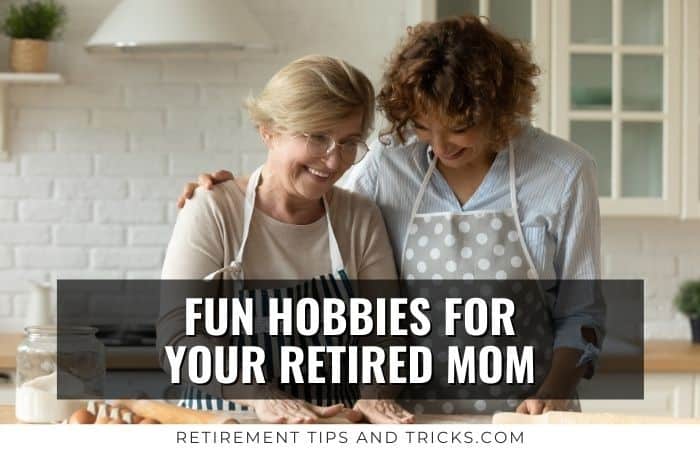 When you wonder, what are some great hobbies for my retired mom? You're in the right place! I've listed 140 amazing hobbies for your retired mom in this article that she will love. And I also listed amazing hobby-related gifts, so you can show your support in a tangible way. Ready? Let's unpack right away!
Just a heads up, this post contains affiliate links. As an Amazon Associate I earn from qualifying purchases. Purchases you make through these links may earn us a small commission, at no extra cost to you.
Art & Crafts Hobbies For Retired Mom
Many retired women love to do get creative but are hesitant. They don't know what to do or where to start exploring for a new creative hobby in retirement. That is why I listed a couple of great arts & crafts hobbies below so you can help your mother out. A great gift for your mom is an Adult & Crafts subscription box from Cratejoy with fun & new craft projects delivered to her door every month (all of the tools, materials, and instructions are included). Interested?
1) Rock Painting
2) Scrapbooking
3) Antiquing
4) Knitting
5) Calligraphy
6) Candle Making
7) Coloring
8) Cross-stitching
9) Drawing
10) Flower Arranging
11) Flower Pressing
12) Macramé
13) Jewelry Making
14) Diamond Painting
15) Leather Crafting
16) Painting
17) Upcycling
18) Photography – There is an amazing Online Photography Masterclass by Annie Leibovitz to gift your mom.
19) Pottery
20) Sewing
21) Soap Making
22) Wood Working
23) Ceramics
24) Mosaic Making
25) Nail Art
26) Comic Strip Book Making
27) Bird House Making
28) Family Photo Album Making
Food Hobbies For Retired Mom
Food-related hobbies can be fun for your mom to explore. And I've got the perfect gift you can give to support her: The Gift Of Masterclass. This streaming platform has over 100+ different online classes from the world's greatest. And 20+ online classes related to food from the best chefs in the world. Your mom can upgrade her cooking skills and explore the secrets of Italian Cuisine, Mexican Food, French pastry Fundamentals, Mixology, and many more fun food classes. You can gift her access to all online cooking classes, from Gordon Ramsay, Massimo Bottura, Thomas Keller, Alice Waters, and many other world's best chefs. Interested?
29) Cooking
30) Baking
31) Mixology (Cocktail Making)
32) Wine Making
33) Beer Brewing
34) Sommelier (certified wine taster)
35) Cake Decorating
36) Dining Out
37) Latte Art
38) Molecular Gastronomy
39) Grilling
40) Bread Making
41) Pasta Making
42) Chocolate- and pâtisserie-making
43) Vegetable Growing
44) Hot Sauce Making
45) Cheese Making
Physical/ Outdoor Hobbies For Retired Mom
If your mom is more adventurous and loves to be active or outdoors, then one of the following hobbies can be a great new hobby for your retired mom. You can show support by gifting her activewear, supplies, or outdoor gear that she needs to follow through with a new hobby. You can almost find anything you need on Amazon.com. An even better support sign is to find a hobby you can both do together.
Also, when you're trying to find a new hobby for your mom, there is a great starting point for this journey. Ask your mom what she loved doing as a kid. The chances are that she still loves the same things or similar kinds of hobbies that give her the same kind of satisfaction. This way you'll be able to guide your retired mom in the right direction.
46) Archery
47) Swimming
48) Biking
49) Bowling
50) Dancing
51) Stand Up Paddleboarding
52) Golfing
53) Hiking
54) Ice Skating
55) Martial Arts
56) Running
57) Surfing
58) Tennis
59) Gardening – There is an amazing online gardening class on Masterclass by Ron Finley.
60) Astronomy
61) Bird Watching
62) Camping
63) Hiking
64) Geocaching
65) Fishing
66) Kayaking
67) Sailing
68) Scuba Diving
69) Snorkeling
70) Skiing
71) Snowboarding
72) Traveling
73) River Rafting
74) Ballet
75) Flag Football
76) Basketball – Gift her a fun Basketball Online MasterClass taught by Stephen Curry
77) (Aqua) Aerobics
78) Volleyball
Social Hobbies For Retired Mom
One of the most important keys to a happy and healthy retirement for your mom is to stay socially active. This can avoid depression, loneliness, and other physical and mental diseases. So if your mom feels lonely, you can look for fun hobbies with a social aspect. I've listed a couple of fun social hobbies below your retired mom can try out. You can support her by finding these hobbies through social media, Meetup or local community center.
79) Dating – For more information read my article: How To Meet Senior Singles
80) Dinner Club
81) Host Game/ Quiz Nights
82) Wedding Officiant
83) Singing
84) Airbnb Hosting
85) Acting
86) Bingo
87) Wine Tasting Club
88) Volunteering – Read more about it in my article: Why Do Retirees Volunteer?
89) Team Sports
90) Mentoring/ Coaching
91) Dog Training
92) Pet Sitting
93) Line Dancing
94) Cheerleading – Get inspired by this senior cheerleading squad:
Indoor/ Mental Hobbies
Just as social interaction is important, so is staying mentally active as well. Challenging your brain on a regular basis keeps it young and healthy.
If your mom loves to stay at home, there are awesome hobbies she can start exploring. As I mentioned earlier, giving her a subscription to Masterclass will help her not to feel bored with over 100+ different online classes she'll have access to. She can learn at any device, at any time, and at her own pace.
Check out some other fun hobbies your retired mom can do at home or any other room indoors:
95) Reading – With a Kindle Ereader and Kindle Unlimited, you gift your retired mom unlimited access to thousands of (audio)books.
96) Board Gaming
97) Cross Word Puzzles
98) Home Decorating
99) Jigsaw Puzzling
100) Learning A New Language
101) Writing (poetry, book, play, movie script, columns) Gift your mom access to Online Writing Masterclasses by the World's famous writers.
102) Learning A Musical Instrument
103) Investing
104) Lego Building
105) Modeling
106) Home Science Experiments
Online Hobbies For Retired Mom
107) Blogging
108) Genealogy – Gift your retired mom a My Heritage DNA test to reveal her unique ethnic background and match her with newfound relatives and descendants among 2,114 geographic regions.
109) Craigslisting
110) Listening To Podcasts
111) Start An Online Business (Etsy, Blog, Youtube Channel)
112) Radio Show Making
113) Video-Editing
114) Online Classes – The Gift Of Masterclass
Spiritual Hobbies For Retired Mom
115) Astrology
116) Yoga
117) Meditation
118) Tarot Reading
119) Journaling – A nice gift is the 3 Minute Positivity Journal
Unusual Hobbies For Retired Mom
120) Beekeeping
121) Billiards
122) Collecting (Rocks, Coins, etc)
123) Go Kart Racing
124) Graffiti Art
125) Hula Hooping
126) Juggling
127) Glass Blowing
128) Magic
129) Metal Detecting
130) Origami
131) Pickling & Canning
132) Darts
133) Bonsai
134) Car Restoration
135) House Swapping
136) Ax Throwing
137) Sand Castle Making
138) Urban Sketching
139) Wood Burning
140) Toy Voyaging