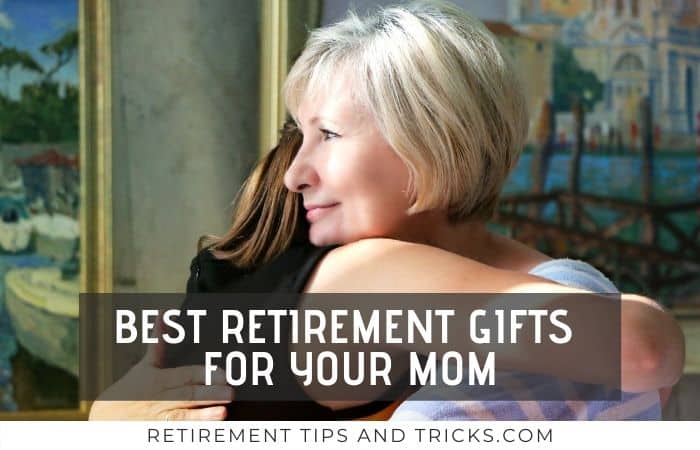 Is your mom retiring and are you looking for a fantastic retirement gift? Then, you've come to the right place! I've spent hours searching for the most perfect retirement gifts for moms out there. And selected 35 of the best retirement gift ideas in this article, so you can start shopping for your mom below!
Just a heads up, this post contains affiliate links. As an Amazon Associate I earn from qualifying purchases. Purchases you make through these links may earn us a small commission, at no extra cost to you.
1) My #1 Pick: Membership To Masterclass
You want your mom to have the best time in retirement. Right?! Well having something fun to do and learning new things is the key to happiness in retirement. And you can give her this piece of happiness with a membership to Masterclass.
Masterclass is a streaming platform that makes it possible for anyone to watch or listen to hundreds of video lessons taught by the most successful and famous teachers in the world.
She can upgrade her cooking skills with a masterclass from Alice Waters, learn Mexican cooking from Gabriela Camara, learn how to act from Samuel L. Jackson, gardening from Ron Finley, and so many more world-renowned experts in their field. From cooking, arts, business, writing, music to business and science classes. 90+ different Masterclasses—all for one price. Make sure to check it out here.
2) Dom Perignon Champagne Gift Basket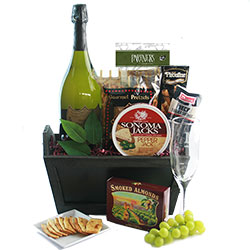 Treat your mom with a Dom Perignon Champagne Gift Basket. Because a retirement celebration isn't complete without popping a good bottle of champagne. And because your mom deserves the best you want to give her the World's Best Vintage Champagne. In a basket filled with many other delicious items to enjoy in the first weeks of her retirement.
3) Time to Wine Down Wine Rack
This Time To Wine Down Wine Rack is the ultimate retirement gift for a wine-loving mom. It's a funny and unique retirement gift that can be paired with a box of your mom's favorite wine and perhaps personalized wine glasses.
4) Kindle E-Reader
Retirement is a great time to catch up on reading. We all have a list of books we want to read but often we don't have the time. And now your mom has plenty of time to read the books on her list. And you can give your mom the ultimate reading experience with a Kindle EReader with Kindle Unlimited for unlimited reading in retirement. It's one of the best retirement gifts where your mom can travel to other worlds without leaving her house. This Kindle Paperwhite is the most popular model that has double the storage and is now waterproof.
5) Bouquet Of Flowers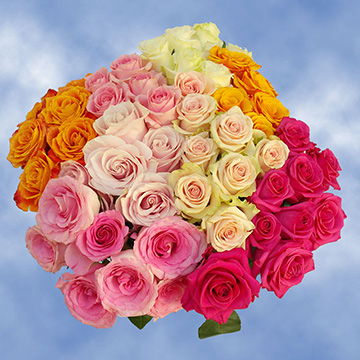 Flowers are always a great idea as a retirement gift. You can have several retirement gifts for your mom, but don't forget a bouquet of flowers because that makes it complete. At Global Rose, you can order all sorts of beautiful flower bouquets. From all color roses, sunflowers, orchids to your mom's favorite.
6) I'm Retired Coffee Mug
The ultimate retired feeling is when you can enjoy your fresh cup of gourmet coffee without having to rush to work. And you can put a smile on your mom's face every morning when she enjoys her coffee or tea in this funny I'm Retired Coffee Mug: "I Don't Want To, I Don't Have To, You Can't Make Me. I'm Retired."
7) Bouquet Of Cookies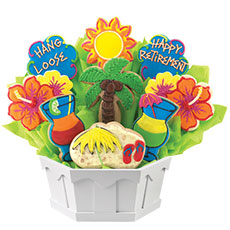 Instead of flowers, you can give your mom a bouquet of delicious cookies as a retirement gift. At Cookies By Design, you can order all sorts of arrangements of fresh-baked, hand-decorated sugar cookies with a custom note on top. Such as this Happy Retirement Cookie Bouquet. You can even create custom photo cookies. Cookies By Design is the #1 Original Cookie Bouquet Company and that has fast delivery on the same day.
8) Best Mom Ever Gift Box
Do you want to let your mom know that she is the best mom ever? Then this Best Mom Ever Gift Box is the way to go. She can drink her coffee or tea from the beautiful pink coffee mug and be reminded of this sweet gift every day in retirement. It's a 14 oz mug and it comes with a golden spoon, socks, card, coaster, and a beautiful gift box.
9) Box of Chocolate
Does your mom love chocolate? Then you should get her a Box of Chocolate from the World Champion Chocolatier, ZChocolat. It's 100% made in France and has worldwide express shipping. You can select a personalized assortment or something special. Because what better way to show her that you love her with a heart-shaped custom made piece of chocolate in a beautiful gift box. You can even engrave it or put an image on the mahogany box.
10) Spa Gift Basket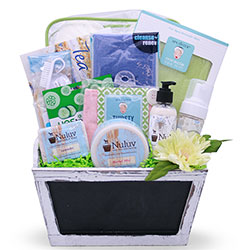 Retirement is all about relaxing and unwinding. And you can help your mom relax more in retirement by gifting a Spa Gift Basket. She can create her own spa retreat at home with this basket filled with self-care products.
11) Engraved Glass Ice Bucket
If your mom is looking forward to enjoying a nice cold glass of wine or champagne many times in retirement. Then this Engraved Glass Ice Bucket is a perfect retirement gift for your mom. It's a functional retirement award for your mom and you can personalize it with text and logo. They use a Sandblast Etch method for the personalization at Crystal Plus which will give that frosted effect.
12) Retired T-Shirt
Get your mom this funny Retired T-shirt "Retired. Earned It. Living It. Loving It." that she can show off to her friends that she is retired and loving every second of it. It comes in six different colors and sizes go from a Small to 4X-Large.
13) Family Photo On Canvas
Create a family picture and print it on canvas to gift your mom as a retirement gift. She can hang it up at home and always be reminded of her beautiful family. Customize your canvas on Amazon.
14) Funny I'm Retired Tumbler
Is your mom going to babysit her grandkids in retirement? Then give her this Insulated Stainless Steel Wine Tumbler with funny text: "Retired. Under New Management. See Grandkids For Details". It's eco-friendly and comes with a removable BPA-free lid, and a stainless steel straw.
15) Wine Gift Box
Your mom can wine all she wants in retirement because every hour can be happy hour. If she is a huge wine lover you can gift her a Wine Gift Box with amazing handcrafted award-winning wines from The Calfornia Wine Club. You can gift her one gift box or a subscription to monthly new wines from small artisan wineries in California.
16) Book: 50 States, 5000 Ideas
One of the most popular retirement gifts out there is this book: 50 States, 5000 Ideas. A perfect retirement gift for a mom with travel plans or going to do the RV life. It's a rich illustrated book from National Geographic that gives the reader ideas and inspiration on where to go, what to do, what to see, and when to see it in the 50 states. And you get travel information on national parks, beaches, hotels, battlefields, ranches, out-of-the-way museums, and more.
17) Ceramic Jewelry Holder
"You Can't Retire From Being Great" on this Ceramic Jewelry Holder will for sure be a homerun for your mom. This ring dish with golden lines on the edges is made from high-quality glazed ceramic. And a perfect retirement gift for any mother.
18) Arts & Craft Gift Box
A lot of retirees love to get creative in retirement. And with this Arts & Crafts Gift Box from Cratejoy, your mom gets a thoughtfully curated craft box send to her house (option: every month). So she can create fun and trendy projects and learn new techniques. It's a great way for your mom to explore new creative retirement hobbies. And she has something to look forward to in retirement if you make it a monthly subscription. You can choose between 1 or multiple deliveries.
19) Digital Picture Frame
This Digital Picture Frame is such a cool retirement gift for your mom. Anyone can email photos to this frame that will show in seconds. So if you live far away or you're on a holiday you can send photos to your mom and your mom can see them right away on this frame. She feels connected to you which creates more happiness in her retirement.
20) Self-Care Gift Box
After working hard for many years, your mom deserves to take good care of herself. And this Self-Care Gift Box from Cratejoy will for sure help her with that. It's thoughtfully curated by therapists to increase happiness and reduce stress. You can give her one gift box or a monthly subscription so she has something to look forward to every month in retirement. Each box includes 1 inspiring activity and 6-8 self-care products for the mind, body & soul.
21) Funny Retirement Clock
In retirement, it doesn't matter what time it is. It only matters to know which day of the week it is. So help your mom out by giving her this Day of The Week Clock. It will help structure her retirement week and forget about the time during the day.
22) Funny Wine Glass
Looking for a funny wine gift for your mom? Then this Engraved Wine Glass "I Can Wine All I Want I'm Retired" is an awesome gift to give her.
23) Creative Mindfulness Book
A great way to unwind and relax and take a breather is with this creative mindfulness book: A Book That Takes Its Time. A great retirement gift for your mom and is also known to be a mindfulness retreat between two covers. It is a mixture of articles, inspiring quotes, mini journals, stickers, posters, and more handcrafted "goodies".
24) Bath Bombs Gift Set
Help your mom relax in retirement with this handcrafted Bath Bombs Gift Set. They're made in California with freshly with premium USA natural ingredients.
25) Diamond Painting Set
Diamond painting is so popular amongst retirees. Especially women. My mom and mother-in-law spend hours every day on their diamond painting hobby. It's a creative mindfulness activity. It helps them relax and forget about the time. Give your mom a diamond painting set. It can be your mom's new retirement hobby as well. Because having something fun to do creates more happiness in retirement.
26) You Got This Wine Glass Tumbler
Does your mom need a pick me upper? Then this Wine Tumbler "And So The Adventure Begins. You Got This" is a great retirement gift for your mom. It's an insulated stemless wine tumbler that comes in five different colors. Perfect for all kinds of cocktails or frozen drinks and to remind your mom that retirement is going to be awesome and she got this.
27) Mini Bonsai Growing Kit
Looking for a unique retirement gift for your mom? Give her this Mini Bonsai Growing Kit. It gives her something fun to do while learning new things. The keys to a happy retirement. It comes in a wooden gift box and includes 4 types of miniature bonsai tree seeds, 4 bonsai soil potting mix pods, 4 burlap bonsai pots, bamboo plant markers, instructions, and a How-To Video link.
28) Lounge Chair Set
Give her this set of Lounge Chairs to use in the garden or to bring on any trip to park, beach, campsite, or event. They're lightweight chairs and can be ordered in your mom's favorite color; choose out 12 different colors. And with a removable tray with two cupholders, a phone holder, tablet holder so she never has to get up again in retirement.
29) Custom Wine Decor
Looking for a funny gift for your wine-loving mom? Then this Custom Wooden Wine Decor is perhaps what you're looking for. It's a wooden sign crafted from American birch wood with the text "I Love It When My Hubby Hasn't Noticed I Bought More Wine (Your Mom's Name)".
30) Tanner Pool Lounger
Does your mom have a pool? Then this Inflatable Tanner Pool Lounger is a great retirement gift for your mom. Including attachable caddy for beverages, snacks, and other personal items. The perfect relaxation kit for retirement.
31) Portable Corn Hole Game
Get this Portable Corn Hale Game for all your mom's beach days in retirement. Great for camping, picnics, and days at the beach.
32) Sentimental Cutting Board
A thoughtful gift for your mom is this Sentimental Cutting Board from wood. A very decorative, sweet, and practical retirement gift.
33) Custom Moon Lamp
Give your mom this Moon Lamp with a picture of the two of you. It will for sure light up her day and night in retirement. It's a true moon in her room. The lamp gives a soft light and comes with a wood stand.
34) Funny Wine Tumbler
Can't your mom wait to get retired? And is she done with working and all the stress that comes from it? Then this funny Wine Tumbler is the perfect retirement gift for your mom. It's a unique way to put a smile on her face. It's great for enjoying drinks at home, on the beach, by the lake, at the pool, at a party, camping, RV life, hiking, picnic, BBQ, etc.
35) All About Wine Glass Set
When retirement is all about wine for your mom. Then she needs this funny Wine Glass Set that is all about wine. From Time To Wine Down to Wine O'Clock. It's there. And perfect for her to enjoy together with her friends.
Recommended Articles
Your mom is retiring so you're probably are also looking for ways to celebrate her retirement. Well, the following articles are helpful for you to read as well: