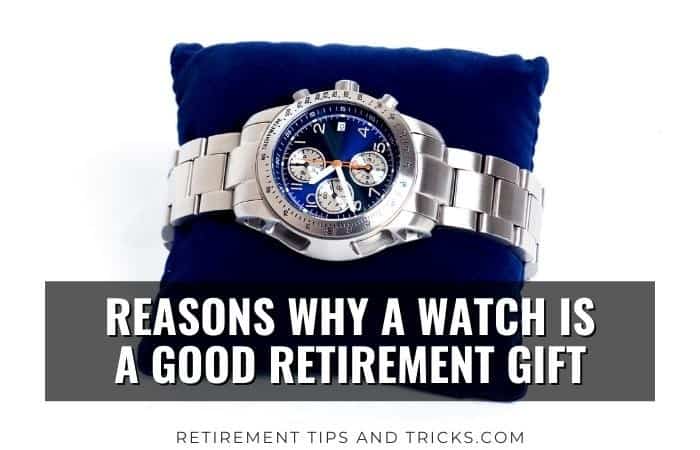 Someone is retiring and you're thinking about gifting a watch. And you perhaps wonder, is a watch a good retirement gift?
A watch is a good retirement gift because it's an iconic and classic retirement gift that represents the retiree's hard work and achieving a major milestone in life. Gifting a watch for retirement demonstrates appreciation and acknowledging the passage of time spent working. It's not only convenient to keep time, a watch is of sentimental value when it's gifted for retirement. And a daily reminder of their accomplishment.
Let's dive deeper into why a watch is a good retirement gift and the best watch for a retirement gift.
11 Reasons Why A Watch Is A Good Retirement Gift
I briefly mentioned above why watches are good retirement gifts, but let me get more into detail with these 11 reasons:
1) A Watch Is The Most Iconic Retirement Gift Of All Gifts
From all retirement gifts out there. And yes, there are a lot! A watch is the most iconic, traditional, classic, and typical retirement gift out there. So when you like to stick to traditions or you know the retiree loves traditional gifts: a watch is a perfect retirement gift choice.
2) A Watch Symbolizes Time
A watch symbolizes time. And time is precious. A watch symbolizes the time spend working hard to get to retirement, but also granting the retiree to have the time of their life in retirement.
You can get very creative with words when you're gifting a watch for retirement. Let me help you out with some great notes:
For a spouse, (grand) parent, or close family member:
– Can't wait to spend time with you (in retirement)
– Let's have the most amazing time in retirement
For a coworker, friend, or family member:
– Have the best time of your life
– Time for a new adventure, Enjoy!
– Time for your bucket list!
– Enjoy this time in your life
For an employee, coworker, or boss:
– You gave us your time, now we give you time
3) A Watch Represents Achieving A Major Milestone
Retirement is a major achievement that only happens once in life. I (almost) can't think of a better gift that represents this achievement than a quality timepiece. You can almost see it as an award that nobody else has and is on his/her wrist every day.
4) A Watch Is Stylish
If you're looking for a retirement gift for a fashionable and stylish person then a watch is also a great idea. Because for many people a watch is an essential accessory they can't live without and displays their sense of style and personality. And a watch is also a symbol of status, especially the more expensive brands. If the retiree is sensitive for
5) A Watch Is A Great Personalized Gift
The more personal the gift the better, because the most memorable gifts are one-of-a-kind gifts that symbolize the person or the relationship. Therefore a watch that is personalized (for example engraved) is one of the best retirement gifts out there. And this doesn't mean you have to spend a lot of money. "Gift receivers tend to care about the intention and thought more so than the actual item" according to this BBC article about the science of giving good gifts.
Putting a lot of thought into a gift to personalize it is what makes a gift memorable, special, and good for both the giver and the recipient.
6) A Watch Is A Good Investment
A watch is a great investment. The retiree can store them in their collection, pass them on to their (grand) children, and over time its value can increase immensely with the rarity of pieces. So you might give a timepiece that seems normal today but can grow into an important piece of the retiree's family inheritance one day.
7) A Watch Is A Daily Reminder
Often many retirement gifts end up in some closet catching dust. A watch will be a great daily reminder of the retiree's accomplishment, the person who gave the watch and not wasting their "time" in retirement. And go after their dreams.
8) A Watch Is Of Sentimental Value
Giving a watch for retirement is like an award. It says something about the person and an important moment in their life. It has an emotional value that is priceless.
9) A Watch Is A Great Conversation Starter
A watch is a memorable keepsake that has a backstory. And in some situations can function as a conversation starter. Because when a (special) watch catches someone's eye they started asking about it, which gives the retiree the opportunity to tell the story behind the watch (hence their life). And perhaps even a friendship can blossom from that. And the retiree lives happily ever after, because did you know social interactions are important for a healthy and happy retirement?! All because you gave them a watch for retirement. Wow…
10) A Watch Is Functional
Okay, let's get practical. A watch is also a very functional gift. Although everyone has many clocks in the house, car, or on their phone, a watch is still a go-to timepiece in this digital world. And it can help the retiree to organize their day, thus their retirement better.
11) It Doesn't Matter If They Already Have A Watch
Watches come in all shapes and sizes and are used for different occasions. That is why it doesn't matter if the retiree already has a watch. This new watch can be a great addition to their collection and can be used for other occasions and outfits.
Why Are Watches Given At Retirement?
Traditionally, gold watches were given to employees when they retired from the company after working there for three or four decades. It originally started at The Pepsi Co. in the 1940s where they gave their retiring employees a gold watch to symbolize time "you gave us your time, now we are giving you ours".
Nowadays it isn't very common for companies to give out gold watches because of the price of gold and the commitment of their employees. Back then the price of gold was about $34 an ounce which was very cheap compared to now. And it was also very common to work at the same company for 30 to 40 years. Now not so much. People switch jobs every few years and companies are more profit-driven than making their employees feel secure and satisfied.
Despite the fact that the tradition of gifting gold watches to retired employees is almost extinct. The tradition of gifting a watch for retirement is not. Now everyone can give someone else a watch for retirement if they feel like that is the right gift. So whether you're a husband, wife, child, friend, or co-worker of the retiree you can give a watch and create your own symbol of time and what that watch represents. So let's continue with what are the best watches to give for retirement.
Just a heads up, this post contains affiliate links. As an Amazon Associate I earn from qualifying purchases. Purchases you make through these links may earn us a small commission, at no extra cost to you.
Best Watch For Retirement Gift
I've researched the best watches for a retirement gift and listed them below for both men and women:
The Best Retirement Gold Watch
Want to stick to the tradition? Get the retiree a gold-tone watch.
Citizen Quartz Stainless Steel Gold-Tone Men's Watch
Anne Klein Women's Resin Bracelet Watch
The Best Retirement Sport Watch
If the retiree is a very active person, plays sports, or wants to become more healthy in retirement you can give him or her a sports watch.
Garmin Outdoor Watch For Men
Fitbit Versa 3 Fitness Watch For Women
The Best Engraved Retirement Watch
Engraved watches make gifting more special and personal.
Personalized Engraved Wooden Watch For Men
Funny Retirement Watch (Gag Gift)
Who Cares? I'm Retired Watch
I'm Late, Whatever Watch