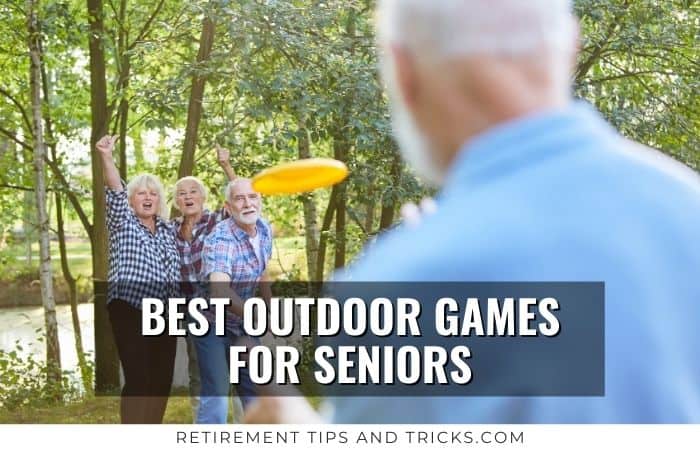 Are you looking for a fun outdoor game to mix up your next outdoor gathering with seniors? Well, no need to look further. Here are the 15 best outdoor games for senior citizens that are not only fun but also easy and great for overall physical and mental health.
Just a heads up, this post contains affiliate links. As an Amazon Associate I earn from qualifying purchases. Purchases you make through these links may earn us a small commission, at no extra cost to you.
1) Cornhole
The most popular game of them all: cornhole. Great for any social gathering from tailgating, the beach, your backyard, or outside a senior center. It's simple and can be played by anyone.
The game of cornhole can be played one-on-one or in teams of two. Each team or player takes their turn to throw their four bean bags on the opponent board. You earn one point with a bag on the board and each bag that ends up in the hole is worth three points. The winner is the one who earns 21 points first.
The cornhole set from GoSports is reviewed as the overall best cornhole set on Amazon. And gets 4.5 out of 5 stars from more than 5,000 reviewers.
2) Bocce Ball
Bocce ball is an easy game to play. It originates in Italy and is played around a lot of European countries as well as the United States. It's a typical game for seniors. It's best to play on a flat level surface such as dirt, grass, sand or gravel or on a bocce ball court.
You have two or four teams of one, two, three, or four players, depending on your Bocce Ball set. To begin the game, one person throws out the pallino (small ball) towards the other side of the playing surface. Each team tries to throw their balls as closest to the pallino. If all balls are thrown then the team with the ball closest to the pallino wins.
The Bocce Ball set from GoSports gets the best reviews on Amazon. Five out of five stars from nearly 3,000 reviewers.
3) Horseshoe
Another great outdoor game suitable for seniors is Horseshoe. A game not invented by cowboys but by Romans and originates even back to the 1st century. It's a great game when you're looking for something nostalgic and odd.
You only need to have a couple of horseshoes and piece of grass or sand where you can put two stakes into the ground opposite from each other (40 feet apart). Each team of two persons or one player tosses the horseshoes from one stake pit to the opposite stake to get a horsehoe landing around the stake which is called a 'ringer'. A ringer is worth 3 points and if there isn't a ringer the closest the player with the closest horseshoe earns 1 point. The player who earns 15 or 21 points first wins the game.
The Steel Horseshoe Set from Triumph gets the best reviews on Amazon. The set includes 4 steel horseshoes and two stakes.
4) Spikeball
Are you looking for a more active game for physically fit seniors that like to be competitive in sports? Then Spikeball is a great game for your next senior get-together. Especially if you have some volleyballers in your group of seniors. It can be played indoors and outdoors. From the park, beach to your backyard. And here is how you play it:
The best Spikeball kit is from Spikeball Store with over 10,000 5-star reviews.
5) Giant Jenga
A great game that needs a lot of patience is Jenga and Giant Jenga is perfect to play outdoors. Great for any senior citizen and especially when they are more physically limited.
You start the game by building the tower with the 54 giant blocks. Then every player tries to remove a block from the tower with one hand without it crashing down. And then placing the block on the top level of the tower. When 10 seconds have passed the next player does the same. When the tower falls, the last player who touched it loses the game.
The best reviewed Giant Jenga game set is Wooden Toppling Tower from GoSports. You can choose between different colors of wood and comes with a carrying case for easy portability.
6) Ladder Toss
Another fun tossing game for seniors is ladder toss an is simple to set up. You space the ladders 15 feet apart. Each player gets 3 bolas that they need to toss around the opposite ladder. The top rung of the ladder is worth 3 points, the middle two points and the bottom run is worth 1 point. The player that first gets to 21 points wins the game. Here is a clear video instruction of the game ladder toss.
The best reviewed Ladder Toss Set is from GoSports with over 4,000 reviews and 4.5 ratings out of 5. The set contains 2 targets with score trackers, 6 rubber bolos, and a carrying case & rules.
7) Kan Jam Throwing Game
Is it a Japanese dish? No Kan Jam is the No. 1 Outdoor party game in the USA. It's a competitive game that is similar to other games in this article horseshoe, cornhole, etc. But slightly different and a bit more physical.
You work together with your teammate to hit as many throwing discs in the Kan Jam goals that are 50 feet apart. You can either score a point by throwing a disc directly in the goal or your teammate deflecting the flying disc into the goal. Then the next team takes their turn and does the same. The team with 21 points first wins the game.
When you want to play this game with seniors, it's best to get The original Kan Jam Disc Toss Game that gets over 7,000 amazing reviews on Amazon. The set includes 2 goals and one flying disc.
8) Outdoor Lawn Bowling
Nothing beats a game of bowling. It's classic and always fun to go bowling. And this beautiful hardwood bowling set is perfect to play outdoors with your senior friends. It comes with 10 bowling pins, 2 bowling balls, and 1 black carry bag. And works best on flat, hard surfaces such as short-cut lawns, dirt, concrete, sand, or carpet.
9) Giant Dice Games
Do you have a favorite dice game that you like to play? You can now play outside with these Giant Dices.
Along with your senior dice friends, you can play games such as Farkle, Bunco, Yahtzee, Hearts, etc outside and catch some fresh air and sunlight.
This 6-piece 3.5″ Giant Wooden Dice Set is the best-reviewed set on Amazon and is made from sustainably sourced pinewood from New Zealand.
10) Mölkky Game
Are you looking for a new game outdoor game that you've probably haven't played before? Give the game Mölkky a try with your senior friends. It's the No. 1 outdoor game in Europe.
Mölkky game is a Finnish throwing game that is also known as Finska and similar to the game Kubb. It's a centuries-old game that was played in the Karelia region in Finland and Russia. It can be played on almost any surface and is perfect for all ages. Especially seniors with a good throwing arm. In the video below you can see how to play Mölkky.
In the old days, the winners of the game would get to ride the back of the losing team. Now that is something you can skip or even try out if you're up for a good laugh. If you're up for a game of Mölkky, check out this original Mölkky set that contains 1 throwing pin, 12 number Skittles in a carry case.
11) Giant 4 Connect In A Row
Being mentally active in retirement is important to keep the brain healthy. Games such as 4 connect in a row help seniors to stay mentally fit and helps to prevent mental diseases, improves cognitive functioning, memory and relieve stress.
This Giant Wooden 4 Connect In A Row is a perfect game to play outdoors. It will entertain seniors and their families for hours.
12) Croquet
As you can probably guess by the name Croquet is that it's a game originally from France. The word croquet means hockey stick and was first played by French peasants in the thirteenth century. It's a great outdoor game to play on a beautiful day in the park, during a picnic or a french themed get-together with other senior citizens.
You can play croquet with two, four or six players. You set out a course with hoops that each player needs to hit their ball through in the right order and also in each direction. The player who hits the end post wins the game.
The best reviewed Croquet Set is from GoSports and includes 6 color mallets, 6 balls, 9 wickets, 2 end posts and rules of the game, and a handy carrying bag.
13) Badminton
The game of badminton is what a lot of seniors in Europe like to play during camping. It's a fun game if you want to do something more physical and have a bit of action. It's similar to tennis but not as intensive because of the lightweight rackets and shuttle. And you can play it almost anywhere from your backyard, to the beach and the park.
It requires two players and you can play just for fun and see how many times you can hit the shuttle without touching the ground or you can set up a badminton court with a net and keep score.
This Badminton Set is an easy setup and makes it possible to play badminton almost anywhere you go. It's the No. 1 bestseller on Amazon.
14) Lawn Darts
Another fun game for seniors is Lawn Darts. You can even play when it's dark because it's a glow-in-the-dark lawn darts game. And it's very easy to set up. Find an open area, place the two rings on the ground as starting throwing darts.
15) BULZiBUCKET
Are you looking for a fun outdoor game in the pool? Then the Bulzibucket Game is a great choice. It's an outdoor toss game similar to cornhole but easier to carry around since it's lightweight. It's made from plastic so you don't have to carry around heavy cornhole boards. And you can play it on land and in the water. Which makes it the perfect outdoor pool party game. A great game for seniors and for the entire family.