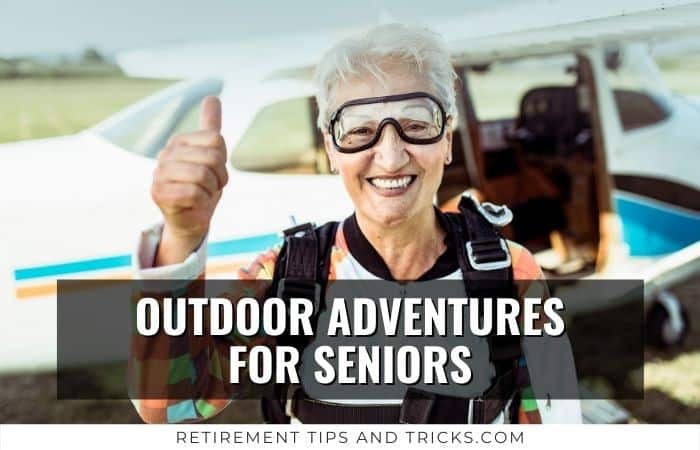 Life is all about creating amazing memories and living life to the fullest. If you're a senior and you agree with me, this is the article for you. It is filled with awesome outdoor adventures for seniors. From the easy & accessible ones to the amazing once-in-a-lifetime experiences. Ready to unpack? Let's go!


---
1) Swim With Wild Animals
I'll start this list right away with one of the most amazing experiences anyone can have in life: swimming with wild animals. You can dive with sharks, swim with humpback whales, dolphins, manatees, stingrays, whale sharks. And you don't have to go to the other side of the world, a lot of these adventures are possible in Florida or Mexico.
A couple of years ago we flew to Tonga together with Kirsten's retired father to swim with humpback whales. A dream came true for all three of us. Let this travel documentary we made inspire you to follow your dreams too.
2) Hike A (Famous) Trail
Another great adventure for seniors is hiking a (famous) trail. If you love hiking this could be a great adventure for you. According to The Guardian, the trails listed below are the top 10 hiking trails in the U.S. These beautiful hikes take you through the most stunning landscapes and wilderness that will take your breath away. You can divide one trail into smaller hiking adventures throughout the years or take on the adventure to accomplish a famous trail in one go. Now, the only thing you have to do is to find a hiking buddy.
Top 10 Hiking Trails In The USA
Pacific Crest Trail: California, Oregon and Washington, 2,663 miles
John Muir Trail: California, 210 miles
Continental Divide Trail: New Mexico, Colorado, Wyoming, Idaho and Montana, 3,100 miles
Appalachian Trail: 14 states from Georgia to Maine, 2,185 miles
The Long Trail: Vermont, 272 miles
The Hayduke Trail: Arizona and Utah, 812 miles
The Grand Enchantment Trail: Arizona and New Mexico, 770 miles
The Ozark Highlands Trail: Arkansas, 218 miles
The Ice Age Trail: Wisconsin, 1,200 miles
The Superior Hiking Trail: Minnesota, 296 miles
Interested in hiking, my article The Complete Guide Why Hiking Is Good For Seniors will make you even more enthusiastic.
3) Stand Up Paddle Boarding
Adventures don't have to be extravagant, there are amazing outdoor adventures out there that are close to home. For example, stand-up paddleboarding is a perfect surf adventure for seniors. It is a peaceful and fun activity that is great for strengthening muscles and reducing stress. You can do this activity at sea, river or lake nearby your house. Or take an inflatable paddleboard with you on the road trip to explore different areas while traveling.
In my article: Best Paddleboard For Seniors I've done extensive research on which paddleboard is best for seniors but also listed the physical and mental benefits of stand-up paddleboarding for seniors.
4) Sailing
A favorite retirement activity is sailing. And if you think that you're too old for sailing. Know, that you're not. If you're in reasonably good health you can enjoy a nice sailing trip. You can consider doing a day trip, weekend trip, or even an ocean crossing if you're up for the adventure and challenge. Even if you're inexperienced you can hire a crew to do the sailing for you and they only require you to help if you want to learn. Or take it to the next level and sell your house to live on a sailboat like the seniors in this video below:
5) Snorkeling
Another great outdoor adventure for seniors is to go snorkeling. When scuba diving is a step too far, snorkeling is a great low-key option to also enjoy the beautiful underwater world. The best snorkeling spots in the US are Florida, California, Hawaii, and US Virgin Islands. And with a full-face mask snorkeling has become a lot easier and you can enjoy 180-degree panoramic views.
6) River Rafting
For an amazing outdoor adventure and witness scenic nature from a river's point of view, go on a river rafting trip. There are plenty of organizations that organize river rafting trips for seniors. And here are some amazing places to go river rafting.
Top 10 Places To Go Rafting In The USA
Snake River (Wyoming)
Colorado River (Arizona)
Gauley River (West Virginia)
Salmon River (Idaho)
Kennebec River (Maine)
Youghiogheny River (Pennsylvania)
Arkansas River (Colorado and Arkansas)
Rogue River (Oregon)
Nenana River (Alaska)
Chattooga River (Georgia)
7) Skydiving
Another once-in-a-lifetime outdoor adventure is to go skydiving. Perhaps you've always dreamed about skydiving, maybe now you reading is a sign you should pursue this dream. I skydived in New Zealand and it was amazing. It doesn't get any more adventurous than this. And if you wonder if you're too old for skydiving, know that there is a 103-years old guy out there that currently holds the Guinness World Records title for the oldest tandem parachute jump (male).
8) Paragliding
A more smooth flying adventure that is more accessible is paragliding. My husband Leon has a couple of steel pins in his back, so he doesn't do crazy stuff because of his back. But he did paragliding with me in Cape Town. And he loved it and was surprised it was a very smooth ride. Not the thrill of jumping out of an airplane, but still the experience of flying like a bird. So we can recommend this outdoor adventure to anyone who has the opportunity to do it.
See our experience in this video below:
9) Star Gazing
The night sky is a beautiful painting that we often don't pay attention to. Or we live in a city where we are not able to see how stunning the stars are above our heads. So an amazing outdoor adventure is to go stargazing. It's also a very peaceful activity that makes you look at life from a totally new perspective. According to Koa, these are the best spots to go stargazing.
Best Stargazing Spots In The USA
Mauna Kea | Hawaii. …
Bryce Canyon National Park | Utah. …
Denali National Park and Preserve | Alaska. …
Glacier National Park | Montana. …
Cherry Springs State Park | Pennsylvania. …
Big Pine Key | Florida. …
Chaco Culture National Historical Park | New Mexico.
Rocky Mountain National Park | Colorado
Death Valley National Park | California
Grand Canyon National Park | Arizona
10) Fly A Kite
Go back to your childhood and fly a kite. It is a great physical exercise while spending time being outdoors and enjoying the fresh air. Flying a kite creates the perfect opportunity for you to embrace the positive feelings of happiness, joy, and playfulness that comes with it. And most importantly feel youthful again. You can create your own kite or get the best kite for beginners at Amazon.
11) Hot-Air Balloon Flight
Book a hot-air balloon ride nearby and look at the world from a birds-eye view. The stillness during the ride and the view brings you in awe with nature and the world we're living in. And give you a calming feeling. The most adventurous part of the ride is the landing.
12) Geochaching
You can go on an adventure in your home neighborhood or city with geocaching because if you like treasure hunts and solving puzzles, this is the outdoor adventure to try out! It's a global outdoor treasure hunt where Hiders hide little treasures and give online clues for Seekers to find the cache by using coordinates.
It is a great solo activity or an adventure to take on with friends or family. With a GPS handheld navigator or (GPS on your smartphone) you can find these little treasures and become a Hider and be submerged into this popular sport.
13) Horse Back Riding
Hop on the back of a horse and experience an amazing outdoor adventure. The smell of a barn, the slow movement of a horse, the fresh air, and the scenery gives you a relaxing feeling and relieves stress. If you've never sat on a horse, then perhaps now is the time to do it. You can enjoy a horse riding tour in a beautiful national park or take lessons nearby.
14) Skiing
Skiing is an awesome outdoor adventure. You can take a couple of lessons if you haven't done it before. Or dust off your old skis and drive to the snowy mountains. And being a senior has an advantage there are ski resorts where seniors can ski for free. This article from The Points Guy lists 116 different ski resorts free for seniors.
15) Electric Surfing
During the winter we stay in the south of Portugal. The Algarve region has stunning beaches, which is where a lot of people from Europe retire to. And that is where I see many seniors enjoy electric surfing. It is a surfboard that moves without waves and is controlled by remote control in your hand. Like demonstrated in this video below:
16) Kayaking
Another fun outdoor adventure for seniors is to go kayaking. You can go kayaking at sea, river or nearby lake. With an inflatable kayak, you can take it wherever you go on the road. This inflatable kayak is a bestseller on Amazon and is perfect to bring on any future road trip or camping trip.
17) Whale-Watching
See nature at its best with a whale-watching tour. It is amazing to see these massive animals in their natural environment. And some of the best spots in the USA are California, Maine, Massachusetts, and Alaska. It is best to check out which month is the best chance to see whales because they migrate from south to north and back every year.
And please note that tours can harm whales and have an impact on their natural behavior, including their ability to feed, rest and rear their young according to many people working in marine biology.
18) Zip-Lining
Be like Tarzan and go zip lining. A thrill-seeking adventure that makes you feel alive. One of the best places to go zip-lining in Costa Rica. With a jungle packed with zip lines connected with each other, but there are also some long ones in the USA:
Camelback Mountain Adventures, Camelback Mountain, Pennsylvania.
Kapohokine Adventures Zipline Through Paradise, Hilo, Hawaii.
Ziprider, Icy Strait Point, Alaska.
Captain Zipline, Salida, Colorado.
AVA Adventures, Idaho Springs, Colorado.
19) Gardening
Adventure is just how you look at it. One sees it as a thrill-seeking adventure and another person views it as learning something new. Or upgrading their talents. This is why gardening can be a great outdoor adventure for most seniors. It is one of the most popular activities in retirement. Gardening is great for your health and in my article 11 Science-Based Benefits Why Gardening Is Good For Seniors you can read more about it.
20) Sandboarding
Do you live in Utah, Oregon, Colorado, Texas, or California? Then you can try out sandboarding at one of these sand dunes for an awesome outdoor adventure:
Coral Pink Sand Dunes. Kanab, Utah.
Sand Master Park. Florence, Oregon.
Great Sand Dunes National Park. Duncan, Colorado.
Monahans Sandhills State Park. Monahans, Texas.
Kelso Dunes. Kelso, California.
21) Hydrospeed
If you love river rafting or kayaking down rapids, but you want to try something new, then hydroseeding could be it. It is whitewater swimming with a floating board and flippers.
22) Obstacle Course
A great way to stay fit is to train for obstacle course races. It is a great opportunity to get dirty with a lot of mud. And it is fun to do with friends or family as a team. According to The Mud Run Guide, "The 5k Foam Fest is the easiest, all the way down to Spartan Race Sprint as the hardest "beginner-friendly" races."