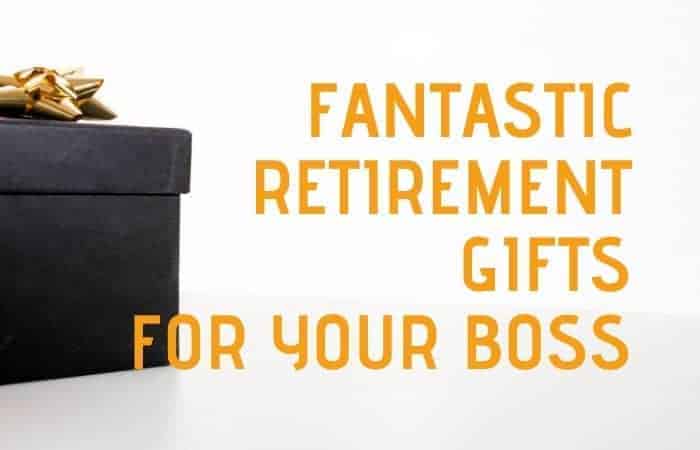 Your boss is retiring soon, and you're probably wondering what to get for your boss for his or her retirement? No need to look further. I wrote this article to help you out so you can find the best retirement gift for your boss.
You get your boss a retirement gift that matches his/ her personality, plans, or hobbies in retirement. For example, you give something related to their career, a retirement gift they can keep as a memory, or a gift that helps them to enjoy their life in retirement. Funny, thoughtful, or practical gifts: whatever fits your boss best.
In this article, I've listed 50 retirement gifts categorized by budget so that you can find the best retirement gift for your boss according to your budget. It's an extensive collection of thoughtful, personalized, funny, and practical retirement gifts.
Just a heads up, this post contains affiliate links. As an Amazon Associate I earn from qualifying purchases. Purchases you make through these links may earn us a small commission, at no extra cost to you.
Retirement Gifts For Your Boss Between $51 – $100
If you have a great relationship with your boss, and you're able to afford it, you might want to spend a bit more money on a retirement gift. Perhaps, you want to express how much they mean to you with a lovely gift and acknowledge all their hard work and wish them well for retirement.
And to help you out, I've researched many hours to find the best retirement gift within the price range of $51-$100 from funny, thoughtful to practical gifts.
#1 Annual Membership For MasterClass
MasterClass offers a major variety of online masterclasses for all skill levels and ages. One of the most popular classes is Aaron Franklin Teaches Texas-Style BBQ.
However, there are more than 80 MasterClasses available on the platform! So there's always something to find that you like. An Annual Membership for MasterClass is a fantastic retirement gift for your boss. It gives them something fun to do in retirement and the opportunity to learn new things.
#2 Handmade Portrait Painting
Looking for something special for your boss? Then gift him or her a handmade portrait painting from a special moment in their life. At Paint Your Life professional artists make beautiful paintings from a photo sent in by you. A photo of your boss's favorite pet, a statue photo on the job, a family photo with grandchildren, or an old wedding photo are great to be honored as a beautiful oil painting. It's handpainted by an experienced artist of your choice. and you have unlimited revisions. Also, when you're not happy with the result you get 100% of your money back. So satisfaction is guaranteed.
#3 Personalized Whiskey Barrel
A boss who rocks in the office and also likes a glass of whiskey on the "rocks" will love this personalized Oak Whiskey Barrel. You can customize the text. It holds 2 liters and comes with its own stand.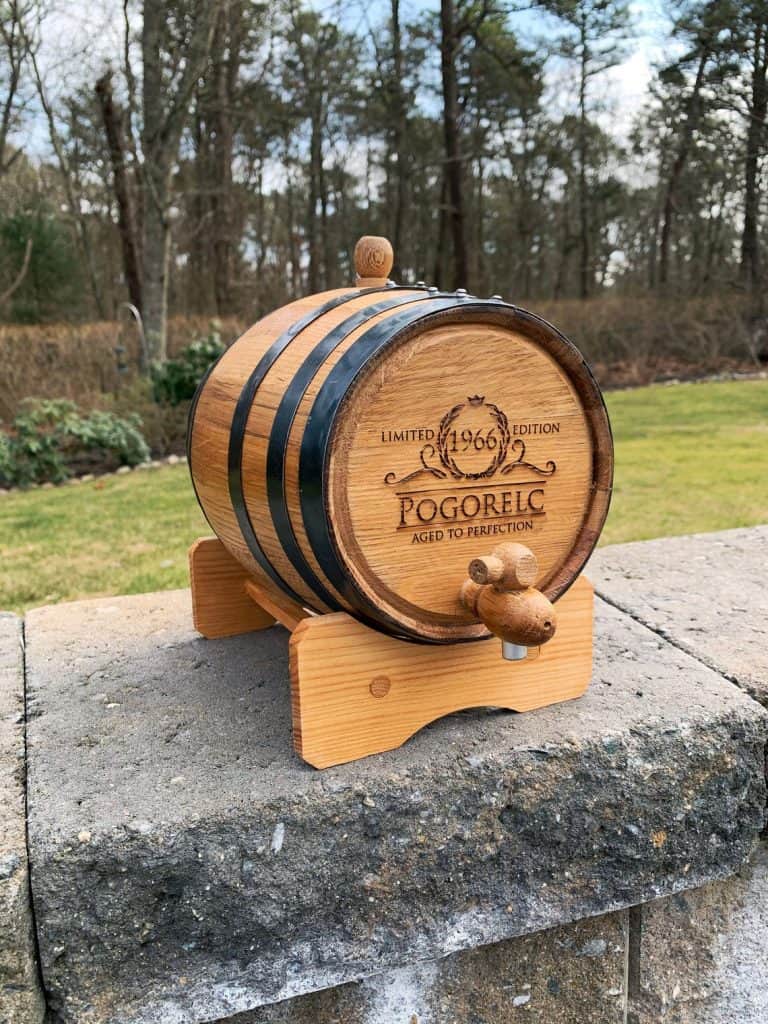 #4 Personalized Decanter & Lowball Glasses
This stylish and elegant personalized decanter set can be an excellent retirement gift for a boss who likes to have a nice drink at the end of the day. You can personalize it with different designs, a name, and a year. The decanter holds 23 oz. and the glasses 8 oz. each.
#5 LegacyBox Gift Basket
There's a good chance your boss still has some old video tapes or audio tapes that he wants to digitize. The legacybox is always a fun gift to give. You can help your boss to relive old memories. A unique way to start retirement!
#6 Fujifilm Polaroid Camera
The polaroid camera is back and very popular again! And the Polaroid camera from Fujifilm is an excellent gift for a retiree who likes to capture beautiful moments in life, whether traveling or spending time with friends and family.
Because making a polaroid is always a surprise and a fun experience. This polaroid camera has Auto exposure control, self-timer, and three color filters, Orange, Purple, and Green, that can be fitted over the flash to add Color to a photo.
#7 Spa and Champagne Gift Basket
Do you have a retiring female boss who loves champagne and needs the extra push to treat herself once in a while? Then this Spa & Champagne Gift Basket is the perfect gift. It contains a bottle of wine or Champagne (your choice) and all sorts of different sweets and pomegranate & passionfruit shower gel, body lotion, spray, soap, body butter, slippers, and a bath scrubby.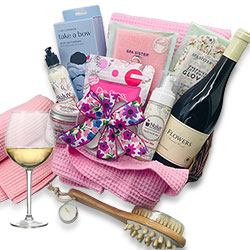 #8 Party Pleaser Food Gift Basket
You can give your boss a gift to start their retirement in a delicious gourmet way: a Party Pleaser Food Gift Basket with a variety of Italian snacks, crackers, and antipasto items. You can add a nice bottle of wine to make the gift even more complete.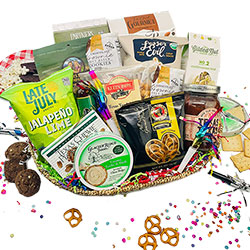 #9 Subscription For The California Wine Club
Give your boss a subscription to the California Wine Club. Each month your boss can taste a variety of International Best Selling Wines. It's always a good idea to bring a bottle of wine as a gift, so it's even better to give a subscription for a monthly wine club!
#10 Leather Hanging Toiletry Bag
This leather Hanging Toiletry Bag is an elegant and handy travel gift for a boss who wants to travel in retirement. We, as world travelers know that you don't always have a lot of space in the bathroom, and with this hanging toiletry bag, you can hang up anywhere, and everything stays clean and dry. A great travel must-have and this leather bag makes traveling stylish too.
#11 Printed Photo on Canvas
You can give your boss a photo memory as a retirement gift. You can print their favorite picture on canvas. Or you can take a group photo with coworkers, choose the best retirement party picture or have a photo collage printed on canvas and have it framed. Your boss can hang it up in a room or office at home and always be reminded of a great memory.
#12 Kindle E-reader
You can give your boss a tool to read thousands of books anywhere he or she wants. This Kindle e-reader has an adjustable front light and lets you read comfortably for hours—indoors and outdoors, day and night. It has a 167 PPI glare-free display that reads like real paper, even in direct sunlight. The battery lasts for weeks, and you can access millions of books, newspapers, and audiobooks. And you can pair with Bluetooth headphones or speakers to switch seamlessly between reading and listening.
#13 Meditation Cushion Set
Retirement is for most retirees all about relaxing. And if your boss is planning on living a more stress free life in retirement, you can help him or her by giving a meditation cushion set and a Tibetan singing bowl. With this complete set, he or she can focus on unwinding the mind and living a happier life ultimately.
The cushion set allows a comfortable position for a person of any size or age. It provides the best seating height and support for proper alignment of the spine and hips; while reducing stress on knees, ankles, hips, and lower back. You can choose between different colors and add a singing bowl that gives a calm sound while meditating.
#15 JBL Portable Waterproof Bluetooth Speaker
This speaker from the famous brand JBL is perfect for any occasion. Whether the retiree wants music in the backyard while gardening, playing sports, or swimming in the pool. They can use it at home, at a party or bring it anywhere they go on the road. The JBL speaker can wirelessly connect up to 3 smartphones or tablets and take turns playing powerful stereo sound. It's waterproof, has a very clear sound, and is very easy in use.
#15 Inflatable Kayak
Is your boss a fan of the outdoors and is looking forward to spending more time in nature and doing active things? Then this inflatable kayak for 2-persons is an excellent retirement gift. Your boss can use together with their spouse and grandchildren on lakes, mild rivers, and calm ocean shore. This kayak from Intex is the #1 bestseller on Amazon on comes with Aluminum Oars and an air pump.
Retirement Gifts For Your Boss Between $10 – $50
Celebrating your boss's retirement with a gift is always an excellent idea. It doesn't matter how extravagant the gift is. It's more the thought that counts. And what you're able to afford. So don't overthink that you should spend a lot of money on a gift, just because it's your boss. A nice small can be a great success.
And the following budget-friendly gifts are a collection of funny, thoughtful, personalized, and practical retirement gifts.
#16 Retired Beer Can Coolers
Is your boss a beer lover? Or does he or she loves to drink cold sodas out of a can? Then these Beer Can Coolers are the perfect gift for your boss. It's a 6-pack of can sleeves with the funny text: "Retired not my problem anymore." They are machine washable and fit 12 oz cans or 12 – 16 oz bottles and keep beverages cold for a while.
#17 Personalized Grill Set
Does your boss love to BBQ? Then this personalized BBQ Grill set will make grilling extra special. This multi-purpose tool contains bottle openers, a fork, a spatula, and a brush that conveniently folds into one tool. A perfect retirement gift for your boss when he loves to grill!
#18 Out of Business Cards
Is your boss looking forward to his or her retirement? And you want to give him or her something small just for a laugh? Then this funny retirement gift for sure will be a success. It's a package of 15 out of business cards in a stainless steel case with retired engraved on it. They can hand them out directly at their retirement party.
#19 Retirement Toilet Paper
Are you looking for a fun gift to give to your boss for his retirement? The Retirement Toilet Paper roll is a guarantee for a good laugh! Each paper has the text "Official Retirement Papers."
#20 Engraved Whiskey Glass
A gift with a more personal touch is this engraved whiskey glass. A great gift when your boss loves to drink a whiskey. The glass is engraved with the text "The Legend Has Retired – Limited Edition."
#21 Personalized Rosewood Engraved Humidor (Cigar Box)
When your boss smokes cigars, he can definitely appreciate this gift. This personalized humidor is the perfect gift for a cigar fanatic. The box is climate-controlled. It has a simple but classic design and comes with different compartments, so there's plenty of room for the favorite cigars.
#22 Personalized Insulated Bamboo Water Bottles
Drinking water from reusable water bottles is always a good idea. It's much better for the planet, and also better for your health instead of drinking from plastic water bottles. So with these stylish water bottles you can't go wrong! You can engrave the name of your boss into the water bottle. The high-quality water bottle is composed of superior quality, 100% organic bamboo exterior, and BPA-free.
#23 Retired Coffee Mug
This funny 15 oz. coffee mug is a great retirement gift for a boss who is truly a legend. It has the text: "The One The Only The Legend Has Retired Retirement" printed on both sides of the mug. And its microwave and dishwasher safe.
#24 Beer Cap Map
A craft beer enthusiast or home brewer will love this Beer Cap Map as a retirement gift to hang up in their house. It's the largest beer cap map on the market and holds up 50 beer caps. It's lightweight and made with high-quality 5mm dark birch plywood.
#25 Book: The Bucket List: 1000 adventures big and small
An adventurous boss will love this coffee table book: The Bucket List as a retirement gift. It's filled with 1000 ideas, great photos, and worldwide locations to inspire what to do in retirement. And give ideas for your boss's bucket list so he or she can make the most out of their retirement.
#26 Personalized Beer Mug
So your boss is a beer lover? Why not give him a personalized Beer Mug. It's a great gift that you can easily personalize with the name of your boss. This mug has everything your pal needs to enjoy a cold one, including a sturdy, easy-grip handle and a non-slip sunburst base. It has the funny text The Man, The Myth, The Legend as a standard engravement.
#27 Travel Hammock
If your boss has plans to travel in retirement, then this lightweight travel hammock is the number one travel accessory I can recommend to give your boss. We're world travelers and bring this lightweight travel hammock anywhere with us. It fits in any travel bag because it's a small package. And what better to celebrate your boss's retirement by giving the ultimate symbol of retirement: a hammock. The hammock from the brand Siesta is made from parachute silk and is very easy to use. You can choose between a one-person hammock and a two-person hammock.
#28 Portable Vinyl Player
A music-loving boss will enjoy this portable vinyl player. It has a three-speed turntable (33 1/3, 45, 78 RPM), so it plays all of your boss's favorite vinyl records. It also has built-in stereo speakers and built-in Bluetooth to wirelessly play music from any Bluetooth enabled device. You can choose between different color designs to find the best fit for your boss. And they can easily take the player with them wherever they go.
#29 Officially Retired T-Shirt
This t-shirt is too funny to give to a boss who has a good sense of humor and a wife at home. The funny text: "Officially Retired Now The Only Boss I Have To Answer To Is My Wife" is printed on it. You can choose between 10 different colors, and the t-shirt comes in sizes between small – 3XL.
#30 Gardening Tool Set
Gardening is extremely popular amongst retirees. So if your boss has a big garden and loves to be outdoors, you can give him or her this gardening toolset. It can be a reminder and inspiration for a new retirement hobby or a funny hint that their garden can use a bit of landscaping.
Retirement Gifts for your boss between $101 – $200
You want to spend a good amount of money on a retirement gift for your boss because you think he or she deserves it. Or you've collected money amongst coworkers to buy a more expensive gift for your boss. And that's why you're looking within this price range. It's all good.
There are so many great retirement gifts within this price range, from a hobby, travel-related gifts to electronic gifts. And I've selected a variety of different gifts so you can pick out the best one for your boss.
#31 Michael Kors Gold Watch (men)
The most traditional and classic retirement gift is a (golden) watch. Because it represents time. And you can use the symbol of a watch to give time to your boss. "You gave us your time; now we give you time." Or "Wish you the best time in retirement." And the most classic tradition is a golden watch, and this golden Michael Kors watch is a great way to stick to this tradition. It has a Stainless-Steel-Plated Strap, mineral crystal, and Quartz movement with a chronograph analog display.
#32 Rose Gold-Tone Watch from Michael Kors (women)
As I mentioned above, the most classic retirement gift is a watch, because it represents time. And by giving a watch, you give time: "Have the best time in retirement." And for a female boss, this Michael Kors rose gold-tone watch is a great retirement gift that sticks to the golden watch tradition. It has a Quartz movement with analog display, 39 mm stainless steel, three subdials, and date window. It's water-resistant to 330 ft (100m). So, the watch is suitable for swimming and snorkeling, but not for scuba-diving.
#33 Wax Seal Engraved Whiskey Gift Box Set
This unique gift is perfect for a whiskey lover. Packaged in a handsome handcrafted maple wood gift box, the decanter and gift box are both engraved with a traditional inspired whiskey label design and feature the name, single initial, and year of your choice. The set of 9 whiskey stones also come with their own black velvet carrying case. The Draper decanter measures 4″ x 3″ x 9″ and can hold up to 24 ounces.
#34 Daypack for Traveling
A boss who goes traveling needs a high-quality daypack. Whether he or she is road-tripping in an RV, going on a cruise, or hopping around Europe. A great daypack is a must-have travel item. And you can't go wrong with this daypack from one of the best brands: The North Face. This bag has many different compartments for a laptop, travel documents, books, travel gear, and has custom injection-molded shoulder straps. And a comfortable, padded mesh back panel; and a highly breathable lumbar panel for maximum breathability all day long. You can choose between different colors to find the perfect fit for your boss.
#35 Art Painting Set
A boss who loves getting creative and is looking forward to exploring new creative hobbies in retirement will like this 133pc art painting set. This set contains an aluminum field easel with adjustable legs and a Solana adjustable wood desk easel with a drawer. So your boss can easily paint wherever he or she wants. And it's filled with acrylic, water and oil paint and different assorting brushes, a canvas pack, and sketchbook. A great retirement gift for a creative boss.
#36 Digital Wifi Picture Frame
This digital picture frame is such a cool retirement gift. It's for anyone that loves to be reminded by great memories in life through pictures and videos. Who doesn't love that?
Your boss can set up this frame anywhere in the house and share their digital photos and videos directly from social media, their camera, and phone onto this picture frame. And the coolest part is: friends and family can share their photos with this frame from anywhere in the world. So your boss will always be updated about what adventures their kids and grandkids are up to.
The picture frame is easy to set-up; it has 8GB internal memory (around 30,000 pictures); it supports USB stick, SDHC, and SDXC cards. And sharing videos and photos is via email or the Pix-Star app (iOS and Android) on a smartphone. You can choose between the 10-inch or 15-inch digital picture frame for your boss.
#37 Hot Dog Inflatable Boating Towable Tube
Does your boss own a boat? Or is your boss thinking of buying a boat in retirement? Then this inflatable Hot Dog Boating Towable is a fun retirement gift to give as an accessory. It's fun for adults but even more fun with their grandkids. It has the shape of a hotdog and has non-slip cushioned handles providing comfort and stability; airhead patented kwik-connect for quick and easy rope connection.
#38 Patio Heater
This patio heater is a nice gift for your boss at home. If he or she likes to host lunches, dinners, or other social gatherings at home, then this heater will come in handy for chilly evenings and winters. Perhaps, your boss mentioned an outside heater before, or you can ask around: spouse or other coworkers if they think your boss will appreciate a gift like this.
#39 Curved Hanging Lounge Chair
This hanging lounge chair is the most comfortable way to relax in retirement. Your boss can place it in his or her backyard, near the pool, patio, porch, or any other comfy place. The chair comes in different colors, and it has a removable 46-inch umbrella canopy that provides a cool space when the sun shines bright. The cushions are water-resistant. Overall dimensions: 73"(L) x 46"(W) x 78"(H); Weight Capacity: 265 lbs.
Retirement Gifts For Your Boss Over $200
Okay, your boss must be really something if you want to look for a gift that is over $200. Perhaps, you're close friends, and you want to give your boss an extravagant gift to celebrate this milestone in their life. I can't blame you.
Or you've collected money together with other coworkers to give your boss a bigger gift — also, a great thing to do. And if you don't know what to get for your boss for over $200, don't worry, I'm here to help you out. There are great gifts out there, and I've selected an assortment of one of the best gifts below.
#40 Dom Perignon Gift Basket
Retirement needs to be celebrated, and what better way for your boss to start his or her retired life is with a bottle of Dom Perignon Champagne and all sorts of gourmet snacks. This Dom Perignon gift basket is great for a boss who loves the finer things in life. It contains a bottle of Dom Perignon Champagne and all sorts of snacks from almonds, sausage, chocolates, and pretzels.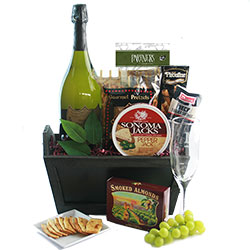 #41 GoPro Hero 8 Camera
When your boss is planning on traveling in retirement or loves to be outdoors and doesn't own a good camera, I can highly recommend giving the Go Pro Hero 8. It's the smallest, best, and easiest travel camera out there. And can be used on different occasions, settings, and trips. These latest GoPro editions have a built-in stabilizer (earlier versions doesn't!) that produces smooth images and videos. There are so easy to use and create such high-quality pictures, videos, and audio recordings.
It is the go-to camera for everything on a travel adventure (in & outside the water). And it's small so that it can fit in any day pack or bag. And you can easily connect to your phone to download pictures and videos or operate it from a distance — an overall great and versatile gift to capture the beautiful moments in retirement.
#42 Noise-canceling Headphones
Another travel must-have is noise-canceling headphones. Again, when your boss is traveling in retirement, this can be a great gift that reduces noise while traveling in a noisy vehicle or plane. Constant noise can make you feel tired, and with these headphones, you alleviate fatigue and sleep better. This headphone from Sony is the industry leader and does not only cancel noise but is also an excellent headphone for listening to music, podcasts, or audiobooks in high-quality. And it also has Alexa built-in.
#43 Outdoor Lounge Set
A great gift for your boss can be an outdoor lounge sofa. He or she will be spending a lot more time at home in retirement, so they want their home to be as comfortable as possible. And you can give help your boss by giving a comfortable outdoor lounge set so that leisure time is now even more enjoyable.
This set contains 5 pieces that your boss can easily combine into different configurations. Its made from high-quality PE rattan wicker, which has the advantages of high tensile strength, water resistance and long service life, and so on. And the thick sponge cushions and backrests are filled with high-density foam for comfort and durable and washable.
#44 iPad from Apple
An iPad is probably the most complete and versatile retirement gift out there. And you can surprise your boss with a new iPad. Because everyone can use an upgrade when it comes to tablets. And if your boss doesn't own a tablet (yet), you can introduce him or her into this world where things are a lot easier. It's a great overall tool for taking pictures, face-timing with family and friends, or watching TV series in high quality.
#45 Original Grain Wood Watch (Men)
As I mentioned earlier, a watch is the most classic retirement gift out there. And this Grain Wood watch is very unique. It's made from American Oak Whiskey Barrels (reclaimed beer barrels). It has a scratch-resistant crystal glass, it is splash-proof, and has a stainless steel bracelet. And if you give this watch to your boss, you also help to protect the earth. For every watch sold, they plant one tree through Trees For The Future. So if your boss loves whiskey and is all about sustainability, then this is a great retirement gift.
#46 Complete Golf Set
A famous symbol of retirement is golfing. And if your boss didn't start golfing yet, but has plans to start in retirement. You will absolutely surprise your boss by giving him or her a complete golf set. Or upgrade his or her old set. This 12 piece golf set from the brand Callaway is the #1 bestseller on Amazon. The set includes Driver, 3 Wood, 5 Hybrid, 6 9 Iron, PW, Putter, Stand Bag, and 2 Headcovers.
#47 Drone – DJI
A boss who loves creating videos or is into photography will love getting a drone as a retirement gift. You can give your boss an upgrade or introduce him or her to a new hobby in retirement.
We always used a DJI Mavic Pro, first-generation. An outstanding overall (travel) drone for professionals. However, DJI improved the drones in the last few years. The smallest drones from DJI, like the DJI Air 2S, are now much more interesting to use. Image quality is perfect nowadays, and these drones are easy to handle. The Intelligent flight mode has also improved which makes it effortless to use. The only downside of using drones nowadays is the new regulations that many countries have. Sometimes it means you need to get a certificate before you're allowed to fly a drone. Make sure to find out which regulations apply to you or your boss before you buy a drone as a gift. There are many sites offering information about flight restrictions in different countries. I feel you get the best information at the available government sites that apply to your situation. So make sure to look there.
#48 Hydrofoil Board
Does your boss like to try out new things and make the most out of life? Then you can consider giving him or her an adrenaline ride of a lifetime by giving a hydrofoil board as a retirement gift. It's a brand new way of surfing. A hydrofoil board is a surfboard with a hydrofoil that extends below the board into the water. It causes the board to leave the surface of the water at various speeds. You don't need waves, just water. After practicing a bit, your boss can cruise into the sunset every day in retirement.
#49 Rocking Massage Chair
Perhaps your boss has worked very hard all his or her life and is looking forward to relaxing in retirement. And you can help your boss out by giving this stylish and modern rocking massage chair. The chair comes with three kneading levels and three tapping levels of massage functions, eight massage rollers with heating functionality to provide back and neck massage. And it comes with three high-frequency vibrating motors in the seat. It's a perfect chair to release fatigue and improve blood circulation.
#50 Inflatable Stand Up Paddle Board
This Inflatable Stand Up Paddle Board is another great gift for a boss who loves to be outdoors and on the water. Supping has become such a popular sport worldwide, and that's because it doesn't require a lot of skills. The sport is suitable for any age and therefore a success amongst retirees. It's a good exercise, relaxing at the same time while being out in nature. The perfect way to refresh the mind and body in retirement. This inflatable sup board comes with the needed accessories and carry bag. Because your boss can use it at home and easily bring it on the road as well.
Recommended Articles
The following articles might be interesting for you to read as well: