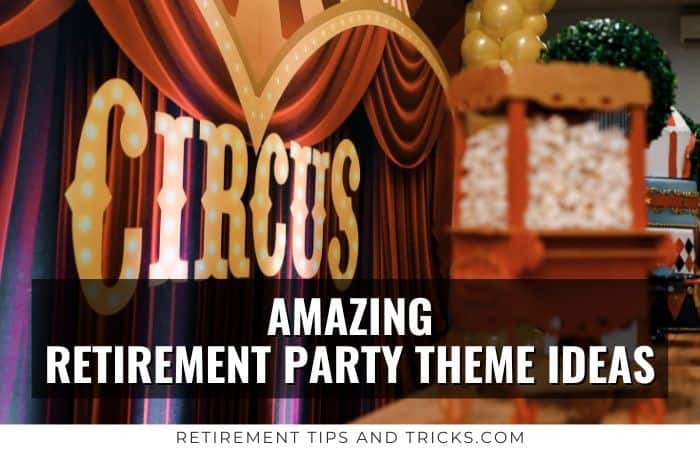 You've come to the right place when you're looking for fun retirement party theme ideas. This article is filled with 100 amazing retirement party theme ideas, including great tips for retirement party decorations, activities, cakes, centerpieces, props, and costumes. Pick a party theme below that matches the retiree's personality, background, favorite thing, or their retirement plans, and you're on the right track to organizing an amazing retirement party.
Just a heads up, this post contains affiliate links. As an Amazon Associate I earn from qualifying purchases. Purchases you make through these links may earn us a small commission, at no extra cost to you.
1) Beach
Many retirees look forward to spending as many days at the beach. Because why not? Therefore a beach theme can be a perfect fit for the retirement party. You can host it at the beach, in your backyard, or at the office, send out beach-theme invitations, hang up beach-theme party decorations, plan fun beach games, and order a cake with the text 'Life's A Beach When You're Retired' and add fun details to the party, such as customized beach pouches for guests.
2) Carnival
When the retiree loves carnival and fun fairs, a carnival theme is a fun retirement party idea. You can go for an American-style carnival theme with a retro popcorn maker, do a fun game such as a potato sack race or hire a professional clown or magician. Or you can take it a bit more international and have a Brazilian Carnival theme.
3) Year They Were Born
Decorate the party from the decade or year the retiree was born. And perhaps ask people to dress up like the 1955s.
4) Alice In Wonderland
With Alice In Wonderland theme, you can go all out with your creativity because nothing is too crazy in the wonderland of Alice. You can create an Alice In Wonderland invitation and ask people to dress up as their favorite character from the movie or have photo booth props for the retirement party.
This theme is perfect for organizing a small retirement tea party. There are so many fun centerpieces and Alice In Wonderland Party decorations to give it that extra special finishing touch.
5) Nautic/ Bon Voyage
A Nautic or Bon Voyage is a perfect retirement party theme for a retiree with plans in retirement to go boating, sailing, or on a cruise. You can decorate the room with boating details such as fishing nets on the walls, have a nautic or blue dress code, and a 'Let The Adventure Begin' Box & Advice Cards at the entrance of the party.
6) Hawaiian Luau
Is the retiree from Hawaii or going on a holiday to Hawaii in retirement? Then you have found the perfect retirement party theme.
The dress code is tropical or Hawaiian shirts & skirts. And you can add fun details to the party such as handing out flower leis to all guests, having a cocktail station decorated with Hawaii theme party decorations, and giving the retiree a nice group retirement gift such as a voucher for a fun excursion or adventure tour on one the Hawaiian islands.
7) Mexican Fiesta
Does the retiree love Mexican food? Or if he/ she going on a holiday to Mexico in retirement, then having a Mexican Fiesta can be a great idea. You can have fun food and drink stations such as a Taco Station, Burrito Bar, and a DIY Margarita Bar.
8) Hollywood
A retiree who loves going to the movies or is always up to date about the last celebrity gossip will match perfectly with a Hollywood retirement party theme. You can have a dress code, such as dressing up as your favorite movie character or picking a decade, such as Hollywood in the 50s, for the party.
Another fun idea is to pretend like the retirement party is one big movie premiere with a red carpet with photographers at the entrance, popcorn, every dressed in black tie and beautiful gowns, and you all will watch the retirement tribute video.
9) The Great Gatsby
The Great Gatsby is a fun theme because many people love the book and/or the movie and perhaps secretly always wanted to party like Gatsby. And wish the retiree a Roaring Good Time in retirement.
10) Gardening
One of the most popular activities in retirement is gardening. So when you know that the retiree has a green thumb or is looking forward to doing a lot of gardening, this can be a perfect theme for the retirement party.
11) Masquerade Ball
A masquerade ball is always a fun theme for a party. You can hand out Masks to all guests at the party, and you can do a scavenger hunt during the party, have an old-fashioned promenade with dance cards, or invite a professional dancer to give dance lessons
12) Rockin 50s
Go back to the Rockin' 50s and have a rock and roll retirement party. A great idea, especially if the retiree is born in the 50s or loves music from the 50s. Hire a jukebox for the party or organize a drive-in cinema party.
13) Swinging 60s
Take the retirement party back to the swinging 60s, the decade of flower power, peace, love, and music from the Beatles. You can make a playlist of 60s music, have colorful balloons and 60s decorations, and put the words 'Have A Groovy Retirement' on a retirement cake.
14) Disco
It's Disco Time. Always a great party theme, because who doesn't like disco? And it is so easy to create a 70s-themed retirement party with a couple of things: hang up a mirror ball, add disco balls to your retirement cake or cupcakes, ask guests to dust off their favorite disco outfit, and let's boogie.
15) Big Hair 80s
The 80s are neon outfits, boombox, rollerskates, and big hair. You can create a fun photo booth station with an 80s backdrop banner and fun props.
16) I Love 90s
Most people retiring now or who have been retired have lived through the 90s because of their children. So even though it's not their decade, they can love it because it's the decade of their children. Or many people in the office love the 90s, so this can be a fun theme just for that.
Don't forget to plan a couple of fun party games.
17) Wild West
If the retiree says 'Yee Haw' a bit too often, then you know you have found the perfect theme for their retirement party; wild west. Perhaps you can rent a farm venue for the party or do it in someone's own backyard/ farm and get some fun wild west party decorations.
18) Black & Gold
Most retirement decorations are black & gold. So when you want to keep things easy. Just go for a black & gold theme and incorporate it into the invitations, hang up a 'Happy Retirement' Banner, and decorate the room with black & gold party decorations.
19) Golfing
When the retiree loves to golf in retirement, a golfing theme is a great idea for their retirement party because it is Par-Tee Time! Check out these fun golf-themed retirement party decorations.
20) Roadtrip
A road trip theme is an excellent idea for a retiree who is going to hit the road in retirement. You can gift them a book 50 States, 5000 ideas and get a retirement cake with one of these texts on top: 'Hit The Road (Name)', 'Retirement Is Not The End Of The Road', or '(name) Is Re-Tiring.'
21) Cruise
When the retiree is going on a cruise in retirement, then a cruise theme is a perfect match for their retirement party. You can decorate the venue in navy blue and ask everyone to dress as if they're going to a cruise or captain's dinner. You can even plan a Captain's Dinner as the theme and activity. Or you can use the destinations on the cruise as your source of inspiration for the parties' food, drinks, invitations, and decorations.
22) Career
Another fun retirement party theme idea is to use the retiree's career. For example, if they've had many different jobs, you can incorporate his/ her career history into the party with decorations, cocktail names, and a photo wall. Or you can list out all the retiree's job positions in the invitation and ask guests to dress up as one of these, and the retiree has to guess which job they're representing.
23) Superheroes
A very popular theme for kids' birthday parties is Superheroes. But this can also work when you want to emphasize the fact that the retiree is a superhero or that he/ she is a superhero fan. You can have a superhero dress code or do short speeches/ toasts where everyone can explain why the retiree is their superhero. You can take this theme very literally or figuratively. An appropriate and fun retirement gift that matches this theme can be anything that says: The Man/ Woman, The Myth, The Legend is retiring, which you can find here >>.
24) Love
All you need is love. The greatest force in the universe is love. You love the retiree for everything he/ she has done, so Love can be a perfect retirement party theme when looking for something general. Perhaps you can joke around that you love that the retiree is retiring. And the decoration is very simple, just hearts.
25) Casino
Organizing a casino night can also be a fun idea for a retirement party. Everyone can dress up in their most chic attire, enjoy a night out, and try out if they're in luck. It can also be fun to have a couple of gambling tables ready, which makes for a nice change between speeches and other tributes.
26) Halloween
It doesn't have to be October to have a party with Halloween as a theme. When the retiree is obsessed with Halloween or the best Halloween party organizer in the office, a Halloween-themed retirement party can be an amazing idea. And easy for guests because everyone has a Halloween costume lying at home. And you can reuse decorations and party supplies from previous Halloween parties, which also saved you a couple of bucks.
27) Black & White
A classic theme is a Black & White theme. You can even let all guests dress up in black and the retiree in white to let him/ her stand out at that party.
28) Sailing
Is the retiree going sailing in retirement? Then this theme is a perfect fit for their retirement party.
You can decorate the venue with everything boat related and ask guests to dress up in blue/ white or sailing attire.
29) Beer
A retiree who loves beer will love a Beer-themed retirement party. You can host the party at a beer brewery and do a beer tasting. Or in your backyard and have all sorts of craft beers available for guests, from local to international beers, and also non-alcoholic beers for the drivers. There are dishes with beer that can be an option for the party food-wise.
30) Wine
The same goes for wine. When the retiree is a wine-lover, then a Wine-themed retirement party can be a great idea. You can invite a professional to host a wine-tasting with awarded wines or plan a wine-tasting retirement party at a vineyard nearby. Besides the wine tasting, you can organize a nice gourmet lunch or have cheese platters ready for the guests.
31) Roaring 20s
32) Patriotic
33) Grease
34) Saturday Night Fever
35) Kings & Queens
36) Medieval Times
37) Greek
38) Summer
39) Autumn
40) Winter
42) Spring
43) Tropical
44) Space
45) England
46) France
47) Winter Wonderland
48) Year They Were Hired
49) Lord Of The Rings
50) Football
51) Basketball
52) Baseball
53) Rockstar
54) Ballgowns & Black tie
55) Neon
56) Las Vegas
57) Pirate
58) Disney
59) Rainbow
60) James Bond
61) Mardi Grass
62) Superbowl
63) Country Music
64) Summer Camp
65) Beers & Barbeque
66) Unicorn
67) Mermaid
68) Toga
69) Around The World
70) Cinco de Mayo
71) Christmas In July
72) Ugly Sweater
73) Studio 54
74) Star Wars
75) Star Trek
76) Olympics
77) Boho/ Gypsy
78) Safari
79) Texas
80) Downtown Abbey
81) Wine And Cheese
82) Chocolate
83) Rocky Horror Picture Show
84) Woodstock
85) Spa Day
86) St. Patricks Day
87) Oktoberfest
88) Coachella
89) Arabian Nights
90) Bollywood
91) Crazy Hair
92) Burlesque
93) Reggae
94) Science Fiction
95) Zoo
96) Pura Vida
97) Back To College/ High School
98) Grill & Chill
99) Backyard Bonfire
100) Viva Italia