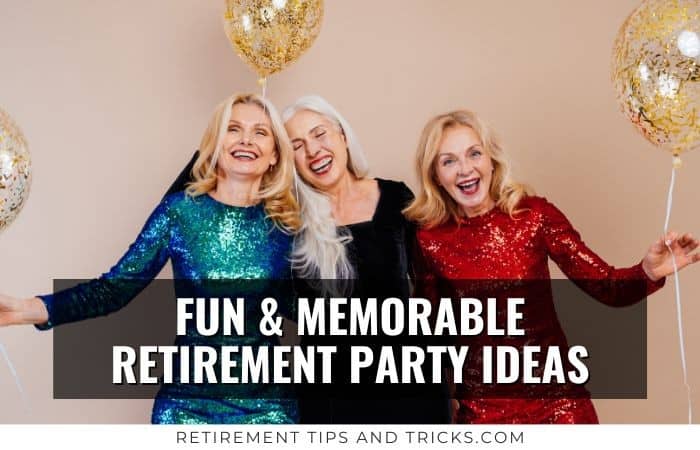 Are you planning a retirement party soon? Then you're probably are looking for fun retirement party ideas! And I've got the 200 best retirement party ideas listed in this article that will help you organize an amazing retirement party to remember forever. Let's get started right away!


---


---
1. Fun Theme
I love a good theme party. A theme makes any party more special and memorable. Because it's all in the details. Also, a theme party makes it more informal, and it really bonds the people together that don't even know each other. It is great fun when everyone dresses up in the theme of the party. Or have themed decorations, cake, and retirement gift that matches the retiree's favorite hobby or plans for retirement.
When you decide on which theme you want to have for your party, it makes the other things you need to arrange a lot more easily. You can see the theme of your retirement party as the first thing you need to decide on when planning a retirement party. After that, it is easier to pick out the music, decorations, food, and other important stuff that makes your party memorable.
Retirement Party Theme Ideas
Surprise Party
Back to the Birthyear of the retiree
Back to the starting year of the retiree's career
Back to the '50s, '60s, '70s, '80s, '90s, etc.
A favorite hobby party like fishing or golfing
The first job of retiree's Themed Party
Travel Themed Party
Seasonal Themed Party (Summer, Winter, Spring, Autumn)
Tropical Party
The Great Gatsby
At For Your Party.com, you can find amazing personalized retirement party supplies.
2. Retirement Tribute Video
One of the most special ways to honor a retirement is to create a retirement tribute video.
A picture is worth 1000 words; a video is worth 1.8 million words. That's how powerful and impactful a good tribute video can be. It will definitely put a smile on his or her face for a long while after their retirement party. And can be watched over and over again.
Now, before your think. Making a retirement tribute video is a lot of work.
It's NOT! Because I found an easy-to-use online video maker that does all the work for you: VidDay
You just have to send out a link to all guests; everyone uploads their videos, and Vidday creates a beautiful tribute video for you. No skills are needed.
3. Special Venue
When you want to make a retirement party extra special, you can choose a special venue to host the party. Even though an office or your home can be decorated beautifully, a different venue can give it that extra special feeling. It can make your retirement party stand out from other retirement parties.
Retirement Party Venue Ideas
Retiree's favorite restaurant
Wine estate
Public park
Campsite
Rooftop Bar
When you're looking for more venue ideas for a retirement party, I recommend reading my helpful article, 40 Great Venue Ideas For A Retirement Party.
4. Memorable Retirement Gift
A great retirement party isn't complete without a great retirement gift. Often a retirement party (no matter how big or small) is the best occasion to present a (group) retirement gift. Now, you probably wonder what a great retirement gift is. If got the answer:
A great retirement gift is a;
– Memorable keepsake,
– Gift to enjoy in retirement,
– Funny gift,
– Personalized gift,
– Gift that matches hobbies or plans in retirement.
I've spent months researching the best retirement gifts out there and discovered which ones are perfect for all retirees.
5. Unique Invitation
The invitation you send out sets out the tone of a retirement party, so you want to make sure you do it right.
Before you send out invitations, you need to decide on the theme of your retirement party. This way, you can customize the invitation to the party theme.
In the invitation, you can also mark a gift suggestion. Or if you don't want the guest to bring gifts, you can also let them know in the invitation.
Make sure to add an RSVP to the invitation, so the guests will let you know if they attend the party. When you serve food or theme-based snacks, you can ask if the guests can tell you if they have any allergies or dietary wishes.
Need some help with creating a unique retirement party invitation? Check out foryourparty.com with ready-to-go invitations that you can customize and personalize to your liking.
6. Fun Decorations
A party isn't a party without decoration. It gives it that extra spark. I've researched hours for the best retirement party decorations. And listed 30 ideas in my article: 30 Amazing Retirement Party Decoration Ideas.
7. Yard Sign
Let everyone on the retiree's street know that he/ she is retiring with a fun yard sign.
You can customize a Yard Sign with your a personalized text and photo at ForYourParty.com
8. Play A Fun Game
The secret to a retirement party's success is to play a fun game. A game is a great icebreaker, creates spontaneous and fun moments, and is a special way to honor the retiree. I've listed amazing retirement party games in my article: 30 Fun Retirement Party Games (+ Instant Downloads!).
But I have more. Click on the button below:
9. Pick A Perfect Time
The time of the party is essential if you want to make sure most people on the guest list can come.
When your guest list is packed with only retirees, you can host the party during the day or on weekdays. But if most people on your guestlist need to work, then it's better to plan the retirement party in the evening or on the weekends.
Retirement Party "Time" Ideas
Sunday Breakfast or Brunch
Lunch Party
Afternoon Pool party
An afternoon picnic in the park
Afternoon High Tea
Afternoon BBQ
Afternoon Wine Tasting
Evening Dinner
Evening BBQ
Dinner and party in the evening
Thank God It's Friday Party on Friday night
10. Host A Speech
Honor the retiree (a pastor or coworker for example) with a funny or heartfelt speech.
It can be challenging to host a speech for a retirement party. And that is why I created an article on how to give the best retirement speech, 20 Expert Tips On How To Give The Best Retirement Speech.
11. Special Drinks Station
Most retirement parties have a bar or a place where you can get your drinks. Or maybe some waiters bring around the drinks to everyone.
It is extra fun when you can create a drinks station that fits your retirement party's theme.
Fun Drink Station Ideas
Coffeebar with a barista
Margaritha Bar
Winebar
Beer Bar
DIY Cocktail Bar
Champagne Bar
12. Theme-Based Snacks/ Food Station
As discussed, the theme of your retirement party is the most important thing to decide on. If you know the theme, you can organize everything else around it.
For example, if you have a travel-related theme, you can have snacks from all around the world, or from the countries where the retiree wants to travel to. Or you can create fun food station so there is something for everyone out there.
Another fun idea for snacks at a retirement party is to include a fun retirement message on the snacks.
Food Station Ideas
Avocado Bar
Popcorn station
Mashed potato food bar
Build your own nacho bar
French fries bar
New York Style pizza station
13. Unique Retirement Party Cake
What is a great party without a cake? Having a cake at your retirement party is not only a delicious treat. It also helps you create an extra moment where you can have a speech to honor the retiree, or where the retiree can thank the guests and officially 'open the party.'
But a cake is also a sweet way to wish the retiree all the best with a fun retirement cake saying. Or, to make it easy, just add a 'Happy Retirement' Cake Topper, and you're done.
Retirement Cake Saying Ideas
I'm Retired, Ask Someone Else
Goodbye Tension, Hello Pension
Let The Fun Begin
We Will Miss You
Retirement Makes Life Sweet
The Legend Has Retired
Time To Relax
You Worked Your Whole Life For This Cake
14. Have A Dress Code
Depending on the theme of your retirement party, you can also decide on the dress code. For example, if you plan a party with a tropical theme, you ask guests to dress up in summer clothes or show up in a Hawaii shirt. But you can also go the other way around and have a formal dress code such as a black tie.
It is great fun when everyone is dressed up in the same style. Don't forget to include the dress code on the invitations.
Retirement Party Dress Code Ideas
Casual
Semi-formal or dressy casual
Beach Formal
Cocktail Attire
Formal Attire or Black-Tie optional
Black-Tie
White-Tie
Themed attire
15. Themed-Based Music Playlist
Music gets the party going, right? That is why making a great music playlist can be a good idea for your retirement party.
You can create a playlist with the retiree's favorite songs, a themed-based playlist, or add some classic songs that are retirement-related.
Retirement Song Ideas For Playlist
It's Five O'Clock Somewhere – Jimmy Buffett
Margaritaville – Jimmy Buffett
Another one bites the Dust – Queen
Working Nine to Five – Dolly Parton
Hit The Road Jack – Ray Charles
Stayin' Alive – The Beegees
Fun, Fun, Fun – The Beach Boys
I've Had The Time Of My Life – Bill Medley, Jennifer Warnes
We Gotta Get Out of This Place – The Animals
16. Live Music Band
If you want to go all out when it comes to music, you can invite a live band that performs during your party. Inviting a cover band that plays songs everyone knows and can sing along to is an awesome idea. But perhaps you have a band within the family, a special office band, or you can invite the retiree's band.
17. Karaoke Machine
The infamous karaoke machine! If you want to organize a retirement party that isn't too serious and have some fun, a karaoke machine is can be an awesome idea. Later in the evening is perfect timing to pull out a karaoke machine because it often takes a couple of drinks for some people to get on stage and for others not to get annoyed.
18. Roast The Retiree
A retirement party is all about honoring the retiree, and that can be done in many different ways.
And if the retiree has a great sense of humor and can take a joke, then organizing a roast can be a fun idea.
Tips For A Good Roast
Ask a maximum of 4 people to roast the retiree.
Create an area where the retiree is in the center of attention and is visible to everyone in the room
Estimate how funny each roast will be and schedule the order of speakers from funny to the funniest. You want the most hilarious person to be the last one and to go out with a bang.
Each roast is no longer than 5 minutes. Keep it short, funny, and interesting for everyone. Preferably a roast should not take longer than 20 minutes. So you won't take up to much time from the party.
If it's necessary, mention the no-go topics to all the speakers beforehand. Sometimes very sensitive subjects are best excluded from a roast. You want to make it fun, and a roast is also allowed to be a bit embarrassing, but you don't want to humiliate anyone.
Make sure the retiree has the last word. Perhaps, he or she can come up with a couple of jokes last minute to end the roast. Or take this moment to give a speech.
Do a soundcheck beforehand, and make sure the audio is loud and clear everywhere in the venue. To make an audience laugh, they need to hear the jokes.
19. Honor The Retiree With A 'This Is Your Life' Presentation
A very popular way to honor the retiree during a retirement party is by having a 'this is your life' presentation. Based on the classic US Television show.
You walk through the retiree's life and discuss their life and career, with the help of family and friends.
To make this a success, you need someone that can host this presentation.
20. 1-Minute Toasts
When you pop the bottle of champagne and raise your glass, you can go around the room and let everyone make a 1-minute toast to honor the retiree. This is a beautiful thing to do when you're organizing a dinner with not too many people.
It can be well wishes for the future, great stories, or funny memories. Make sure the retiree gets the opportunity to make the last toast.
21. Photobooth With Fun Props
Having a photo booth is a fun idea for any party. I don't know people who don't like to have some fun by taking funny pictures. It is not only fun during the party, but you can also do a lot of fun things with the photo after the party, such as:
Hand out or email photos to guests as a nice party favor
Collect all photos and put them in a photo book to give to the retiree later.
Create an after-movie montage with all photobooth photos
Here is what to do: rent a photo booth, get a Happy Retirement Backdrop, and fun retirement photo booth props.
22. (Slomo) Video Booth
Create a Video Booth and, even better, a Slo-mo Video Booth because that's funnier. You can rent or create a station yourself. Hang up a backdrop, add enough fun props guests can use, and record videos. You can record slo-mo videos with most (new) smartphones and tablets. Collect and edit the videos into a fun after-movie.
Here is an example of a slow-motion booth:
23. Guest Book Wall
Create a wall where all the guests can write messages. You can use post-its on where the guests write their message and stick it to the wall. This way is it easier to collect all the messages at the end of the party.
24. Scrapbook To Honor The Retiree
Send out a list of questions to all the invitees, or ask guests to email you/ write you their favorite memory or funniest anecdote about the retiree and fun photos. Collect it all, make a scrapbook and give it as a gift to the retiree at the retirement party.
25. Bucket List Bucket
You can set up a Bucket-List-Bucket at the entrance of the party with fill-in cards so guests can give fun ideas for the retiree's bucket list. You can make it into a contest where the retiree chooses the most creative or funniest bucket list idea. Or give it as a gift later during the party so that whenever the retiree feels bored in retirement, he/ she can go through this bucket with fun ideas and has lots of inspiration.
You can get a Bucket List Bucket with Index cards on Amazon>>.
26. Smash The Clock Pen-ñata
You can create a piñata in the form of an alarm clock and call it to smash the alarm clock! Since the retiree doesn't need an alarm clock anymore! Or open the party officially by smashing a champagne pinata or have the retiree smash a pinata with the number of working years.
Another fun idea is to fill the piñata with all the retirement wishes you collected instead of candy. Or maybe fill it with fortune cookies with a goodbye message to all the invitees.
27) Memory Bank
You need pens, index cards, and a decorative bucket or container to collect them for this game. At the entrance of the party, you ask guests to write down their favorite memory they share with the retiree and end with their names. These can be meaningful, embarrassing, and funny moments. It doesn't matter. And you can give this memorable gift later at the party to the retiree.
28. Guestbook
Put down a guestbook at the party's entrance and ask guests to write messages in it for the retiree. It can be funny anecdotes, favorite memories to sincere words people can write in the guestbook. And give it as a gift later to the retiree.
29. A Quiz About The Retiree's Career
Create questions about the retiree and host a quiz during the party. Have enough questions about the retiree's career, hobbies, family, etc. For example: What was his/ her first job? How many bosses has he/ she had? Make sure it's not all work-related questions if family and friends are also at the party and vice versa.
If you don't have time to create a quiz, don't worry. I've created a retirement party bundle including a game Who Knows The Retiree Best Quiz. Click here to go to the download page.
30. Retirement Wishes Jar
Instead of a bucket list or retirement wishes wall to collect retirement wishes, you can also decide to put a retirement wishes jar. You can put the jar at the entrance or close to the photo booth.
31. Goodie Bag
As a retiree, you get a lot of presents and goodbye wishes during your retirement party. However, it can be great fun to hand out a goodie bag at the end of the party with a thank you note, fun group pictures, and a snack on the way home.
You can design your own Goodie Bag at YourOwnParty.com >>
32. Personalized Napkins, Cups, and Supplies
As I mentioned before. It's all in the details. You can make the party extra special with personalized party supplies. Go to YourOwnParty.com>> for amazing personalized party supplies.
33. Do A Flashmob
Surprise the retiree with a flashmob and make sure to record it so they can watch it over and over again. Here is an example of a flashmob:
34. End With Fireworks
Go out with a bang and end the party with fireworks.
Retirement Party Firework Ideas
Professional Fireworks (show)