When you're looking for a great personalized retirement gift, you've come to the right place. I've spent hours researching for the best personalized retirement gifts out there.
Top 15 Personalized Retirement Gifts:
MasterClass
Personalized Grill Tool Set
Wood Engraved Retirement Plague
Champagne Gift Basket
Custom Reel Viewer Set
Personalize Wine Bottle & Glass Storage Rack
Customized Moon Lamp
Personalized Decanter Set
Engraved Watch
The Man, The Myth, The Legend Beer Mug
Engraved Compass
Personalized World Map
Personalized Crystal Plaque
Engraved Ice Bucket
Personalized Flask Gift Set
The best personalized retirement gift are gifts that match the retiree's plans, personality, favorites or future plans. A gift he or she can enjoy in retirement or to keep as a memory. Find out more details of the top 15 personalized retirement gifts below.
Thank you for supporting Retirement Tips and Tricks: Please note that links in this article are affiliate links. When you make a purchase using these links, we may get a small commission, at no extra cost to you.
1) Masterclass
You can gift the retiree a cool Masterclass taught by the best in the world.
MasterClass is an online education platform with the world's most successful and famous teachers: Gordon Ramsey, Christina Aguilera, Usher, Hans Zimmer, Stephen Curry, Carlos Santana, Jimmy Chin, Serena Williams, Dan Brown, etc.
This is an awesome personalized retirement gift when you know what kind of hobby, interest or passion the retiree has. Because MasterClass offers a major variety of online masterclasses for all skill levels and ages. From cooking, acting, writing, poker, music, sports to science, and so much more.
You can gift a single Masterclass and pick one Masterclass personalized to the retiree's favorite hobby or gift an All-access Pass for all Masterclasses on the platform. Because an all-access pass is a great idea for a retiree who is always eager to learn something new, and wants to do fun and interesting things in retirement. And by gifting the gift of Masterclass you give the retiree an amazing platform to explore and find their new hobby and passion in retirement.
2) Personalized Grill Set
This personalized Grill Tool Set is an awesome retirement gift for a BBQ-lover. The set contains a bamboo case with a spatula, fork, and tongs grill utensils made from high-quality, durable, rust-resistant stainless steel. You can personalize the bamboo case with laser engraved characters of your choice (up to 15 characters). And you choose between 6 different design options to see which style fits the personality of the retiree best.
3) Wood Engraved Retirement Plague
This Wood Engraved Retirement Plaque is an excellent gift for your boss or co-worker who is retiring after years of hard work. But it could also be an excellent retirement gift for your spouse, friend or family member. It's handmade by The Gifted Oak and you can personalize it however you want. The board is made of heavy 3/4″ thick birch wood, and they burn your personalization design with laser engraving burns into the wood.
4) Dom Perignon Gift Basket
Retirement is a life-celebration that calls for champagne. Because a celebration without champagne is just a meeting. And you can gift the retiree a celebration gift basket with this Dom Perignon Gift Basket. It's filled with all sorts of gourmet snacks and a bottle of the World's best vintage champagne: Dom Perignon. So the retiree can cheer to celebrate their retirement in a delicious way. But the cool thing about this gift basket is that you can design it yourself because you can add all sorts of other snacks, chocolates, and gifts to it.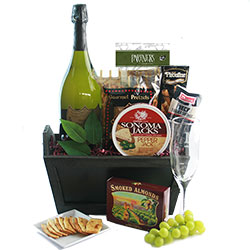 Read more: 25 Fantastic Retirement Gift Basket Ideas
5) Custom Reel Viewer Set
You can create an awesome personalized retirement gift with this Reel Viewer Set. You give the retiree a way to preserve great memories in retro style. This set contains a Red RetroViewer, Viewfinder, and one gift card with code to upload your Custom Reel. You can either customize the reel for the retiree and add your favorite photos down memory lane and give it as a total package including fun photos. Or you gift the retiree this set including gift card so the retiree can create his or her own reel with favorite choice of photos.
6) Personalize Wine Bottle & Glass Storage Rack
Is the retiree a wine-lover? Then this Personalized Wooden Wine Glass Storage Rack is an awesome retirement gift. It's 18.5 inches x 5 inches x 15 inches and can hold up to 6 bottles. And it includes free customization with your personal engraved text. You can add Personalized Wine Glasses to make your retirement gift complete. Don't know what to text to engrave it with? Check out my article: Retirement Saying Ideas for more inspiration.
7) Customized Moon Lamp
This Customized Moon Lamp is an awesome gift for a retiring family member or friend that you're very close too. Perhaps your grandfather, grandmother, mom, dad is retiring and you want to give them a unique personalized gift. Or your spouse is retiring and you want to give him or her a romantic and personal gift. Then this personalized gift is a great idea. You can customize the lamp by adding your favorite photo with the retiree or thoughtful words. And by touching the switch of the luna moon lamp it can change to 2 colors: Warm White or Cool White.
8) Personalized Decanter Set
What better way to enjoy your retirement drinking your favorite spirit from your own Personalized Decanter Set. This stylish and elegant personalized black leatherette serving tray with crystal design decanter and glasses can be an excellent retirement gift for any retiree who likes to have a nice drink at the end of the day. Or a retiree who likes to host and entertain guests. You can personalize it with different designs and with the retiree's name or initials. The engraving on the tray is in gold, and the decanter holds 23 oz. and the glasses 8 oz. each.
9) Engraved Watch
A (gold) watch is the most traditional and classic retirement gift out there. It symbolizes time. As a company, you give a watch with a symbol and saying: "You gave us your time, now we give you time". But you can also gift a watch as a friend or family member: "Have the best time in retirement", "Time to relax and enjoy life", etc. And giving an engraved watch with a personal message makes it all the more special.
Check out engraved watches for men here. And engraved watches for women here.
10) (Name) The Man, The Myth, The Legend Beer Mug
This Personalized Gunmetal Beer Mug is a perfect retirement gift for a true legend. Any beer lover will enjoy his beer more when drinking it out of this beer mug. So, when you're legendary boss, co-worker or friend is retiring and you want to show him how much he is appreciated in the office, at home or as a friend, get him this gunmetal mug.
11) Engraved Compass
Retirement is the time to enjoy life and do all the things you love. And this Engraved Compass with the text: "Go Confidently In The Direction Of Your Dreams. Live The Life You Have Imagined" is a very thoughtful and encouraging retirement gift. It's a great gift for any type of retiree but especially for someone who has many travel plans in retirement and wants to live out their bucket list.
Read more: 25 Great Retirement Bucket List Gift Ideas
12) Personalized World Map
Another excellent gift for a retiree with travel plans is this Personalized World Map. The retiree can track his or her travels in retirement by pinning their destinations and travels on this beautiful National Geographic Travel Map. And you can personalize it with a text at the bottom of the map with any text you like. It comes in an elegant 2-inch black frame and the total map is 39.5 inches wide and 27.5 inches high. Also, it includes 100 pins and it's ready to hang up on the wall.
13) Personalized Crystal Plaque
When someone retires he or she wants to feel appreciated. They want acknowledgment for their hard work and it didn't go unnoticed. And one of the best ways to show that is to gift this Personalized Crystal Plaque. You can customize it with any text you like. And the retiree can keep it as a memory at home and always be reminded of their time working and how they felt celebrated when once they retired. So, this handcrafted award can be an excellent gift for a boss, co-worker leaving the office but also for a friend or family member. It's a cool way to send them off into retirement with all the best wishes.
14) Engraved Ice Bucket
Retirement is the time to celebrate life and enjoy everything about it. And this Engraved Ice Bucket made of high-quality glass can make the life of the retiree more enjoyable. Every time the retiree ices a bottle of wine or champagne in retirement they will see the thoughtful words you put on it. And if the retiree likes to drink wine, this will be a lot of times. You can add a nice bottle of wine or champagne to this gift to make it complete.
15) Personalized Flask Gift Set
This Personalized Flask Gift Set is a classy gift to warm up any friendship or situation; during the game, on the golf course, at a party, during camping or sitting by a campfire. It's a 6 oz. flask made of high-quality stainless steel. And the set comes with 2 metal shot glasses and matching funnel in an elegant case. You personalize it by choosing between 6 different designs and adding the retiree's name or initials on it.
Recommended Articles
The following articles might be interesting for you to read as well: