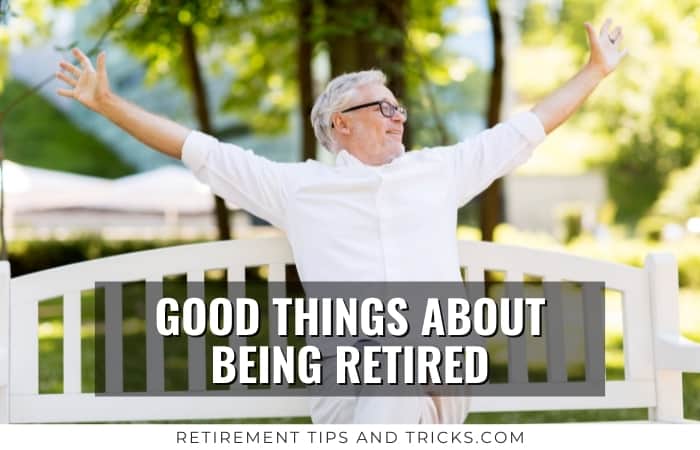 As your retirement date is coming closer you perhaps feel mixed emotions. You can feel excited, scared, and terrified all at the same time. That is all normal because retirement is a major life change. Or maybe you're already retired and find yourself in a negative spiral and you might wonder, what are the good things about being retired?
Well, as I retirement blogger I've done a lot of research and talked to many retirees about what they love about their retirement. And listed 14 good things about being retired in this article to help you out. After reading this article you will feel more excited about your retirement. So, let's get started.
Just a heads up, this post contains some affiliate links. As an Amazon Associate I earn from qualifying purchases. Purchases you make through these links may earn us a small commission, at no extra cost to you.
1) No Stress
Most jobs these days are stressful, so when you're retired you leave the stress that came with the job at work. Which for most people is a very good thing. Although it can take a bit of time to adjust to a slower pace of life that is called retirement, once you experience this more relaxed feeling you're going to love it. And you start to question yourself, why did I get so worked up about little things at work?
Also, for most people, a job is an obligation and a way to pay the bills and save up for retirement. If you're one of them you know that even showing up at work is stressful. And that is because you work hard but you don't love your job. It doesn't fuel your soul. And that is a stressful thing. Soon, in retirement you have time to do something you love to do; even though you work hard on it, you don't experience stress. And if you found that, you've found your retirement passion.
You'll get a new perspective about life. At first, most of your life evolved around work. And in retirement, you start to experience that life goes on, even without you going to work. And you'll see that there is a whole world to be explored. And to get stressed about;) The good kind of stress of course. The one that makes you excited and in love with life.
And if you're stressed about your finances. Make sure to get professional help from a financial expert. You can find professionals via JustAnswer quickly.
2) No Traffic
Not having to commute to work and deal with traffic jams is probably one of the best things about being retired. It's also the first positive change you'll experience in the first days of your retirement. You can sleep in, enjoy your morning coffee at home and you can hit the road or travel with public transport at times it's less busy. It's the first sense of retirement feeling you'll experience.
You can make appointments midday or around the traffic jam hours so you can avoid it as much as possible. Because why would you get stuck in traffic in retirement? It's a waste of time.
A great way to make use of the extra time in your day (not commuting to work) you can follow a class. Many retirees like to apply for classes because keep learning at an older age is the best way to keep your brain healthy, prevent diseases, and stay happy in retirement. But what class should you follow? Well, let me give you a great tip!
You can follow 100+ different Masterclasses from the world's greatest teachers in their field all from the comforts of your own home with one Membership to Masterclass. It's just as easy as Netflix. But instead of lying on the couch wasting your hard-earned time in retirement binge-watching TV series. You can learn new skills, discover a new retirement hobby and find out all the secrets from your icons with online classes on Masterclass. It makes your retirement instantly a lot more interesting.
Here is a very small selection of classes that are available on Masterclass:
– Ron Finley Teaches Gardening
– Gordon Ramsay Teaches Cooking
– Reba McEntire Teaches Country Music
– Alicia Keys Teaches Songwriting and Producing
– Samuel L. Jackson Teaches Acting
But definitely check out the masterclass website to see what other classes are available that sparks your interest. There is something for everyone on the platform. From science, music, design, cooking to acting, business and so much more. They add new classes every month.
3) No Boss
In retirement you get to be your own boss. Or you'll have a new one: your spouse ;).
Even if you loved your boss, not having one is a lot better. It means that you get to decide what, when, where, how, and why you do things. And that freedom is priceless.
4) Lots Of Time
When you retire you get a lot of free time to spend however you want to. You don't get 25 years of retirement time wrapped in a nice present on your last day of work, but you get 8 hours a day that you don't have to work anymore. And how you're going to spend these 8 hours a day is the key to your retirement happiness.
Many retirees fill their time with their new retirement hobbies and wonder after a couple of years how they ever had time to work? This is because they're so busy in their retirement with fun activities. It's what both my father and father-in-law joked about when they were a few months into their retirement.
Also, many people underestimate retirement. They don't know that it's a process that takes time to get used to. A lot of people get excited about the abundance of time in retirement, but once they retire they have trouble structuring their retirement day. That is why it's important to retire to something. Having a plan about what you're going to do in retirement gives you a better start. Of course, this doesn't mean that you have to have a strict schedule about what you're going to do every day, but having an activity that keeps you busy goes a long way.
As I mentioned earlier, having a membership to Masterclass gives you something to hold on to and look forward to in retirement, as you fill out the rest of your time in retirement. It keeps things interesting and gives you an opportunity to explore new activities.
Did you know that the key to a successful retirement is the combination of physical, mental, and social activities? You can read more about it and so much more about finding happiness in retirement in my ebook: Five Steps To Happiness In Retirement.
5) New Possibilities
With more time there comes new possibilities. And now that you don't have to focus on work anymore you can focus on other things. New things. Like a new exercising routine, a new hobby, new dreams etc.
As the old saying goes "When one door closes, another one opens". And that is because a shift in your life creates a shift in perspective about life and room and a clear vision for new possibilities. It's important to grab oppurtunities by the horns and chase your dreams in retirement. Because whenever is the time to do it?
A great way to create new possibilities is to create a retirement bucket list. It helps you to find out what you want most in life and go after it. With a bucket list, you create focus, direction, and purpose towards the things in life that are important to you.
6) Freedom
With retirement, a new unwritten chapter is about to start. The possibilities are endless, everything is open for consideration and there is unknown territory waiting to be explored. You're an explorer and adventurer in your own life when you retire. You get the chance to rediscover yourself. Find out what you enjoy most in life, get to know yourself outside your job position, rekindle (old) relationships, create new structures and routines in your everyday life, discover a passion, choose a new lifestyle, chase your dreams: write the best chapter of your life.
That is something not to be scared of but to be excited about. And that's a choice. Make sure to choose excitement for this part of your life, because only then you feel freedom.
"You will know when you feel completely done with something and give it up and feel freedom instead of loss" – Emily Maroutian
Especially the first couple of days of retirement that sense of freedom is intense. It can catch you off guard, but take it in. Knowing that anything and everything is possible is a price-less feeling that doesn't happen very often in life. Don't let anxiety get in the way.
"Anxiety is the dizziness of freedom" – Seren Kierkegaard
And when anxiety sneaks up on you. Make sure to follow the Mindfulness and Meditation class on Masterclass by Jon Kabat-Zinn. He can reduce your stress, and soothe your thoughts with his class.
7) No Obligations
The best part about being retired is having (almost) no obligations. And that is a great feeling. No one is breathing down your neck. There are no deadlines. No expectations from other people. Unless you say yes to a lot favors.
Everyone knows that you're retired. And knowing that you have "nothing to do" people will instantly will aks you for favors. And my advice is to say no to every request in the first weeks or months of your retirement. Even the request to watch your grandchildren a day in the week and here is why.
You don't want to go from a life full of obligations from work to a life filled with other obligations and tasks from other people. You haven't retired to become a servant to someone else's schedule again. Right? When you just got retired, give yourself the time to figure things out, because you need some time and space to adjust to retirement. And to discover how you want to spend your time. A full agenda doesn't help you with that.
Once you know what you want to do in retirement, you can fill in the gabs of your agenda with favors and tasks from other people that you enjoy doing too.
8) Better Relationships
With more time on your hands, you have the opportunity to spend more quality time with your loved ones. It's perhaps one of the things you look forward most to in retirement. And it's one of the good things about being retired. It makes your relationships better and you a happier person.
Whether it's your relationship with your spouse, friends, children, or grandchildren. It's important to put time and effort into your social life because socializing is one of the key factors to a happy retired life. So make plans for romantic dinners, family game nights, and trips with your friends and grandchildren. Time is your greatest currency, so make sure you spend it with the ones you love.
When you retire you lose daily social interactions with coworkers that you need to fill in with other social interactions, such as your family members or friends. It's vital for your health and happiness because loneliness and depression can sneak up on you when you don't spend enough time with loving and positive people. It's the biggest retirement risk no one knows about. But not to worry, in my ebook I'll show you how to avoid depression and show you new ways to stay social and make new friends.
9) A Lot Of Discounts
The biggest advantage of getting older and retiring is getting a lot of discounts. Saving money or having access to free stuff will put a smile on anyone's face. Getting older isn't fun, but at least you'll have plenty of discounts to soothe the pain.
From restaurants, grocery stores, retails stores, prescriptions, travel bookings, to cell phone plans. They all have senior discount plans, so make sure you apply for a senior discount from your favorite store and restaurant. Or mention your age when you buy tickets. On average you'll get a 10-20% discount.
10) Chance To A Lifestyle Change
Getting retired means you get to freshen up your life and style your life the way you want it. You'll spend a lot more time at home in retirement, but some people even like to switch it up a notch and go for living the dream: RV life, boat life or moving to another state or country.
When you want to change your lifestyle dramatically a big piece of advice for you is to try it out for a couple of weeks, first. You can tiptoe into retirement by slowly reducing your working hours while you try out the new lifestyle during your off time. Or take some time off (a few weeks) before your retire to try out your retirement plan and see if it works for you before you make any major decision. This will save you a lot of time, negative energy, and life decisions you often can't turn back quickly.
11) No Alarm clock
Yes, no more alarm clock. No more of that awful noise when you wake up in the morning. Now you don't have to set an alarm. Only for enjoyable things. Then the sound of the alarm clock will make you want to jump out of bed in the morning.
Although the first couple of weeks in retirement it's nice to sleep in. Especially when you work hard and had a stressful job you need time to rest, unwind and catch up on hours of sleep. But after being more well-rested it's healthy to have more structure in your day. Having healthy sleep hygiene with more set hours when you wake up and go to bed will help you make the most of your retirement. Along with having a positive morning routine and other habits to structure your retirement day. You can learn more about this in my ebook: Five Steps To Happiness In Retirement.
12) Inspiring Others
With so many working years you've become an expert in your field. And because of your age, you have a lot of life experience. And you can put this to great use and share your wisdom and life lessons with other people. It's what a lot of retirees love to do. Each person in their own unique way. Inspiring others is an honor and gives more life satisfaction.
You can consider doing volunteer work or get paid for your expertise. You can become a coach, consultant, mentor, or advisor and share your knowledge and inspire future generations.
Doing volunteer work gives more meaning to your life because helping others makes you happy and fulfilled. And when you need extra cash in retirement your knowledge (especially if it's rare) is worth a lot of money. It can be of great value to companies.
13) Make Your Own Rules
Retirement is the time to make your own rules. You're out of the working force system. It's your game now.
Think outside of the box, go out of your comfort zone, and let no one stop you in the pursuit of your dreams. Even if they seem impossible. Make sure this chapter of your life is the best one yet.
14) No Pressure
The pressure is OFF. There is no rush, you can sit back, relax and enjoy the ride.