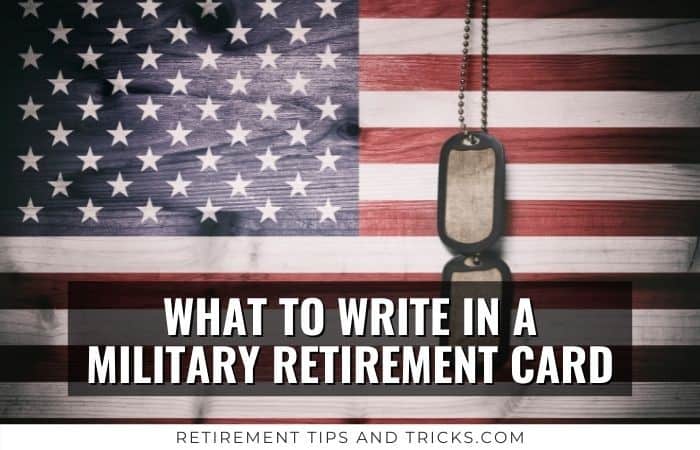 Someone special is retiring from the military and you would like to congratulate, express gratitude, and wish them all the best in the future. And that is why you might wonder: what to write in a military retirement card? Well, you've come to the right place! In this article, I've listed 44 military retirement card messages to help you out.


---
Discover 3 Secrets to wishing HAPPY RETIREMENT perfectly!
Join my newsletter and receive these secrets as a welcome gift.
Military Retirement Card Messages
1) Congratulations on your well-deserved retirement. You've done so much for our country. You're an inspiration. Thank you.
2) Thank you for your service. Best wishes on your retirement. Let the fun begin!
3) You've fought for freedom, now it's time to enjoy your freedom. Wish you a life filled with peace, love, and happiness. Happy retirement!
4) Congrats! Now, you don't have to follow orders anymore, except the ones from your wife. Good luck with the new general!
5) You've cared for our safety and freedom for many years, now it's time for you to live a carefree life. Enjoy and make the most of it. Happy retirement!
6) Thank you for all your contributions. You've made a difference in all of our lives. You served our nation, and now it's time for our nation to serve you. Enjoy your well-deserved and hard-earned retirement.
7) Thank you for your dedication and service. You can be proud. You served well. Wish you a happy retirement.
8) Enjoy your never-ending leave! All the best.
9) Congratulation on getting promoted to retirement. The highest rank in life. Enjoy!
10) Wishing you nothing but the best on your retirement mission.
11) From a life filled with orders, discipline, restrictions, and rules, to a life where you can do whatever the heck you want. Sounds like a great plan!
12) Your service will be remembered by all of us. Celebrating a job well done.
13) Now your only job is to have fun, get good at it! Cheers!
14) I salute you for all your hard work. Wishing you a peaceful retirement.
15) You think the military is adventurous. Wait until you're retired. Best wishes on all your future adventures.
16) Make all your retirement dreams come true. Like all your other deployments and missions. You've got this!
17) The One, The Only, The Legendary (name) Has Retired! Mic drop.
18) Enjoy the money from the government, you've earned it and more with your dedicated service and hard work!
19) A big thank you for your service to our country and all citizens. I can speak for all of us: thank you, thank you, thank you. Now make this next chapter in your life the best one yet.
20) Thanks to brave men like you, we stay in the land of the free. I hope you have a wonderful retirement.
21) You're a courageous patriot that deserves all our respect. You're an inspiration, leader, and freedom fighter. I hope you have a fantastic retirement.
22) Everyone is proud of your service. You should be too. All the best in your future endeavors.
23) "Oh, say can you see (name) is retiring". You deserve your own national anthem. Enjoy your retirement. May it be the best adventure of your life!
24) May you be proud of the work you have done, the person you are, and the difference you have made.
25) After fighting so hard to protect what's behind you, it's time for you to enjoy whatever is in front of you. May you enjoy the very best that life has to offer you!
26) Thank you for never stop fighting. Enjoy your personal victory. You deserve the retirement of your dreams!
27) Because of your service and dedication, our nation has the chance to do whatever makes them happy. Now it's time for you to go after the things that make you truly happy. Have a happy retirement!
28) Your actions have inspired us. Thank you for your service. Cheers to you and wish you all the best in retirement.
29) Now that you're off duty, go on and have some fun.
30) The military loses a hero. A legend. But you're more than deserving of a wonderful retirement. Enjoy this new journey in your life. Cherish every moment.
31) Because of you we can live in peace. Wishing you a very peaceful and fun retirement.
32) Be proud of all you have accomplished in life, the wisdom you have gained, and the friends you have made along the way. I'm so happy to be your friend and wish you a happy retirement.
33) It's time for you to focus on your loved ones and enjoy the fruits of all your hard work. Thanks for all you have done for us.
34) May you have the best time in retirement. Filled with love, health, and happiness.
35) Retirement. Now the real adventure begins…
36) "A hero is someone who has given his or her life to something bigger than oneself." – Joseph Campbell
37) Thanks for being brave. Our nation will forever be grateful.
38) Wishing you a wonderful retirement ahead. You will be missed but never forgotten.
39) Now it's time to do all the things you've always wanted to do. Go get 'em.
40) May your retirement be filled with many new adventures, meaningful moments, and much happiness.
41) Retirement is the ending of your years of service. A big chapter in your life, but it's also the beginning of an exciting new chapter. Make it a great one!
42) You've worked all your life and paid your dues. Now you can do whatever you choose. Happy retirement!
43) Welcome to your newfound freedom. You deserve it. Have the best time of your life!
44) When 'I'm too old for this shit' becomes your daily mantra, you know it's time to retire. All the best!
Discover 3 Secrets to wishing HAPPY RETIREMENT perfectly!
Join my newsletter and receive these secrets as a welcome gift.
What Is A Good Military Retirement Gift?
Chances are you also are looking for a great retirement gift as well. And you're wondering, what is a good military retirement gift?
A good military retirement gift is a personalized gift that links to their years of service and reflects the retiree's personality, passions, loves, hobbies, or plans in retirement. It can be a practical gift to enjoy in retirement or a memorable keepsake to honor their hard and brave work.
Now, as a retirement gifts expert, I've researched the best retirement gifts and listed the top five best military retirement gifts below.
Top Five Best Military Retirement Gifts
1) Custom Engraved Decanter Set
This Custom Engraved Decanter Set is the perfect military retirement gift for bourbon, scotch, and whiskey fans. Everything will taste a lot better from drinking out of your own and unique decanter set. Both decanter and glasses are engraved for FREE with your desired logos, designs, text, and more.
2) Flag And Medal Display Case
This Flag And Medal Display Case is an awesome military retirement gift to honor their service in a beautiful way. They can flaunt their pins, medals, and certificates from the army, military, navy, air force, or marine with pride in this mahogany-built wood frame.
3) Personalized Service Award
This Military Service Award And Clock with a beautiful military poem is a great retirement gift to honor your man or woman of service. You can personalize it by adding the retiree's name, rank, and your name on the bottom.
4) The Legend Has Retired Mug
A true retiring legend needs a mug like this. It's the perfect funny retirement gift for anyone that is retiring. When you're looking for a small retirement gift. This one is your best pick.
5) Custom Name And Insignia Rank Poster
Another awesome military retirement gift is this Custom Name and Insignia Poster. Perfect to hang up in any room of the house and to always be reminded and to be proud of having served in the military.