Your husband is retiring, and you would like to give him a great retirement gift. Well, you've come to the right place, because I'm here to help you out! I've researched many hours to find the best retirement gifts for your husband. Check out these 40 awesome retirement gifts below.
Thank you for supporting Retirement Tips and Tricks: Please note that links in this article are affiliate links. When you make a purchase using these links, we may get a small commission, at no extra cost to you.
1) Charcoal BBQ Grill
Is your husband a BBQ lover? And does he has plans to do a lot of grilling in retirement? Then this charcoal BBQ grill with an offset smoker is a great retirement gift. It's a traditional charcoal grill with a small smoker to use separately; the perfect combination for dual style barbecuing. You can even add extra items to your retirement gift, for example, Ultimate Hamburger Grilling Gift Set, the Grill Book Meathead or a funny retirement apron with the text: "Retired. Under new management, see spouse for details."
2) Personalized Grill Tool Set
A grill king has to have a personalized grill toolset. So if your husband thinks he is the absolute King in Grilling then he deserves his personalized BBQ toolset for all his hard work. Don't you agree? And this grill set contains a spatula, fork, and tongs grill utensils made from high-quality, durable, rust-resistant stainless steel. You can personalize the bamboo case with laser engraved characters of your choice (up to 15 characters). And you choose between 6 different design options to see what personalized your husband best.
3) Golf Set
If your husband has plans to start golfing in retirement, then this complete beginner's golf set is a great retirement gift idea. The best retirement gifts are the gifts that match the plans of the retiree in retirement. So if he wants to golf, why not give him a golf set. This golf set from the famous brand Wilson is the #1 bestseller and has a super game improvement design that focuses on generating more distance for beginner golfers. It contains 9 clubs and 3 headcovers including a lightweight ergonomic bag featuring a self-activating stand and numerous pockets. You can even add golf shoes, one dozen golf balls, a funny golf t-shirt, and a funny MySack Golf Ball Storage Bag to your retirement gift.
4) Dom Perignon Gift Basket
Celebrate your husband's retirement with a Dom Perignon Gift Basket. Because a celebration calls for champagne, and why not celebrate it with the world's best vintage champagne. This gift basket contains a bottle of Dom Perignon and all sorts of treats and snacks for you to enjoy the first retirement days together.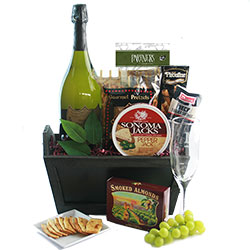 Dom Perignon Greetings – Wine Gift Basket
5) Camera
In retirement, you and your husband are probably going to do lots of things you love to do. Perhaps, you've planned a lot of new adventures and exciting trips together or you're planning on enjoying your retirement days as much as possible with your grandchildren. Whatever your husband or you both have planned for retirement, capturing these moments makes it possible to never forget all the great memories. When you've planned all sorts of (travel) trips than I can highly recommend gifting your husband a GoPro Hero 8 camera. It's the most versatile, compact and easy to use film and photo camera for any circumstance, whether your husband wants to capture traveling, doing sports or his favorite hobby. This camera produces high-quality and smooth photos and videos. Overall a great retirement gift.
6) Personalized (whiskey) Barrel
Does your husband love whiskey, tequila, brandy, or cognac? Then he will love this personalized barrel. He can store, serve and age his favorite drink in this two-liter oak barrel. A perfect retirement gift for his man-cave, home bar or countertop. The barrel comes with a stand and it includes instructions for curing before using and for creating and aging all sorts of spirits. You can personalize the barrel with your husband's name or initials. Add a funny whiskey glass with the text: "Retired, not my problem anymore" to your gift.
7) Funny Coffee Mug
Retirement is the perfect time to sit back and relax and enjoy a good cup of coffee. And with this funny coffee mug, you and your husband for sure will have a few laughs about it. It has the funny text: "Retired. Under New Management, See Spouse for Details" on it. You can jazz it up by placing your husband's favorite candies, cookies, and chocolates inside. Or give additional funny coffee socks with the hidden text on the bottom: "If you can read this, bring me some coffee". Or surprise your husband by giving him also a delicious Coffee Gift Basket.
8) Funny Beer Glass
A beer lover will love getting one of these funny beer glasses from his wife. Because beer will taste a lot better once you're retired. And especially when your husband is drinking beer out one of these funny glasses:
9) Personalized Decanter Set
Again a spirit related gift, but a great and classy retirement gift for your husband who loves a glass of bourbon, whiskey or scotch. You will definitely surprise him with a personalized decanter set. This set contains a 23 oz decanter made of heavy glass and four 8 oz low ball glasses, each with a matching personalization as same as the decanter. You can choose between 6 different design options, and all designs are allowing 1 line 2 lines (both up to 15 characters) or initials.
10) Scratch Off World Map
Is your husband quite a traveler? Or perhaps you're planning exciting travel trips for retirement together? Then this scratch off world map is a great retirement gift for your husband. He can scratch off all the places he has been to over the years. It's an extra-large world (35×25 inches) map with vibrant colors and made of thick, quality material that won't tear easily. Your husband can even scratch-off US states separately, which is perfect if traveling through the states is part of your retirement travel plans together. It's easy to bring on the road or hang up on one of your walls at home.
11) Travel Hammock
This travel hammock is an awesome retirement gift for your husband. Even if he isn't going traveling a lot in retirement. It's perfect for relaxing in any place: at the beach, lake, camp or at home. The hammock is made of ultra-light parachute silk material that's very soft, robust and dries fast. It's very easy-to-use and comes in a small package, so your husband can bring it anywhere he wants. And the greatest part is, it fits two people easily.
12) A watch
A watch is the most traditional retirement gift out there. The tradition started at the Pepsi Co company in the 1940s where they gave their retiring employees a gold watch as a symbol: "You gave us your time, now we give you time". And until this day a watch is still one of the most popular retirement gifts out there. But it isn't between an employee and an employer anymore. You can give your husband a watch as a symbol of time as well. For example:
"Looking forward to spending more time together"
"Let's have the best time in retirement"
"Now it's our time"
"I wish you the best time in retirement"
"Have the retirement of a lifetime"
To help you out, I've listed a couple of great watches below, so you can select the perfect watch that fits your husband's style best.
13) Noise-canceling headphone
A noise-canceling headphone can be one of the best retirement gifts without your husband even realizing it. He can use it for high-quality music listening but most of all for canceling out ambient noise in busy cities, locations and while traveling in cars, planes and other transportation vehicles that produce a lot of sounds. He will sleep better and will be forever hooked once he experienced it. And this noise-canceling headphone from Sony is the leader in the industry as it comes to Digital Noise Cancelation. It has an extra-long battery life, it charges quickly and folds up easily. So you'll pick the best one on the market with this headphone.
14) Writer's Toolbox
The writer's toolbox is an awesome retirement gift if your husband loves to write and is planning on writing more in retirement. It can also be a great gift if your husband doesn't have a retirement hobby yet and wants to explore all sorts of options. The writer's toolbox can help writers from any level to get creative and be inspired. It contains a 64-page booklet filled with exercises and instructions that focus on a "right-brain" approach to writing. And it also includes sixty exercises and other creative games. All designed to get in the right headspace and let the creativity flow.
15) 50 States, 5000 Ideas
Do you and your husband have plans to travel through different states in retirement? Then give him this richly illustrated book 50 States, 5000 Ideas from National Geographic for his retirement. He can use it as a source of in-depth travel information and inspiration on Where to Go, When to Go, What to See and What to Do in the 50 states of America. It showcases 5000 ideas of the best travel experiences in every state, from the most popular to the unexpected.
16) Beer Cap Map
Is your husband a beer lover or homebrewer? Then he will love this Beer Cap Map as a retirement gift. Perfect hang up in his man cave or home bar. It's made of dark stain, lightweight and high quality 1/4″ birch wood and holds 50 beer bottle caps.
17) Online Masterclass by the best in the world
You can gift your husband a Masterclass of his favorite retirement hobby taught by the best in the world. MasterClass offers a major variety of online masterclasses for all skill levels and ages. From a cooking Masterclass by Gordon Ramsey, Tennis Masterclass by Serena Williams or a writing Masterclass taught by Dan Brown.
You can gift a single Masterclass or gift your husband an All-access Pass for all Masterclasses on the platform. This is a great idea if your husband is looking for something fun to do in retirement, is always eager to learn something new, and wants to get better at his hobby. Or you give them an amazing opportunity to explore and find his new retirement hobby.
18) Digital Photoframe
This Digital Picture Frame is such a fun retirement gift. Your whole family can connect to this device from anywhere in the world to share their photos instantly. It's a great retirement gift where your husband can see what your far-away family, children, and grandchildren are up to doing. They can send in photos of their adventures and your husband can use it also to display your favorite photos. A great retirement gift for both of you!
19) Funny Retired T-shirt
Have a couple of laughs with your husband by giving him a funny retired t-shirt. There are all sorts of funny t-shirts out there and I selected a couple of the funniest where you choose out the best for your husband.
20) E-reader with membership
A lot of retirees like to read, and that's mostly because in retirement they have the time to sit, back, relax and open a good book. But before you want to buy a lot of books for your husband, you can also think about giving your husband a Kindle E-reader and a Kindle Membership with unlimited reading. Then he will have thousands of books in his pocket wherever he decides to go and wants to read. And if you want to go all out for your husband's retirement gift you can add this classy Leather Club Chair or Outdoor Lounge Chair for him to comfortably read in.
21) Ipad tablet
The most versatile electronic retirement gift is an Ipad Tablet. When your husband doesn't own a tablet yet, you can gift him one for his retirement. He will for sure love this as a retirement gift. Or perhaps he already has a tablet but needs an upgrade. So, therefore, retirement can be the perfect opportunity to give him a better and newer tablet model.
22) Polaroid Camera
Making memories is where life is all about. And when you capture these memories you'll remember them forever. And this Polaroid Camera is such a cool retirement gift that your husband can use for any occasion: family-time, traveling, his hobby, social gathering with friends, etc. It's a brand new camera with an old skool approach, where the photos you make instantly get printed. It's the most authentic way of capturing beautiful moments in retirement.
It's a powerful 13MP camera that comes in different colors, with a 3 4mm lens that captures every detail and prints in an instant. It also doubles as a camcorder so taking 1080p/720p HD video is very simple as well. And with the free Polaroid app, your husband can even print his digital photos from his phone. So your grandchildren will love this camera too.
23) Funny Mahogany Wall Day Clock
When you're retired, time is irrelevant. But it helps to know which day of the week it is. And this funny Mahogany Wall Clock can be a funny retirement to give your husband, where he can read off wich day of the week it is. He can hang the clock up at home, boat, RV, lake house to live out his "retired" schedule.
24) Purposeful Retirement Book
When you wish your husband nothing but the best for his retirement, then this helpful and inspiring book is an excellent retirement. In Purposeful Retirement: How to Bring Happiness and Meaning to Your Retirement the reader gets encouraged to discover their true passion, re-imagine their life, and try out new possibilities in retirement. It's a great book your husband if he needs help or inspiration on how to move from his world of work to a satisfying and purposeful retirement. It's one of the most meaningful retirement gifts to give your husband.
25) All-in-one Watersports Board
Does your husband love to be active in the water? And do you have plans to go boating in retirement? Then this All-in-one Watersports Board can be a fun retirement gift to give your husband. Especially when you spend a lot of time with your grandchildren on the water as well. Everyone can get in on the fun with this retirement gift. This watersports board is a Kneeboard, Wakeboard, Wakesurf Board and Water Skis board all in one. It's from the brand ZUP and is designed to accommodate riders of all ages and ability levels.
26) Most comfortable Mattress
This is a gift for you and your husband. Give yourself the best mattress for retirement: Puffy Mattress. It's widely tested as the most comfortable mattress out there and will be the best investment you'll ever make. After 4 years of research, foam formulations, development, sleep trials, and countless hours of perfecting the foam layers, the Puffy mattress was crafted and developed to ensure a sleep surface that will be perfect for a night of deep, restorative sleep. Because you can only enjoy retirement in the best way possible when you're well-rested.
27) Art Painting Set
When your husband loves to explore creative hobbies in retirement, you can help him a hand by giving him an Art Painting Set. Doing something you love to do is very important to live a happy retired life. And you can be the provider or inspirer of your husband's new hobby. It can turn out to be a very valuable retirement gift. And this 133 piece art painting set has everything a beginner painter needs. You can even give your husband additional painting lessons in retirement when he starts to enjoy painting and wants to get better at it.
28) Gardening Tool Set
Gardening is one of the best ways to stay busy in retirement. It's a great exercise for the body and mind. And being outdoors in nature is good for your health, because of all sorts of obvious reasons. So giving your husband a Gardening Tool Set is not just a sign: "taking care of the garden is your next job in retirement", but it's also a symbol of a wife wishing her husband a healthy and a nice hobby in retirement. Or at least that's what you can try to explain while giving this toolset ;). You can even add an electric lawn mower if you want to take it up a notch.
29) Poker Gift Basket
Give your husband this Texas Hold' em Poker Gift Basket and he will love you for it. It contains an awesome display of snacks, cards and poker chips he can enjoy with his poker friends. You can add all sorts of items from chocolates, balloons, etc to really design your own basket that fits your husband cravings best.

Full House – Poker Gift Basket
30) The North Face Daypack
A high-quality daypack is a must-have for travelers, hikers, campers and everyone that loves to be outdoors and staying active. So whatever your husband's plans are in retirement: having a good backpack is always needed. And this daypack from the famous brand The North Face is one of the best out there. Your husband can use it for carrying his sports clothes, hiking a National or State Park or carrying it while traveling and going on all sorts of trips.
31) Inflatable Stand Up Paddle Board Set
Stand Up Paddle Boarding has become an extremely popular sport in the last decade. And especially amongst retirees, because it's an easy and calming exercise that's great for body and mind. After an hour of paddleboarding and being on the water, you're relaxed and calm. It's an active way of meditating. And a perfect retirement gift for a husband who loves to be outdoors and spending time on the water. He can bring it on the road while traveling or use it on a nearby lake or mild river.
This Stand-Up Paddleboard Set contains an inflatable board, adjustable paddle, pump, ISUP travel backpack, leash, and waterproof bag. Everything your husband needs to start stand up paddleboarding. Perhaps his new favorite hobby in retirement.
32) Beach Gift Basket
Are you and your husband plan to spend a lot of time on the beach in retirement? Then gift him this Beach Gift Basket for his retirement that you can enjoy both. It contains lip a smackin Jose Cuervo margarita mix and salt rimmer, salty accompaniments and comes with a beach towel and two margarita glasses. And there is so much you can add to make it your own personalized gift basket for your husband. And you can add beach shorts, flip flops, and a fun beach game so you won't get bored.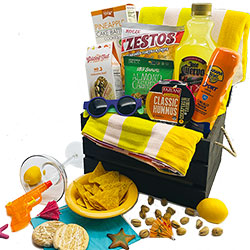 Tropical Treasures – Beach Gift Basket
33) Tailgating Camping Table
A sports fane, enthusiastic camper, or a husband who likes to picnic as well will love this Folding Camping Table as a retirement gift. It's perfect for tailgating, hiking, camping, picnicking, or to use in the backyard. This lightweight camping table features an insulated cooler, 4 cup holders, and a food basket. It also comes with a travel bag for easy carry-on and storage. Add a King Gourmet Gift Basket and a tailgating chair to your retirement gift to make it complete.
35) A Framed Photo on Canvas
You can surprise your husband with a framed photo on canvas. You can choose a favorite photo of you two together are have a family photo especially made for this occasion. He can hang it up at home, in his office or boat to always be reminded of his loved ones.
36) Give a photo book or scrapbook
Collect all of your husband's favorite moments and pictures and create a photo book for him. Or you can ask family members, friends, and co-workers of your husband to help you out by sending in photos, anecdotes, stories, and best wishes so you can create a scrapbook. It's is such a meaningful gift to give your husband. He can look into this photo or scrapbook over and over again in retirement and be reminded of all the great people in his life and all the great moments of his career and personal life.
37) Book a second honeymoon
Retirement is the perfect time for couples to book their second honeymoon. And a trip together can be a great way to start your husband's retirement in the best way possible. And here are some ideas: Go on a safari in Africa if you've always dreamed about that, explore a National Park, relax on a Caribbean Cruise or visit far-away family together.
38) Plan a family trip
Spending more time with family is one of the main things people look forward to in retirement. And if your husband is no exception then he will love to be gifted a family trip together to spend quality time with his loved ones. You can plan a family trip to a theme park to make your grandchildren happy, go on a road trip through different states, go wine tasting or explore new cultures and countries overseas.
39) Tickets to a sports game
When your husband is a sports fan and has a favorite team then you couldn't make him any happier than with tickets to his favorite sports or sports team. You can gift him two tickets to enjoy together if you're into sports as well or give him multiple tickets so he and his friends can enjoy the game together. Besides a sports game, you can also consider gifting him tickets to theater, museum, theme park, concert or festival.
40) A bucket list experience
Make the most out of your husband's retirement by gifting him a bucket list experience. It can be the greatest start of this new chapter in his life where this experience can fuel many more of his adventures. Make sure to investigate what his ultimate dream is or what items are on his bucket list in retirement beforehand without any suspicions so you can surprise him. And choose whatever experience fits your budget and plans best. You can make your husband's dream come true and that is something he will appreciate and remembers forever. Check out: 101+ Ideas For Retirement A Bucket List for more inspiration.
Recommended Articles
The following articles might be helpful for you to read as well: