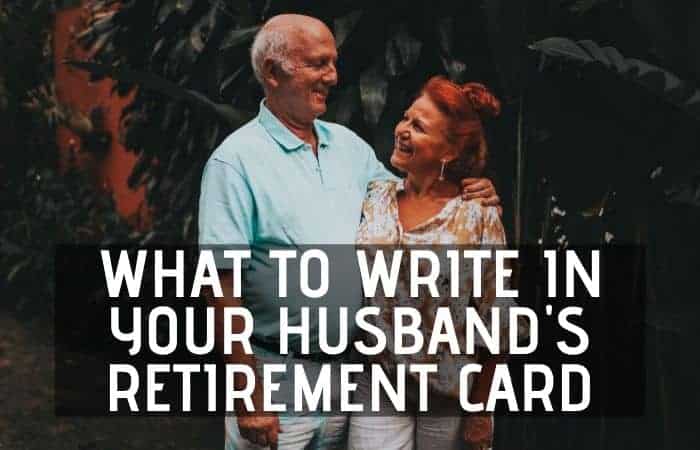 Your husband is retiring soon, and you want to write the best retirement card for him. But, what to write on your husband's retirement card? Don't look any further, because we have 37 ideas for you.
In your husband's retirement card you write to congratulate him and wish him a happy retirement. You can write that you're proud of him and are looking forward to spending more time together. You can hint toward things you have planned together and what you hope for him in the future. You can write in a loving, light-hearted, inspirational, or funny way. You can include a retirement poem to wish a happy retirement
We made a list of 37 messages you can write on your husband's retirement card and included awesome retirement gift ideas for your husband in this article.


---
Loving Messages To Write In Your Husband's Retirement Card
Discover 3 Secrets to wishing HAPPY RETIREMENT perfectly!
Join my newsletter and receive these secrets as a welcome gift.
#1 Do you remember all those things we said we've always wanted to do? Let's go, do them! Congratulations and enjoy your retirement! I love you!
#2 Dear Husband, For your dedication and hard work, you deserve the best retirement ever. Enjoy this journey of your life. I am always there for you. Let's have fun and cherish every moment!
#3 Dear Husband, May your retirement be filled with many new adventures, meaningful moments, and much happiness. I can't wait for these moments to share with you. Happy retirement!
#4 Have fun with your newfound freedom! Here's to making your retirement a dream come true! I love you!
#5 To the man who has been my best friend for years, my partner in crime, and the love of my life, Happy Retirement!
#6 Dear husband, good luck on your next adventure together with me!
#7 Dear husband, you have been successful all your life. Now is the time to find new opportunities and adventures. Have fun!
#8 Dear Husband, You are the reason for my happiness, for my tears of joy. I love you, appreciate and respect you. And a want to wish you a happy retirement. Let the fun journey begin!
#9 Dear Husband, Congratulations on your retirement. You have worked so hard. I want to wish you a healthy and happy life with me, our kids, grandkids, friends, and family. You deserved it. Happy Retirement!
#10 Congratulations on your retirement. This chapter of our life is closing, but a new and exciting chapter is about to start for you and me. May our retirement years be filled with all the things you and I were looking forward to. I love you!
#11 Dear Husband, The day has come that you can finally stop working and start living! Enjoy it!
#12 Dear Husband, You've been so successful and achieved so many things during your career. And I am so very proud of you. My life's most significant achievement is that I get to be with an awesome man like you every day! And I can't wait to spend every retirement day with you! Happy retirement!
#13 A man's success is measured by what his wife and children say about him. Money and accomplishments mean nothing if you let your home fail. And you, dear husband, have never failed us in any way. And we are so very proud of you. Congratulation on your retirement. We can't wait to spend more time with you.
#14 Dear husband, You are my sailor, my ship, and my captain and your love is like a strong, dark, mysterious sea that is forever there for me. I'm happiest when I am with you, and I can't wait to spend more time with you now you're retired. Congratulation, I love you!
#15 Now that you've retired, you can start doing all of the wonderful things I've heard you talking about over the years! Cheers to new adventures and making amazing memories with each other. Happy retirement!
#16 Retirement is the end of one chapter and the beginning of a new chapter for us. Let's make it a great one!
#17 After climbing the mountain, you finally can enjoy the view. Congratulations on your retirement and I can't wait to enjoy the amazing view with you!
#18 The days of nine to five are passed, happy days are here at last. You've worked all your life and paid your dues. Now you can do what you choose. As long as it is with me 😉 Enjoy your retirement!
#19 Retirement is a time, for feeling glad to be alive, a time when friendships blossom and enthusiasm thrive. A chance to do the unique things with your wife you wished you could. Retirement is a special time for knowing… life is good! Congratulations on your retirement! And I can't wait to do all the things with you we've always dreamed about.
Funny Messages To Write In Your Husband's Retirement Card
#20 Dear Husband, All the best for an amazing retirement! Enjoy this new chapter in life, where I become your boss.
#21 A wife's full-time job starts when her husband retires… Oops! Happy retirement!
#22 As one chapter ends, another begins, welcome to your new-found freedom!
Consider this an extended vacation that never ends… Only you don't get paid days off.
#23 Now that you got your boss off your back you can do what you want, when you want, as long as I approve. Happy retirement!
#24 Now that you're retired, you get to spend every day with me if you like it or not 😉 Yeah! Happy Retirement!
#25 Retirement means no pressure, no stress, no heartache… unless you play golf. Happy Retirement!
#26 The key to retirement is to find joy in the little things.
#27 The money's no better in retirement but the hours are. Let's make the most out of it! Happy Retirement!
#28 When a man retires, his wife gets twice the husband but only half the income. Yeah happy retirement to me and you!
#29 When you retire, you switch bosses – from the one who hired you to the one who married you. So as your new boss. Welcome to the company! Happy retirement!
#30 You leave your old boss in the past after retirement and start life with your new boss, your wife.
#31 What do you call, someone, who is happy on Mondays? Retired! Congratulations on your retirement. Enjoy happy Mondays, Tuesdays, Wednesdays, Thursdays, Fridays, Saturdays and Sundays with each other!
#32 When 'I'm too old for this shit' becomes your daily mantra, you know it's time to retire. I hope you can enjoy all the adventures you have ahead of you together with me. Happy Retirement!
#33 Bye Bye Tension, Hello Pension. Let's have fun! Happy Retirement!
#34 Young at heart. Slightly older in other places….. But I love you anyway. Congratulations!
#35 Retirement is like a long vacation in Las Vegas. The goal is to enjoy it to the fullest, but not so fully that we run out of money. So let's make sure we don't run out of money, but also have the time of our lives! Happy retirement!
#36 You have made your mark, paid your dues, and now put on your party shoes! And dance with me! Happy Retirement!
#37 Behind every retired man is a wife wishing he would go back to work. But that's not me. Or maybe later. I will let you know! Congratulations, enjoy your retirement.
Retirement Gift Ideas For Your Husband
The best retirement gift for your husband is a gift that matches his plans or hobbies in retirement. He can enjoy or use something in retirement that will make his life in retirement more fun, interesting or enjoyable. Or you can give a thoughtful retirement gift that he can keep as a memory. Here are some examples of awesome retirement gifts for your husband:
Does your husband love to drink beer? Gift him a monthly subscription to Unique Craft Beers
Do you have travel plans for retirement? Gift your husband a travel gift.
Does he love golf? Gift him a golf watch or new golf gear.
Do you want to make fun of your husband? Gift him a funny retirement t-shirt or coffee mug.
#1 Best Gift For Retirement
You want your husband to have the time of his life in retirement. And you wish him lots of fun, health, and happiness. Well, you can put these words into a retirement gift and gift the gift of Masterclass.
MasterClass is an online education platform with the world's most successful and famous teachers (writers, actors, athletes, scientists, chefs, etc). Masterclass offers masterclasses (for any skill level) From cooking, acting, writing, poker, singing, and sports to science, and so much more. Taught by the best in the world: Gordon Ramsey, Christina Aguilera, Usher, Hans Zimmer, Stephen Curry, Carlos Santana, Jimmy Chin, etc.
You can gift him one single Masterclass from someone he admires or a hobby he enjoys and wants to get better at. Or an Annual Membership to all the masterclasses on the platform. Check out all the Masterclasses available here;
Retirement Party For Your Husband
Are you planning a retirement party for your husband? Check out 30 ideas to make a retirement party extra special and download your FREE retirement party checklist below. It will make organizing a lot easier and less stressful for you.
Recommended Articles
The following articles are probably interesting for you to read as well as you celebrate your husband's retirement: