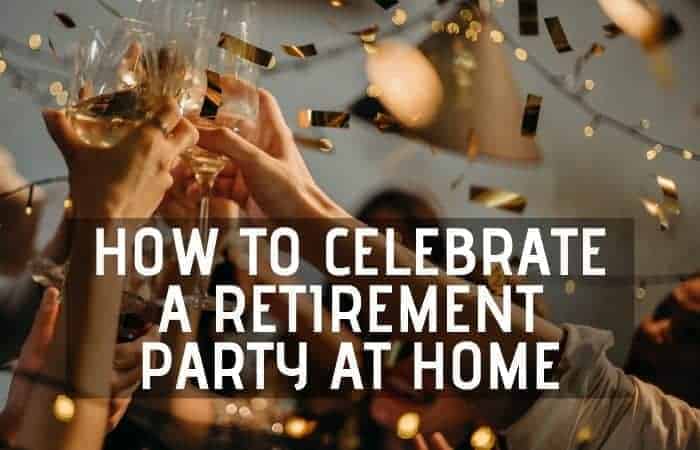 Do you want to know how to celebrate a retirement party at home? You've come to the right place! Here is everything you need to know on how to throw the best retirement party at home.
How To Celebrate Retirement Party At Home:
Have a budget
Pick a theme
Send out invites
Select food & drink (stations)
Organize party favors & extras
Organize music
Have a cake
Decorate home
Honor the retiree
Give a gift
Plan a fun activity/ game
Capture party for later
Encourage guests to keep in touch
Send thank you cards
In this article, I'll give you in-depth information on these tips and share with you fun ideas and fantastic ways to make your retirement party, one to remember. So, continue reading.
Tip: If you want to live a happy, healthy, and fulfilling retired life, make sure to get the How To Retire Guide. This handbook, including FREE bonus material, helps you to prepare, celebrate, and enjoy your retirement in the best way possible. And helps you to make your retirement the best time of your life.
1) Have a budget
Every organized party starts with creating a budget. Whether it's a small party or a huge event, every party needs a budget. It makes it tangible and makes decision-making easier and more efficient. And because you want to avoid over-spending at all times, you need to make a budget. Probably one of the reasons to throw a retirement party at home is because it's less expensive.
From that budget, you can start organizing other things and making decisions for the rest of the retirement party.
Booking a live-band is expensive, and maybe you come to the conclusion it's better to hire a DJ or create a playlist yourself. Because that's cheaper, and that way you can invite more guests to the party because having as many guests as possible is more important to you or the retiree. This is just one example, but you will come across other compromises you have to make to create the best retirement party within your budget.
Create a budget plan where you designate amounts to different elements of the party: invitations, food, drinks, decorations, party extra's, music, gifts, cake, flowers, photographer, etc. It's better to have a list of items. That creates a clear overview. You can use an Excel spreadsheet, your notes on your phone, or try out a budget app.
When you read through this article, it becomes more clear what items should be listed in your budget. With the tips and ideas I share, you can visualize better what the retirement party should look like. And that will also make it easier to create a budget.
2) Pick a theme
A party gets better when it has a theme. And you can get as creative as you want. Or pick a theme that fits the personality of the retiree best. When you've picked out a theme, you can customize the invitations, select what kind of food and drinks you want at the party and organize other extras that fit in that same theme. This will make your retirement party at home more memorable for the retiree and guests. According to your own or the retiree's wishes, you can go full out with a theme or keep it simple.
Retirement party theme ideas
Colors (e.g., black & white – everyone is in black and retiree in white. Or another color. retiree's favorite)
Retiree's favorite hobby (golf, sports team, running)
Dress as the retiree
Back to the '50s/ '60s/ '70s/ '80s/ '90s
Travel themed because of the travel plans in retirement
Summer
Winter
Autumn
Spring
Tropical/ Hawaii
Retiree's Favorite Movie
Retiree's Favorite Sports Team
Masquerade Ball
Western
Hollywood
Mardi Grass
Retiree's favorite holiday or retirement destination
Pick a date and time
When you've picked out a theme, you also need to decide what kind of retirement party you want to organize and the time is there of the essence. You can organize a brunch, lunch, dinner, afternoon BBQ, wine-tasting, pool party, cocktail happy hour, dance party till late at night, etc.
Keep in mind who you want to invite before you make a decision about what day and time you want to host a party. When you want to invite a lot of co-workers, then it's best to host the retirement party during the weekend. So as many people as possible can attend. Also, to keep the momentum going, it's best to pick a date that is close to the actual retirement date. The further away from the date, the less likely people will come.
3) Send out invites
Next up is sending out invitations. But before you send out invitations, here's what you need to know.
Before sending invites
You need to have made a couple of decisions: date, time, theme, dress code (if necessary), and what kind of celebration you want to organize. For example: if it's a pool party, this needs to be mentioned in the invitation. As well as things as what people can expect in terms of food & drinks, gift suggestions, etc. Guests need to be well informed ahead about what they can expect and what is expected of them. This will make your retirement party a better success.
Another decision you need to make is who are you going to invite to the retirement party?
And therefore, your budget can play a leading role. Overall the best advice I can give you is to invite the most important people in your life or the retiree's life. This is usually a mix of family, friends, and close co-workers. Of course, depending on the size and budget of the party. If you want to keep it small, then only invite a small group of people.
Make sure if you're planning a retirement party for someone else, that you discuss the guest list with the retiree or a close family member of the retiree. They can inform you who to invite, so you don't forget about someone. Forgetting a person can sometimes lead to frictions later for the retiree. It's better to avoid that.
Read more: Who To Invite To A Retirement Party? Etiquette Guide
Tips for sending out invitations
When you've figured out the date, time, theme, dress code, and know who to invite. It's time to send out the invitations. And here are a couple of tips to keep in mind.
Send out invitations at least 3-4 weeks before the retirement party date. Even sooner than that, if you want as many people as possible to attend the party.
Ask for RSVP (1 week at the latest before the party). Because with the correct number of people you can estimate better how much and drinks you have to arrange.
Mention the dress code (if necessary), so people know what to wear. This can be a themed costume, color, black tie, casual, etc.
All retirement party invitations should specify if the invitation includes a plus one.
In the invitations, you can share the number of years that the retiree has worked and other details of his/ her career and plans for retirement. This helps your guests to write a more personal retirement card for the honoree.
If it's the intention that others contribute to the party, make sure these arrangments are clear to all who are participating before you send out the invitation.
If there are specific arrangements included or excluded, mention this in the invitation. Make sure your guests are properly informed.
Mention a gift suggestion in the invitation. People find it hard to find the best retirement gift, and with a little bit more information, they can choose a better gift. Also mention in the invitation when you don't want guests to bring gifts.
There are all sorts of ways to send out invitations. You can design your own invitation from scratch with the free online tool: Canva or use companies as Evite or Paperless Post to send out the invitations.
4) Select food & drink (stations)
Next up is deciding what kind of food and drinks you want to arrange for the party. As I mentioned before, you can host all sorts of retirement parties: from brunch, lunch, dinner, to a wine-tasting, pool party, etc. That's up to you. And with figuring that out, you automatically will come up with a selection of food and drinks.
But I want to share with you food and drink (station) ideas that you can consider including into the party to make it extra special. On Pinterest, you can get inspired on how to display, serve, and decorate your food and drinks.
Food Station Ideas
Salad station
DIY Taco bar
Charcuterie
Chips & Salsa Bar
Appetizer buffet
Banana Split Bar
Easy Hot Dog Station
DIY Burger station
Bagel Buffet
Breakfast Waffle Bar
Donut Bar
Grilled Cheese Food Bar
Nacho Bar
Mini Pies Station
DIY Cheesecake Bar
Bruschetta Station
Italian Food Station
Retirement Cake Station
Fruit & Veggie Buffet
Mason Jar Icecream Bar
Smores Station
Sandwich Station
Pizza Buffet
Drink Station Ideas
Coffee and Cookie Bar
Hot Cocoa Bar
Mimosa Bar
Build Your Own Bloody Mary Station
Booze Bath (actual bath with ice and booze)
Pimp Your Prosecco Bar
Hydration Station
Beer Bar
Sangria Bar
Build Your Own Margarita Bar
(Name Retiree) Cocktail Bar
Champagne Station
Lemonade Bar
Mojito Bar
Smoothie Bar
Retiree's favorite drink bar
5) Organize party favors & extras
With a party, it's all in the details. It's often the little things and extras that people remember most about parties. Even years later. So, when you want to make this retirement party a party to remember forever. Put energy into the details. And I'm going to help you out by sharing ideas on fun party favors and extras.
The best party favors and extras are the ones that align with the retirement party theme or the personality of the retiree. That will make it more personal and more memorable.
Retirement Party Favors Ideas
Retirement Party Extras
Rent a karaoke machine
End the party with fireworks
6) Organize music
Next up is organizing music for your retirement party. You can book a band, DJ, guitarist, singer, piano player or anything else that fits your budget and the theme of the party. When you want to organize a low-key retirement party, then a playlist with fun and retirement-related songs can be more than enough to make your party fun and enjoyable. The most important things are to have a high-quality sound speaker and a good playlist. And here a couple of song suggestions for your retirement party playlist.
Song Ideas for Retirement Party Playlist
It's Five O'Clock Somewhere – Jimmy Buffett
Margaritaville – Jimmy Buffett
Come Monday – Jimmy Buffett
Another one bites the Dust – Queen
Go Your Own Way – Fleetwood Mac
The September of my Years – Frank Sinatra
Working Nine to Five – Dolly Parton
Walk Of Life – Dire Straits
Hit The Road Jack – Ray Charles
Stayin' Alive – The Beegees
Fun, Fun, Fun – The Beach Boys
I've Had The Time Of My Life – Bill Medley, Jennifer Warnes
We Gotta Get Out of This Place – The Animals
Young at Heart – Doris Day and Frank Sinatra
Vacation – the GoGos
My Generation – The Who
California Dreamin' – The Mamas & The Papas
When you have a lot of musicians amongst the guests, you can ask if they can jam and play at the retirement party. Perhaps, only having a couple of musical instruments available is enough for musicians to start jamming spontaneously with each other. Sometimes the best memories are the spontaneous actions that you didn't prepare.
7) Have a delicious retirement cake
You can't celebrate retirement without a retirement cake. You can organize beautiful cupcakes, a cake buffet, or a themed retirement cake. It all depends on the theme of the party, the budget, and you or the retiree's wishes. 
You can create a moment to cut the cake and start the retirement celebration or end the dinner party with a beautiful cake that's also dessert. There are all sorts of ways to create a moment for the retirement cake. Because "a party without a cake is just a meeting." Add some personal touches by putting a cake saying on the retirement cake that fits the party or personality of the retiree best.
Read more: What To Say On A Retirement Cake? 93+ Retirement Cake Saying Ideas
8) Decorate the house
Nothing screams a party more than decorations. So to make the retirement party special, make sure to put effort into small details and decorations. If you plan to organize a themed retirement party, you can look for decorations that fit that theme. 
But you don't need to have a theme to personalize the retirement party. You can customize the decorations by adding the retiree's photo or favorite sayings on balloons and garlands. And order retirement party supplies so everyone sees there attending a retirement party. To help you out, I've listed all sorts of retirement party decorations below.
Retirement Party Decoration Ideas
Depending on the size of your house and the number of guests you invite, you probably need to make room in your house for the party. Perhaps you need to move some furniture around and add a couple of party tables and chairs. You can rent party furniture almost anywhere or ask friends and neighbors to help you out.
9) Honor the retiree
The retiree is the most important person at the party, so you want to honor him or her in a nice, fun or heartfelt way. And you're probably looking for ways to do this? Well, I have all sorts of ideas for you to honor the retiree.
Honor The Retiree Ideas
Host a Quiz
Show a (self-produced) video
Do a flashmob
Sing a song (with lyrics based on the retiree)
Give a speech
Host a roast
Organize 1-minute toasts
Show a slideshow of photos and achievements
Anything that goes down memory lane will be very much appreciated. And it depends on the type of retirement party, the guests and the personality of the retiree if you want to honor him or her in a funny or more sincere way. And inviting as many people as possible to participate in it, will make it even more memorable. To learn more about these ideas you can read my article: 30 Ideas To Make A Retirement Party Extra Special
10) Give a gift
Another way to honor the retiree and make sure that he or she feels loved and appreciated at the end of the retirement party is by giving a retirement gift. This can be a thoughtful gift they can keep as a memory or a gift that they can use for their plans in retirement. For example, a scrapbook with collected notes, anecdotes, and photos from the retiree's loved ones is a great retirement gift.
If you want to give a nice gift that fits his or her personality, hobbies or plans for the future, you should read my article: The 77 Best Retirement Gifts For Men And Women.
11) Plan a fun activity or game
You can boost the retirement party with a fun activity or game. A game or activity will make your guests happier and more entertained. It can be a great ice-breaker. The guests will get to know each other better and quicker and that adds positive and good energy to the rest of the party. And a game or fun activity can be the reason why your guests won't forget this retirement party soon. So here are some ideas you can do:
Retirement Party Game and Activity Ideas
Caption this – Create a photo presentation from different photos of the retiree: at the office, personal life at different ages. And let guests create the funniest captions. You can use the beginning of the party for this and later, you can read the funniest captions out loud to all the guests along with the photo in the background (you can use a whiteboard or create a PowerPoint slide with pictures). It definitely will cause a couple of laughs at the expense of the retiree. But a good sport knows how to take it.
Guess the age – Post pictures of the retiree on a wall and let people guess his or her age at that time. You can hand out a small prize for the winner at the end of the evening. To include guests, you can ask them to bring a picture of themselves to the party and let everyone guess the age of all the people. This way everyone is included in this game.
Cut the Tie – Cutting the tie can make being retired official. From that moment on, he is officially retired. The only thing you need is his ties and a scissor. At the party, you can ask or let people win the opportunity to cut the tie(s) (while the retiree is wearing it). You can create a fun moment to officially start the party. An alternative is to cut off his or her uniform (if they're not attached to it).
Workshop – Doing a workshop at the retirement party is also a fun way to get in a couple of laughs or learn something new. And here are a couple of ideas: cooking, music, art, sport, etc.
Scavenger Hunt – Create a scavenger hunt at home. you can create all sorts of clues that link to the retiree (to personalize it). This can be a great activity if you have a big home and garden so guests can explore indoors and outdoors to find clues.
To make things easier for you, I've created a printable & ready-to-go Retirement Party Game Bundle with 10 amazing party games. The perfect addition to any retirement celebration. Just download, print, and play!
12) Capture the party for later
When you organize a retirement party it's always nice to have something to remember the party by. In time you'll forget about cool moments and capturing it with photos or videos can keep the memory alive. And it is also a nice gift for the retiree to receive later. So he or she can reminisce during their retirement about the amazing party they had. It can be a great mood booster when they feel down or bored. And I've got a couple of ideas for you:
Retirement Party Capture Ideas
Depending on what you do you can collect all the videos and photos and create a fun video, photo slideshow or photobook. And give this as an extra gift to the retiree. And use one fun photo to use as a thank you card to send to all the guests that attended the party.
13) Encourage guests to keep in touch
In retirement, people lose a lot of the daily social interactions that came with the job. To live a happy retired life they need to stay social. Retirees can seek new ways of being social and remain in good contact with the same group of people, for example, former co-workers.
Especially when you have a lot of co-workers attending the party, it's nice to leave a guestbook where people can leave their personal contact details with a nice message. And you can also hand out party favors with the (new) personal details of the retiree. This way everyone knows how to reach each other and it leaves a door open to staying in contact.
14) Send thank you cards
When you've organized the best retirement party ever and the guests made the party, a party to remember. It's nice to thank the guests for attending by sending out thank you cards. It will remind guests again of the party, it will keep the memory of the retiree alive and you'll earn extra points as a host.
Personalize the thank you cards by using a (group) photo of the party as a cover and sum up some great moments within the card. A handwritten card will even be more appreciated.
Another way to show thanks to your guests is to send out an email, or send an after-party video or photo slide. Or give everyone a phone call.