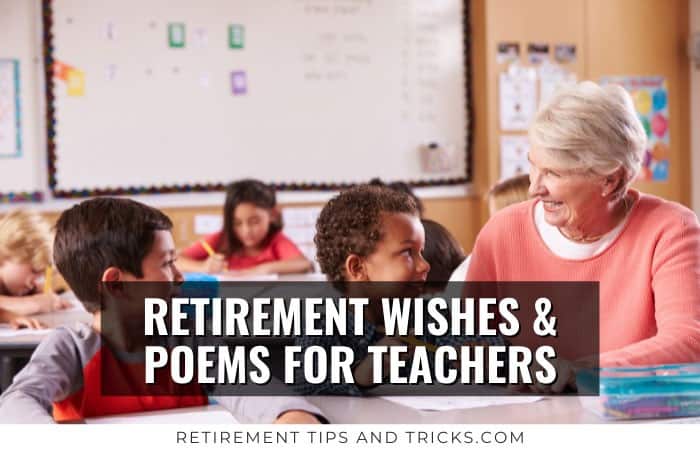 A teacher is retiring, and you would like to wish him/ her the best in retirement. But you're probably looking for some inspiration on what to say or write.
Retirement wishes for teachers can be:
Thank you for everything you've done for me. I wish you nothing but the very best in your retirement. Congratulations!
No one can say goodbye to a teacher like you, because you'll forever be in our hearts. Happy retirement!
Welcome to your new-found freedom, where you're freed from us, students. Enjoy it.
Just a heads up, this post contains affiliate links. As an Amazon Associate I earn from qualifying purchases. Purchases you make through these links may earn us a small commission, at no extra cost to you.
In this article, I share 66 retirement wishes and poems for teachers with you. Also, I'll share some amazing retirement gift ideas. So you can wish (your) teacher a happy retirement in the best way possible.
Also, if you're looking for a unique retirement card to write your message, check out this beautiful Happy Retirement pop-up card. It is my favorite.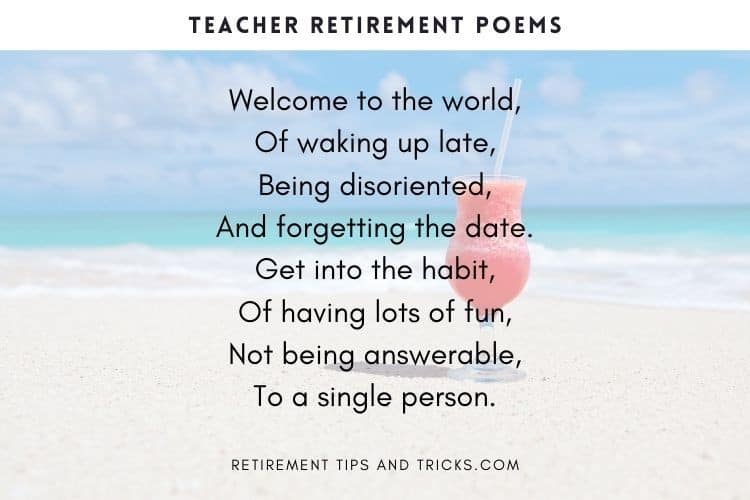 Retirement Wishes for Teachers
1. Congratulations on 40+ years of teaching. You inspired me, my friends, and so many generations. Thank you and best wishes for your retirement.
2. You are an awesome teacher. We will miss you!
3. Congratulations on your retirement. Enjoy it!
4. Dear Teacher. Thank you for your wisdom and kindness over all these years. Enjoy your retirement.
5. Congrats Teacher. This is the start of your new adventure. You can go to all the places you used to teach. Enjoy every moment of it. Happy retirement!
6. Thank you for 30 years of teaching. Thank you for taking the time to listen, encourage, and share. You made a real difference in the lives of the students you taught. Congratulation and many warm wishes for a happy retirement!
7. Thank you for everything you've done for me. I wish you nothing but the very best in your retirement. Congratulations!
8. Congrats teacher. We will miss you! Make your retirement the retirement of a lifetime!
9. Congratulations! Enjoy your retirement!
10. Thank you so much for all the lessons you have taught us. Congratulations and enjoy your well-deserved retirement!
11. Congrats and have fun with all the adventures in retirement!
12. Congratulations on your retirement teacher! We wish you a happy retirement!
13. I am blessed to have had such a wonderful teacher and person in my life. Best wishes for this new chapter in your life.
14. The biggest lessons don't come from books but from a teacher like you. Thank you so much for your kindness, wisdom, and positivity. You encouraged me to be the best that I can be. Congratulations on your retirement.
15. Thanks, teacher! for being an important part of my education. I will never forget you! Go out enjoy four Retirement!
16. No one can say goodbye to a teacher like you, because you'll forever be in our hearts. Happy retirement!
17. You're the one teacher in my life who influenced me more than anyone. You inspired me, encouraged me to overcome my fears, and you have taught me so many valuable life lessons. I am going to miss you and wishing you a long, healthy, and fun retirement.
18. For many years you've dedicated yourself to educating students. Now it's time to sit back, relax, and watch those seeds you planted grow. Or have a beer instead. Have a great time in your retirement!
19. Congratulations. Now the fun begins. So forget us students and have the time of your life. I wish you a happy retirement!
20. Dear teacher, the world of endless opportunities and beauty is waiting to be explored. Go out and have fun! Happy retirement and safe travels!
22. Thank you for your endless patience, motivation, and wisdom. You helped me become the proud person I am today! Congratulations and enjoy your well-earned retirement.
23. We were very blessed to have you as our teacher. Thank you for everything you've done for us. The big things, the little things: nothing went by unnoticed. Have a happy retirement. You deserved it!
24. We knew this day was coming, but even though we are happy for you. We are sad today. You are the best teacher we ever had and are going to miss you. We can't imagine coming to this school without you. We wish you a fantastic retirement.
25. We know your teacher's salary wasn't much, but maybe this will cheer you up: The greatness of a person is not found in the amount of money he possesses but in the quality of his knowledge and education. Thank you for educating us and sharing us your wisdom. Have a great retirement!
26. Dear Teacher, Welcome to your newfound freedom, where you're freed from us, students. Enjoy it. Have a Happy Retirement!
27. Congrats Teacher. You were our teacher, mentor, and enthusiast. Thank you for your guidance, patience and inspirational speeches. Enjoy your well-earned retirement.
28. The most talented teachers are those who teach not by words, but by example. You are such a teacher. Thank you for being you and showing us direction. Congratulations on your retirement.
29. This school will feel so empty, and our classrooms won't be the same without the inspirational presence of a teacher like you. Thank you for being our teacher. We're blessed to have had you in our lives. Enjoy your retirement!
30. Dear teacher, you've made your mark, paid your dues, now put on your dancing shoes! Have fun in retirement!
31. Retirement is not the end. It's the beginning of the open highway. So have fun on your road trip! Happy Retirement!
32. Congratulation on extending your weekends with five days! Now every day is Saturday!
33. Teacher you Rock. Thanks for being a great role model for me and many of my friends. I wish you a great retirement.
34. You're an awesome teacher. We wish you wouldn't retire so we can learn more from you, but we are very happy for you. Congratulations on your hard-earned retirement!
35. Thanks, teacher! We are grateful to have been in your class. You're a true inspiration, and you've touched many people's lives. It won't be the same without you here, but we wish the happiest retirement!
36. Dear teacher! You deserve the biggest party ever! Because you have been the greatest teacher! Enjoy your retirement.
37. No school days had gone by without a dull moment when you were here. Your spirit, energy, and humor were the best. And we're going to miss you being our teacher. Happy retirement!
38. Congratulations on a fantastic career. You were the perfect teacher. I'll miss you.
39. You're wisdom, and timeless sense of humor is going to be missed. Happy retirement!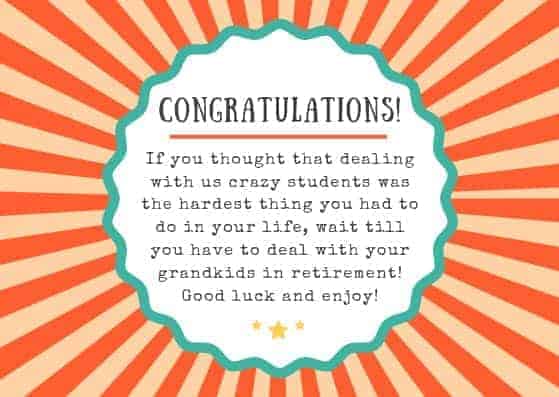 40. After many years of hard work and dedication to others, you can relax and enjoy the simple things in life. May you enjoy all the things life has to offer you in retirement!
41. May your life in retirement be filled with joy and happiness. Enjoy spending time with your loved ones!
42. You will be missed but never forgotten. Enjoy all the new adventures life is giving you after you close this door. Congratulations on your retirement!
43. Dear teacher, I wish you good health, happiness, and success as you move forward to this next chapter in your life! Congrats!
44. It's time to live a student's life as a retiree. Enjoy your time for free!
45. I want to express my gratitude for all the things you've learned me and others over the years. Now it's time to enjoy your retirement.
46. The one thing you couldn't learn me is how to be good with rhymes. You have to accept those things sometimes. Now it's time for you to enjoy some good ages wines. Good luck with your retirement.
47. My favorite teacher is going with retirement. I'm going to miss you. It's a tearful farewell but I wish you well.
48. The school principal will probably miss you. We've enjoyed your lessons all the time. Congrat's with your retirement
49. It's time for the next generation to take over. You taught us well. We're saying goodbye and happy retirement with a happy smile.
50. It's always hard to look for a perfect goodbye. We hope that you'll enjoy your retirement as much as we enjoyed your lessons all these years.
Teacher Retirement Poems
51. Like a candle
That burns itself to spread light
You taught us everything
By working hard day and night
Just like flower give away
Fragrance that they can't smell
You made our lives blossom
In a way, words can't tell.
52. Your retirement made
Everyone value even more
It has made us appreciate
the way you strengthen our cores
You're not just retiring
From your post, position or role
You are retiring as a teacher
who inspired our souls.
53. The time we have spent together,
Are cherished moments that we share,
We offer you these encouraging words,
to show how much we care:
Enjoy the sunrises and sunsets,
And all that nature has to give,
No more watching the clock,
You have only one life to live!
54. Time goes by so very fast,
It's so hard to believe,
It's time for your retirement,
Time for feeling free.
You worked so hard,
to make this dream come true,
And no one deserves it,
any more than you.
I wish you days of happiness,
not filled with any strife,
I hope that your retirement years,
Are the best years of your life!
55. It takes a special person,
To teach a child in class,
To keep his attention,
in a world that moves so fast.
To show a child, he is unique,
With many talents deep inside,
To help to build his confidence,
So he can beam with pride.
To show a little patience,
For a child who lost his way,
To a child who feels abandoned,
Who has seen better days.
To inspire and to motivate,
So a child can learn and grow,
To go into this big wide world,
With many highs and lows.
You are a special person,
Who always give their best,
And for every child who was in your class,
Their life is truly blessed.
56. Teachers come and go
But every so often one comes along
That you'll always remember
One who makes learning an adventure
And who can still remember
What's like to be young
And growing up
The kind who can make you
want to be the very best you can be
Someone who you can talk to
and cares about you
That person, (teacher's name) that is you!
57. Dear teacher,
May the years of your retirement be rich, rewarding and kind,
And may there be no limit to the happiness you find!
58. Dear teacher,
What we will lose,
Your family will gain.
We will be the ones,
Left in pain.
But you will leave us,
A precious legacy,
By making us the best,
Students we can be.
59. You did everything you could,
To help your students shine.
Despite the challenges,
No one has ever seen you whine.
Thanks for being a teacher,
So passionate and caring,
We are all at a loss,
Now that you're retiring!
60. Welcome to the world,
Of waking up late,
Being disoriented,
And forgetting the date.
Get into the habit,
Of having lots of fun,
Not being answerable,
To a single person.
61. You started on this journey, so many years ago, and now its time to leave behind dead friends you've come to know.
Its seems to me that this was more a job for you. The passion and love you have for teaching are shining right through.
You taught that there is more to life than being at the top. It's in how you choose to get there, that the blessings never stop.
You encouraged your students to do their best and never mind their peers. To shoot the straight and narrow and overcome their fears.
I've often thought of how powerful your influence must be. You turned each students world of dreams into possibilities.
Now I wish you safe and well, wherever you may turn, surrounded by your loved ones, living out the dreams you've earned.
So never waste time on wishing you could do so much more. It's time to watch those seeds you planted grow and trust for what's in store.
62. Dear teacher,
A few nasty things,
we may have uttered.
Some naughty rumors,
we may have spurred.
Putting aside our mischiefs and pranks,
today we want to say thanks!
The truth is that,
we respect you a lot.
Every day we've embraced,
all that you have taught.
63. May laughter light your days,
And good times never part.
May toddies warm your nights,
and keep you young at heart.
Eat, drink and be merry,
Play hard; have lots of fun.
Here's to your retirement, (name teacher),
Your life has just begun!
64. When God created Teachers,
He gave us special friends
To help us understand His world
and truly comprehend
The beauty and the wonder
of everything we see
And become a better person
with each discovery.
When God created Teachers,
He gave us special guides
To show us ways in which to grow
So we can all decide
How to live and how to do
What's right instead of wrong,
To lead so that we can lead
And learn how to be strong.
Why God created teachers,
in His wisdom and His grace,
Was to help us learn to make our world
A better, wiser place!
65. Throughout your life,
You have worked so hard
All the long hours
Has left you scarred
But now it's time to redeem
All your life's work
Most of the responsibilities
You can rightfully shirk
Congratulations on reaching
This milestone finally
You are an inspiration
For students, colleagues, friends, and family.
66. I thank you for your helping hand,
For your warm and tender heart,
and for the opportunity,
to make a brand new start.
I hold fast to tomorrow,
and treasure each passing day,
never taking for granted,
that which can be taken away.
I have learned to count my blessings,
never dwelling on the past,
and to build a brighter future,
with the knowledge from your class.
You taught me to be confident,
I could do it if I tried,
and taught me to have the courage,
to take in everything you stride.
You're such a wonderful teacher,
for all that is plain to see,
I just wanted to let you know
How much you have mean to me.
Retirement Gifts for Teachers
At the beginning of this article, I mentioned Masterclass as one of the best retirement gifts. It's very inspirational for a teacher to follow courses from the most successful and famous people in the world. The best way to do that is by following the courses on the MasterClass platform. Get the Annual Membership for Masterclass here.
The MasterClass platform is an online streaming platform that makes it possible for anyone to watch or listen to hundreds of video lessons taught by the World's Greatest.
Just to name a few classes: Aaron Franklin teaches Texas-Style BBQ, Martin Scorsese teaches Filmmaking, Dr. Jane Goodall teaches Conservation, Christina Aguilera teaches Singing, Ron Finley teaches Gardening, Jimmy Chin teaches Adventure Photography, Serena Williams teaches Tennis, Dan Brown teaches Writing, and so many more fun classes (for any skill level).
You want to make sure the retiree has the best time in retirement. And having something fun to do and learning new things from the best in the world is an excellent way to live a happy retired life. And the best part is they can learn anywhere, at any time at their own pace.
Give the Annual Membership to all the masterclasses on the platform so the teacher has a variety of awesome classes to look forward to in retirement.
Retirement Gift Basket Ideas
Gift basket are always a great idea as a retirement gift. I lined up some of the best gift baskets available to give as a gift to your teacher.
Spa Gift Basket For Her
Looking for a great retirement gift for her? Give her a Spa Gift Basket filled with wine and Spa essentials that help her relax and enjoy her first days in retirement.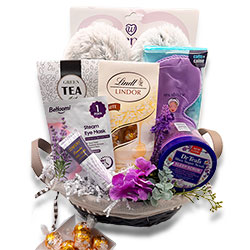 Golf Gift Basket For Him
Looking for an awesome retirement gift for him? Give him a Golf Gift Basket from Design it Yourself Gift Baskets. Because Golfing is one of the most popular activities in retirement!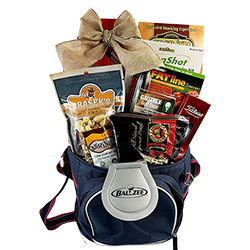 A Wine Gift Basket For Your Teacher
Does your teacher like to drink wine? You can gift a wine box or a subscription to The California wine club.
LegacyBox Gift – Digitize (Old) Memories
Most people that are retiring today still used old VHS videotapes or other analog materials. Often these tapes, pictures, or music sit in a box somewhere at home, catching dust. One of my favorites gifts to give is a Legacybox, which helps to digitize these amazing memories. Your teacher can rejoin and relive their old adventures and memories—a great gift that allows them to look back at their teaching career.
Fun Retirement Gifts
Do you know if your teacher has travel plans in retirement? You can give him or her a travel gift. Make sure to read my article, The 50 Best Retirement Travel Gifts.
Does he or she have a great sense of humor and you want to have a bit of fun? You can give a funny retirement t-shirt or a cool retirement coffee mug.
A Polaroid camera is a great retirement gift to capture amazing moments in retirement. It's a perfect gift for every plan in retirement.
Take a look at my favorite picks on Amazon for Fun Retirement Gifts;
How To Celebrate A Teacher's Retirement
You can make the retirement of a teacher even more special if you organize something memorable. And here are a couple of ideas for you:
Organize a retirement goodbye party at school
Decorate his classroom
Order a cake or bake a retirement cake
Give a speech on the last day in class
Create a (funny/ sincere) video
Make a scrapbook with messages from students and other teachers
Make a photobook
Create a bucket list and write down ideas he/ she can do in retirement
Give an award for Best teacher
Organize a flash mob
Organize a roast
Organize a quiz
Pull out a prank
Frame a class group photo
Frame a poem
I wrote many articles that are focused on the best way to celebrate a retirement party. Make sure to read more in my article, How To Celebrate Someone's Retirement
Download Your Free Retirement Party Checklist
When you want to organize a retirement party I have something that can help you out. You can download a FREE retirement Party Checklist below. It helps you not to forget something for the retirement party. Whether it's a small social gathering or a big retirement party, this checklist will make planning a lot easier for you.
Recommended Articles
When you're looking for more information, I recommend reading the following articles: