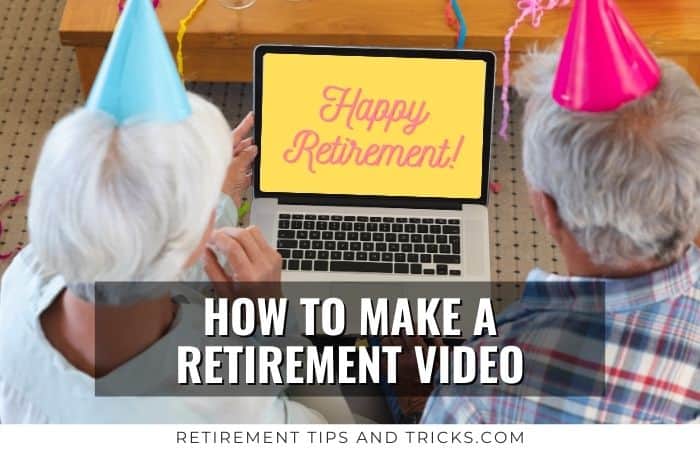 Someone special is retiring and you would like to honor the retiree with a video tribute. And you might wonder how do I make a retirement video?
You make a retirement video by collecting video messages from the retiree's colleagues, friends, and family. People can record a video on a phone or tablet and share funny stories, well wishes, bucket list ideas, career highlights, say thanks, sing a song, dance, or answer questions. You can use editing software or an easy online video maker to edit the video and add photos, text, music, and transitions.
This is just a rough idea of how to make a retirement video. In this step-by-step guide, I share everything you need to know about how to make a retirement video and why it doesn't have to be a lot of work. So continue reading.


---
Step 1: Choose A Video Idea
The first step is to come up with a concept for the retirement video. I shared a couple of ideas of what you can do above but I will share more ideas and tips below. But before you think, "making a retirement video is a lot of work and I don't have time". Well let me tell you now, it doesn't have to be a lot of work when you use VidDay.
VidDay is the best group video gift maker that does all the work for you and makes retirement video gifts easy. You don't need to download an app and you also don't need to have editing skills. Everyone and anyone can create a video montage. VidDay does most of the work for you. And you can invite everyone to join in.
Retirement Video Ideas
When you want to make a retirement video together with co-workers, friends, or family you can ask everyone to commemorate the retiree in their own way, but often people need a bit of help and inspiration. Therefore you can share a couple of ideas with them on what they can do in the video. Or you pick out one idea that you ask everyone to join in. Then record on a phone, tablet or you can use a professional video camera.
To help you out, I've listed 10 retirement video ideas below. The group video montage ideas are easily made with the help of VidDay and others need a bit more preparation and dedication. All of them will definitely make the retiree feel special and honored.
1) Group Video Montage Of Funny/ Thoughtful Messages
You can make a video montage of funny and thoughtful messages from coworkers, friends, and family. They can wish the retiree all the best for the future, give funny retirement advice, say thank you, or show their appreciation in a video.
2) Group Video Montage Of Stories And Anecdotes
Retirement is a life celebration, so you can celebrate their life with a video of amazing life stories and funny anecdotes. Everyone can tell the funniest, enjoyable, or greatest moment they shared with the retiree on camera and creatie it into a video montage.
3) Group Video Montage Of 1-Minute Toasts
A celebration calls for champagne and champagne calls for a toast. So a fun video idea is to ask everyone to record a (1-minute) toast to the retiree. And if you want to make it a bit more special you can hand out the same glasses to each person participating in the video (check out champagne flutes on Amazon for example). Then let everyone do the same actions in their video: grab the glass outside the screen from the left, say their toast, and put it down outside the screen on the right. When you put all the videos together it looks like the same glass is passed around on the screen.
4) Group Video Montage Of Answers To Questions
You can come up with three or five questions about the retiree that everyone in the video needs to answer. Then you edit the video in a certain sequence such as all the answers of the same question following each other or do it more randomly to keep it surprising. These questions can either be funny or more sincere. And here are a couple of examples:
What have you learned from the retiree?
What is the most embarrassing story of the retiree?
What moment will you never forget you shared with the retiree?
What is the funniest moment you can remember with the retiree?
5) Group Video Montage Of Written Words
Another fun video idea that you might have seen somewhere else is a group video montage of people holding signs with a word or couple of words. And when you play it out you'll get a complete sentence or wish for the retiree that everyone has had a part in it. This can be a video or slide show of photos of people holding up a sign. Below is an example:
6) Group Video Montage Of Bucket List Ideas
Retirement should be about having the time of your life. And you can help out the retiree with amazing bucket list ideas that everyone can share in a video. This way you celebrate the retiree and this life achievement and you give him or her enough inspiration for what to do in the future. From the best place to travel to, which book to read, which movie to watch, and what thrilling activity to do. The retiree can watch it over and over again in retirement when they need some inspiration on what to do next.
7) Video Of Career Highlights
Another way to honor the retiree's career is to make a video of the retiree's career highlights. This can be a summary of all his or her successes in the office, best qualities, and what they've achieved over the years. A showcase why the retiree is a one of a kind. You can do this in a video with photos, text, and music with a voice-over.
8) Photo Slideshow
To keep it simple you can collect photos of the retiree's (office) life and create a photo slide show with music.
9) FlashMob or Music Video
Pick out the retiree's favorite song and create a music video. Ask everyone to remember the lyrics of the song, put on a fun costume and record the entire song. After you've collected all videos you can pick out the best parts and create one music video. Or do a (live) flashmob to surprise the retiree or organize a flashmob that you record on video and show it to the retiree later.
10) Retirement Movie Trailer
When you like to take it up a notch you can create a retirement movie trailer. You know like the blockbuster trailers in the theaters, only now with the retiree or retirement as the main character. Come up with a concept or script and start filming.
Step 2: Invite Colleagues, Friend & Family To Join In
The best retirement videos are the ones whereas many people are involved. Whether it's only coworkers, or all friends and family members. Surprise the retiree with as many loved ones as possible in the video. Ask them to put on a party hat, fun costume, or use funny props to make it even more memorable.
Whether everyone is spread around the country or is quarantined. Making a retirement video together with other people becomes very easy with VidDay as I mentioned earlier. You create an account, invite family and friends by sharing the link via email, text, social media, WhatsApp, or another way that works for you. And everyone can easily upload their videos and photos by clicking on the link. Once all videos are submitted, you can easily arrange the videos and photos in any order of preference, add text and VidDay does the editing part for you.
Step 3: Edit Video
Editing the video is the most time-consuming part of making a retirement video. Especially when you don't have any editing skills then I highly recommend using VidDay. But when you don't have enough time and you want to have a bit more control, you can use software programs such as Filmora or iMovie. You can find tutorials on YouTube on how to use these editing programs.
You edit the video by placing all videos in a certain sequence and end with the text: Happy Retirement! But you can also add music, text, transitions, and other effects to create a beautiful retirement video.
Step 4: Share With The Retiree
Now before you start making a retirement video you want to know how you're going to share it with the retiree. The specific timing and place can play a big part in what kind of retirement video tribute you want to make. And you want to make sure that everyone who joins the video is informed about how, where, and when you share this video. You don't want to skip this part, because some people or more keen on their privacy than others. Anyway, here are some ideas on how you can share the video:
A retirement party is a great opportunity to share a heartfelt goodbye video.
Set up a big screen during a drive-by retirement party to share your retirement video with the retiree.
Download the video from VidDay, and upload it to YouTube (public or private link) and share it with the retiree and the rest of the world.
Share the video during the last day of work or during the last meeting
Email the video to the retiree on their first retirement day.
Share it on Social Media.
Recommended Articles
If you liked this article, then the following articles might be interesting for you to read as well: