You're looking for a unique retirement gift for a retiree in your life. Well, you've come to the right place. I've researched many hours to find the most unique retirement gifts out there.
I've listed 35 very unique retirement gifts in this article, to help you find the most perfect retirement gift for the retiree. So, continue reading and pick out your retirement gift.  
Thank you for supporting Retirement Tips and Tricks: Please note that links in this article are affiliate links. When you make a purchase using these links, we may get a small commission, at no extra cost to you.
MasterClass From World's Greatest – My #1 Pick
One of the most unique retirement gifts out there is the gift of Masterclass.
MasterClass is a streaming platform that makes it possible for anyone to watch or listen to hundreds of video lessons taught by the most successful and famous teachers in the world.
A Masterclass course is a unique retirement gift that gives the retiree the opportunity to get online lessons from the world's greatest. Examples of Masterclasses from the world's renowned teachers are:
There are over 85 different classes available! New classes are added on a regular basis.
This unique retirement gift will give the retiree inspiring and new experiences that will make his or her retired life far more enjoyable. Because having something fun to do and learning new skills is the key to happiness in retirement. Check out the All-Access Pass for MasterClass for more information.
2) Dom Perignon Champagne Gift Basket
Retirement is a life-celebration that calls for champagne. And you can give the retiree a Champagne Gift Basket with the most unique and World's best vintage champagne: Dom Perignon. He or she can enjoy and celebrate their first retirement days in a very unique and delicious way.
Dom Perignon is one of the most recognized Champagne brands of all time. It is produced by Moët & Chandon, one of the World's largest champagne producers and a prominent champagne house. It's aged for a minimum of 7 years, and each bottling of Dom Pérignon contains grapes only from a single year. That is the reason why this champagne is so unique compared to many others.
A wine or champagne-loving retiree will love to get this Dom Perignon Gift Basket as a retirement gift. And because it's unique, it's not a cheap retirement gift. So, depending on your budget, you can decide to either give it yourself or give it collectively with others.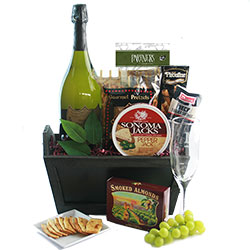 Dom Perignon Greetings – Wine Gift Basket
3) Artisan Wine Gift Box
There is no better way to start retirement than with a good bottle of wine. So gifting a wine is always a good idea, but the Signature Series Wine Gift Box from the California Wine Club filled with hand-crafted and award-winning wines from California is a very unique retirement gift. Especially for a real wine lover.
With a Wine Gift Box from the California Wine Club the retiree gets to enjoy the adventure of discovering wines from California's best small wineries.
You can get the Signature Series Wines: California's highest rated, most coveted and limited production wines. Or send the retiree on a World Wine Tour with the International Gift Box with handcrafted wines from small artisan and unique wineries across the world.
4) The Book of Unusual Knowledge
If the retiree has a curious mind and a passion for learning and knowing about interesting facts, then this book: The Book of Unusual Knowledge is a great and unique retirement gift to give.
This book with 704 pages is packed with an abundance of captivating and interesting information, some useful, others not so much. It has quirky illustrations and a vast array of articles, anecdotes, lists, and games about different topics from the animal kingdom, sports, art to history, technology, and the universe. It will keep the retiree occupied in retirement with many hours of fascinating and unique reading material.
You can even add extra (and same kind) books to your retirement gift: The book of Useless Information and The Book of Incredible Information.
5) The BroBasket for Men
The BroBasket is one of the coolest and most unique retirement gifts for men out there. Because what do guys really want? An alcohol gift basket, that's what!
Getting a manly gift basket filled with your favorite alcohol. That is what I would call a great retirement gift. It's like a unique booze bouquet.
You can create an amazing (custom) gift basket with his favorite alcohol, gear and goodies. From Whiskey, Vodka, Tequila, Scotch, Gin, Rum to (craft) Beer, and put in an awesome engraved gift to make it extra special. Retirement can't start any better for him, right?!
If he isn't a drinker, don't worry. BroBaskets also has fantastic Boozeless Gift Baskets for him.
6) Artisan Coffee Gift Box
A coffee lover will love getting a Coffee Gift Box as a retirement gift. Because enjoying a gourmet cup of coffee without having to rush to work is the ultimate retired feeling. It's a unique feeling that you can contribute to with a Coffee Gift from BeanBox. They have great coffee subscriptions and gifts from the World's Best Artisan Roasters.
You can send the retiree on a unique World Coffee Tour at home with The World Coffee Tour Gift Box with coffee from the world's top coffee producing regions. Or get the retiree a Coffee and Chocolate Tasting Gift Box when he or she also loves chocolate.
7) Bonsai Starter Kit
Sometimes it doesn't get any more unique than a Bonsai Tree. And giving a Bonsai Starter Kit to plant and learn how to grow a Bonsai tree is giving the retiree something unique to do in retirement. He or she can create his or her very own and unique living piece of art.
In this Bonsai Starter Kit, are four different Bonsai Trees and a comprehensive booklet that teaches how to plant them (indoor and outdoor both possible) and about the journey and history of each seed.
Did you know that Bonsai symbolizes harmony, peace, balance, and all that is good in nature. And by gifting a Bonsai you give the retiree harmony, peace, and balance in retirement. Now, that's a great wish to put on a retirement card.
8) Laser-Engraved 3D Crystal
A very unique retirement gift is this laser-engraved 3D Crystal from Crystal Clear Memories. A beautiful keepsake that the retiree can cherish forever.
You can build your own crystal: you upload a photo, choose your custom text and pick your design and 3D artists manually will make this Crystal into a perfect unique retirement gift.
Crystal Clear Memories is the leader the leader in innovation for 3D crystals, so your customized retirement gift is in the best hands.
9) Scratch Off Bucket List Poster
For most people, retirement is the time in their life to do the unique things they've always love to do. That's why a bucket list is the perfect way to set new goals for the things you've always wanted to do.
And when you know, the retiree has a retirement full of plans; you can stimulate this mentality by giving the retiree this unique Scratch Off Bucket List Poster. It will motivate him or her, even more, to make the most out of their retirement.
10) Experience Gift
Another unique and great gift to give someone who is retiring is an experience. You can give an experience you know they will enjoy in retirement. And these are examples of experiences you can give for retirement:
Tickets to a show, (music) festival, theater, movie, museum, or sporting event.
Give a retiree a workshop or lessons they're interested in and want to learn more about, for example, cooking, pottery, art, beekeeping, foreign language, etc.
Give a bucket list experience. Make a dream come true by giving an experience the retiree has on their retirement bucket list.
Give a trip. You can give the retiree a weekend getaway with friends, a second honeymoon, or a family trip to enjoy in retirement.
Giving an experience is giving a new memory that they can cherish forever in retirement. You can decide to accompany the retiree on the experience to spend quality time together or give an experience they can enjoy with their spouse, friends, or family members.
11) Honoring gift
You can celebrate the retiree by giving a unique honoring retirement gift (together with other people). And you can plan to give this gift during a special moment, for example, their retirement party, last workday, etc. And to help you out, here are ideas of honoring gifts you can give:
Create and show a (fun) video. You can create it together with other people: friends, family, and co-workers to make it even more memorable. Video ideas are music video (with retiree's favorite song), a montage of answers to questions about the retiree, well wishes and messages from everybody, a funny retirement trailer, photo slide show, video montage of retiree's last workday/ week/ month.
Create a scrapbook with photos, messages, wishes, fun anecdotes, and stories from co-workers, friends, and family.
Give the retiree a (fun) and customized Award if he or she was great at something, and you want to honor this a special way. You can give a Thank You Award or Da Bomb award.
Give a photo book filled with fun photos of great memories and unique moments in the retiree's life. It's a nice gift that the retiree can always look into in their retirement.
Give a speech to honor the retiree's successes, contributions, and personality and perhaps add a presentation to show their career's highlights. It's up to you if you want to make it a formal or funny informal speech. Check out tips in my article; 13 Tips On How To Give The Best Retirement Speech
Do you want to know more ways to make a retirement celebration special? Read my article: 30 Ideas To Make A Retirement Party Extra Special
12) Unique Photo on Canvas
Capture a great moment and print it on canvas to give the retiree. You can select a photo from a unique moment in the retiree's life or create a new photo, especially for their retirement and print the Photo on Canvas. The retiree can hang it up on their home and can always look at it and be reminded of this unique gift they received.
A great idea is to capture unique moments on their last day or week at work or on their retirement party. And create a collage to print on Canvas. Or create a group photo with friends, family or coworkers that they can hang up in their living room or at home office.
13) Unique Subscription Box
Give the retiree a retirement gift so that they can create their own unique experience in retirement with Cratejoy. They have so many unique and fun subscription boxes that you can give as a retirement gift. For example: the first month, 6 months or a year of their retirement, depending on your budget.
Cratejoy is featured in Forbes, InStyle, Marie Claire, Rolling Stone, etc and can be the perfect unique retirement gift that you're looking for. They have awesome subscription boxes for men and Crates of Joy for women.
For example: Treat the retiree on an awesome Arts & Crafts Subscription Box so that they can get creative with new and fun art projects and create their own unique piece of art in retirement.
Or give a Food & Beverage Cratejoy such as the American Cocktail Club where the retiree gets a premium cocktail subscription box that curates all-natural and world class cocktails. Or a BBQ box for a BBQ lover or a monthly Fresh Baked Cookie Crate for a retiree who loves to bake cookies together with their grandchildren.
14) Craft Beer Delivery
A beer lover will love getting Award Winning Craft Beer as a retirement gift delivered to his or her house in retirement by the The Craft Beer Club. They can taste and try out unique and exceptional craft beers from the country's best, small, independent brewers.
The Craft Beer Club delivers Unique Craft Beers that is produced by small-production, independent, artisan, craft brewers that are among the best in America. Many of which have earned top awards for their signature brews.
You can gift the retiree one or multiple shipments of beer and select the frequency of delivery: monthly, quarterly, or every other month. That's totally up to you. And the best part is there is NO membership fee and NO obligation to continue. You can cancel your membership or gift at anytime. Also shipping is free.
15) LED 3D Wood World Map Wall Art
A retiree who loves to travel will love this LED 3D Wood World Map Wall Art for his or her home. It's handmade of birch plywood, and you can choose between different sizes (M, L, XL). An overall great gift that for sure will fuel the retiree's wanderlust for many more adventures in their retirement. And it creates moments for the retiree to reminisce about amazing travel memories of the past.
16) Customized Moon Light Lamp
This Moon Light Lamp is a unique gift to give a close loved one that is retiring. For example your grandfather, grandmother, mom, dad, etc. You can customize it by adding a picture of the two of you and add a text for example: "Love you to the moon and back." A great gift that is one of a kind.
17) Noise-canceling Headphone
A noise-canceling headphone is one of the best gifts you can give a retiree with travel plans. Because with traveling in planes and vehicles comes a lot of white noise that makes you feel tired when you arrive at your destination.
And with a noise-canceling headphone, the retiree can listen to high-quality sound music but also actively cancel out this noise. Which makes traveling more comfortable and a lot less exhausting for them. It can make their travel experience better and more enjoyable.
This noise-canceling headphone from Sony is the World's best noise-canceling headphone out there. It's proven to be the industry leader when it comes to noise cancelation. So you'll give the retiree the best of the best.
18) Original Watch
A watch is the most traditional gift to give a retiree. It symbolized time. The tradition started at Pepsi Co company, where they would give their retiring employees a gold watch with the symbol "You gave us your time, now we give you time."
This tradition has modernized where everyone can give a retiree a watch as a retirement gift with the time as a symbol, engraved or note. For example:
"Have the time of your life in retirement."
"Now, it's time for our adventure together."
"Now it's your time to all the things you love to do."
"Make it the best time of your life."
And a unique watch you can give the retiree is this Original Grain Wood Watch for Men that is handcrafted with reclaimed American Oak bourbon barrels. Or this Custom Engraved Watch for Women from stainless steel.
19) Cooler Scooter
Give the retiree a ride for adventure with the coolest cooler on wheels. Tailgating, camping, family vacation, and road trips are going to be a lot more fun in retirement with this portable cooler scooter. The Cruzin Cooler CZ-HB Basic is a well designed, reliable scooter that is easily portable in full-sized cars. It can hold up to twenty-four 12 ounce cans with 8 lbs of ice and has a top speed of 9 mph and can travel up to 10 miles on a single charge.
20) Segway Self Balancing Scooter
Give the retiree a fun toy for retirement by giving this Segway Self Balancing Scooter. It gets the retiree to his or her destination while also enjoying and experience the moment. It's easy-to-learn and very user-friendly because of the knee control design. And it makes retirement a lot more fun.
21) Gift Book: Retirement Is A Full-Time Job
Retirement Is A Full-Time Job is a unique and funny gift book to give someone for retirement. The best approach to retirement is with laughter. And this fun book with a collection of colorful quotes and photos will give the retiree lots to laugh at. And because it's a small and inexpensive book, it can be a great addition to your retirement gift or retirement gift basket.
22) Personalized Gift
A personalized gift makes a retirement gift more unique. And there are so many amazing personalized gifts out there. For example if he is a beer lover you can get him engraved beer glasses, or if she like to cook you can get a nice personalized cutting board. A personalized BBQ Tool Set for a BBQ lover is a great and unique retirement gift.
Because the best personalized gifts are gifts that matches the retiree's interest, hobby or future plans in retirement. So when you know what he or she like you can get them a great retirement gift with their name or initials on it. Check out amazing personalized retirement gift ideas at A Gift Personalized.
23) Day of the Week Clock
In retirement, it doesn't matter anymore what time it is. Perhaps, it only matters to know which day of the week it is. And you can give this unique Day of The Week Clock as a funny retirement gift. To hang up at home, boat, RV, vacation home, kids' room, or home office for anyone on a "retired" schedule.
24) Funny Retired Beer Mug
Give the retiree who loves beer this 15 oz. Funny Retired Beer Mug with the text: "This Beer Tastes A Lot Like I'm Not Going To Work Tomorrow." And, for sure, his or her beer will taste a lot better in retirement.
Looking for more funny retirement mug ideas? Check out my article with The 20 Coolest Retirement Mug Ideas.
25) Unique Home Bar Gift
In retirement every day can be happy hour. And if you are looking for a unique retirement gift for a retiree who has a home bar and also plans to enjoy many happy hours in retirement, a unique Home Bar Gift from the Home Wet Bar is a great idea.
You can gift personalized glassware, unique bar accessories, outdoor party gift or a personalized sign for their home bar or man cave.
26) Gifts To Enjoy With Grandchildren
Many retirees look forward to spending a lot more quality time with their grandchildren in retirement. And you can make it more fun for them when you give a retirement gift they can enjoy together with their grandchildren. And to help you out on finding the best gift, here are some fun ideas:
27) Host A Retirement Party
Surprise the retiree with a retirement celebration and organize a retirement party. A retirement party itself is not unique, but you can create fun elements and customize it to the retiree to make the party unique and one to remember forever. And to know how to throw the best retirement party ever, you need to know more. And therefore, I advise you to read the following helpful articles as well.
28) Retirement Gift Basket
Create a unique retirement gift by creating a retirement gift basket. And the best gift baskets are filled with either the retiree's favorite snacks and drinks or a gift basket that matches the retiree's personality or plans for retirement. You can easily design a gift basket at Design It Yourself Gift Baskets or read my article 25 Fantastic Retirement Gift Basket Ideas to get inspired by creating a unique retirement gift basket yourself.
A SPA Gift Basket is a great retirement gift for her: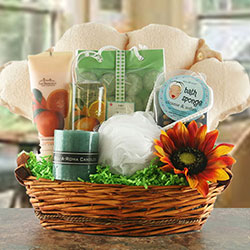 Spa Essentials – Spa Gift Basket
A BBQ Gift Basket can be a great retirement gift for him: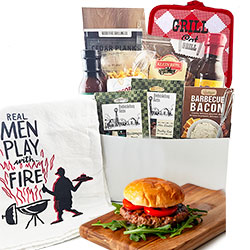 Backyard BBQ – Grilling Gift Basket
29) Retirement Hobby Related Gift
Also, a great retirement gift to stand out from the crowd is to give a gift that is related to the retiree's favorite hobby. Or a gift that inspires a new hobby in retirement. And here are some awesome ideas you can consider giving:
30) Polaroid Camera
You can give the retiree a Polaroid camera to capture their own unique moments in retirement. From moments they spend together with grandchildren, friends and family to beautiful moments on upcoming travel adventures.
This Polaroid camera is the modern version of the old-skool polaroid camera. It prints beautiful and premium quality photos instantly like in the old days but the camera also has many modern features like the new cameras we know now.
31) Custom Reel Viewer Set
You can create a unique gift by giving the retiree a way to preserve great memories in retro style. This Reel Viewer Set contains a Red RetroViewer, Viewfinder, and one gift card with code to upload your Custom Reel. The retiree can create his or her reel with their choice of photos. Or you can create a reel with fun photos of the retiree to give as a complete fun and down memory lane gift.
32) Sand Art
Give the retiree a unique piece of art by giving this Sand Art Picture. By turning it around, it automatically creates new pictures of sand. And it created new pieces of art to look at every day in retirement. Watching the sand move also relaxes you and can be a great stress reliever as well.
33) Original Buddha Board
The retiree can create art with this Original Buddha Board. It's a unique and new way of painting. You paint with water and a bamboo brush, and can only enjoy your creation for a moment because when the water evaporates, your masterpiece slowly fades away.
You create art but also practice the art of letting go. This Buddha Board is inspired by the Zen idea of living in the moment. And it is a unique gift for a creative retiree that also likes to practice a bit of mindfulness in retirement.
34) Unique Retirement Book
You wish someone a happy and healthy retirement. And you can put these words into your retirement gift by giving a unique book that helps the retiree to enjoy retirement better.
Because sometimes the transition into retirement can be a struggle. And you can help the retiree by giving a great book that guides and inspires them on how to make the most out of their retired life. And how they can enjoy their retirement as long and healthy as possible.
Check out these unique retirement books:
You can also give the retiree unlimited reading in retirement by giving him or her an Oasis Kindle E-reader. The retiree can choose to read the thousands of books that are available with a Kindle Membership.
35) Unique Outdoor Fire Pit
A retiree who loves to camp will love a Solo Stove as a retirement gift. The retiree can use the Solo Stove for grilling and creating new memories in retirement while making a bon fire during camping or at home.
Solo Stove is famous for their stainless steel wood-burning stoves and fire pits designed with efficient airflow. Portable and durable, designed for adventure wether outdoors or at home. You can get a fire pit or a camp stove for the retiree and include accessories to complete the gift.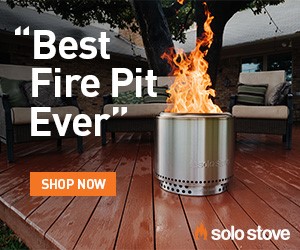 Recommended Articles
The following articles might be helpful for you to read as well: