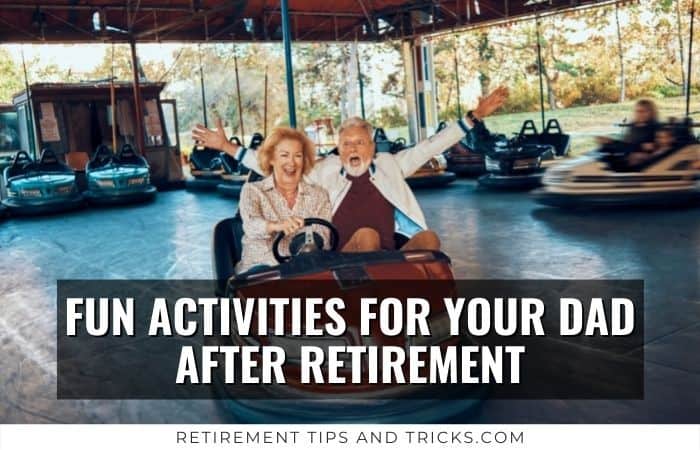 As your dad's retirement is coming closer you might worry and wonder, what can my father do after retirement? Well, no need to worry anymore because I've got you covered! This article is filled with 25 fun activities your father can do after retirement. From the popular ones to the more unusual activities retirees like to do, so you can help your father enjoy a happy retirement.


---
1) Create A Bucket List
Creating a bucket list can be a great tool for your retired father to figure out what he wants most in retirement. Listing all the things he wants to do makes his dreams more visual and tangible. Then the next thing is to narrow it down to one or two things he likes to pursue first which gives him a goal to work towards. And it gives your dad a sense of direction and a clear vision of his priorities after retirement. You can help him by creating his bucket list together and ticking off a few items together too.
2) Follow Online Classes
Another amazing activity your dad can do after retirement is to follow classes. If your father ever said the words: "I've always wanted to learn…". Then you know exactly which class he can apply for. He can go back to college and get a degree (seniors can follow free or discounted classes at a lot of local colleges and universities), follow a painting class nearby his home or you can give him access to amazing online classes from the world greatest with Masterclass.
Masterclass is an online video streaming platform with 100+ different classes from the world's best. Just to name a few names: Gordon Ramsay, Samuel L. Jackson, Alicia Keys and so many more. He can have access to all classes and never have to be bored after retirement. Many retirees love Masterclass because they can learn at their own pace, time, and device from the comforts of their own home or anywhere else.
3) Do Volunteer Work
Many retirees love to do volunteer work. It gives them a sense of purpose. A new purpose after they've retired from their full-time job.
Perhaps your father can also do volunteer work if he likes to help other people in retirement and be of service. Helping others, makes you feel happier instantly, so that is an advantage too. If you want your father to have a happy retirement, finding him a volunteer job he loves is a great idea. It not only makes him happy, but it also gives him daily structure, routine and social interactions. Which are all things you lose once you retire. And replacing these things in a fulfilling way is the key to a happy and healthy retirement.
For more information about volunteer work, check out my article: Why Do Retirees Love Volunteering.
4) Explore A New Hobby
The best way to spend time in retirement is on a hobby you love. After retirement, it can be worthwhile for your father to find a new hobby if he doesn't have one. A perfect way to explore hobbies is to try out new hobbies. And a great platform for that is Masterclass, as I mentioned earlier. Your father can explore all sorts of new hobbies on this platform while learning from the best in their field.
And if you need a little bit more help you can read my article: 8 Powerful Tips To Help A Retired Dad That Has No Hobbies
5) Find A Part-Time Job
Your retired father can also go back to work in retirement. Perhaps he always wished to work as a…., well maybe now in retirement is the time to pursue that job and earn a bit of salary too. Which is a plus. Some jobs even come with extra benefits too which is an extra bonus. Your father can decide to become a dog walker, a freelance consultant, or a coach.
The daily structure, routine and social interactions that come with having a part-time job are all beneficial to enjoying retirement in a happy and healthy way. And having a part-time job or a freelance job enables your father to control his own agenda, which is the reason why most people want to retire in the first place.
6) Take Up A (new) Sport
If your father likes to get more active in retirement he can consider taking up a (team)sport after retirement. This can be a sport that he loved while younger or take up a new sport. Because why not? For example, swimming, running, stand-up paddleboarding, golf, tennis, yoga, surfing, Tai Chi, etc.
7) Become A Better Chef
Many retirees love to take up cooking after retirement. During their career, there wasn't enough time to spend hours in the kitchen preparing a gourmet meal. And now in retirement, they have the time and want to enjoy good food every day so retirees start learning how to cook or upgrade their skills as a chef. This can also be a great activity for your father after retirement.
Masterclass has over 20 different cooking classes from the world's renowned chefs like Gordon Ramsay, Thomas Keller, Aaron Franklin, Gabriela Camara, and so many more Italian, French, Mexican, and Japanese chefs.
8) Babysit Grandchildren
Do you or your siblings have children? Perhaps your father can babysit them while you have to go to work. It can be a very fulfilling and fun activity for your retired dad, but it saves you money as well.
9) Travel
If you ask what most retirees want to do in retirement, they will say travel. And maybe your father has the same answer to this question too.
Depending on his retirement budget he can travel to Europe, Asia, or Australia, but he can also travel closer to home like visiting a nearby National Park, going on a road trip with friends, doing hikes on nearby (famous) trails, etc. The possibilities are endless. A great gift for your father is this book: 50 States 5000 Ideas from National Geographic.
10) Create A New Routine
Not many people are aware that retirement is a transition process. It takes time to adjust to this new way of life with endless free time, no structure, no obligations, and no direct purpose. Therefore it can be wise to motivate your father to create new routines after retirement. A healthy and positive morning routine sets the tone for the rest of the day and helps your father to stay positive, and productive and end the day with a satisfying and fulfilling feeling.
11) Be A Tutor, Coach, Or Mentor
Your retired dad can share his wisdom, life experience, and years of experience to help the next generation. This can be in any form for example a tutor for high school students, a life coach, a sports coach for grandchildren's sports team, a career coach for his former coworkers, or a mentor for anyone who needs mentoring.
Many retirees don't feel appreciated or are part of society once they retire. Being a coach, tutor or mentor is a win-win situation. Others get valuable help, advice, and expertise from an expert and your father feels valuable and worthy by sharing his skills and secrets with others.
12) Start His Passion Project
After retirement is the best time to spend time on a passion project. Because when else?
So if your father expressed to you in the past that if he had more spare time he would do X, Y, and Z. You know you have found his passion. And now after retirement, you can motivate him to take up that passion project he always dreamed of.
Knowing what your dad's passion is, is magic. He doesn't need to look around, he can just start right away. And you can encourage him to start his passion project, no matter his doubts and fears.
If you want to help your father find his passion? Then this article can be helpful for you and your dad: How To Find Your Passion In Retirement.
13) Join A Club
I already mentioned in this article that having daily social interactions is important for a happy and healthy retirement. Not many people know that social interaction benefits both mental and physical health and that is why it's important to maintain socially active after retirement.
A way to replace the social interactions your father loses once he retires is by joining a club. This can be a sports club, book club, cooking club, senior club, arts & crafts club, garden club, etc. The first step in finding the right club for your dad is to know your father's interests and look for a nearby club with similar interests. It is the easiest way for your dad to find new friends.
14) Start Meditation
When you worry about your father's mental health, you can encourage him to start meditation in retirement to help him feel more peaceful and calm. You can gift your father the Meditation and Mindfulness Masterclass from Jon Kabat-Zinn. The pioneer of the Western mindfulness movement.
15) Become A Teacher
Another fun activity that your father can do after retirement is teaching. And this can be in all sorts of forms, but the most obvious one is in a classroom. And now it is easier and more affordable than ever to become a teacher because of alternative teacher certification programs available for all ages.
15) Start A (online) Business
Retirement gives your dad the opportunity to become an entrepreneur because nowadays you don't need much to start a business. There are endless business opportunities online, but your dad can also use his skills and expertise as a freelancer. Here are 15 unique business ideas your father can start after retirement.
16) Learn A New Language
Nobody is too old to learn. And that also applies when learning a new language. It may take a bit longer compared to younger people, but older people have the advantage of a bigger vocabulary which makes learning new words easier.
17) Gardening
Gardening is one of the best and also one of the most popular activities in retirement. It has a tremendous effect on a person's mental and physical health, which is why gardening is one of the best hobbies for retirees out there.
18) Babysit A Pet
Taking care of a pet gives your father's life new meaning, and a purpose but also has many beneficial health effects. For example, a companion like a dog reduces the feeling of loneliness but also keeps you active as you have to walk the dog a couple of times a day. And you're likely to be more social as you meet other dogs and dog owners during the day. Your dad can get a dog or cat, but if he doesn't want the care full-time there are plenty of organizations that match dog owners with a busy life with retirees who want to take care of day a couple of times a week/ month,
19) Join A Senior Community
Joining a senior community can help your dad find new friends and gives him more access to all sorts of senior activities that are planned within that community. It gives your retired dad a sense of belonging. This can be a very good step for a retired dad that is alone and lives far away from family.
20) Play A (New) Instrument
Why not learn a new instrument? If your father loves music, plays an instrument, or always dreamed about learning a new instrument, then encourage him to start playing an instrument.
Masterclass has over 20+ different music classes from the world's best musicians. He can upgrade his existing skills or learn a new instrument. These classes are accessible for any skill level. And can be a great gift to motivate your dad after retirement.
21) Write Books/ Columns/ Stories/ Blogs
Another fun activity your dad can do after retirement is to start writing. He can write a family history book and research everything there is to know about his ancestors. Or he can start writing columns for a local newspaper, start his own blog website about retirement, or start journaling. Writing can be a powerful and creative outlet for your father to express his inner world.
If your father likes to take up writing after retirement you can help him with writing classes to dust off his writing skills. Masterclass has 20+ different writing classes taught by the world's best writers such as Margaret Atwood, Dan Brown, David Patterson and so many more.
22) Home Brewing
If your dad loves beer, beer brewing can be a cool activity after retirement. but it doesn't end with beer, your father can start brewing apple cider, wine, kombucha, etc. You can gift your dad a beer-making kit as a sign of encouragement.
23) Wedding Officiant
If your dad loves to speak, has a sense of humor, and loves love, then a great activity your father can do is to become a wedding officiant.
24) Read Books
Many people complain about not having enough time to read. Perhaps your father did this too. Well, retirement is the perfect time to catch up on reading and you can help your father by gifting a couple of good books to read. Need inspiration? Check out 25 Best Books Old People Like To Read (All Novel Genres).
25) Geneology
One of the most popular hobbies in retirement is genealogy, "the study and tracing of lines of descent". Many retirees love to dig up things about their past, trace their ancestors, find answers and search for new relatives. Building a family tree or writing a family history book is a popular and meaningful activity in retirement. If you think this can be a fun activity for your dad, then check out Myheritage.com.
He can do a DNA test to reveal his unique ethnic background and match him with his newfound and explore billions of historical records. You can start with a 14-day FREE trial to check it out.