It can be challenging to figure out which business is best after retirement. In this article, I'll help you out with unique business ideas and helpful information on how to start your business after retirement. Let's get started right away!
The Best Businesses To Start After Retirement Are:
#1 Start A Blog Website
#2 Start A YouTube Channel
#3 Self Publish A Book On Amazon
#4 Start A Ecommerce/ DropShipping Shop
#5 Become a Mentor / Coach
#6 Sell an Online Course
#7 Become a Handyman
#8 Become a Sports Instructor
#9 Become a Dogwalker
#10 Become a Freelance Writer
#11 Freelance Designer
#12 Virtual Assistant
#13 Become a Financial Consultant
#14 Start a Franchise
#15 Open Up an Etsy Shop


---
When you're going to start a business, you probably need to register your business. How you need to register and what kind of business you need to register varies per state, and when you're living outside the United States, even per country. When you need to register a business in the United States, I recommend using NorthWest Agent, an easy online service of registered agents that helps you register your business and be compliant with state rules. Their packages are affordable, and they have the best customer reviews in the market. Learn more about their services on their website.
Ready to find out more about which business is best to start after retirement? Let's dig in!
#1 Start A Blog Website
As an online entrepreneur myself, I really love this idea. It is actually quite straightforward to start with a blog and turn it into a business. The most important thing is that your topic research is on point so that you can pick a profitable niche.
Blogging can be competitive, and it's a business form that needs some time to grow. So if you're looking for a business that earns you money right away, you might look for some other ideas. But when you have the time and just love to write about specific topics and be as helpful as possible for your readers, blogging is definitely something for you!
On average, it takes between one and two years before you start earning money with a blog. So you need to invest some time first. Let me share a few things that can help you become successful as a blogger.
Sign Up For Income School
One of the best courses you can follow to create a successful blog and online business is Income School's Project24. Jim & Ricky and their team of specialists teach straightforward steps to build successful websites and YouTube channels.
We are a member of Income School, and following their course helped us create a full-time income with this website. When you're curious about our Income School experience, make sure to read our review about the course.
Start with a blog as a retirement business, and sign up for IncomeSchool today!
Choose a Good Webhosting Service
Most websites are run by WordPress, which is a straightforward content management system to run your blog. When you're serious about blogging as a business, you want to make sure you use an affordable and trustworthy hosting company to host your blog and its content.
Choosing a hosting platform can be challenging. It's a real jungle out there. And when you just start with blogging, you're probably not sure what you can expect from a host. The most important thing is that your website or blog will be online for visitors and that you can easily edit your content.
We think that Bluehost is the best hosting company you can choose. They are cheap (hosting plans start from $3.95 a month!) and are known as one of the most trustworthy hosting platforms available. Their hosting plans include a free domain & SSL certificate for the first year.
Earn Revenue with Display Advertising – Sign up For Ezoic
You can earn money with a blog or website via different revenue streams. One of the most profitable revenue streams is display advertising, which is basically a form of passive income. The only thing you need to do is sign up with an advertising platform, add a piece of code to your website, and the ads will show on your different articles.
The most common way you earn money with display ads is earnings per 1000 views. Commonly known as Revenue Per Thousand (RPM) or Earning Per Thousand Visitors (EPMV). It depends on the platform which calculation they use. Both calculations are slightly different but more or less the same.
There are several platforms you can sign up for when you want to earn revenue with display advertising. Google Adsense is the platform where almost everyone starts because they don't have a minimum page views threshold. This means small sites can join as well. However, with a minimum amount of page views, you probably won't earn much.
This website is connected to the Ezoic platform, which works very well for us. Ezoic stands out compared to other platforms because they use machine learning to decide which placeholders (position of the ads) works best and earns the most revenue.
As a publisher with Ezoic, you'll get a dedicated account manager who will help you with your account's set up. Their dashboard is easy to use. Best of all, the analytics reports you can use from their big data analytics for your website give you very useful insights. I'm confident that Ezoic is one of the best ad networks you can choose. You can use this link to sign up for Ezoic.
#2 Start A YouTube Channel
Video content is becoming more and more popular. YouTube is the second biggest search engine online! So there's a high potential to earn a decent income with a YouTube channel. However, it isn't just a case of uploading a few fun videos and then just wait for the money. Building a popular YouTube channel takes some time and dedication.
Like I told you earlier in this article, we're a member of Income School. And next to their blogging course, they also teach people how to create a successful YouTube channel so you can earn a full-time income with it. Learn more about Income School here.
You might wonder how you can earn money with a YouTube channel. Let me share a few of the most regular ways to make money with a YouTube channel.
Display Ads
When you reached the threshold to sign up for YouTube's partner program, you can connect your Adsense account to your YouTube channel. This way, you can earn with display ads from your videos. Currently, the threshold of becoming eligible for YouTube's partner program is that you need a minimum of 1000 subscribers to your channel and a watch time of 4000 public watch hours.
Naturally, this means it will take some time for your channel to grow to this level. However, there are a few ways you can speed up this process. You can learn these by following the Income School course.
Affiliate Marketing
For both blogging and YouTube, Affiliate Marketing can be a steady revenue stream. With affiliate marketing, you promote products or services related to the content on your website or YouTube channel. When visitors actually buy these products or services via the unique link you provide on your website, you earn a small percentage of that sale.
When it comes to affiliate marketing, the most important thing is that the products or services you promote are related to the content you write or make videos about. For example, when you have a YouTube channel about cooking, you don't promote sport attributes.
Popular platforms to subscribe as an affiliate are;
There are many other platforms available. It depends on your content and the things you want to promote to which platform you want to subscribe.
Commission rates vary for each program you sign up for. Sometimes you get a fixed percentage per sale, and some programs offer a fixed bonus per sale. It is also important to look at the conversion rate of a product or platform. When the conversion rate is below 1%, you might reconsider promoting a product because you'll need a lot of traffic even to convert a click to a sale.
So it all depends on your niche and related content. Sometimes it can be beneficial to sign up for a program with a lower commission rate but still earn a lot of revenue.
For us, the Amazon associate program works very well. Commission rates are low, between 2 – 5%. However, the conversion rate of the products is very high, often around 20%. Becoming successful with affiliate marketing is a bit of trial and error. You need to figure out what works for your website and visitors. However, when you sign up for Project 24 from Income School, you can also follow their additional course about affiliate marketing. Learn more about Income School here.
Equipment for YouTube Channel
When you just start with YouTube, I wouldn't recommend buying a lot of expensive video equipment. Many people invest a lot of money in cameras, lighting, etcetera. However, next to the fact that this costs you a lot of money, it also distracts you from making video content.
To start with a YouTube channel, you only need a few basic things;
Camera
We all have a smartphone, right? So, when you have a recent smartphone, your camera is probably good enough to record high-quality videos with it. I wouldn't bother investing in a camera when you use, for example, an iPhone X or newer versions.
When the camera on your smartphone isn't high quality, you want to either invest in a new smartphone or buy a simple vlogging camera, like the DJI Osmo Pocket.
Audio Recording
Again, most smartphones can record proper audio. However, when you want to make sure your audio recording is of high quality, make sure to invest in a decent microphone.
I feel a lavalier microphone is the most convenient type when you record a video. You can easily clip on the microphone and don't have to worry about recording.
When you're recording video with your smartphone, the Movo Edge Lavelier Microphone System is a perfect choice. You can easily plug in the wireless receiver to your smartphone and start recording.
#3 Self Publish A Book On Amazon
Maybe you always dreamed of becoming a writer, but you don't know where to start. What if I tell you that becoming a self-publisher is effortlessly nowadays if you're using the Amazon Kindle Program.
Amazon Kindle allows you to set up a publisher profile to self-publish your book or books you've written. The only catch is that Amazon takes a percentage of the sale. This percentage varies per region and file size (you also pay a few cents per MB) but is roughly between 30 – 40%. This means you can keep around 70% of the royalties per sale!
Selling your books via Amazon Kindle can be a very profitable business. It's a perfect business to start after retirement because you can decide how much time you spent on it. When you finished writing your book, you just upload the file to your Kindle dashboard and make it eligible for sale.

Amazon Kindle is focused on Ebooks. However, you can also create a paperback copy of your Ebook that can be sold on the Amazon marketplace. This option is via print on demand, which means that Amazon only prints a paperback if someone is actually buying it. It is the perfect way to keep your costs as low as possible and allows you to focus on what you do best; writing stories!
Find out more about becoming a publisher on the website of Amazon Kindle.
Improve Your Skills With A Writing Course
Writing can be challenging. Sometimes you struggle with creating a new story. Maybe you have something in your mind, but you find it hard to put in words. It's completely natural. I also have this from time to time. When I'm writing articles, I find it sometimes difficult to stay on topic. Following a writing course can be helpful to become a better writer.
I really like the writing courses available on the MasterClass platform. The MasterClass platform is an online video platform where you can follow courses from the most successful and well-known people worldwide. There are over 100 courses available on MasterClass in all kinds of categories, one of which is writing. The writing category currently has 17 different courses available!
You can follow a writing course from Margaret Atwood, who teaches creative writing. Or maybe you're more interested in the Creating Outside The Lines course from Issa Rae, the Emmy-nominated star and creator of the award-winning HBO series Insecure. Either way, I'm sure you'll find a writing course that helps you create your perfect book and become a successful Amazon publisher.
#4 Start A Ecommerce/ DropShipping Shop
Another great online business opportunity is to start with dropshipping. Dropshipping allows you to sell products without worrying about inventory costs.
When you start with dropshipping, you make a deal with a supplier who stocks the inventory.
You sell the products online. When a customer places an order, you forward this order to the supplier. The supplier then packages the order and sends it to the customer. Often you only have to pay the supplier when an order is placed. So the costs are low. You can focus on the marketing and even increase revenue over time.
See this infographic below, where we explain the dropshipping model visually:
Dropshipping sounds like an ideal business model for selling products and keeping your costs as low as possible. It can be a very rewarding business model. However, there are a few things you need to keep in mind. Let me share the most common advantages and disadvantages of dropshipping for you.
Advantages of DropShipping
Low start-up costs & Less risk
You don't have to worry about buying inventory, renting a warehouse, etcetera. So with these low start-up costs, you can say you find some extra margin comparing to a regular business model. You only pay your supplier when a customer buys a product.
Little Overhead Costs
All you need is a laptop and a fast internet connection. Many people who own a dropshipping business can work from home or everywhere they want. Which makes it the ideal business model for a retiree. You will keep your freedom, own a profitable business, and still go everywhere you like.
Easy Scalable
Dropshipping allows you to choose from many different products to sell. And because your supplier is responsible for the inventory and shipping, you can quickly test out different products and scale up successful ones. It's just that simple. When you sell more, you order more.
Disadvantages of DropShipping
Inventory Issues
A common problem with dropshipping is that the latest inventory data isn't in sync with your suppliers' data. In other words, a customer may buy a product on your website that is out of stock with your supplier.

This can then result in a bad customer experience, which can hurt your website's / shop reputation. However, when you make sure you always have the latest data, this shouldn't be a problem.
Low-Profit Margins
Selling products online is all about volume. The more you sell, the more profit you'll get. Volume in sales gets especially important when it comes to dropshipping. Often the margins on a product are very low because of the stiff competition in many niches. So it's important to make a good deal with your supplier, to ensure you don't lose too much margin on your sales. However, when you just start with dropshipping, your focus is often to grow your business first.
When you want to start your dropshipping business, you're probably looking for an easy website theme to set up your online store. Shopify is an industry-leading theme that combines everything you need;
Shop integration,
Payment methods,
Easy sales dashboard to keep track of your sales and customers.
Start your free trial for Shopify here.
#5 Become A Mentor / Coach
As a retiree, you have a ton of experience. Not only in the niche you've worked for many years, but also in life in general. So with this knowledge, there will be many opportunities to help other people making choices, getting more experienced, and mentoring them.
You can become a coach in your niche, maybe at your old company. Helping new employees to learn about the business and profession. For younger people, it can be very inspirational to learn from experienced people.
Or you can become a life coach in general, helping others with everyday life decisions, stay motivated, etcetera.
It's easy to become a coach, and you can decide on your own time and how much you work. You can even work online, with only video consultations. This way you can do this business everywhere you like.
Also, as a coach, it can be beneficial to learn from other coaches around the world. This way, you can easily improve your coaching skills and learn more about becoming a better coach via Coaching Training Alliance.
When you're a coach, you might need to register yourself as a business. You can find out more about this via Northwest Registered Agent, a great website that helps you set up a business in minutes.
#6 Sell An Online Course
Until now, we talked about creating online businesses with low set up costs and thus low risk. Also, I mentioned becoming a coach as a business opportunity in retirement. But why not combining these? Selling an online course can be a great business to start after retirement.
Let's say you were a carpenter. It must be easy for you to set up a course on, for example, 'learning the basics of woodworking.' You then can sell this course on different platforms like Udemy, which is the world's largest online platform to sell online courses.
But you can also start a blog or YouTube channel in a specific niche. As a monetization method, you can create a course and sell it to your visitors. Remember that I mentioned IncomeSchool at the start of this article? Their program focuses on earning a full-time income with an online business like blogging or YouTube. They also teach you how to include and sell an online course on your website.
#7 Become A Handyman
Let's stick to the idea that you were a carpenter before retirement. Or maybe you just like to do all kinds of chores in and around the house. When you love to help other people, you can become a handyman.
It's a business you can easily set up after retirement. You can just start with doing all kinds of chores in your neighborhood and helping out your neighbors and friends. And if you like doing it, you can think of becoming a handyman via handy.com or become a franchisee via Mr. Handyman.
#8 Become A Sports Instructor
Many retirees love to stay fit. When you're in good condition yourself and love to sport, why not become a sports instructor, and help others stay fit?
It can be very easy to set up a business as a sports instructor and help people with weekly or daily exercise. My father in law is a retired police officer. To stay fit for his job, he always did boxing exercises. Since he is retired, he's still training several times a week and training other police officers to stay fit with boxing. However, he doesn't get paid for it and just love to train with younger people. He always measures his fitness with the guys that are younger than him. Quite funny!
Either way, it is effortlessly to set up a business after retirement for sports coaching. When you're serious about becoming a sports or fitness coach, you probably want to have a certificate to prove your future customers' knowledge. The International Sports Science Association (ISSA) is the perfect platform to get such a certificate.
You can follow an online course via ISSA and get certified as a personal trainer in just four weeks. ISSA is the leading platform when it comes to certifying personal trainers. Having an ISSA certificate helps you to become more credible as a personal trainer. Start your ISSA course here.
#9 Become A Dogwalker
Do you love to walk outside, and are you a dog lover? This business opportunity is something for you! You can combine the things you love and earn money with them. And all you have to do is sign up as a dogwalker via Rover, known as the #1 app when it comes to dog walking. People using this app will automatically find you, and you can start earning money with your favorite thing to do!
#10 Become A Freelance Writer
Another easy online business opportunity after retirement is becoming a freelance writer. You can easily set up a seller account at Fivver and start selling your writing gigs all over the world. It's the perfect side job that you can do at your own pace, everywhere you like.
Fivver is a great platform where you can sell all kinds of online and freelance services. So when writing is not your only skill, you might consider setting up a freelancer account on Fivver. Let's see what kind of other popular businesses you can start as a freelancer in retirement.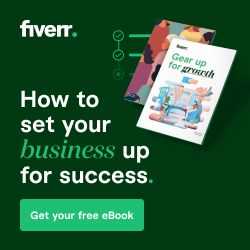 #11 Freelance Designer
When you love designing, you might want to sign up as a freelance designer. There's a good chance that you already did because many designers use platforms like Fivver to get more jobs.
The beauty of signing up to Fivver as a freelance designer is that you can promote your skills for all kinds of designing gigs. Online, Creating logos, Print Design, Photoshop Editing, you name it, everything is possible. You can decide what you promote, how much you charge, and when you accept a job.
And that's probably the biggest advantage of a platform like Fivver. Not only the worldwide marketplace but also the fact that you can decide whenever your available to do a job.
#12 Virtual Assistant
Another popular gig on Fivver is Virtual Assistant. Many busy people are looking for people who can help them with things like managing their calendar, email support, data entry, etcetera.
If you love helping out others with activities like that, becoming a virtual assistant is an excellent opportunity to start as a freelance business in retirement.
The only thing I don't like that much about being a virtual assistant is that you often can't decide on your own working schedule. Many things need to be done very quickly, on a tight schedule. So when you want to enjoy your free time as much as possible, you want to rethink committing yourself as a virtual assistant.
#13 Become A Financial Consultant
Whether you like to do taxes, accounting, or other financial consulting jobs, becoming a financial consultant as a retiree is a great business opportunity.
You can work as a freelance consultant and sell your services via the Fivver platform. Or maybe you did some finance consulting before your retirement and already have a network of potential customers. If so, you can try to scale up and look for other customers in the same area.
When you have the knowledge and a degree in this area, becoming a financial consultant can be a very profitable business as a retiree. Many people are looking for help filing their taxes, bookkeeping, accountancy, and stuff like that. You can even help other retirees with preparing for retirement!
Sign up for Fivver here when you want to become an online Financial Consultant.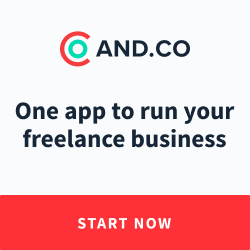 #14 Start A Franchise
When owning your own business, like a restaurant or fashion shop, is something you always dreamed of, starting a franchise might be a great business to start after retirement.
When starting a franchise, you can use all the knowledge, marketing, and other useful information of that company you're franchising with, but you're still your own boss.
Having a franchise also comes with a lot of commitment, so you need to ask yourself if you still want to do that as a retiree. But when you still have the energy, why not?!
#15 Open Up An Etsy Shop
When you are an artist and make handcrafted products, or when you have a lot of vintage products that are at least 20 years old, you might want to open up an Etsy shop and start selling your stuff. Etsy is a worldwide marketplace for handcrafted and vintage products.
So, you can either sell your artwork or the old vintage products that you have at home. When opening up an Etsy shop, you decide which products are for sale. This way, you don't have to worry about inventory and products getting out of stock. And of course, it helps you to decide on your own working schedule.
Selling your work on Etsy can be a fun business when you're retired. Many people are making a decent income by selling their products via Etsy. Still, it can also be a profitable side job, earning some extra income each month.
Interest to start selling on Etsy?
How To Start A Business As A Retiree?
I just shared 15 unique business ideas to start after retirement. However, you still might want to know more about the process of how to start a business as a retiree.
Starting a business after retirement doesn't have to be very difficult. It all begins with the formation of an idea first. When you have an idea for a business, you need to take some things into consideration. Answering the next questions helps you to decide if you want to start a business after retirement.
Set a Goal (what do you want to get out of this business?)
Make a financial plan (can it be profitable?)
How much time do you want to spend on your business (is it a side job, or do you want to be busy full time as a retiree?)
Get some professional advice if needed.
If the answer to all these questions is yes, and you're sure you want to start. Just start with it! You might need to register as a business, which you can do easily with NorthWest Registered Agent.