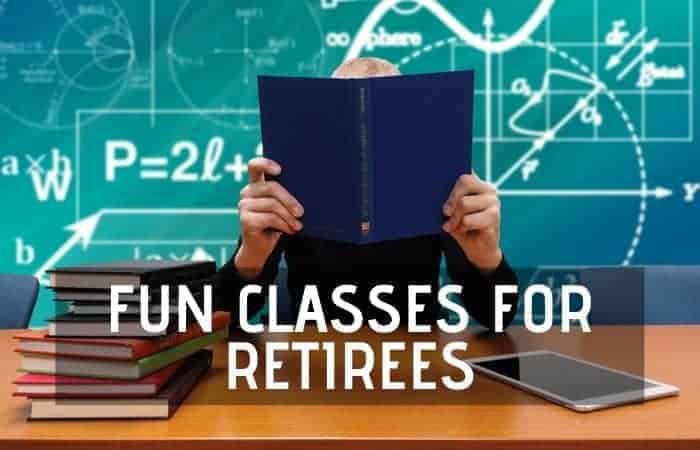 The best thing about retirement is that you finally have time to follow your passion, pursue a new hobby, and learn something new. And that's why many retirees like to take classes in retirement. But what fun classes for retirees are out there?
Fun Classes For Retirees:
Masterclass by the best in the world
Art and Creative Classes
Educational Classes
Exercise Classes
College and University Classes
Language Classes
Online Classes
Technology Classes
Housemaintance Classes
In this article, I give you 50+ ideas about fun classes for retirees and information where you can find them. And I explain to you why taking a class and learning something new in retirement has many benefits for your health and happiness. So, continue reading.


---
MasterClass By The Best In The World
MasterClass offers online classes for students of all skill levels and ages. The teachers are the best in the world in their profession. For example, you can take a cooking masterclass from Gorden Ramsey, learn more about interior design from Kelly Wearstler, or a tennis masterclass from Serena Williams. How cool is that?!
They have a huge variety of different classes, from writing, business, sports, music, acting to cooking, and so much more. And taught by all sorts of professionals who are the best in the world in what they do. And they want to teach you their skills so you can become better in your new interest in retirement.
You can subscribe to a single masterclass, which will never expire. But I advise you to get an Annual Membership for MasterClass, where you have all access to every Masterclass on the platform for an average price of $17 a month.
Because once you start learning, you want to keep learning. And there are so many cool Masterclasses that will make your time in retirement so much more fun and interesting. It's the best investment you can do for yourself in retirement.
The classes range between 2 – 5 hours, and each class has several lessons that range from 5-25 minutes in length. You can rewatch the Masterclass any time you want and take the class at your own pace from the comforts of your own home. 
Art and Creative Classes
Doing creative activities in retirement is not only fun but also good for your health. Getting creative allows you to express yourself and create something from personal feelings and experiences.
And when you do something creative, you enter your happy zone and are better connected to your heart and soul. You celebrate your own uniqueness. It also promotes thinking, problem-solving, and reduces stress and anxiety. And who doesn't want that in retirement, right?
So, taking creative/ art classes in retirement is not only fun but also good for your well-being. And to help you out, I've listed fun art and creative classes below to give you inspiration on what classes you can take in retirement.
Fun Art Classes for Retirees
Painting class (acrylic, oil or watercolor painting)
Ceramic class
Sewing class
Mosaic class
Fashion Design class
Pottery class
Knitting class
Glass blowing class
Photography class
Wood carving class
Creative writing class
Singing class
Acting class
Music instrument class
Graphic Design class
Interior Designing class
Videography class
Cake decorating class
Poem class
Flower arranging class
Where to find Art And Creative Classes
These classes are just the tip of the iceberg when it comes to creative art classes that are out there. You can enter a class near you and meet other like-minded people, or you can find an online class. The opportunities are endless, you just have to know where to find these classes. So here is what you can do:
Google "(class name) near me."
Contact your local senior center
Ask neighbors and friends
Search YouTube for Art Tutorials
Join Masterclass for Art masterclasses online
Educational Classes
Perhaps you can remember a high school or college subject you were very interested in and eager to learn more about? But you didn't pursue it at that time or didn't have the opportunity to continue this journey. Or there's another subject you always had an interest in but didn't have to time to learn more about it.
Well, retirement is now a great time to pursue this quest of knowledge. You can take a class just for the fun of it and gaining more knowledge about a topic or have the goal to pursue a new career in retirement. That's all up to you and how you want to spend your time in retirement. And to give you some inspiration on what you can do, here are a couple of fun educational classes you can take in retirement.
Fun Educational Classes for Retirees
Literature class
Science class
Business management class
Administration class
Politics class
Psychology class
Health education class
Math class
(American) History class
Communication class
(Online) Marketing class
(Life) Coach class
Meditation class
Where To Find Educational Classes
Google "(class name) near me."
Contact your local senior or community center
Ask neighbors and friends
Search YouTube for Tutorials
Contact your local high school, college or university
Check out planned seminars near you
Exercise Classes
Staying fit and healthy makes your chances of enjoying your retirement longer, bigger. So you want to make sure you continue exercising regularly or starting new healthy exercise routines in retirement.
Perhaps your main reason for joining an exercise class is because you need a helping hand to stay fit. Or you just want to experiment and explore new fun ways of exercising in retirement. Or you think exercising is more fun when you do it together with other people. Either way, exercising in retirement is always a good idea.
Fun Exercise Classes For Retirees
Swimming class
Aqua Aerobics class
Yoga class
Pilates class
Tai Chi class
Walking clubs or groups
Hiking clubs or groups
Walking football clubs
Zumba class
Fitness class
Golf class
Gardening class
Basketball class
Dance class
Surfing class
Rescue swimming class
Paragliding class
Spinning class
Rowing class
Skiing class
Where To Find Exercising Classes
You can apply for a class near you and meet other people along the way or do follow exercise classes online. Below are tips on where to find exercising classes.
Google "(exercise class name) near me."
Contact your local senior center
Contact your local sports club
Contact your local swimming pool
Ask neighbors and friends
Search YouTube for Exercise Class Tutorials
Check out Trails for hiking trails near you
Check out Meetup for clubs and groups near you
College and University Classes
As a retiree, you can go to college or university for free or in a very cheap way. Many colleges and universities across the USA offer cheap or even free classes when you're 55+, 60, or 65 years older. Often you can attend these classes without earning a degree, and in some schools, you're even allowed to earn a degree.
A lot of states want to encourage older citizens to go back to school, and that's why they guarantee them free or discounted classes at a couple of colleges or universities in the state. The minimum ages and programs vary per state. So when this is something you want to pursue, I advise you to contact your local or state college or university and ask about the possibilities. Or contact your state government about all the free or discounted educational programs that are available for your age.
Check out more information for programs and opportunities per state for senior citizens here.
Language Classes
Another cool thing to do in retirement is learning a new language. There are many beautiful languages out there that you can learn in retirement. And here are just a few to give you an idea and some inspiration:
Fun Languages For Retirees To Learn
Spanish
Italian
Chinese
Sign language
Japanese
Brazilian Portuguese
Quechua (Inca language)
German
French
Hindi
Where To Find Language Classes
There are all sorts of ways to learn a new language. From teaching it yourself from a dictionary, taking classes at a community center nearby to traveling to the country, and taking classes there. Below is a list of ways on how you can learn a new language:
Google "(language class name) near me."
Learn a language abroad (check out school here)
Search for language tutorials on YouTube
Contact your local high school, college or university for language classes
Get an online language tutor via Verbalplanet
Ask family and friends if they know a tutor
Get a total package language course from Amazon (check out here).
Online Classes
Nowadays, you don't have to physically go to a class to learn something new. And you don't need to go to a college or university to earn a degree or get the information you need. The internet is the modern university, and the opportunities and possibilities are endless. And to help you out on where to look for the best online classes, here's a list below.
Best Recourses For Online Classes
Masterclass: learn masterclasses from the best in the world.
Udemy: Shop for On-Demand Online Courses
Skillshare: An online learning platform for people who want to learn from educational videos provided by a practitioner's community. 
Youtube: You can find all sorts of tutorials and interesting videos on Youtube about almost any type of subject. 
Technology Classes
You might want to stay updated when it comes to (new) technology. Having technology skills from knowing how to work on a computer or how to use a smartphone can impact your life enormously. It can make your life more comfortable, more efficient, it keeps you young and updated, and better connected to society. And by being more of a tech-savvy, you understand better what you're grandkids are actually talking about.
You don't have to be afraid to get training on how to use your smartphone, tablet, or laptop, smart TV, and other applications and programs. It will enhance your life for the better, and there are endless fun ways to stay updated with technology, whether you want to learn computer skills or now how to use your new TV.
Where To Learn Technology For Retirees
Ask your kids or grandkids to teach you some new skills or train you in solving your technology problems.
Check your local community center or senior center for classes
Learn yourself via tutorials on YouTube
Check out free technology learning events hosted by AARP
Ask friends, family or neighbors to help you out with the newest technology
House Maintenance Classes
Now that you have the time in retirement, you can take advantage of doing a lot of house maintenance activities yourself. It can save you a lot of money now that you don't have to hire a handyman, plumber, gardener, or other people doing it for you. And with all that money you save, you can spend it on more fun things in retirement.
Educating yourself in house maintenance projects can be fun and cost-efficient in the long run. Whether you just want to learn basic home repairs for your own home. Or you want to learn how to be an electrician or painter and start a new business in retirement as a handyman.
Fun House Maintenance Projects You Can Learn
Painting
Plumbing
Carpeting
Designing
Contracting
Remodeling
Landscaping
Installation
Electricity
Basic home improvement skills
Where To Find House Maintenance Classes
Check out your local hardware store for workshops and classes
Ask handy neighbor or friend to teach you
Search for House Maintenance Tutorials on YouTube
Watch Home Improvement TV Shows
Get inspiration and information from blogs and magazines
Buy DIY Books
Volunteer with Habitat for Humanity and learn on the job
Benefits Of Taking Classes In Retirement
As I mentioned earlier in this article, taking a class in retirement can make you happier and healthier. You provide yourself with intellectual, physical, and social stimulation, and you keep challenging yourself. All the things you need to maintain your health and happiness and enjoy your retirement longer and better.
You grow as an individual by your constant discoveries about yourself and what you are good at.
Improve your overall knowledge and skills.
Challenging your mind has an enormous impact on your brain health and overall well-being. Constant brain stimulation reduces the risk of dementia, and it also improves your memory, concentration, and general problem-solving.
Spending your time doing something you love is better than wasting your retirement days on aimless and not fulfilling activities. Doing something you like makes you feel worthy at the end of the day and gives you a satisfying feeling.
Taking a class gives you new social connections. This can lower your blood pressure and reduce the symptoms of depression and loneliness in retirement.
With exercising regularly, you maintain your strength, flexibility, and endurance. And you enhance your mental health. Your brain releases a protein that will reset your memory neurons. This is the reason why you often feel relaxed and see things more clearly after exercising. And also, endorphins are released in your brain. These endorphins will minimize the feeling of discomfort, will block the feeling of pain, and gives you the feeling of euphoria. So after exercising, you feel happier.
By attending a class, you set a goal, and these goals give you purpose and make you move forward in life.
Gain new experiences, meet new friends, and have more opportunities to have fun.
Feel a sense of fulfillment in life.
Recommended Articles
The following articles might be interesting for you to read as well: