Your mother, grandmother, wife, friend, sister, mother-in-law, boss, or coworker is retiring soon, and you're looking for a funny retirement gift to give her. Well, you've come to the right place! In this article, I share the top 25 most funny retirement gifts for a woman. Check them out below.
Just a heads up, this post contains affiliate links. As an Amazon Associate I earn from qualifying purchases. Purchases you make through these links may earn us a small commission, at no extra cost to you.
1) Crystal Award With Funny Text

She is probably great at something and deserves an award for being her. And retirement is a great time to make fun of someone and give out a Personalized Crystal Award with a funny text. And add a great bouquet of flowers.
Perhaps you have an inside joke at the office, or she has a famous sentence she always uses or a favorite stop word that you can give out an award for. To give you some inspiration check out these with funny text examples:
(Year) The Queen Has Retired
Award For Most Time Serving The Internet
The Neighborhood Watch Award For Knowing Everything About Everyone
(Office Name) Best Sandwich Maker Award
World's Best Prankster Award
2) Funny Wine Tumbler
This funny wine tumbler is the ultimate retirement gift for a woman who loves wine and has a great sense of humor. It's made from 18/8 food-grade stainless steel, and is unbreakable, rust-resistant, and doesn't transfer flavor. It comes with a clear BPA-free lid, reusable straw, and cleaning brush. The perfect funny retirement gift.
3) Bouquet Of Cookies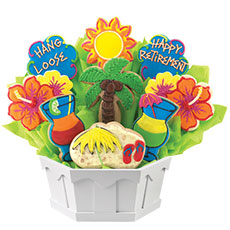 Celebrate her retirement with a nice bouquet of gourmet cookies. You can gift her an arrangement of fresh-baked, hand-decorated sugar cookies with a special note on top. Or you can even create photo cookies with pictures at Cookies By Design. They are the #1 Original cookie bouquet company, have fast delivery, they can even deliver cookies on the same day!
4) Funny iRetired Tote Bag
You can give her this funny Tote Bag with the text: "Retired. And living The Good Life". It's made from 100% cotton and can fit 2.5 gallons. A great retirement gift for a woman who loves to shop. Or use it as a beach bag, library tote, or whenever you need a bag!
5) Funny Retirement Toilet Paper
Give her "Official Retirement Papers" toilet paper as a funny retirement gift. It will definitely make her roll with laughter for the first couple of days in retirement.
6) Funny Photo On Canvas
Get all your family, friends, or coworkers together and create a fun group photo on canvas to give her as a memory at home. You can create a special photo for the occasion, create a photo collection, or select one of her favorite photos to print on canvas. She can reminisce at home every time she sees that photo and be reminded of the good times. Click here to check out their website to get inspired.
7) Cocktail Box for Happy Hour
In retirement, every hour is happy hour ;). And this cocktail box from crate joy is a fun gift to give her for retirement. You can gift a non-renewing cocktail gift box or a monthly subscription for the first months of retirement. In each box, you get three different cocktail recipes, made by top bartenders. It has everything you need to make 12 drinks (4 from each recipe) other than the liquor—syrups, bitters, mixers, garnishes & more. This way she can have some fun in retirement and spice things up with her liquor cabinet.
8) Funny Retirement Make-Up Bag
This Make-Up Bag with text: "You Can't Retire From Being Great" is a perfect funny retirement gift for any woman that puts make-up on. Especially if she is great. It's made from 100% cotton and linen and get's the best ratings on Amazon.
9) Funny Retirement T-Shirt
This funny retirement t-shirt with the text: "I'm Retired and You're Not, Have Fun At Work Tomorrow" is a funny retirement shirt to give to a retiree. You can get this shirt in different colors and sizes. It's made with 100% cotton for comfort and strength. Printed with new-age printing technology to make this item more durable.
10) Funny Retirement Coffee Mug
The ultimate retired feeling is enjoying a nice gourmet cup of coffee in the morning, without the stress of having to rush to work. And this moment in retirement can get funnier when you gift the retiring woman in your life this funny coffee mug with text: "Retired! Under New Management* See Spouse For Details". It's even funnier when you give this retirement gift to your wife.
11) Knitting Gift Box
A career woman wants to stay active in retirement and has probably many big plans for her retirement. And that's why a knit gift box can be a funny retirement gift to give her. Perhaps not what she expects her retirement days to look like, but a lot of women love knitting in retirement. You can make a bit of fun that her retirement days are going to be bored and filled with knitting. Or this gift can be a hit and knitting us a surprising new hobby for her in retirement. Who knows?!
12) Personalized Bean Bag Game
Personalize her favorite game of cornhole. A perfect retirement gift for her to use at home, picnics, tailgating, family reunions, etc. This Bean Bag Game Set comes with two small bean bag toss boards and four opposing blue and red bean bags. It's crafted from pine wood, and both boards latch together for simple and easy transport. You can engrave the name and initial of your choice.
13) Funny Retirement Pillow Case
In retirement, you can nap whenever and wherever you want. So you can gift her this funny pillowcase with front and back print: "Today's Good Mood Is Sponsored By Retirement Naps" and "Retired And Sleeping In Since (Year)". It fits a common bed pillow size of 20inches x 30inches and gets the best reviews on Amazon.
14) Robot Companion Pet
Give her a Robot Companion Pet (cats & dogs available) to have some fun and cuddle time in retirement without any vet bills to worry about. You can make a bit of fun that she doesn't have to get lonely with this retirement gift. You can choose between a furry cat with cat-like movements and purring sounds. Or a golden pup dog with built-in sensors that respond to motion, touch, and your voice.
15) Funny Retirement Apron
If she loves to cook, bake, or bbq. Then gifting a funny retirement apron is always a good retirement gift. She can make fun of others with this kitchen apron with funny text: "I'm Retired You're Not Have Fun at Work Tomorrow."
16) Retired Chick T-Shirt
Another funny retirement t-shirt is this "Retired Chick" T-shirt. Great for a coworker, sister, or friend. It's a classic fit type that comes in 5 different colors: white, blue, pink, grey, yellow, and pink.
17) Funny Retirement Book
This funny retirement book is a great gift for any retiree out there. Whether she has big plans for retirement or needs help and inspiration to fill her days. This book has 101 fun things to do in retirement that helps any bored retiree.
18) Funny Retirement Socks
If donuts are her thing. Then this the ultimate funny retirement gift for her. These funny donut socks come in so many different colors and are made from a super soft blend of 5% elastic, 10% spandex, and 85% cotton.
19) Funny Wine Glass
This funny wine glass is the perfect retirement gift for a wine lover and a grandmother. If she has plans to see or babysit her grandkids in retirement a lot, then this is the best retirement gift out there for her. It's a 21oz Large stemless wine glass with the funny text: "Retired. Under New Management. See Grandkids For Details".
20) Funny Tumbler Mug
The Queen Has Retired Mug is a perfect retirement gift for any woman. It's a 20oz stainless steel double-wall vacuum-insulated tumbler mug that keeps her drinks cold or her coffee or tea warm for a long time. It comes with stainless steel straws with BPA free silicone muzzle.
21) Drunk Confidence Party Game
If she loves to host games nights then this Party Game is the perfect retirement gift for her. Drunk Confidence Game is an easy game to play and includes 250 cards with a mix of challenges that range from fun pop culture to singing, to a little history trivia, to hilarious random acts. Alcohol is not required to play the game but it will get a lot more fun.
22) Wine Making Kit
If she is a wine lover you can gift her something delicious and something fun to do in retirement with this fun wine-making kit. She can make her favorite Merlot or California Cabernet Sauvignon. She can make a lot of wine! Up to 6 US gallons of wine or approximately 30 x 750 ml bottles. It includes a wine base, yeast pack, fining agents, and 30 labels.
23) Funny Retirement Coloring Book
Many retirees swear by coloring. It helps to relax, unwind, and destress. And make coloring even more fun with this funny coloring book for adults with stress-relieving patterns and illustrations.
24) Funny Retirement Journal
Journaling is a great mindfulness activity that helps to be present, regulate emotions, and creates a greater sense of confidence and self-identity. But journaling gets a lot more fun in retirement with this hilarious gratitude journal for tired-ass women. It's designed to find a way to laugh at the crazy and hectic days of life in general. It's a fun retirement gift for any retiring woman.
25) Funny Beer Mug
If she loves a nice cold beer, then this Funny Beer Mug is the ultimate funny retirement gift for her. It's a 15 oz beer mug with the text: "This Beer Tastes A Lot Like I'm Not Going To Work Tomorrow".
Recommended Articles
If you liked this article, you might want to read these other articles: