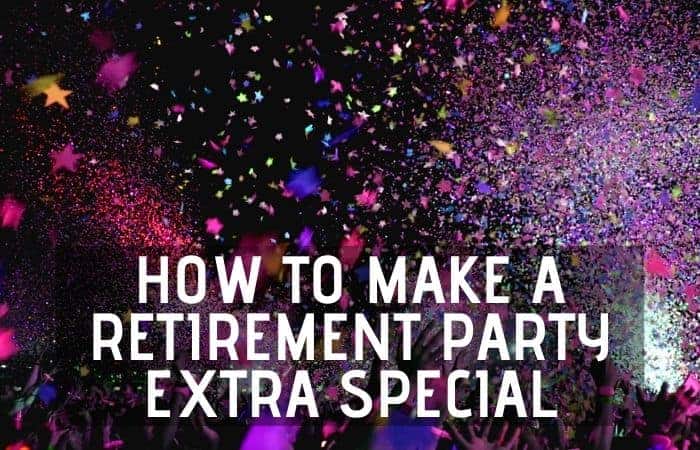 You're hosting a retirement party, and you're looking for ideas and tips to make this retirement party extra special. Well, you've come to the right place!
I've helped organize multiple retirement parties, and I've researched many hours to find the best ideas to make a retirement party extra special, so continue reading.


---
1) Pick A (fun) Theme
You can pick a theme to personalize the retirement party. The theme can be related to the retiree's favorite movie, artist, hobby, travel destination, season, or time period (the '60s, '70's, '80s, etc.) Or a theme related to the birth year of the retiree or the starting year of the retiree's career can also be a fun thing to do.
2) Send Out Customized Invitations
The personalizing details are what make a retirement party extra special. "It's all in the details." And that also counts for the invitations. If you want a themed party, you can customize the invitation, so it fits the theme as well. Or, if you picked out a specific venue for the party, you can incorporate details of the venue into the invitation.
There are different ways to send out invitations, and here are a couple of ideas:
Send a video: For example, Save the Date Trailer or Announcement
Send a postcard (if the retiree loves to travel)
Email invitation (informal and e-friendly)
Paper invitation (more formal)
It depends on the type of retirement party and the personality of the retiree, which invitation form is most suitable.
It's best to send out the invitations at least 3-4 weeks before the retirement party date to make sure many people can attend. And if you want to make sure everyone attends: send the invitations out as early as possible.
When you're not sure who to invite? Read my article: Who To Invite To A Retirement Party: Etiquette Guide.
3) Choose A Unique Venue
The venue creates the vibe and the setting for the party, so it's important to know what kind of party you want to organize. So you can make it extra special.
Is it a brunch, lunch, dinner, drinks, or dance party?
Is it a small social gathering with only friends and family? Then you can consider planning it at home. And when you don't want the hassle at home and want to invite a lot of guests, then perhaps you can organize it at a nice restaurant or party venue.
If the retirement party is at the office? Then you need to decorate a bit more to create a celebration vibe.
Also, the venue you choose depends on the budget, how many people you want to invite, and what the wishes of the retiree are.
To make it extra special, you can check for locations that are related to the retiree's personality, hobbies, and favorites.
Venue ideas
Favorite restaurant
Wine Estate
Sports Venue
Beer brewery
Garden
Zoo
Theme park
Campsite
Favorite pub
Swimming pool
Festival
Castle
Historical Venue
Read more: 40 Great Venues Ideas For A Retirement Party
4) Add Party Decorations
There are so many fun decorations to make a retirement party extra special. And I've selected a couple of items below to help you out.
Retirement decoration ideas
Retirement Advice and Wishes Cards
Happy Retirement Wine Bottle Labels
Happy Retirement Plates and Cups Pack
To personalize the retirement party, you can include details of the retiree's hobby, interest, or plans for retirement. For example: if he or she likes golfing you can decorate the party with golf details. Or if he or she is planning on traveling in retirement, you can decorate the retirement party with travel details.
5) Host A Party Game
A fun thing to do at a retirement party is to host a game to honor or make fun of the retiree. It's a great way to pass the time and let people engage with each other in a fun way. Not everyone knows each other at a retirement party, and doing a fun game will make people engage more with each other. And can be an excellent party booster.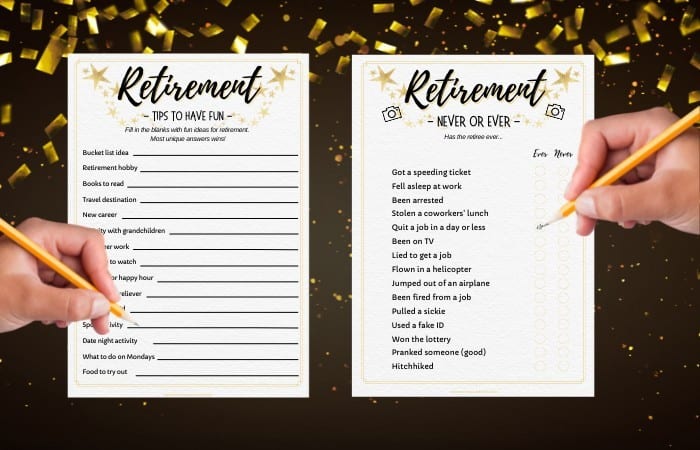 #1 Secret To A Retirement Celebration Success!
I discovered the secret to a retirement celebration success: fun party games.
And that is why I have created a printable Retirement Party Game Bundle with 10 amazing party games. The perfect addition to any retirement celebration.
Just download, print, and play!
6) Host A Quiz
Another way to honor the guest to host a quiz with personal trivia questions about the retiree. You can divide the guests into different teams and let them answer personal questions about the retiree. To create a good quiz, you can collect facts from friends, family, and co-workers.
It's best to create teams with a mix of gusts (co-workers, friends, and family) so every team can answer questions in each part of the retiree's life. And depending on the crowd, you can make it as difficult as you want and give out a small prize to the winning team. You can give the retiree as the one who is the judge and gives the correct answer.
Quiz question ideas
Amount of working years
Amount of working years at a specific company
Different job positions
First official job of the retiree
Name of first pet
Most favorite travel destination
Name or age of (grand)children
Retiree's hobby
My Retirement Party Game Bundle includes the Who Know The Retiree Best Quiz. You only have to download, print, and play and you're ready to go.
7) Create A Tribute Video
A great way to surprise the guest of honor is to show a video you made (together with others). It's very easy to create a video nowadays with your smartphone or tablet. And it is not a lot of work as I will explain in my article: How To Create An Awesome Retirement Tribute Video
Retirement Video Ideas
compilation of messages & well wishes for the retiree
music video of retiree's favorite song
compilation of retiree's career highlights
compilation of photos with music
create a retirement "movie" trailer
Answers to the same 3-5 questions. For example, Favorite memory, the funniest moment, what they love about the retiree, etc.
Make sure to organize a big TV screen or beamer with speakers so you can show the video in high-quality to the retiree and guests at the party.
8) Do A Flashmob
You can surprise the guest of honor at the retirement dance party by doing a flashmob with all the guests. Perhaps, the retiree has a favorite song, and you discuss it with the DJ of the party to play that song at a specific time. Before the party, you send all the guests instructions and a video with the choreography of the song. So everyone can practice the dance beforehand.
You don't have to be a dancer to do a flashmob, the success of the flashmob is the number of people that participate. The more people, the better.
It's a great way to honor the retiree and have fun too. And you don't need to choreograph a dance yourself, there are many tutorials on YouTube for all kinds of famous songs. So you can pick a song online that the retiree loves too and share the instruction video with the guests.  
9) Give A Photobook
The best gifts in life are gifts filled with memories. So walk down memory lane and give the retiree a photobook at the retirement party. You can collect (old) photos from co-workers, friends, or family and ask them to write a couple of wishes, anecdotes, or a little note to make it even more special.
10) Give The Perfect Retirement Gift
To make a retirement party extra special, you can give a great retirement gift to the retiree. And the best retirement gifts are gifts that match the retiree's personality, hobby, or plans for retirement. You give a gift that is related to their career, a gift they can keep as a memory, or a gift that helps them to enjoy their life in retirement.
Best Retirement Gift For Him
The BroBasket is the best retirement gift for him. You can create an amazing (custom) gift basket for him with his favorite alcohol and snacks. From Whiskey, Vodka, Tequila, Scotch, Gin, Rum to (craft) Beer, and engraved gifts. Check out all the BroBaskets and boozeless Gift Baskets.
Best Retirement Gift For Her
A Wine Gift Box from The California Wine Club is the best retirement gift for her. You can gift a Wine Box or a monthly subscription with delicious and handcrafted award-winning wines from (small) family wineries.
11) Host A Speech
A great way to honor the retiree at a retirement party is to give a speech. You can tell a funny story, anecdote, or highlight his or her successes in retirement. To learn about giving the best retirement speech, you can read my article: 13 Tips On How To Give The Best Retirement Speech.
12) Give Party Favors To Guests
People will never forget the parties that made an impression on them. And to make a retirement party more memorable, you can give your guests fun party favors as a gift to bring home. This way, they will be reminded for the next couple of days or weeks about the fun they had.
The party favors you give to guests can also be aligned with the party theme or is related to the retiree's plans in retirement. And by giving away party favors, you thank guests for attending the party and being part of an important life celebration of the retiree. Check out these party favors below.
Retirement Party Favor Ideas
Retirement Party Favor Mini Boxes
Retirement Party Favors Tic Tac Labels
13) Host A Roast
If the retiree is always doing pranks and making fun of other people. You can pay him or her back at their retirement party with a roast. It's the perfect way to honor the retiree and have some fun too.
Make sure the retirement party is suitable for a roast: will the retiree love it? Will the guests enjoy it, and is it appropriate for the kind of party? If you can answer all these questions with a 'YES,' then start planning the best roast ever.
When you plan a roast, it's best to ask a couple of more people to accompany you in the roast. Preferably from different areas in the retiree's life: co-worker, friend, family member. Especially if the retirement party crowd is a mix of different people too. This way, the retiree and the guests will get to watch a full-on roast from every aspect of the retiree's life. This way, everyone will be more engaged, and it will make this retirement party one to remember.
Tips for a good roast
Ask a maximum of 4 people to roast the retiree
Create an area where the retiree is in the center of attention and is visible for everyone in the room
Estimate how funny each roast will be and schedule the order of speakers from funny to the funniest. You want the most hilarious person to be the last one and to go out with a bang
Each roast no longer than 5 minutes. Keep it short, funny, and interesting for everyone. Preferably a roast should not take longer than 20 minutes. So you won't take up to much time from the party.
If it's necessary, mention the no-go topics to all the speakers beforehand. Sometimes very sensitive subjects are best excluded from a roast. You want to make it fun, and a roast is also allowed to be a bit embarrassing, but you don't want to humiliate anyone.
Make sure the retiree has the last word. Perhaps, he or she can come up with a couple of jokes last minute to end the roast. Or take this moment to give a speech.
Do a soundcheck beforehand, and make sure the audio is loud and clear everywhere in the venue. To make an audience laugh, they need to hear the jokes.
14) Sing A Song
Another way to make the retirement party extra special and to honor the retiree is to sing a song. Perhaps, there is a talented singer within the retiree's circle of friends, family, or co-workers who can sing a beautiful song.
Or you can collectively customize the lyrics to a famous melody to sing a song about the retiree to the retiree at the party. You can write the lyrics, print it out, and hand them out to all the guests at the party so everyone can sing along.
If the budget allows, you can hire an artist to sing a couple of the retiree's favorite songs. Or you can get a karaoke machine to make it a blast with all the guests at the end of the night.
15) Wear Costumes
To make a retirement party one to remember, you can ask guests to wear costumes. If you have a themed party, you can write in the invitation that guests have to wear a themed costume. Or you can also surprise the retiree if everyone dresses up as a retiree. Perhaps, he doesn't even notice it at first.
Retirement Party Costume Ideas
All the guests wear black and the retiree white (or different color)
All the guests wear white with one color accessory details
Dress up as the retiree's job position
Guests dress up in the retiree's favorite hobby
16) Order or Bake A Retirement Cake
A retirement party cannot go with the cake, right? So, if you love baking, you can bake a retirement cake by yourself for the retirement party. Or you can make it easy and order a cake.
Even with the cake, you can incorporate the theme of the party on the cake. Check out a nearby bakery that can help you out and customize the best retirement cake. You can also put a funny photo of the retiree or a text on the cake.
Read more: 90+ Retirement Cake Saying Ideas
17) Create A Snack/ Drink station
Depending on what kind of retirement party you're planning, for example, lunch, brunch, dinner, or BBQ? You can add extra details by creating an additional snack station with the favorite cravings of the retiree. Or a drink station everyone at a party will love.
Snack or Drink Station Ideas
Mimosa Bar
Mojitos station
Candy Station
Nacho Station
Taco Bar
Chili Bar
Special Beer Tap
Coffee Bar with cookies and muffins
DIY (do it yourself) Waffle bar
Margharita Bar
DIY Hamburger Station
Wine and Cheese Station
Oyster Bar
Champagne Station
Make sure you take allergies into account and have a nonalcoholic alternative.
18) Rent A Photobooth
After a great party, you want to go home with a cool memory. And a photo booth is a fun way for people to take (funny) photos with the retiree and each other and bring home a memory of the party.
You can even collect all the photos from the booth and create a photo collage or book and give this as a retirement gift to the retiree later. And to make the photos at the party extra special, you want to organize funny retirement photo booth props.
19) Create A Signature Cocktail
As a stylish extra at the retirement party, you can create a signature cocktail to honor the retiree. Perhaps, he or she has a famous quote that you can use to name the cocktail. Or use the retiree's first or last name to incorporate with a famous cocktail name. For example, Tina Colada.
20) Have An Unique Welcome Drink
The best parties have a great start. And to set the right mood for the rest of the party, you can have a delicious welcome drink. This can be a glass of champagne, a self-made cocktail, refreshing lemonade, or a healthy smoothie.
With a welcome cocktail, you create a setting to make a toast or speech and let the guests and the retiree know what to expect during the party. And everyone will toast and be in the same momentum, which is always a great start to any party.
21) Create A Fun Party Playlist
When you have music at the retirement party, you can add fun party songs to the playlist. This can be the retiree's favorites, guilty pleasures, or songs related to retirement.
Retirement Song Ideas for Playlist
It's Five O'Clock Somewhere – Jimmy Buffett
Margaritaville – Jimmy Buffett
Come Monday – Jimmy Buffett
Another one bites the Dust – Queen
Go Your Own Way – Fleetwood Mac
The September of my Years – Frank Sinatra
Working Nine to Five – Dolly Parton
Walk Of Life – Dire Straits
Hit The Road Jack – Ray Charles
Stayin' Alive – The Beegees
Fun, Fun, Fun – The Beach Boys
I've Had The Time Of My Life – Bill Medley, Jennifer Warnes
We Gotta Get Out of This Place – The Animals
Young at Heart – Doris Day and Frank Sinatra
Vacation – the GoGos
My Generation – The Who
California Dreamin' – The Mamas & The Papas
22) Have A Party Guestbook
You can leave a guestbook at the retirement party for people to fill in their contact details and best wishes for the retiree. This way, you'll have an extra gift to give the retiree so he or she can keep in contact with people in retirement.
23) Rent A (slo-mo) Video Booth
You can rent a slo-mo video booth to make funny slo-mo videos. And make it extra special by hanging up a cool backdrop and adding funny props the guests can use in the videos. Personalize it even extra by using only props that are related to the retiree (hobby, favorite clothing, sport, food, etc.). Collect all the videos and edit them into a fun retirement after-movie.
Video Booth Props
24) Organize 1-minute Toasts
If you're with a small group of people at the retirement party, you can ask guests to give a 1-minute toast to honor the retiree. And because you ask everyone to give a toast and to keep it short, guests are more likely to say something. And it can give the retiree the extra feeling of being appreciated and loved, which makes the party one to remember forever.
25) Do A Group Activity
When you like to have a more active retirement party, you can plan to do a group activity. And here are some activities you can do together during or before the start of the retirement party:
Music lesson (ex. learn to play djembe)
Scavenger hunt
City Tour with a tour guide
Art class
Cooking class
Improvisation Workshop
Make your own short movie
Go to a sports game
Have a mystery dinner
Laser tag
Escape room
Pictionary
26) Arrange Flowers & Centerpieces
Flowers can set the tone for a party. You can arrange beautiful centerpieces with flowers on the (dining) tables of the retirement party. Or decorate the walls, food station, cocktail bar, and gift table. You can use beautiful real flowers or artificial flowers.
27) Make A Group Photo
You can make a group photo at the retirement party with all the guests. And use this photo to send to all the guests as a thank you and party favor. And you can print the photo on canvas and give it to the retiree as an extra gift after the retirement party
28) Hand Out Single-Use Cameras
Go old-school and hand out single-use cameras at the retirement party. Guests can get creative by taking photos during the party of all kinds of scenes. You'll get more funny and original photos this way. And it's an extra surprise when you get the photos developed later on.
You can use the developed photos to give as an extra gift to the retiree. Or get a little bit more creative and create a photo book of all the photos of the retirement party or create a photo collage on canvas from the funniest photos of the party.
29) Hire A Videographer Or Photographer
If you want the retirement party to be documented, you can consider hiring a photographer or videographer. Perhaps, important family members can't attend the retirement party, and you want to create an opportunity for them to experience the celebration later on.
Or you want to give a photobook or edited video of the party as a gift later or keep as a sweet memory for yourself to watch in retirement.
You can consider hiring a professional if the budget it allows, or you can ask a (talented) family member or friends to take photos or videos.
Another way is to collect all the videos and photos the guests make during the party. And create something cool with all the footage from the party. Nowadays, everyone records videos and takes pictures, and this way, you don't have to hire a professional.
30) End With Fireworks
To go out with a bang and make the retirement party extra memorable, you can end it with fireworks. If the budget and venue allow, you can go for a professional firework show. Or you can use more low-cost options like sparkling sticks, Confetti Cannon Poppers, fiber optic wands, Multicolor LED Foam Sticks, or Glow Sticks. To send the retiree off into retirement.
Thank you for your support: Please note that the links in this article are affiliate links. When you make a purchase using these links, we get a small commission at no extra cost to you.