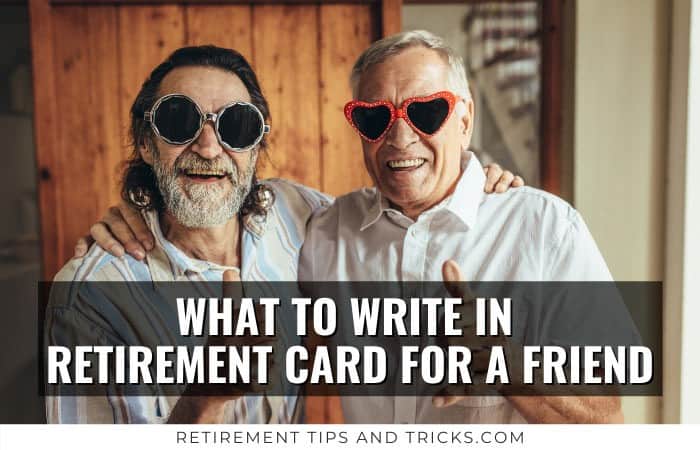 ---
Your friend is retiring soon, and you want to write the best retirement card. But what to write on a retirement card for a friend?
In the retirement card for your friend you can write;
Happy Retirement or congratulations on your retirement!
I wish you a lot of health and happiness in the future.
May your wildest dreams come true.
You deserve to enjoy your retired life to the fullest.
Make this the best chapter of your life.
I'm proud of you.
And you can do this in a lot of different ways: a light-hearted, inspirational or funny way. That's all up to you.
Discover 3 Secrets to wishing HAPPY RETIREMENT perfectly!
Join my newsletter and receive these secrets as a welcome gift.
Light-hearted Messages To Write On Your Friend's Retirement card
#1 Happy retirement! May your future include more of the things you enjoy and none of the things you don't!
#2 All your hard work has finally paid off! Enjoy having the time to do all the things you've always wanted to do. Happy Retirement!
#3 Life after retirement is like the second innings of life. Reward yourself with a great and joyous vacation that you always craved for. Happy Retirement!
#4 Wishing all the very best on your retirement. May you have a healthy and happy life with your friends and family!
#5 As a chapter closes in your life, and a new one starts for you, may your years be filled with all the things you're looking forward to. Congratulations on your retirement!
#6 Wishing you a new journey of success and happiness in this phase of your life. May you be showered with abundant opportunities to do what your heart desires.
#7 Stay young at heart, kind in spirit, and enjoy retirement living!
#8 Happy Retirement! The day you finally stop working and start living!
#9 Don't act your age in retirement. Act like the inner young person you've always been! Happy retirement!
#10 Retire: Relax Entertain Travel Indulge Read and Enjoy
#11 Wishing you much joy and happiness as you begin a new chapter in your life!
#12 Congratulations on your retirement, now the fun really begins!
#13 You know all those things you've always wanted to do? You should go do them! Congratulations and enjoy your retirement!
#14 For the dedication and hard work you deserve the best retirement ever. Enjoy this journey of your life. Cherish every moment and have fun!
#15 As you reach this time in your life, may you find joy in remembering past success and happiness in pursuing new hopes and plans.
#16 Best wishes for an awesome retirement. Keep working hard, but be your own boss!
#17 Happy retirement! Time to stop lying about your age and start lying around the house!
#18 Hope your retirement is perfectly grand, with lots of good luck in the things you've planned. And hope that the years will bring you happiness, too, and all that is best, especially for you.
#19 May your retirement be filled with many new adventures, meaningful moments, and much happiness. Happy retirement!
#20 As you go into the next phase of your life, may you enjoy the very best that life has to offer!
#21 Retirement marks the end of working for someone else and the beginning of living for yourself. Congratulations and I wish you a happy retirement!
Funny Messages To Write On Your Friend's Retirement Card
#22 What do you call, someone, who is happy on Mondays? Retired! Congratulations on your retirement. Enjoy your happy Mondays, Tuesdays, Wednesdays, Thursdays, Fridays, Saturdays and Sundays!
#23 Retirement: The pay sucks, but the hours are great! Happy Retirement!
#24 Uh oh. Someone's about to have too much free time on his/her hands. Enjoy your free time! Happy Retirement!
#25 When 'I'm too old for this shit' becomes your daily mantra, you know it's time to retire. Hope you enjoy all the adventures you have ahead of you. Happy Retirement!
#26 Retirement: The time when you realize that getting showered and dressed in the morning is now optional. Congratulations on your stinky retirement!
#27 Bye Bye Tension, Hello Pension. Happy Retirement!
#28 Retirement is figuring out how to spend time without spending money. Happy Retirement!
#29 You can't teach an old dog new tricks, but you can put new tires on an old car. That's what you're doing: re-tiring. Happy Retirement!
#30 Congratulations! Now your only job is to have fun – and I know you're a real pro at that. Enjoy your retirement!
#31 Young at heart. Slightly older in other places….. Congratulations!
#32 Retirement is like a long vacation in Las Vegas. The goal is to enjoy it to the fullest, but not so fully that you run out of money.
#33 Made your mark, Paid your dues, now put on your party shoes!
#34 Warning: Retired person on-premises who knows it all and has plenty of time to tell you all about it.
#35 Retirement is waking up in the morning with nothing to do and by bedtime only done half of it. Congratulations on doing nothing! Happy retirement!
#36 Behind every retired man is a wife wishing he would go back to work. Happy retirement!
#37 Congratulation you're now retired! Now every day is Saturday!
#38 You're currently unsupervised. I know it scares me too. But the possibilities are endless. Congratulations and enjoy your retirement!
#39 Congratulations on gaining two new best friends upon your retirement. Their names are Bed and Couch. You will be hanging out with them a lot.
#40 Congratulations on extending your weekends by 5 days!
#41 Retirement is great – you can finally do nothing without being worried about getting caught.
#42 Happy retirement… think of it as a six-month holiday, but twice a year.
#43 You are a person I really admire because you are a person who gets to retire.
Want to give your friend a nice gift basket as a retirement gift? Check out 25 Fantastic Retirement Gift Basket Ideas.
Inspirational Messages To Write On Your Friend's Retirement Card
#44 After climbing the mountain, you finally can enjoy the view. Congratulations on your retirement! Enjoy the amazing view!
#45 The days of nine to five are passed, happy days are here at last. You've worked all your life and paid your dues. Now you do what you choose. Enjoy your retirement!
#46 Retirement is a time to look back with satisfaction; it's a time, to look ahead with anticipation; and it's time to fill each day with enjoyment. Congratulations on this special time in your life! Happy retirement!
#47 Congratulations on your retirement! Start listening to your heart; it's the best gift you can give yourself when you retire.
#48 Retirement is not the end of the road; it's the beginning of the open high way! Congratulations and enjoy your retirement road trip!
#49 Retirement: a time to look back with admiration, a time to look forward with anticipation. Congratulations on your retirement!
#50 Don't retire with regrets on what you couldn't do. Retire with ambitions of what you will do now. Happy retirement!
#51 For many, retirement is a time for personal growth, which becomes the path to greater freedom.
#52 Retirement is a time, for feeling glad to be alive, a time when friendships blossom and enthusiasm thrive. A chance to do the special things you wished you could. Retirement is a special time for knowing… life is good! Congratulations on your retirement!
Looking for a very unique retirement gift for your friend? Make sure to check out my article 35 Very Unique Retirement Gifts For Him And Her.
Retirement Gift Ideas For Your Friend
Along with a retirement card you might want to give your friend a great retirement gift as well. And the best gift for retirement is a gift that matches your friend's personality, hobby, or plans for retirement. Or something he or she enjoys. I lined up some of the best and most popular retirement gift ideas.
The Gift Of MasterClass
So, I started this article with our no.1 gift for retirees. The Gift Of MasterClass. If you would like to give your friend something fun to do in retirement while learning from famous teachers, writers, athletes, scientists, and chefs in the world? It's time to Gift your friend The Gift Of Masterclass.
Just to name a few classes: Aaron Franklin teaches Texas-Style BBQ, Martin Scorsese teaches Filmmaking, Dr. Jane Goodall teaches Conservation, Christina Aguilera teaches Singing, Ron Finley teaches Gardening, Jimmy Chin teaches Adventure Photography, Serena Williams teaches Tennis, Dan Brown teaches Writing, and so many more fun classes (for any skill level). Learn more about these courses and give an Annual Membership for Masterclass to your friend.
Retirement GiftBox California Wine Club
Do you often have some drinks together with your friend? Wouldn't it be perfect to go winetasting together? A Wine Box From The California Wine Club is the perfect retirement gift when your friend is a wine lover.
You can buy some of the best Californian Wines for tasting or give a subscription to the California Wine Club, so you can taste the best wines throughout the year.
Best Retirement Gift For Him
Playing Golf is a popular activity for retirees. A perfect git for him is a golf-related gift basket. This gift basket that is available on Design It Yourself Gift Baskets is the one you want to get as a golf gift basket. The gift basket comes with funny golf accessories like;
Practice Whiffle Balls
Tee Holder Plus
Get Ballzee Ball Cleaner -2 Pack
Stinger Golf Tees
Longshot Impact Tape
Neoprene Koozie with water
Golf Ball & Shoes – Picture Frame
It's the perfect gift basket both for an experienced golfer and a beginner!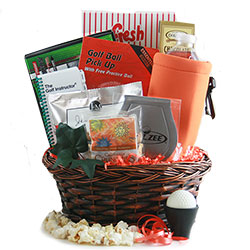 Best Retirement Gift For Her
A great retirement gift for her is a gift basket filled with products to help her enjoy life and relax in retirement. And a great retirement gift basket is this Gift Basket from Design It Yourself Gift Baskets filled with your choice of wine or champagne and paired with an amazing collection of essentials and savory snacks. It's also possible to customize a gift basket that fits her personality best. Check out more gift baskets for her here.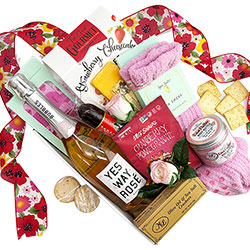 Fun Retirement Gifts
When your friend has travel plans in retirement, you can give him or her a travel gift. Or when he or she loves to golf, you can give him or her a golf watch. Or when you want to make fun of your friend, you can give a funny retirement t-shirt or a cool coffee mug.
Here's a listing of my favorite funny retirement Gifts on Amazon.
Related Articles
The following articles might be interesting for you as well:
Related Questions
How much money should you give for a retirement gift? With retirement, it's not expected to give a gift, but it is good manners. Especially when you are close or are invited to a retirement party. On average, people spend between $10 – $100 on a retirement gift depending on the relationship they have with the retiree. It's best not to give money but to give a gift that matches the hobbies, passions or future retirement plans. Check out The 77 Best Gifts For Retirement
How do you celebrate someone's retirement? You celebrate someone's retirement by Plan a retirement party, Give a speech, Give a presentation about the retiree's career highlights, Create a (funny) video Create a photo or scrapbook, Organize a flashmob, Give a thoughtful gift, Give a card with best wishes, Give a (company) award. Read our article: How Do You Celebrate Someone's Retirement to get more inspired.