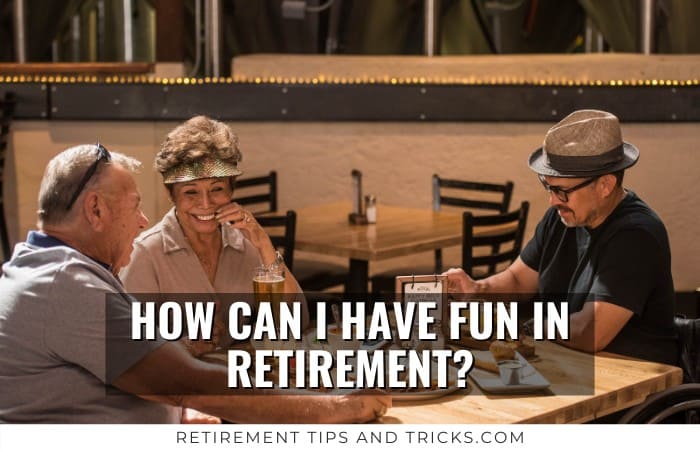 Now you're retired you might ask yourself: how can I have fun in retirement? Well, you have come to the right place! In this article, I've listed 30 fun things to do in retirement to give you inspiration and ideas for your fun retirement days.
You can have fun in retirement when you find something you enjoy doing. Having fun is a thing that makes you lose track of time, and you can never get bored of it. You'll get in a state of flow and are living in the present moment. For many retirees having fun means having a hobby, doing volunteer work, or spending time with family.
Are you ready to learn more about how you can have fun in retirement? First, I'll share an inspirational list of fun activities you can do as a retiree. At the end of the article, I'll explain more about what it means when you reach a flow state of mind, what other people call the optimal way of having fun. Ready to learn more? Let's dig in!


---
1) Create A Retirement Bucket List
A bucket list is a list with all the things you always wanted to do, places in the world you want to see, and things you want to experience before you die. To make more fun in your retirement, you can start creating your bucket list and have fun with all the experiences your list has in store for you.
When you're looking for some inspiration for your Bucket List, I recommend reading my article, 101+ Ideas For Your Retirement Bucket List.
A fun way to make sure you actually are going to do the activities on your bucket list is by creating a list on a chalkboard and stripe of at least one activity a month. It's also a great activity to do with your spouse! You can both create a bucket list, and each month choose an activity of each other's bucket list. I'm sure you'll have some fun together!
This magnetic chalkboard available on Amazon is easy to use. You can put it on your fridge, so you'll see your bucket list multiple times a day. A perfect way not to forget about your favorite activities!
2) Visit Your Family And Friends
As a retiree, you've got a lot more free time than when you were still busy working. You can use this time to visit friends and family you didn't see for a long time. Or just visit them more often.
Retirement is perfect for spending more time with the people you care about. Even if you didn't see them for a while, it's often lovely to catch up. Maybe you have family or friends who live far away and know that you're retired you finally have the time to visit them.
3) Take A Class
It might be something on your retirement bucket list. Or maybe you just always wanted to take a new class and learn some new things. Being retired is the time to do this!
Did you know that many colleges and universities in the United States offer discounted or even free classes for seniors and retired people? A great opportunity if you want to go back to college again! You can find a useful list of applicable colleges here.
Another great way to take classes is to go online. Ever heard of Masterclass? It is an online video education program, where you can take all kinds of courses. And the teachers? They happen to be the most successful, and famous people in the world!

Some famous teachers on Masterclass are Gordon Ramsey, Aaron Franklin, Tony Hawk, Kelly Wearstler, Dr. Jane Goodall, Martin Scorsese, Timbaland, Neil deGrasse Tyson, and many others. They all teach a course in the discipline they're famous for.
There are more than 100 courses available! The courses have an average of 20 video lessons per course, 10 minutes per video. You can download the videos to your device and watch them offline. The perfect way to combine having fun and learning new things!
4) Start Writing
Retirement is also a perfect time to do some reflection. A great way to look back at your past experiences is by writing down your memoirs. It might even be the start of a family tradition, where your children and maybe grandchildren can contribute with their stories.
If you love to write but don't want to write your memoirs, but just some stories, that also awesome to do! Be creative, and just do what feels good. It's all about having fun in retirement!
When you're eager to start writing but unsure how and where to start, following a writing Masterclass can be a perfect help. The Masterclass platform I told you earlier about offers several writing courses that can help you to improve your writing skills. Start by following a MasterClass from Margaret Atwood, famous for writing the best-selling novel, The Handmaid's Tale.
5) Become A Mentor or Coach
As a retiree, you probably have a lot of experience to share. If you want to spend time helping others, you might want to become a coach or mentor for other people. Depending on what you did in your life and career, you can become a professional coach and help others with their career choices. Or maybe you're more interested in becoming a life coach and help other people succeed in life and make the choices that fit them.
Becoming a mentor or coach can be time-consuming, so if you want to do this in retirement, make sure that it doesn't take up all your time. It must be a fun activity to do. You probably have many other things to do as well. However, coaching other people is also a fulfilling activity.
6) Stay Physically Active
I truly hope that you can spend many happy and healthy years as a retiree. However, when we get older we all get more and more age-related health issues. Sometimes small, and sometimes bigger. And often there's nothing we can do about it. But according to the CDC, we can control our physical activity. The CDC says that staying physically active, is related to avoiding health issues that come with age.
So, make sure that you follow at least their recommendations when it comes to physical activity. You can also decide to combine the minimum requirements with some fun activities in retirement, like swimming, playing golf, and hiking.
If you're looking for inspiration on how you can stay active, I recommend reading my article, How Can I Stay Active In Retirement?
7) Perform A Random Act Of Kindness
A random act of kindness is a selfless act to either help or cheer up a random stranger for no reason other than to make people happier. And making other people happy will also make you happy.

Examples of random acts of kindness are: Help a child or older person cross the street, water your neighbor's lawn/flowers, insert coins into someone's parking meter, buy flowers to hand out on the street, leave positive notes on people's cars or anything you that will make someone else happy.
Another fun idea is to give these cards to people you randomly meet on the streets. Receiving a motivational card can make someone's day very special!
8) Be A Host
Take the initiative to entertain, and invite friends or family over for dinner or something else. Like game night, karaoke night, or wine tasting. Or you can become a host on Airbnb and rent out an extra room to travelers. This way you meet new and fun people just by opening your doors.
Of course in recent times, because of Covid-19 restrictions, it can be difficult to invite friends and family members over for a game night. However, there are great alternatives like organizing a virtual game night. Or when you're with a small group, you might be able to invite your friends after all.
9) Stay Socially Active
Earlier I told you about the importance of staying physically active in retirement. It's also important to keep up with your social activities. Many people find it challenging to have enough social activities when they're retired often because a lot of their social contact was work-related.
Staying socially active is also related to many health benefits. According to this article on Harvard Health Publishing, seniors who are having many social interactions, are often having a more active lifestyle.
If you have a broad social circle, it often means more opportunities to plan fun things in retirement.
When you find it challenging to keep up with your social interactions, I recommend reading my article, How Can I Stay Socially Active In Retirement?
10) Go To A Comedy Club
Find a comedy club nearby and plan a fun night out alone, with friends or your spouse. An evening filled with laughter is always fun.
You can also watch comedy at home with your spouse, for example via the channel CBS that offers the best comedy shows you can stream whenever you want!
11) Rekindle Your Relationship With Your Spouse
Now you have more time to spend with your love. You can make an effort to rekindle your relationship. You can revive your relationship by planning a date night, set up a treasure hunt, or go the extra mile and even get re-married!
12) Plan An Adventure Trip
Nothing can be more fun than an adventure trip, and sometimes half the fun is planning on where to go and what to do. We are full-time travelers, so we can highly recommend going traveling a retirement. So if you're interested to travel in retirement, get yourself the best travel gear out there and go on an adventure.
I wrote several inspirational travel articles, that you might find interesting;
13) Organize A Surprise Party
If you like to organize and make others happy, then hosting a surprise party is a fun thing to do in retirement. You can wait for a special moment or date that is coming up or just plan a surprise party because you feel like it.
14) Do Volunteer Work
One of the most popular and fulfilling things to do in retirement is to do volunteer work. You can have fun while helping others in need. Check out Volunteer.gov for volunteer jobs near you.
Many retirees decide to start with volunteering because they want to help out in their local community, now that they have more time. Volunteering is a great way to help others and also can help with staying more socially active in retirement. You probably meet a lot of new people when you start volunteering.
If you want to start as a volunteer, but eager to know more about it, I recommend reading my article, Why Do Retirees Volunteer?
15) Become A Coach Of A Sports Team
If you like sports, then you can consider becoming a coach. Maybe your grandchildren play sports and need a coach for their team. You can become their coach. Or look for clubs near you that are looking for coaches.
16) Start with Cooking
If you love to cook then cooking unusual recipes can be a fun thing to do in retirement. When you're looking to get inspired and want to improve your cooking skills, a great way to do so is by following a cooking class on MasterClass. The online education platform offers many different cooking classes that all help you to become a better cook.
A few of the popular cooking classes available on MasterClass are:
17) Test Drive Your Favorite Car
Ok, so maybe you're not planning to buy a car, but that doesn't mean you can't have fun test driving it. Go to the nearby car dealer and take a spin behind the wheel of your favorite car.
Always wanted to drive a Ferrari? Sign up for a unique experience via GoDream, it's never been that easy to drive a Ferrari! This experience gift is good for 4 laps on a closed circuit. There are different locations available, and if you want to choose a different unique car, that's also possible!
18) Go To A Mystery Dinner Theater
Look for a dinner theater near you and have some fun by solving a mystery and getting a delicious dinner.
19) Go To An Escape Room
If you like solving puzzles and can handle a deadline then going to an escape room is a fun activity do on in retirement.
20) Make A Road Trip
Retirement is not the end of the road; it's the beginning of the open high way! So get in your car, RV, or truck and hit the road for a (spontaneous) road trip.
If you're looking for some road trip inspiration, make sure to read one of my road trip articles.
21) Take A Cruise
Going on a cruise is an easy way of traveling. Every day there is a new destination waiting to be explored and on the cruise ship are so many fun things to do that it's hard to get bored. And breakfast, lunch, dinner, and entertainment are all arranged for you so you don't have to worry about anything. Some people have so much fun cruising they practically live on a cruise ship during their retirement.
22) Learn Something New
Learning something new is a great way to have fun in retirement. You can learn a new skill, language or musical instrument now you have all the time in the world. Of course, there are many different ways you can learn a new skill. I mentioned MasterClass before. However, I feel that the MasterClass platform is one of the best online platforms for self-improvement. Let me tell you why.
The user experience on the MasterClass platform is perfect. It works easily and is straightforward. There are over 100 different courses in different categories available, and each course contains on average 20 video lessons. The teachers of each course are famous and successful people. For example, Gordon Ramsay has different courses on the platform about improving your cooking skills.
You can get an Annual Membership for MasterClass for only 180 USD, which gives you all access to the courses. You can even download the courses to your device and watch them offline whenever it suits you best!
23) Read An Adventurous Novel or Thriller
Reading a book is like traveling. You can go to a different world without leaving your house. It's a really cheap way of traveling that can be as much fun as real traveling. Reading inspires you and is a great exercise for your brain because it improves your IQ, memory, vocabulary, and communication skills.
Give yourself the gift of unlimited reading in retirement with this best-selling Kindle E-reader from Amazon.
24) Build A Family Tree
If history was one of your favorite classes in school than building your family tree is a fun thing to do in retirement. A lot of retirees like to dive into their family history and search for ancestors. On Family Echo and Ancestry, you can build your family tree online for free. And on Find My Past and Family Search you can trace your ancestors.
25) Surround Yourself With Fun People
If you surround yourself with fun people you'll have fun in your retirement for sure. So be selective with the people within your social circle. Ask yourself do they lift me up? Or bring me down? Filter the negative people out your social circle and let the fun people in. And to meet new fun people you can join a club, become a host on Airbnb to meet travelers or just approach someone fun on the street for a conversation. You never know what comes out of it.
26) Start A Business
Who says you can't have fun and earn some extra money in retirement? You can become an online entrepreneur by selling your arts and crafts on Etsy or start a blogging website to earn a passive income, start a YouTube channel and create videos about your favorite hobby or start a drop-shipping company. If you have a big backyard you can think of building a (tree) house or pimp up an old campervan so you can use the extra space to rent out on Airbnb.
27) Redecorate Your House
Switching things up can be fun and it certainly feels new and different. So getting a makeover for yourself or your house is a fun project to have in retirement. So get a new haircut, have your make-up done by a pro or buy a new outfit. Do this with a friend or family member to make it even more fun. And if you don't feel like do a total house makeover you can start by decluttering, rearrange or redecorate a room. Move furniture to spice things up.
Remember that I mentioned the MasterClass platform? There's an awesome Masterclass available when it comes to interior design! Renowned interior designer Kelly Wearstler teaches interior design on Masterclass. She is famous for modern American design and influenced the rise of designer hotels. In her Masterclass, she shares her knowledge;
28) Find a Fun Hobby; Start Diamond Painting
Do you love craft hobbies? Diamond painting might be something for you! It's a combination of paint by numbers and cross-stitch. The small colored stones, known as diamonds, are applied one by one to the painting, which creates a beautiful image every time!

Diamond painting is both a fun and relaxing hobby to do at home! When you love to be creative, I recommend subscribing to the monthly Diamond Painting box on Cratejoy. Each month you get a customized diamond painting box delivered to your door so that you can create beautiful different images every time!
29) Start with Craft Hobby: Adults & Crafts Subscription Box
Another fun subscription box on CrateJoy is the Adults & Crafts Subscription Box. It was one of the most popular subscription boxes on CrateJoy in 2020. With this subscription box, you get a new craft delivered to your doorstep each month. The box includes all the materials you need to complete the monthly craft. You can create unique and fun products like wine carriers, candles, coasters, and many more.
30) Fun Hobby For Retirement: 3D Puzzles
Starting with puzzles is a great idea when you're retired. Puzzles are always a good hobby to do. It's relaxing, fun, and helps with your brain activity. According to this article on Harvard Health Publishing, brain games (like puzzling, crosswords, etc.) can help with maintaining overall brain health.
3D puzzles are just a more challenging way of puzzling. You can create beautiful sculptures with 3D puzzles. So, why not start with this hobby today? It is a great way to have some fun in retirement!
Having Fun In Retirement – Flow State of Mind
At the start of this article, I mentioned the flow state of mind as the ideal state you can reach when having fun. When I started my research preparation for this article, the flow state was one of the first things that came up to my mind. In college, I learned for the first time about reaching the flow state of mind. I followed a psychology class related to creating unique experiences. Experiences where people are having fun.
This class was built around the theory of renowned psychologist Mihaly Csikszentmihalyi. He is the person who introduced the flow state of mind. A theory which he outlined in his book Flow: The Psychology of Optimal Experience. I recommend reading his book if you want to learn more about his theory.
Mihály Csíkszentmihályi describes the flow state of mind when a person is completely immersed in an activity. When you reach the flow state of mind, you lose track of time, your surroundings. If you're 100% focused on that thing you're doing. A flow state of mind is different for every person but almost always occurs when you're doing something you love doing. And of course when you're having fun!
So, when you're having fun in retirement and forget about time. And when you're completely focused on that one thing you're doing, you know you reached the flow state of mind! You can learn more about the Csikszentmihalyi flow by reading the book I mentioned above.
Recommended Articles
I hope you've found some inspiration to have fun in retirement. I always try to be as helpful as possible when writing my articles. I love to do research about retirement, and inspire retirees like you to get the most out of their retirement.
The following articles might be interesting for you to read as well: