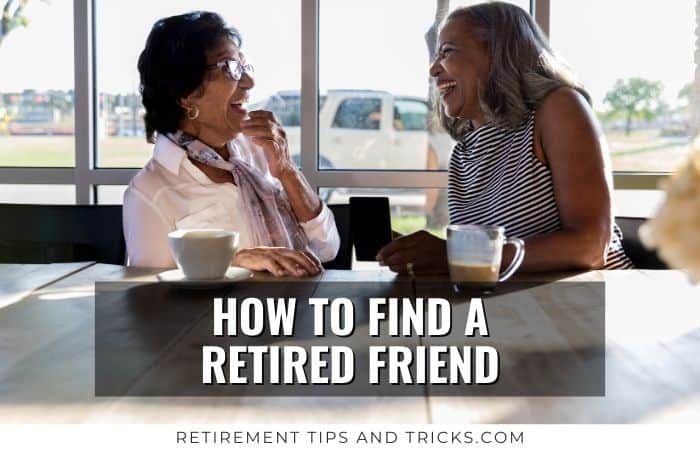 When you're retired you have a lot of time on your hands that you don't want to spend alone. It's nice seeing family and friends, but that is often during the weekends. You want to hang out with people that are in the same boat and that are also available at other times during the week. So you might wonder, how do I find a retired friend? Well, I'm here to help you out. In this article I share 10 ways on how and where you can find a retired friend, so continue reading.


---
1) Sign Up For Classes
A good place to start to find a retired friend is in the classroom. Many retirees like to learn new things in retirement and apply for all sorts of classes. Often it's a way to explore new hobbies or because of a desire they've always had and they now have the time to follow through.
What is it that you like to do and you want to upgrade your skills on? Or have you ever completed the sentence: I've always wanted to learn… Well, this is a great time to pursue it. When you apply for an interesting class you kill three birds with one stone. You have something fun to do, you learn something new which is great for keeping your brain healthy, and you create the opportunity to meet your new retired friend. When you make a new friend in class, you already have the advantage that you share the same interest.
From exercise classes, creative classes, technology classes, language classes to educational classes. There is a lot that you can do in retirement. Just Google "(type) class near me" and you probably find a list of possibilities. Give them a call or email the organization and ask what the average age is and apply if you've found your match.
Did you know that you even can go back to college? You have special college programs for retirees in America that are sometimes even free of charge. Contact a couple of colleges in your state and see what programs they offer for older adults.
MasterClass
Now that we're on the topic of classes, I want to share something with you. Learning new things is always fun but staying active in retirement, both physically and mentally, is very important for healthy aging. If you want to enjoy your retirement as long and as healthy as possible, keep learning new things is key. And on that note, I've got the best tip for you: MasterClass.
It is an online streaming platform that allows anyone to learn from the world's best in their field. You can learn cooking from Gordon Ramsay or upgrade your cooking skills with teachers such as Aaron Franklin, Thomas Keller, and many more renowned chefs. Follow a writing class from Judy Blume, a gardening class from Ron Finley, an acting class from Samuel L. Jackson, and many more brilliant people in Science, Music, Sports, Business, etc. Over 100+ different classes are accessible with only One Membership. A small investment to create the retirement of a lifetime. And a perfect way to impress your family with your newly learned skills and knowledge.
2) Join A Club
Another way to find a retired friend is to join a local club with retired members. This can be a book, cooking, church club, gardening, knitting, or another senior club with your interest in your area. Or get fit in retirement by joining a gym club, walking club, or swimming club. Often these clubs have senior groups you can join. Just Google "( your interest) club nearby" and see what pops up.
You can also search for nearby senior clubs on Facebook or use the online service Meetup. This website can show what kind of clubs are available in your area that shares the same interest as you. Or maybe your next-door (retired) neighbor knows a club that might be interesting for you to join.
3) Start Dating For A Companion
When you're single, you can consider starting dating to find a companion in retirement. Often seniors are not actively seeking a new love but are looking for a companion first, which can maybe turn out into love later on.
If you're interested in this, you can use Eharmony to help you out. It's the #1 most trusted dating app and the world's leading senior dating website, so you're in good hands. They let you take a compatibility quiz to identify your values, habits, and interests to find the best partner for you out of their high-quality dating pool of real people who are all genuinely looking to find love or companionship. Every 14 minutes, someone finds love on their platform, according to their user data. You can test it out with a FREE TRIAL.
4) Go Volunteer
One of the most popular activities amongst retirees is volunteering. It gives your retired life new meaning and a purpose and it's a great way to meet other people and potentially find a retired friend. And helping other people makes you feel good. So there are only benefits when it comes to volunteering in retirement, and making a difference with someone that shares the same interest and values is a great foundation for a friendship. You can check out: National Community Service or Senior Corps to find volunteer jobs for seniors.
5) Reunite With Old Friends
Sometimes you don't need to find new friends you just need to find back your old friends. Getting in contact with high school, college, and camp friends is an easy way to make a retired friend. You already share a history, you can reminisce on the good old times, you have a lot to talk about to catch up on life, and you probably have the same age, so the other person is retired as well. And usually, the friendship isn't lost, only busy life got in the way, and you lost touch. Therefore retirement is a great time to reunite with old friends and see if you can rekindle the friendship.
You can try to search for old friends on Facebook, contact your former high school, or college, or contact a mutual friend. But the best way to find an old high school or college friend is to use the platform classmates. They have the largest directory of high school and class lists online.
6) Deepen Your Relationship With Your Spouse
Your retired friend could be the one living with you, your spouse. Instead of looking for friends outside, you can also look for a retired friend at home by deepening the relationship with your spouse.
There are all sorts of ways to rekindle the love with your spouse. Schedule a weekly date night, create a bucket list together where you tick off a new item every month, or plan a romantic holiday together. Look for shared interests and sprinkle a little bit of adventure in the mix and have a lot of fun together. Then you don't need to look for other friends.
7) Visit Your Local (Senior) Community Center
A community center or senior center is often a social hub for retirees. It's a great place to meet other seniors and potentially make a retired friend. Often these centers have an activity program that you can sign up for or organize events that you can attend. You can find these centers in retirement communities, your church, or when you google "senior community center near me".
8) Become A Coach or Mentor
When you want to feel part of society, it's a good idea to spend time with younger generations. It keeps you young at heart and updated about what's trending. And becoming a coach or a mentor is a way to connect and socialize with people of younger ages.
You can consider becoming a sports coach of a local sports team or your grandchildren's sports team. You can become a mentor or advisor for colleagues within the same job field and share your knowledge and expertise while earning a few extra bucks. Or you can play a more active mentoring role within your community and help out younger generations with your wisdom and life experience.
9) Attend Local Social Events
Another way to find a retired friend is to attend local social events. This can be a neighborhood BBQ, a music/ art or food festival, a weekly farmers market, a game of a local sports team. And then spot people or a person from the same age and see if you can have a conversation. Attending is one thing but walking up to a total stranger to have a conversation is what people fear most. But hey, that is what you gotta do when you want to make friends.
Often the other person is just as frightened as you are to approach a stranger, so someone needs to take the first step. And that first step is the hardest one. After that, it becomes easier every time.
10) Find Retiree's Favorite Place To Hang Out In Town
Try to figure out what place in town is the place to be for retirees. This can be a pub, restaurant or any other place that retirees like to meet up. Also, it can be a specific day or time that retirees come together at that place. When you've figured this out by asking around, you've got the one-dollar ticket to finding your retired friend. The only thing you have
Why Socializing In Retirement Is Important
Being social in retirement is the most important thing to keep yourself healthy and happy because loneliness threatens your physical health and overall mental well-being, according to many scientific studies.
Did you know that loneliness is just as lethal as smoking 15 cigarettes a day in terms of health care outcomes and healthcare costs?
And when you feel lonely. Know that you're not the only one. About 40 percent of adult Americans feel lonely, according to the Harvard Business Review. And that was even before Covid.
Let's take a look at what having strong social connections can do for you:
it makes your immune system stronger
it increases your chance of living longer by 50%
it helps you to recover from diseases quicker
and lowers the level of anxiety, stress, and depression.
Knowing that having a friend can increase your health and happiness, it's probably a lot easier to approach that stranger in the park and have a conversation. It may even save your life.
Recommended Articles
If you liked this article, then the articles below might be interesting for you to read as well: