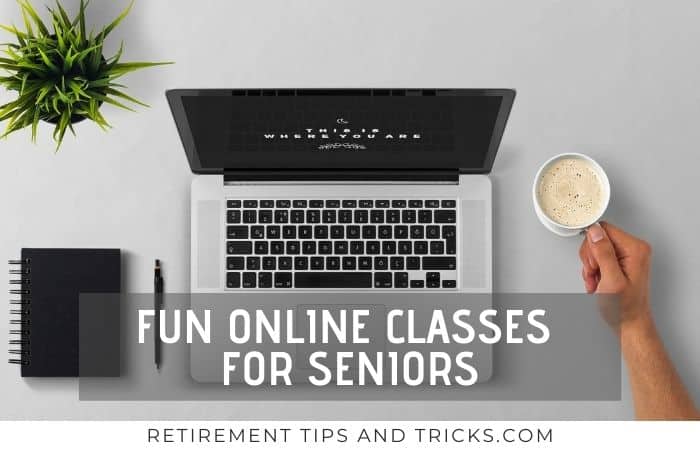 Now that you're retired, you have a lot of free time on your hands, and you're at home more often. Many retirees want to learn new things in retirement and look for fun online classes that they can take at home. So, I thought, let's share 25 fun online classes in this article to help out.


---
1) Ron Finley's Online Gardening Class
Everyone is into gardening these days and especially amongst retirees. It's one of the most popular hobbies in retirement.
So, if you want to pick up gardening as your new retirement hobby. Or want to improve your green thumb skills, there is a fun online gardening class by Ron Finley that you can take.   
Ron, famously known as the "gangster gardener," teaches you how to grow your own food and when to harvest them. He shows you how to keep your plants alive and how-to-do gardening, no matter the size of your garden. It's a great inspirational, practical, and fun 2-hour online class. You can watch the class video trailer here. It will show you what this online class is all about.  
This gardening class is available on the streaming platform Masterclass. When you apply for Masterclass, you can follow 90+ different other fun online classes from the world's greatest in their field—all for one price. When you apply for Masterclass annual membership, you get access to all 90+ classes plus the following features;
Audio-only lessons
Download and watch offline
PDF workbooks for every class
Watch on your desktop, phone, or TV
New classes added every month
2) Kelly Wearstler's Online Interior Design Class
Now that you spend a lot of time at home, you probably want to upgrade a couple of rooms. And the online Interior Design class from Kelly Wearstler can give you all the inspiration you need for a fun home renovation in retirement. 
The award-winning designer takes you behind the scenes of interior design in this fun online class. In 17 video lessons, she teaches you how to make any space feel larger and shows you how to choose colors, materials, and textures. And how to work with space, patterns, natural light, furniture, fun accents, and how to find your own distinct style. 
If you love to get creative in retirement and want to make your home more comfortable, this can be a great online class for you to take. You don't need experience in designing to apply for this class. It's for any skill level. 
3) Gordon Ramsay's Online Cooking Class
Gordon Ramsay is one of the most popular reality chefs. Famously knowns for his angry one-liners to contestants.
But don't worry, in his online cooking class, he won't call you out or gets angry with you. The even-star Michelin chef invites you into his home kitchen and teaches you all the aspects of cooking in a 4-hour online video course.
He shows you how to make his favorite dishes: poached eggs, scrambled eggs, chicken Supreme, salmon with shellfish, lobster ravioli, and beef wellington. And besides recipes, he teaches you the basics of cooking, knife skills, roll pasta, preparing fish, and chicken and master ingredients such as vegetables & herbs, fish, beef, lamb, and pork.
This Masterclass from Gordon Ramsay is a great cooking class for any skill level. It's a great introduction to cooking and a fun cooking class for retirees that want to perfect and elevate their cooking skills. Make sure to watch the trailer here to get a better idea of what this class is about. 
4) Aaron Franklin Online Texas-Style BBQ Class
Always wanted to learn how to make the perfect brisket on your BBQ?
Follow the online Texas-Style BBQ Class from Aaron Franklin, one of the most influential pitmasters in the USA, and you won't be disappointed. In his Texas-Style BBQ Class, you can learn how he makes that famous brisket (where crowds stand in line for hours to taste it) and become a true pitmaster yourself.
He teaches you how to handle an offset smoker, build and maintain fires and make mouth-watering ribs, pork butt, steak, and brisket from start to finish. You'll learn about the low and slow process, perfectly seasoned cuts, and optimal temperatures. He gets into detail and shows you all the ropes to become a BBQ Genius in retirement. Want to know more? Check out the lesson plan here.
5) Annie Leibovitz Online Photography Class
When photography has always been an interest of yours, then the online Photography class from world-renowned photographer Annie Leibovitz is the best out there.
She was the first woman to be named chief photographer at Rolling Stone and the last person to portray John Lennon.
In her 3-hour online photography class, she shows you that making a stunning isn't about the gear or technology—it's the story. She teaches portrait photography and breaks down her creative process. She shows how to develop concepts, work with subjects, natural light, and bring images to life in post-production. Want to know more? Check out the lesson plan here.
6) Brandon McMillon Online Dog Training Class
Does your dog do funny things you don't want him or her to do? Perhaps following the online Dog Training Class from Brandon McMillan is a good idea. 
The Emmy-winning host of 'Luck Dog" shares his simple, effective training system to help you develop trust and control with your dog. He teaches you the 7 common commands: sit, down, stay, no, off, come, and heel.
Do you want to improve your dog's behavior? Check out the info trailer of this class here.
7) Anna Wintour Online Creativity & Leadership Class
One of the most popular classes on Masterclass is the creativity and leadership class from fashion-icon Anna Wintour. 
The Vogue Editor-in-Chief invites you into her world. She shows you her leadership style. And she teaches you how to develop a creative vision, recognize talent, invest in a team, make tough decisions, evolve a brand, and find your voice.
It's a fun online class for anyone interested in taking their leadership role to the next level. Whether you have your own company, a charity organization, or you do volunteer work in retirement, etc., this class can be fun and very interesting for you. Find out about this class more here.
8) Robin Roberts Authentic Communication Class
Another fun online class on Masterclass is Robin Roberts teaches Effective and Authentic Communication. 
Her talent to always find the human connection is what makes her one of today's most beloved broadcasters. And you can become a better communicator when you follow her online class.
She teaches you how to negotiate, do public speaking, and share tips on body language. She also gives you a look behind the scenes of 'Goodmorning America.' And teaches you how to embrace vulnerability, make an authentic connection, and communicate more effectively with every relationship you have in your life. 
9) Martin Scorsese Online Filmmaking Class
Are you interested in filmmaking in retirement? Or just want to learn more about how films are being made? Then a fun online class to follow is the Filmmaking class from Oscar-winner Martin Scorsese. 
He is a legendary director whose films shaped movie history. He teaches you his approach to filmmaking in this online class. He breaks down his craft and gives you a glimpse of what his own process looks like. And you'll learn how to develop your style, work with actors, crew, and more about cinematography, production design, music, color, editing, on-set directing, sound design, etc.
His class contains 30 different video lessons, which you can check out here. 
10) Margaret Atwood Online Writing Class
A lot of retirees like to take up writing as a fun new retirement hobby. They like to write a novel, a biography, create a family history book for the next generation, or give poetry a try.
And suppose writing is something you like to do in retirement too and want to become better at. In that case, you can follow the online writing class from Margaret Atwood. The writer of the famous book The Handmaid's Tale and one of our generation's most influential literary voices.
In her online class, she shows you her creative process and how to develop ideas into novels. She teaches you how to write compelling stories, bring characters to life and how to cope with writer's block. Check out the lesson plan here.
11) Aaptiv Online Exercise Classes
Want to get fit, or looking for great online exercise classes in retirement? Then you should try out Aaptiv.
It's a workout app with unlimited access to thousands of workouts and where expert trainers guide you through every workout and give you techniques, tips, and encouragement for real results at any level.
12) Basic Computer Skills Online Class
When computer skills aren't your strong suit, then a basic computer skill class for seniors at Udemy might be fun for you.
This online class is designed to equip you with knowledge of basic computer skills. So you can stay in touch with your children, grandchildren, friends and family members.
Udemy is an online learning and teaching marketplace with over 130000 courses and 35 million students. You can follow all sorts of fun courses taught by instructors around the country.
13) Online Spanish Class
Want to learn how to speak Spanish? You learn Spanish with Duolingo.
It's a free online class that will teach you the basics of the Spanish language. Do not expect to learn how to speak Spanish fluently. Still, it's a nice introduction to a new language and a fun activity to do in retirement.
14) Bob Ross Online Painting Class
Do you like to paint? Or want to take up painting as a new retirement hobby? Well, you can learn from the legend himself, Bob Ross. When you watch him paint, it looks so easy.
You don't have to apply for a class. You can watch all the episodes of Bob Ross on YouTube.
15) Herbie Hancock Online Jazz Class
Is music your passion? And do you like to play the piano? Then following the online Jazz class from Herbie Hancock is probably a good idea.
He is one of the world's most celebrated musicians. And in this 4,5 hour online Jazz Class, he shares his approach to improvisation, composition, and harmony. You also gain access to more than 10 original piano transcriptions, including 5 exclusive solo performances.
16) Reba McEntire Online Country Music Class
Do you love country music? And want to do something in the music business in retirement? Then following the online Country Music Class from Reba McEntire might be a great idea.
She teaches you how to sing, what to do on stage, pick out a song, and show performance techniques in this music class. Even if you're not interested in doing anything in music, it's an interesting class to watch.
17) Nikon Online Photography School
One of the best brands in the world has it's own photography school: Nikon School.
Whether you are a beginner or advanced photographer, you can take your photography to the next level with a Nikon School online course. You can browse through all sorts of courses to find the right one for you that fits your interest and skill level.
18) Online Quilting Class
Want to get creative in retirement? Apply for a quilt class at Crafsty.com.
You can browse through all sorts of classes on this website, from basic instruction to advanced arts and crafts techniques. Whether you want to knit, sew, bake, or quilt, their library has thousands of classes available. You can purchase one online class starting from $4,99 or get a premium membership to follow every class on the platform. They even have a couple of free classes.
19) Online Knitting Class
You can also apply for fun knitting classes on Craftsy.
You can apply for all sorts of knitting classes: socks, sweaters, hats, headbands, shawls, or different knitting techniques.
Whether you want to start a new project or want to advance your knitting skills. There is a class out there, ranging between $4,99 and $39,99 per class.
20) Online Violin Class
At Udemy.com can also follow online music classes. For example, Violin Classes.
This 12-hour on-demand Violin Class is for beginners and a bestseller on Udemy. After this course, you understand how to play the violin from scratch, and you'll be able to learn how to self study and continue playing.
The courses on Udemy come with lifetime access and a 30-day money-back guarantee.
21) Online French Class
Another great online resource to learn a foreign language is at Babbel. Whether you're a beginner or experienced, their courses have you covered. You can learn the basics of French or focus on topics like travel, culture, or business.
The best part about Babbel is that when you learn a foreign language you want to speak it. And that is where the classes of Babbel are focused on. You can use it right away. Great for your next trip to France in retirement.
22) The Science Of Well-Being Online Class
And one of the best selling courses at Coursera is The Science of Well-Being Class offered by Yale. This course is to increase your own happiness and build more productive habits. Professor Laurie Santos reveals misconceptions about happiness, annoying features of the mind, and how to change it. It gets a 5-star rating from thousands of reviewers.
Coursera is an online course website that allows you to build skills with courses from top universities like Yale, Michigan, Stanford, and leading companies like Google and IBM.
23) Online Geography Class
Do you know where the country The Netherlands is? If not, maybe you want to follow a geography class in retirement?
If you enjoyed Geography in school and like to refresh your memory, follow Geography Now on YouTube. They produce fun and interesting videos about almost every country worldwide. And the best part is it's free.
24) Learn How To Learn Online Class
Keeping your brain active in retirement is essential for your mental health. And what if I tell you there is a class on Coursera that teaches you how to learn better.
The online class Learning How to Learn teaches you powerful mental tools to help you master difficult subjects. You get easy access to experts' learning techniques in art, music, literature, math, science, sports, and many other disciplines in this class. And Dr. Barbara Oakley teaches memory techniques, dealing with procrastination, and how the brain works when it comes to learning new and tough subjects.
25) Online Cake Decorating Class
If you like baking and want to create better birthday cakes for your loved ones. Then an online Cake Decorating Class on Craftsy is fun for you to do in retirement.
Want to learn the basics of baking delicious cookies? Make a gingerbread house? Decorate a cake with fresh flowers? Or want to know how to start a cake baking business in retirement? There is a fun online class for you out there on Craftsy.
Recommended Articles
If you like this article. The following articles might be interesting for you to read as well: