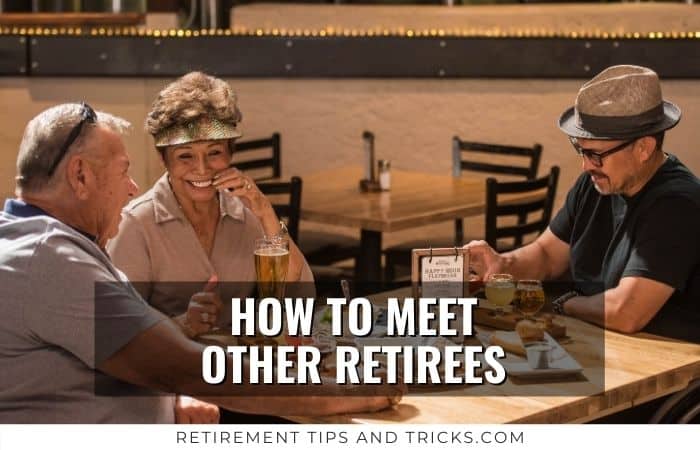 When you're retired, you have a lot of time to spend on hobbies, new interests, and socializing with friends and family. But not everyone is retired and has time to socialize during weekdays. Perhaps you're looking for a way to make new friends in retirement who are in the same boat, and you might wonder, how do I meet other retirees? Well, no need to look further. I've got you covered. I share 16 ways how to meet other retirees in this article. So, continue reading.
Just a heads up, this post contains affiliate links. As an Amazon Associate I earn from qualifying purchases. Purchases you make through these links may earn us a small commission, at no extra cost to you.
1) Enroll In A Class
Enrolling in a class is a perfect way to have some fun and meet other retirees while learning something new. Keep learning, staying active, and socializing are the keys to healthy aging and happy retirement.
You can join a fitness class designed for seniors at your local gym club. You can apply for an art class at your local community center or go back to college. In the US, there are special college programs for retirees that are sometimes even free of charge. Contact some colleges nearby and see what kind of programs they can offer you.
Many retirees like to attend all sorts of classes because they want to learn something new, upgrade their skills, and are also looking to meet other people with the same interests. So the classroom is a great place for meeting other retirees.
MasterClass
Now talking about classes… Did you know you can follow online classes from the world's best in their field where you don't need any experience? Yes, I'm talking about: MasterClass. With a single membership, you have access to 100+ masterclasses on the platform. From Gordon Ramsay teaches Cooking, Serena William teaches Tennis, Ron Finley teaches Gardening to, Judy Blume teaches writing, and so many more brilliant people that want to share their craft and secret tips and tricks with you. All the classes are designed for everyone to attend, and an online community is often attached to a masterclass to chat with other people.
2) Sign Up For Volunteer Work
Volunteering is a popular activity in retirement. Many retirees love to do volunteer work because it's a great way to stay active, be busy, and an easy way to meet other people. And because volunteering is so popular amongst retirees, chances are high you'll meet other retirees on the job.
When signing up for volunteer work, make sure you find something that aligns with your interests so you meet other retirees who share these interests as well, which is a great foundation for a new friendship. And making a difference to other people gives you a fulfilling feeling and adds more meaning to your life. The benefits are abundant when you decide to do volunteer work in retirement. Curious? I wrote an entire article about why Retirees Like To Volunteer.
3) Join A Club
There are all sorts of clubs for seniors out there that you can join. Do you love reading? Join a book club. Or, if you have a green thumb, you can join a local gardening club and experience the many health benefits. You can also join a local theater or a knit club, or any other club that shares the same hobby to meet other retirees. You can search for Facebook groups, use the platform Meetup or ask your neighbor or other retired friends to find a club with the same hobby near you.
4) Find A Penpal
You can go the old-fashioned way and find a Penpal in retirement. On Ready To Care, you can fill in a digital form on the website or upload a handwritten letter, which they will deliver to a senior. It's an easy way to brighten up someone's day and create a meaningful connection with a retiree that could be your new friend for life.
5) Use Senior Dating Site
Are you single and ready to mingle? Then using a senior dating site is a great way to find a like-minded companion in retirement. Also, even if you're not looking for love, a dating website is a great and easy way of communication to meet other retirees on your own terms.
And the best dating website for retirees is Eharmony. They've dedicated an entire section to seniors on their platform and are the #1 trusted dating app. It's one of the reasons why they're the world's leading senior dating site because they know that senior dating is different from dating at a younger age. Their unique matching system focuses on finding the best connection for you. Compared to many other dating sites that use fake profiles, you'll get in contact with real people who share the same interests. Are you interested? You can test the waters for free with a FREE Trial.
6) Visit A Senior Community Centre
There are over 15,000 Senior Centers across America, so chances are high that there is one out there in your neighborhood as well. These centers, as well as local community centers, organize many different activities and events for seniors that are 50 years or older to help them stay active and connect with one another. It's a place for them to play some cards, talk and just hang out. Therefore a great reason for you to pay a visit in your quest to meet other retirees.
Google "senior center near me" or use the Senior Center Directory to find your local community center and sign up for a class or an activity to meet other retirees with the same interest. Or just walk in during opening hours and see who is up for a chat.
7) Start A Club
As I mentioned earlier in this article, you can join a club, but you can also start your own club especially if you can't find any club in your neighborhood that shares the same interest. You can use Meetup to help you get started. It's a platform where you can easily start a club and organize in-person or virtual events with people that have similar interests.
8) Reunite With Old Friends
Your high school or college friends are of the same age, so there is a good chance they're also enjoying their retirement. Give them a call or email them to reconnect and perhaps organize a reunion to reminisce together on the good old times. You'll already know them, so it's easy to get the friendship going again.
9) Create A Fun Ad
Do you like to be bold? Put yourself out there and create a fun ad where you share the desire to meet other retirees. You can publish a written ad in the local newspaper or create a nice photo or funny video and post it on social media. Don't be scared if the ad goes viral, and you'll have an abundance of requests from other retirees that want to be your friend. If you like the idea but are not sure how to approach this, you can ask your children or grandchildren to help you out.
10) Visit Local Farmers Market
You need to get your groceries from somewhere, so why not visit a local farmers market and buy fresh ingredients and be on the lookout for other retirees. When you visit a market during working hours the crowd is mostly people who do not work. Either moms and their kids and retirees. You can be bold and approach someone for a chat. Even a small icebreaker can fuel a conversation. And this can lead to a weekly or daily encounter that grows into perhaps a friendship on the long term. But you have to get out of your comfort zone to approach a complete stranger.
11) Join Senior Travel Group
Senior travel groups are perfect opportunities for you to meet other retirees with similar interests. And besides the social benefits, it can be a financial beneficiary too. There are all sorts of different senior travel groups out there, from adventure travel to singles travel. Below I've listed a few:
12) Join Senior Church Group
Church has always been the place in the community to meet other people. Check out to see if your local church also has a senior group that you can join. You have the certainty of having at least one thing in common; your faith and exploring what other interests you share when you participate in activities with other retirees.
13) Find Retiree's Favorite Hangout
Find out which cafe, bar, or restaurant other retirees like to hang out at. Perhaps there is a favorite coffee place in town that a lot of retirees go to. Or maybe you know which restaurant has a senior discount on certain days. Find out which place in town likely other retirees like to hang out and go there at the same time. A good chance you'll meet someone interesting. 
14) Attend Local Event
Check out your community's calendar of events and see what events you like to attend. If you like to attend certain events on the calendar, chances are other retirees as well. Perhaps there are even events specially tailored for seniors you didn't even know about.
15) Find A Travel Buddy Online
When you like to travel but don't want to go on a trip alone, you can find a travel buddy with the help of the social network Senior Travel Buddy.
16) Join A Retirement Community
You can join a retirement community to meet other retirees of the same age. And you don't have to be a resident to join most retirement communities. They organize different activities throughout the week, which you can sign up for, from playing sports, games, and cooking to talking groups. Just google 'Retirement Community Near Me,' and the Google Search result will show you all the closest retirement communities.  Give them a call, pay a visit to taste the vibe, and see what possibilities are out there.
Recommended Articles
I hope you liked reading this article and you'll have a better idea of where to meet other retirees. Since you're here anyway, I have many other articles that are interesting for you to read. Below are just a few: