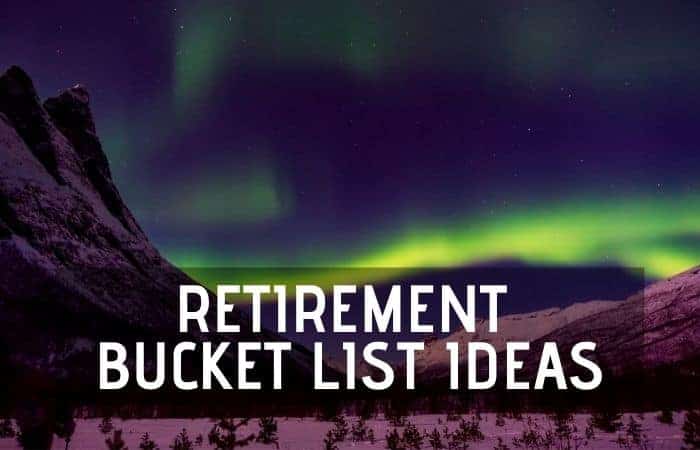 Now that you're retired, it's important to know what you want to do in retirement. And creating a bucket list can be a very helpful tool to have goals, focus, and make to most out of your retirement.
In this article, I share 430 ideas you can add to your retirement bucket list. I created different lists of fun and helpful categories for your bucket list like traveling, experiences, food & drinks, creative, events & festivals, relationship, and personal development ideas for your bucket list.
Also, I'll share a step-by-step guide on how you can create your own perfect retirement bucket list, including some tips to make sure you're actually making your dreams on that bucket list come true!
Ready to get inspired for your retirement bucket list? Let's find out more!


---
Retirement Bucket List Ideas for Traveling
1) Visit all the 50 states in the US
2) Visit the Amazon
3) Step foot on Antarctica
4) Road trip through Australia
5) See Ayers Rock, Australia
6) Road trip through New Zealand
7) Make a Eurotrip
8) Go to all the US National Parks
9) Drive route 66
10) See the northern lights (Alaska or Scandinavia)
11) Drive the Pacific Coast Highway in California
12) Stand Under the Hollywood Sign in California
13) Ride on a Cable Car in San Francisco
14) Drive or Walk the Las Vegas Strip
15) Explore the Everglades in Florida
16) Visit Cuba
17) Visit Alcatraz in San Francisco
18) Drive the Golden Gate Bridge in San Francisco
19) See the Niagara Falls
20) Stand in Time Square New York
21) Visit Mount Rushmore in South Dakota
22) See Buckingham Palace in London
23) Visit the White House in Washington D.C.
24) See the Opera House in Sydney, Australia
25) Ride the Orient Express
26) See the Great Migration in Masai Mara (Kenya) or Serengeti (Tanzania)
27) Go on a Safari in Africa
28) Take a Caribbean Cruise
29) Ride the Trans-Siberian Railway
30) Visit Machu Picchu, Peru
31)Walk on the Salt Flat (Salar de Uyuni), Bolivia
32) Explore Patagonia, Chile/Argentina
33) Walk the Great Wall, China
34) Visit Plitvice Lakes, Croatia
35) See the Pyramids in Egypt
36) Visit the Game of Thrones city Dubrovnik, Croatia
37) Sail among the Greece Islands
38) Visit Acropolis in Athens, Greece
39) Visit Mayan Ruins in Mexico
40) Walk Across Abbey Road in London, England
41) Watch the Sunset in Meteora, Greece
42) Visit Bangkok, Thailand
43) See Stonehenge, England
44) Visit the Tulip Fields in Spring, The Netherlands
45) See the Big Five in Kruger National Park, South Africa
46) Visit Robben Island in Cape Town, South Africa
47) Walk Dune 45, Namibia
48) Drive from Alaska all the way south to Patagonia
49) Go on a Cruise Around the world
50) Visit the Grand Canyon
51) See the Taj Mahal, India
52) Visit the Ancient Ruins of Petra, Jordan
53) Visit Gardens by the Bay, Singapore
54) Road trip through Tuscany, Italy
55) Visit Sagrada da Familia in Barcelona, Spain
56) Visit Louvre in Paris, France
57) Visit All 7 Continents
58) Drive Maui's Road to Hana, Hawaii
59) Visit Dracula's Castle in Transylvania, Romania
60) Go on a Mississippi River Cruise
Retirement Bucket List Ideas – Unique Experiences
61) Snorkel the Great Barrier Reef
62) Hike Mt. Kilimanjaro, Tanzania
63) Go Bungy jumping
64) Go Skydiving
65) Go Parasailing in Cape Town
66) Go on a Hot Air Balloon Safari, Kenya
67) Hike the Pacific Crest Trail, USA
68) Buy an old van and transform it into a campervan
69) Catch a Wave with Surfing
70) Learn to Kitesurf
71) Ride a Zipline In the Jungle, Costa Rica
72) Go Fly Boarding
73) Go White Water Rafting
74) Go Indoor Skydiving
75) Get PADI Open Water Diving Certificate
76) Go Snowboarding
77) Go Skiing
78) Go On a Police Ride Along
79) Become a Volunteer Fire Fighter
80) Go Scuba Diving
81) Make a Wish in the Trevi Fountain in Italy
82) Stay at an Ice Hotel
83) Ride a Hot Air Balloon over Cappadocia, Turkey
84) Abseil down a Waterfall
85) Go on a Scenic Helicopter Ride
86) Sleep in an Overwater Bungalow in Bora Bora
87) Go Up the Eiffeltower in Paris, France
88) Hike Between the Towns of Cinque Terre, Italy
89) Attend a Thai Boxing Match in Thailand, Italy
90) Ride in a Gondola in Venice, Italy,
91) Attend a Formula 1 Grand Prix
92) Visit a (Maasai) Tribe in Kenya
93) Trek to Mount Everest Base Camp in Nepal
94) Have a White Christmas
95) Hike through Rice Terraces in Bali, Indonesia
96) Do a Bali Swing, Indonesia
97) Witness Shooting stars
98) Witness a Solar eclipse
99) Go Geocaching in Your Neighbourhood
100) Go Magnet Fishing in River Nearby
101) Experience Weightlessness
102) Hike on the Appalachian Trail, USA
103) Listen to New Orleans Jazz at Preservation Hall
104) Visit Disney Land or World with Your Grandchildren
105) Sign up for Space Camp
106) Go Back to Summer Camp
107) Arrive by Seaplane
108) Go to Moulin Rouge in Paris, France
109) Chase a Tornado
110) Herd Cattle
111) Sleep in an Igloo
112) Sleep in a Yurt, Mongolia
113) Attend a Traditional Wedding Party in Lombok, Indonesia
114) Hike an Active Volcano
115) Swim in an Aquarium
116) Watch the Sunrise & Sunset in one Day
117) Go Whale Watching
118) See Orca's around Vancouver Island, Canada
119) Become a TV Game Show Contestant
120) Be an Extra in a Hollywood Movie
Retirement Bucket List Ideas – Food, Drinks & Unique Cuisine
121) Wine Tasting in Stellenbosch, South Africa
122) Wine Tasting in Napa Valley, California
123) Eat at a Michelin Star Restaurant
124) Attend a traditional Thea Drinking Ceremony in China
125) Create Your Signature Cocktail
126) Brew Your Own Beer
127) Eat Traditional Cheese Fondue, Switzerland
128)Eat at a Themed Restaurant in Tokyo, Japan
129) Eat Insects at Chiang Mai's Sunday Night Market, Thailand
130) Attend a British Afternoon HighTea in England
131) Eat Escargots (Snails) in France
132) Eat Chocolate BonBons in Belgium
133) Eat Peking Duck in Beijing, China
134) Drink Fresh Coconut Juice from a Coconut in Azia
135) Drink Moonshine
136) Drink Sake in Japan
137) Drink Beer Made by Munks in Belgium
138) Enter a Food Competition
139) Extract Fresh Honey from a Bee Hive
140) Go Truffle Hunting in Croatia
141) Eat at a Southern BBQ in the South
142) Enjoy a Braai in South Africa
143) Eat the Famous Beignets at Cafe du Monde in New Orleans
144) Eat a Philly Cheesesteak in Philadelphia
145) Organize a Wine Tasting at Home
146) Start a Cooking Club
147) Partake in a Food Fight
148) Recreate Your Grandmother's Famous Recipe
149) Take a Cooking Class
150) Build a Pizza Oven in Your Backyard
151) Eat Caviar
152) Learn How to Make Sushi
153) Organize a Neighborhood BBQ
154) Drink at a Dive Bar
155) Fillet a Fish
156) Organize a Dinner Party
157) Make a Gingerbread House
158) Learn to Use Chopsticks
159) Start a Vegetable Garden
160) Write a CookBook
Retirement Bucket List Ideas – Spotting Wildlife
161) Feed the Swimming Pigs in Exuma in the Bahamas
162) Go Cage Diving with Great White sharks in South Africa
163) Swim with Humpback Whales in Tonga
164) Swim with Whale Sharks in Mexia, Australia, Philippines
165) See Wild Orang-Utans in Sumatra, Indonesia
166) Dive with Sharks in Bahama's
167) Swim with Manatees, Florida
168) Swim with Wild Dolphins, New Zealand
169) Swim with Stingrays in Cozumel, Mexico
170) Go Dog Sledding in Finland
171) Go on a Gorilla Trek in Uganda
172) Volunteer for a Day at an Elephant Rescue, Thailand
173) Swim with Sea Turtles in Hawaii
174) Swim with Lemon Sharks in Sal, Cape Verde
175) See Polar Bears in Canada
176) See Penguins in Antarctica
177) See Pandas in China
178) See Moose in Canada
179) See Beluga Whales in Canada
180) See Grizzly Bear in Yellowstone Park
181) See Koalas and Kangaroos in South Australia
182) Witness Toucans in Brazil
183) See Piranha in Amazon River
184) See Tigers in India
185) Swim with Manta Rays in Belize
186) See Sloths in Costa Rica
187) Snorkel with Seals in South Africa
188) Swim with Penguins in Galagapos Islands
189) Hug an Alpaca in Peru
190) See Alligators in Florida
Retirement Bucket List Ideas – Events & Festivals to Visit
191) Visit the Kentucky Derby
192) Attend the Mardi Grass in New Orleans
193) Attend Burning Man Festival in Nevada
194) Go to Coachella Festival
195) See a Broadway Musical
196) Experience New Year's Eve in New York
197) Celebrate St. Patrick's Day in Ireland
198) Visit the Carnival in Rio de Janeiro, Brazil
199) Attend the Carnival in São Vicent, Cape Verde Islands
200) Drink a Beer at Oktoberfest in Munich, Germany
201) Attend the Tomatina Festival in Spain
202) Visit the Lantern Festival in Thailand
203) Go to the Palio Horse Race in Siena, Italy
204) Visit Borobudur Temple on Buddha Day, Indonesia
205) Go To The Cheese Market in Gouda, the Netherlands
206) See the Weeki Wachee Mermaids, Florida
207) Go to the Gay Pride Festival in San Francisco
208) Attend a Film Premiere
209) Go to a Native American Pow Wow
210) Go to a Cirque du Soleil Show
211) Go to a Drive-In Movie
212) Go To Comicon, San Diego
213) Experience Día de Muertos in Mexico
214) Attend Songkran Festival in Thailand
215) Experience Holi Festival in India
216) Attend the Glastonbury Festival, England
217) Get Muddy at the Boryeong Mud Festival, South Korea
218) Celebrate Chinese Year in China
219) Go to Albuquerque's Balloon Fiesta
220) Attend the Edinburgh Fringe Festival
221) Attend a Masquerade Ball in Venice, Italy
222) Visit the Cooper's Hill Cheese-Rolling Event, England
223) Attend the Fiesta de Cascamorras Festival, Spain
224) Go to the Up Helly Aa Fire Festival, Scotland
225) Witness The Monkey Buffet Festival, Thailand
Retirement Bucket List Ideas – How to Get Creative
226) Write a Book
227) Learn a musical instrument
228) Learn to Paint
229) Make Pottery
300) Take Dance Lessons
301) Act in a Play
302) Finish a Do It Yourself Project from Pinterest
303) Make a Gift Basket
304) Knit a Scarf
305) Remodel your Old Clothes
306) Make a Scrap Book
307) Make Soap
308) Make Mosaic Art
309) Write a Song
310) Create a Video
311) Be a Street Performer and Earn Extra Cash
312) Record a Song
313) Create an Ice Sculpture
314) Build a Tree House
315) Build a Classic Car
Retirement Bucket List Ideas – For Your Relationship
316) Renew Your Wedding Vows
317) Organize a Suprise Party
318) Build your Family Tree
319) Babysit Your Grandchildren
320) Answer a Personal Ad
321) Organize a Romantic Date
322) Find Your Childhood Friends Again
323) Go on a Blind Date
324) Go on a Double Date
325) Help a Stranger
326) Organize a Family Photo
327) Create a Family Photo Album
328) Reconnect with an Old Friend
329) Make a Road Trip with your Best Friend
330) Host a Game Night
331) Become an Airbnb Host
332) Throw a Themed Party
334) Get a Drink With a Stranger
335) Be a Mentor
336) Get a Pet
337) Be a Matchmaker
338) Bake a Cake for Someone Special
339) Go on a Romantic Getaway
340)Have a Picnic with Friends and Family
341) Start a New Tradition with Family
Retirement Bucket List Ideas – Sports Ideas
342) Become a Sports Coach
343) Run a Marathon
344) Participate in a Race for Charity
345) Do a Color Run
346) Take part in a triathlon
347) Take up a new sport
348) Climb a Mountain
349) Learn to Surf
350) Go to a World Cup
351) Visit the Olympics
352) Sink a hole-in-one
353) Watch an NFL Championship Game Live
354) Catch a foul ball
355) Attend the Fall Classic
356) Go to a NASCAR race and bring earplugs
357) Enjoy the halftime show at an HBCU game
358) Attend Wimbledon
359) Visit an NBA Game
360) Attend the Soccer El Classico in Nou Camp, Barcelona
361) Attend an Australian Football Game
Retirement Bucket List Ideas – For Personal Development
362) Perform a Random Act of Kindness
363) Learn a new language
364) Learn a form of martial arts like karate or tai chi for the thrill and self-defense
365) Practice Meditation (Every Day)
366) Learn How to Forgive
367) Learn to Let Go of the Past
368) Set a Goal and Try to Achieve This Goal Every Day
369) Visit the (birth)Places of Your Ancestors to Understand More About Your Roots
370) Do volunteer work
371) De-clutter Your Home To Create Space for New Things
372) Get a Full Body Massage and Spa Treatment
373) Go Back to School
374) Get a PhD
375) Start a Business
376) Watch TEDTalks
377) Set a Guinness Book of World Record
378) Make a Difference in Someone's Life
379) Pursue Your Passion
380) Get a Complete Makeover
390) Live in a Foreign Country for at Least 6 Months
391) Go Back to Basics in Nature
392) Eat a Healthier Diet
393) Conquer Your Biggest Fear
394) Start a Charity or Movement for a Cause You Believe in
395) Learn Sign Language
396) Help Someone in Need
397) Learn About Other Religions
398) Become More Confident
399) Learn How to be Better with Conflicts
400) Gain enlightenment
Retirement Bucket List Ideas – To Get More Fun
401) Be Part Of or Organize a Flash Mob
402) Dance in the Pouring Rain
403) Through a Dart at a World Map and Fly to Wherever it Lands
404) Stash Money or Something Precious in a Secret Place That You Will Easily Forget, But Will Discover it Later to Suprise Yourself
405) Put $100 on Black/ Red in Roulette, Las Vegas
406) Complete a 1000-Piece Jigsaw Puzzle
407) Bet on a Horse Race
408) Start Your Own YouTube Channel
409) Make a Snowman
410) Milk a Cow
411) Shave a Sheep
412) Try to Crowd Surf at a Music Festival
413) Do the Hula
414) Get Hypnotized
415) Fly on a Trapeze
416) Learn a Line Dance
417) Make a House of Cards
418) Perform a Magic Trick
419) Perform Your Favorite Song in a Karaoke Bar
420) Learn how to Yodel
421) Find a Treasure With a Metal Detector on the Beach
422) Learn to Juggle
423) Recreate a Childhood Picture
424) Ride on one of the Largest Roller Coasters
425) Go Skinny Dipping
426) Share Your Most Embarrassing Moment
427) Learn How to Survive on a Tropical Island
428) Test Drive Your Favorite Car
429) Make a Balloon Animal
430) Hit bull's-eye on a Dartboard
Why You Should Create a Retirement Bucket List
A bucket list is a list that people create with things they want to do in life before they "kick the bucket." Your bucket list contains items of places you want to see, experiences, and things you want to do before you die. Your list can either be a very small list with only ten things or a long list with all the things you've always wanted to do. That's all up to you.

If it feels overwhelming? Stick with ten items and only replace an item once you checked it off. That's what we do as well. I can make an endless list of all the things I always wanted to do, but I get overwhelmed seeing this long list, and as a result, I don't know where to start and what to do. So, now we have only ten things on our bucket list that we feel very passionate about, and it makes it so much easier to focus on these ten items.

By creating a bucket list, you create more focus, purpose, and direction in you're retired life. In retirement, it's important to have goals to strive for. Otherwise, you get bored, and you can feel depressed. And by going after exciting new experiences, you will feel more alive than ever. Getting out of your comfort zone gives you more confidence and helps you get a positive perspective on life.

And since life is all about making memories. With a bucket list, it's all about making new memories you can cherish forever. And you'll have some good stores to tell your grandchildren too.
Step-by-Step Guide to Create a Bucket List
To start a bucket list it's best to write down everything you can think of. You can buy a notebook and handwrite your bucket list or make an Excel sheet on your computer. And to make things easy I created this step-by-step guide with 5 easy steps to help you out creating your retirement bucket list.
Step #1 Creating a Bucket List – Write Everything Down
Write everything down you always wanted to do. Go crazy and no dreams are impossible. When you're married or living together with your loved one it's important to both create a list separately at first. Later in this process, you can combine the lists.
For inspiration just look at the 430 ideas we share in this article!
Step #2 Creating a Bucket List – Sit On It and Let It Simmer
This is probably the only time in this process you just let it be. When you wrote down all your ideas, dreams, and things you want to do for your bucket list, it's time just to let it be for a while. Let it rest for a few days or a week or so. You probably feel more relaxed and maybe some new ideas come to mind as well. You can easily add these to the list!
Step #3 Creating a Bucket List: Time To Pare It Down / Create a Shortlist
Remember that I mentioned that we only have ten ideas on our bucket list? It's because otherwise it just becomes too overwhelming. Each time we cross something of our bucket list, we're adding a new thing to it as well. So, yeah, we have kind of have a longer bucket list.
Creating a shortlist helps you to actually start doing the things you added to that list. With paring it down it's important to know 3 things:
What are your priorities in life?
Be realistic,
What are your ultimate dreams in life?
This is also the step where you combine the two lists if you and your spouse both made an individual one. Make sure you equally divide the list. So if you're like us, and only add ten ideas to your bucket list. Make sure to add five ideas of you both. Or maybe four individual ones, and two ideas that you came up with together. It's all up to you!
Step #4 Creating a Bucket List: Create the Actual List and Put on Your Fridge
Now that your ultimate retirement bucket list is done, it is important that it doesn't end up in a drawer or something. Make sure you see the list daily, so you'll get excited to actually start doing the things on your bucket list!
Buy this magnetic chalkboard and put it on your fridge. Of course, you write down the ten ideas that made it to the shortlist. This way, you'll see the bucket list every day when you're opening the fridge door. I'm sure you start doing these exciting things in no time!
Step #5 Creating A Bucket List: Enjoy Your Adventures In Retirement.
Your bucket list is done, so it's time to start with the 1 thing that gets you the most excited.
With creating your bucket list, you have to consider your priorities. If you love to go traveling, make sure to add a couple of places you'll always dream about. And if you've missed out on experiences or lessons, you can add these things to your list as well. Also, include people you like to spend more time with on your bucket list at the same time.
And make sure the items you add to your bucket list are realistic. It doesn't feel great if you can't do anything on your bucket list. So if you have health issues, it's best to consider these issues while creating your bucket list. But keep in mind that goals can be achieved, and a dream can come true if you work hard for it. So keep dreams on your bucket list and be realistic at the same time.
Creating a bucket list is not a one-hour work. It takes time, so sit on it and take your time to really know what your heart desires. And after you let your retirement bucket list simmer for a while, it's time to pare it down. Trimming your bucket list down helps you focus on the things you really want. And by crossing things of you should consider your finances, physical capabilities, and current world conditions.
After you refined your bucket list you can decide which one-time experiences and trips are most important to you and what you want to do first. If you focus on things that get you the most excited, you'll be more likely to stay positive and enjoy completing your bucket list.
Recommended Articles
Related Questions
How can I earn money after retirement? You can earn money in retirement in many ways: become a mentor, a teacher, freelance consultant, become a driver, sell items on E-Bay, become an Airbnb host, rent your parking space, become an extra in movies or commercials, teaching English as a second language (abroad), sell arts and crafts on Etsy, become a coach, start a business, earn a passive income through blogging or videos on YouTube. Read more: The 50 Best Jobs For Retirees
What NOT to do in retirement? In retirement, it's best NOT to downsize your house immediately, it's NOT good to have NO goals to strive after in retirement, DON'T blow your savings right away, DON'T Reduce your social circle, DON'T stay in the house all day: loneliness will creep in, DON'T fall into a routine of bad habits and DON'T think your life is over. Retirement is the beginning of a new chapter in your life, so don't be too hard on yourself. Be impatient and give yourself time to adjust to this new status.
Read more: What Should You NOT Do In Retirement? 11 DONT's