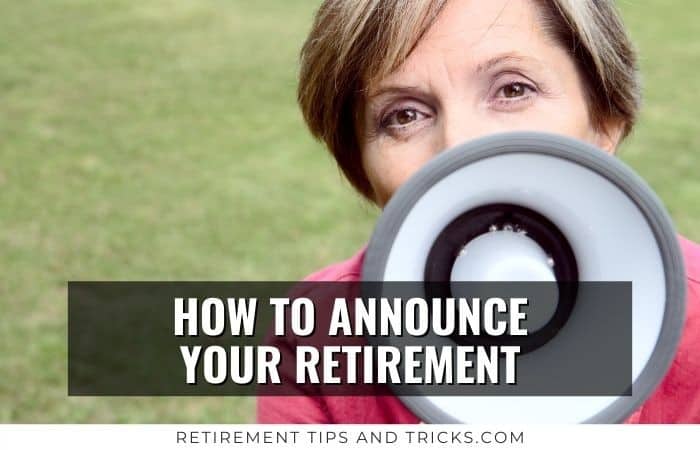 If you're planning on retiring soon and you don't know how to announce your retirement, don't worry. I'm here to help you out with this step-by-step guide.
How To Announce Your Retirement:
Step 1: Announce your retirement verbally to your boss.
Step 2: Write a retirement letter directed to your boss and send a copy to HR.
Step 3: Announce your retirement to co-workers.
Step 4: Share your retirement plans with family, friends, and clients.
Step 5: Announce your retirement on LinkedIn, social media, and the rest of the world.
Now you know a little bit more about how to announce your retirement, but there is more you need to know to make the process less stressful. In this article, I will explain more in-depth how to announce your retirement and the different ways you can do that. Let's continue below.
Just a heads up, this post contains some affiliate links. As an Amazon Associate, I earn from qualifying purchases. Purchases you make through these links may earn us a small commission, at no extra cost to you.
Step 1: Announce Your Retirement To Your Boss Verbally
After long consideration and preparation together with your spouse and close family, it's time to announce your retirement. And the first person you need to announce your retirement to is your boss or direct supervisor. You don't want to spread the news too far before you announce it to your boss.
And the first step is to announce your retirement to your boss verbally in a private meeting. But before you make this decision, here are some things you need to consider first.
Tips Before Announcing Your Retirement To Your Boss
Start planning – It's wise to start planning your retirement 3-6 months before you want to announce your retirement officially. This way, you have time to prepare all the paperwork and give yourself time to get comfortable with the decision. This time also allows you to change your mind if you want to postpone your retirement.
Check your retirement finance plan – You don't want to quit your job before you know for sure that your finances for retirement or in order. Have the last check with your financial advisor or ask for a second opinion that can run through the numbers again for you.
Know what benefits you're entitled to – Talk to human recourses and figure out exactly what benefits you're entitled to. Maybe you have unused vacation days or sick days you're not aware of. And check for financial settlements, health insurance, or other benefits agreements.
Check your health care plan – Call your health insurance provider to get informed about what happens when you're retiring. And what steps or things you need to do before you make things official.
Read the company's manual – Be informed about the policies of the company. You can read what the company expects from you in the company's manual or handbook. With information on how much notice you should give for your specific job and other information that helps you to prepare for announcing your retirement at work. This way, you don't feel confused if anything unexpected comes up.
Consider working part-time or as a freelancer – If you're not ready to fully retire, you can consider working as a freelance or part-time. You can be a consultant for the company on a limited basis. This way, you can offer your services together with the same announcement of your retirement.
When To Announce Your Retirement To Your Boss
After you've read the company's manual, you know how much notice you have to give the company. For most regular jobs, two or three weeks' notice is the norm. But if you have a senior position or difficult position to replace, a notice of 3-6 months is not unusual. This way, the company has enough time to recruit or train a new employee.
If you have a very good relationship with your boss or the company, it can be thoughtful to let them know earlier than the company's protocol suggests. So, you maintain a good relationship even after your retirement, but be cautious about announcing too early.
Announcing your retirement too early can:
Give your employer the wrong signal. They can see it as a sign that you're not invested anymore and you get passed over by fun work projects.
Be the reason why an employer asks you to leave earlier than you've planned to make room for your replacer.
It's wise to just wait until the last day if you have fears that your employer has different intentions or you work in a toxic environment.
Tips For The Meeting With Your Boss
Schedule a private meeting at the end of the day so you have time to discuss and you don't interrupt your boss's work responsibilities during the day.
It depends on your relationship with your boss or supervisor or the company's environment on how formal this conversation will be. But it's always best to be prepared whether it's very formal or informal.
Have thoughts about what you can do to make the transition as smooth as possible. Your boss needs to replace you, and you know what's best to do the job right. So, you can offer your assistance to make the transition as smooth as possible. For example, by recruiting your replacement, training your replacement, or creating a handbook. If your retirement comes as a surprise for your boss, he/ she will be pleased with a plan that keeps projects moving forward.
Confirm the exact start date of your retirement. And the exact date of your last day at work to avoid confusion. Or you decide together with your boss what the last day at work for you will be. But make sure you know what you're entitled to when it comes to unused vacation days, sick days, or overtime.
If you're not sure when exactly you want to retire, you can give your boss a heads up. And ask how much notice you have to give before you make your retirement official. It will be appreciated if you can come to a mutual agreement that fits both agendas.
Decide together how you want to announce your retirement to your co-workers. Maybe there is a strict protocol, or you get the space to fill it in yourself. But be aware that it often happens that once an employee gives notice, the boss takes over the communication about the employee's retirement. And if you want to announce your retirement to your co-workers personally make sure you let your boss know.
Offer your services to your boss if you want to keep working in retirement. Check if what your boss offers you fits into your retirement plans. Make sure you don't commit to anything work-related if you're not 100% sure.
Ask your boss about the steps you need to take within the company to confirm your retirement.
Step 2: Write A Retirement Letter To Make It Official
After you've verbally announced your retirement, you need to take the next step and make it official with a written notification. This letter is for your boss, and you also send a copy to human recourses to keep them in the loop.
The retirement letter is the official announcement and proof of your retirement. And your company (human recourses) needs this official statement for their employee file.
Companies keep information like your contracts, performance results, and social security information to have a record of events per employee. When there's a potential lawsuit, the company needs all documentation related to the employee. And it occurs that employers have run into former employees filing for unemployment compensation. And the retirement letter in the employee file is proof that you left your job by choice.
So, that is why you need to write a retirement letter. And you want to keep a copy of your personal documentation as well.
How To Write A Retirement Letter
In a retirement letter you write the following:
First paragraph: start date of your retirement and other terms and agreements of your retirement.
Middle paragraph: you express your gratitude about opportunities within the company and list highlights of your career.
Final paragraph: you express what you're looking forward to in retirement, offer help, so the transition runs smoothly, and you give co-workers and the company the best wishes.
Retirement Letter Template
Below is a template of a retirement letter that you can use for writing your retirement letter.
(YOUR CONTACT DETAILS)
Name
Address
City, State, Zip Code
Phone Number
Email Address

(COMPANY CONTACT DETAILS)
Company Name
Your 'supervisor's name
Your 'supervisor's title
Address
City, State, Zip Code

DATE

Dear Mr./Ms. (LAST NAME SUPERVISOR),

FIRST PARAGRAPH:
The first paragraph is to announce and confirm your retirement by:
– write the effective date of your retirement
– other terms or agreements about your retirement

MIDDLE PARAGRAPH:
You use the middle paragraph(s) for recapping by:
– expressing your gratitude
– mention highlights of your career
– show appreciation for opportunities

FINAL PARAGRAPH:
You focus on the future in the final paragraph(s) by
– giving well wishes to the company and co-workers
– write what you're looking forward to in retirement
– offer potential services as consultant, freelancer or part-time worker (if desired)
– offer assistance for the transition
– provide personal contact details (if you want to keep in touch)
– request confirmation of your retirement date

CLOSING THE LETTER:
Yours faithfully, (very formal)
Yours truly, (formal)
Yours sincerely, (informal)
Respectfully yours, (personal)
Regards, (often used)

Your Signature

Your Typed Name
Example of Retirement Letter
Below is an example of a retirement letter.
Kirsten Veldman
3112 Doctors Drive
Los Angeles, California, 90017
310-341-3371
[email protected]

LeKi Inc.
Mr. Leon Lee
Marketing Manager
112 5th Avenue
Los Angeles, California, 91117

January 1, 2020

Dear Mr. Lee,

With this letter, I want to announce my retirement officially. My last day at work is on February 1, 2020.

I have truly enjoyed working at Leki Inc, and I appreciate the opportunities the company has given me. I grew professionally and personally over the last twenty years, and I'm thankful for all the valuable lessons. And even though I am looking forward to my retirement, I'm going to miss coming to work every day.

Our plans for retirement are traveling with our RV, spending quality time with our grandchildren and I want to perfect my golfing.

I want to give the best wishes to everyone in the company and wish you all the success and growth with current and new projects in the future.

Feel free to contact me if you seek advice in the future or want to keep in touch. I've included my personal contact details in this letter.

I would appreciate a confirmation of my leaving date. And please let me know what I can do to make this transition as smooth as possible.

Yours sincerely,

(signature)

Kirsten Veldman
Tips For Writing Your Retirement Letter
Keep it short, sweet, and positive – Your retirement letter can be short because it's just a formality. You've already discussed everything verbally, so the letter is only the confirmation. And you don't have to go into detail about the reasons why you're retiring.
No matter the circumstances or reasons for your retirement, you want to end this chapter on a positive note. Avoid burning bridges because you'll never know what happens later in life. By leaving on a gracious note, you feel better about yourself going into retirement, and there is always an opportunity to come back in some way.
Check your letter – You can use Grammarly to make sure your retirement letter is correctly written. It's a free tool you can use online.
Give contact details – Make sure your (new) contact details are in the retirement letter so the company can get a hold of you in retirement. This way, you can receive your W2s, any checks, and other valuable career and work-related documents that you will need in retirement.
Step 3: Announce Your Retirement To Your Co-workers
It's important to announce your retirement to your co-workers after you've announced to your boss. It can become very awkward if you've spread the word amongst your co-workers before you've announced it to your boss. Even if your plans aren't finalized yet, and you're just talking about it, it can get you into trouble.
So, you have to be cautious about what and who you tell at work. If your boss hears about your plans, he can ask you to leave earlier without you being ready for retirement. Or your co-workers can start to approach you differently. So, better to be safe than sorry.
But once the word is out to your boss and you've decided together who is going to announce your retirement you can roll with it. Keep the working environment and the relationship you have with co-workers in mind for planning your retirement announcement. Maybe a speech at the end of an important meeting fits your situation the best, compared to someone else who announces it with a funny video.
In your announcement to your co-workers, make sure you include:
The exact date of your retirement to avoid any confusion.
Your contact information (phone number, email or address) if you want to stay in touch in retirement.
The plans you have in retirement. This also helps co-workers to come up with a retirement gift for you that matches your plans.
Invitation details if you're planning on inviting co-workers to your retirement party.
Ways To Announce Your Retirement To Co-workers
Make sure your announcement fits within the company's policies, and you don't burn any bridges. And to give you some inspiration here are a couple of ideas:
Announce it face-to-face – When you have a small team, or you have a very close relationship with a couple of co-workers you can announce your retirement personally to each co-worker. Your co-workers will appreciate this very much. And after announcing to them personally, you can spread to other co-workers within the company.
Company Newsletter – Write a short message for the company newsletter that goes out every week or month, so people are informed about your retirement. It's especially helpful when you work in a big company. Make sure you tell your closest co-workers about your retirement plans before the company newsletter spreads.
Ask the creative department for help – If you want to get creative with announcing your retirement you can ask the creative department for help. You can come up with a cool idea together. But make sure you ask management first, so you don't get into trouble by keeping people from their work responsibilities.
Write a retirement letter on a cake – Bake a cake and write the retirement letter for your boss on a cake. Make sure you also include the official retirement letter.
Send a letter or email – You can write a letter or email to everyone that you've worked with during the duration of your employment. You can write personal messages to your closest co-workers and write a more general message to everyone in the company.
Hang up a (funny) poster – If you work at an informal company, you can announce your retirement by hanging up posters in the company, just like in high-school.
Send out cupcakes – You can surprise your co-workers by handing out cupcakes to announce your retirement. This way, it's more of a celebration than an official statement.
Hold a special meeting – Announcing your retirement is a major accomplishment. So, holding a special meeting just to deliver this message can be a perfect way to announce your retirement.
Say it with a cake – Surprise your co-workers with a cake during the coffee break. You can put a text (and photo) on the cake. For example, "Congratulations…to me! I'm retiring", "Happy retirement to me", "At (date) I'm outta here" or any other funny or sincere text you can come up with it. Check out these Retirement Cake Saying Ideas.
Text on a mug, t-shirt, or tie – It can be hilarious if you announce your retirement with a subtle or very obvious t-shirt, mug, or tie. For example: "two weeks and counting.", "Tick, tock, tick, tock" or "Bye Bye Tension, Hello Pension." For sure people will come up to you immediately and start asking questions. It's a funny and informal conversation starter.
Plan an office prank – Okay, not everyone can get away with a prank. But if pranking is part of your company's culture then this could be a very cool way to announce your retirement. Maybe you even can become a legacy where people at the office will talk about your prank for years and years.
Create a video – We make videos every day with our phone or tablet. So why not announce your retirement to your co-workers with a funny or sincere video. It's very easy to do. Record the video with just your smartphone or tablet. And edit it with apps like Imovie and Splice (ios) and Quick and FilmoraGo (android). You can record a message where you talk into the camera or create a funny trailer. Get creative and ask co-workers or family and friends to come up with ideas.
Prepare an automatic email – when your boss is announcing your retirement in a meeting. Make sure you have an email ready beforehand that you can send out to everyone in the company shortly after the meeting. This way, everyone will find out about your retirement plans at the same time, and no one will feel overlooked.
Conference call – If you work at an international company where you work with a lot of co-workers at different locations, you can plan a conference call to announce your retirement. Or announce it at the end of a conference call that is work-related.
Face Time or Call – Your closest co-workers maybe are on holiday or maternity leave at the time you're announcing your retirement. So you can tell the news by calling or face-timing them. This way, they won't hear it from someone else in the company and feel left behind.
Read more: 21 Seriously Funny Ways To Announce Your Retirement
Step 4: Announce Your Retirement To Your Family, Friends, and Clients
After you've announced your retirement at work, you can announce the news to family, friends, and clients.
Friends and family
Your closest family is already informed, but you don't want to tell too many people before you've officially announced it at work. News can spread quickly, and you want to ensure you announce your retirement in the right order to keep the process less stressful.
It depends on the relationship you have with friends and family and how you want to tell the news. Probably you want to tell your closest friends and family about your retirement plans personally.
And here are a couple of ideas. You can:
organize a retirement party to announce the news
announce your retirement during a holiday celebration
tell the news during an annual event
tell about your retirement plans at a family reunion
announce it at the weekly Sunday family brunch or dinner
organize a (family) dinner party especially to announce your retirement
call or face-time family and friends that live further away from you.
send out an email to announce the news.
throw the news in the family whats-app group chat.
plan a trip to see family and friends and announce your retirement.
It's not mandatory to inform every single one of your family and friends about your retirement. That's a lot of work. So make sure the loved ones you care about the most are informed before you put anything on social media. But if that's the way you want to spread the news, go for it!
Clients
After working for so many years, you've likely grown a close relationship with clients and suppliers. They will appreciate it very much if you took the time to announce your retirement to them personally. You can do this in a meeting or give them a call.
And before you announce the news to your clients, make sure you consulted your boss about it. Maybe they want to postpone the news before they found a replacement. This way, you can immediately give the contact details of your replacement to the clients. Or your boss doesn't want you to deliver the news to your clients. To avoid problems, make sure you know what the approach is before you put anything on social media or LinkedIn.
Step 5: Announce Your Retirement on LinkedIn and Social Media
The quickest way to announce your retirement to everyone you know is by putting it on social media. You can skip this step if you're not active on social media or LinkedIn. But if you're active here's how you can announce your retirement.
For social media like Facebook, you can have a more informal approach to announcing your retirement than when it comes to LinkedIn. That platform is more formal, so you might want to keep it formal.
You can go all out with funny quotes, photos, or a video on Facebook and Instagram to announce your retirement. But also on this platform, you want to avoid burning bridges. You can be friends with co-workers on Facebook, so you want to stay away from posting anything that can harm your reputation or the company's reputation.
Announce on LinkedIn
There isn't a dedicated "Retired" section on your LinkedIn profile page. But you can let other members know that you are retired by stating your status on the page's Headline and Summary sections. By placing "retired" on your profile doesn't prevent you from continuing to use LinkedIn's features. You can still contact other members. So here is how you do it:
Step 1: Sign in to your LinkedIn account.
Step 2: Go to "Profile" and select "Edit Profile" to open the Edit Profile page.
Step 3: Click the Headline area's "Edit" icon under your name in the first section to open the Your Professional Headline box. The Edit icon looks like a pencil.
Step 4: Erase the current headline and type "Retired" or any other message in the box. Click the "Save" button.
Step 5: Click the "Edit" icon in the Summary section to open the Summary box.
Step 6: Write a sentence stating that you are currently retired and then click the "Save" button. And click the "Done Editing" button to complete the process.
Step 7: Clear the "I Currently Work Here" checkbox and enter the employment end date in the job's section.
Retirement Gift Ideas For Yourself
You're retiring and that is a huge life accomplishment. Make sure you treat yourself with a great retirement gift.
One of the coolest gifts you can give yourself is to have something fun to do and learn something new every day. And you can do that by getting yourself a Membership to Masterclass.
MasterClass is an online education platform with the world's most successful and famous teachers (writers, athletes, actors, musicians, chefs, etc). They offer masterclasses (for any skill level) from cooking, acting, writing, poker, singing, sports to science, and so much more. Taught by the best in the world: Gordon Ramsey, Christina Aguilera, Usher, Hans Zimmer, Stephen Curry, Carlos Santana, Jimmy Chin, Dan Brown, Serena Williams, etc.
You want to make the most out of your time in retirement and challenging and educating yourself is the best way to do just that.
How To Celebrate Your Retirement
You can celebrate your retirement in all sorts of ways. From buying yourself a great gift, hosting a retirement party or fulfilling one of your bucket list dreams. Retirement is a major accomplishment in life that calls for a celebration and you don't want to let this moment go by without enjoying it in some sort of way. And there are many ways to celebrate retirement that reach from expensive retirement parties to low-cost celebration ideas.
So to help you out, I have written an article with 30 ideas to celebrate your retirement. So you can pick which one fits your situation and wishes best. Click on the link below.
Read more: How To Celebrate Your Retirement: 30 Awesome Ideas