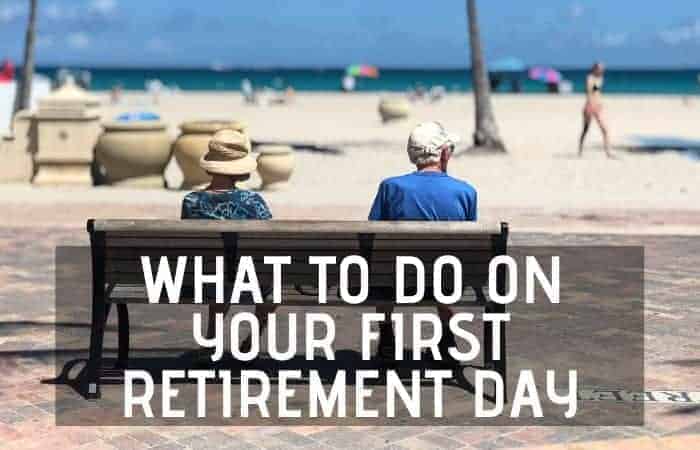 Retirement is near, and you're probably looking forward to it for a while. You might find it challenging to figure out what to do on the first day of your retirement. I'm here to help you out, and created this list of 30 things you can do on your first retirement day! And make sure to check out my helpful ebook: Five Steps To Happiness In Retirement.


---
1. Sleep In
After so many years of waking up early to leave for work, you finally don't have to set an alarm clock. And especially on your first day of retirement, you treat yourself by sleeping in and waking up slowly. Because not having to rush to work in the morning can be a liberating feeling. So enjoy your first morning by not rushing things and sleep as long as you want.
[cp_modal display="inline" id="cp_id_fefb0″][/cp_modal]
2. Have A Gourmet Breakfast
After slowly waking up, maybe reading the newspaper or a book, you can make yourself a gourmet breakfast. You have all the time, so you can prepare anything you want. Or you can order in if you don't feel like cooking.
3. Meet With Friends For Coffee
Perhaps you've always drove passed that beautiful coffee place on your way to work. Well, now is the time to call up a friend and meet up for coffee. Maybe some of your friends are also retired, or you can catch up with a friend you haven't seen in a while. Enjoy a nice cup of coffee and a conversation where you don't have to watch the clock.
Did you know that keeping up with social activities is important to do when you're retired? According to this article on Harvard Health Publishing, people with many social interactions are often more active. They say that having a lot of social interactions and staying active are related to healthy aging. So, next to the fact that it is great fun to meet up with friends for a coffee, it can also benefit your health!
If you want to know more about how you can keep up with social activities in retirement, I recommend reading my article, 20 Ways How To Stay Social In Retirement.
4. Create A Retirement Bucket List
Now you're retired, it's time for the things you've always wanted to do. And the first day can be an excellent occasion to create a bucket list or add new ideas to an already existing bucket list.
When someone asks me how they can prepare for retirement, I always recommend that they have something to retire to. Retirement is about enjoying your free time in the best way possible. And if you have an idea about the things you want to do, it is easier to plan your activities.
If you find it challenging to come up with new activities, creating a bucket list can also help. Don't be too hard on yourself. Just take some time and write down the things you want to do. You might ask yourself, what do I regret NOT doing in retirement, to come up with new ideas.
When you're married or living together with someone, talk about your bucket list ideas together. Maybe you can come up with even more ideas and things you can do together! If you need some inspiration, you must read my article, 101 Ideas for your retirement bucket list.
5. Apply For A Class
If you've heard yourself say: I always wanted to learn… Then your first day in retirement is a great time to apply for a class or course you've always wanted to do. Did you know that there are many colleges in the United States that offer cheaper or even free classes for seniors? You can find a useful list here.
Learning new things is helpful to stay active, and it also keeps you mentally fit. According to Harvard Health Publishing learning new skills helps to slow down cognitive aging.
One of the best and easiest ways to start learning new things on your first day of retirement is by applying for a Masterclass. Masterclass is an online platform that offers video courses in all kinds of categories. And the teachers? They happen to be the most successful and famous people in the world!
There are over 100+ different video courses and more than 1000 lessons currently available on Masterclass. Popular classes are learning how to create the best Texas-Style BBQ by Aaron Franklin. Having a conversation by Jane Goodall. Phil Ivey teaches poker strategy, and Serena Williams teaches tennis. These are just four examples of courses that are available.
6. Start A Daily Exercise Routine
Staying active in retirement is essential, and having a daily exercising routine helps with daily activities. In fact, according to the CDC, physical activities are one of the most important things you can do to prevent issues that come with age.
If you don't have an exercise routine yet, then the first day of retirement is the perfect time to start a healthy exercise habit. It's easier to start with this healthy habit right away than later on.
There are many different ways in which you can start with physical exercise. You can check out fitness or yoga classes nearby. Go for a swim in the ocean, lake, or nearby swimming pool. Become a member of a sports team. You can pick out any sport you like to do.
When you're not used to exercising daily, it's recommended to start with someone who is more experienced. Try to reach at least the minimum requirements of physical activity that are stated by the CDC. Their motto is, move more, and sit less. They recommend having at least 150 minutes of aerobic exercises a week, which comes down to around 30 minutes a day if you do this five times a week.
Most people who exercise regularly are getting more energy and feeling more fit. And many forms of exercise are taking place within a group, which means you also work on your social activities and probably meet new people who you can spend time with.
In my article, How To Spend Your Day In Retirement: Step-by-Step Guide, I share more tips on how to get a daily exercising routine.
7. Find A New Hobby
When you just got retired you have a lot more time available than when you still were working. Spending time on a hobby, or several hobbies is a great way to enjoy your time in retirement. However, many people need to re-discover what kind of activities they like doing.
Your first day in retirement can be a great opportunity to find a new hobby or spend some time on one of your current hobbies. A hobby is not only a fun thing to do, but it also helps you feel good about yourself. Your spend time on activities you like to do.
When you find it challenging to find a new hobby, don't worry. It's natural. Just like many other people, you were probably too busy with work and other things for many years and didn't have time to spend on a hobby. If you want to find a new hobby, it can be helpful to ask yourself questions like;
What is something I loved doing when I was a child?
What is a subject I never get bored of?
In my article, How To Get A Retirement Hobby, you can find a guide with 7 helpful tips that helps you find a new hobby.
Did you know that many retirees start with gardening as a hobby? It's a great way to spend your time and stay active in retirement. When you don't have any experience with gardening, a great way to start is by following the online video Masterclass of Ron Finley. He teaches the basics of gardening, which is very helpful!
8. Catch Up With Friends and Family
Because you've been busy with work, you probably haven't seen or spoken to friends and family members for a while. And you can use a couple of minutes or hours on the first day of your retirement to call them up and catch up. And see what they are up to and make plans to see each other now you're retired.
9. Check Your Finances
Okay, truth be told, this is probably something you don't want to do on your first day of retirement. However, not many people thoroughly think about their plans for retirement before they retire. And if you have a plan with things to do in retirement, it can be a disappointment when your finances don't align with your dreams.
So before you create a fun plan for retirement, check your finances to see what's possible, make a budget, and then make a fun plan. You don't have to spend your whole first day in retirement looking into your finances. Maybe you make an appointment with your financial advisor somewhere in the first days of retirement.
Either way, having a solid financial plan helps to create a fun plan and thus enjoying your time in retirement. If you don't have a financial plan yet, or looking for a financial advisor, I recommend visiting the website of Napfa, the National Association of Personal Financial Advisors in The United States.
10. Go On A Trip
One way to celebrate your retirement is to go on a trip with your spouse, friends, or family. You start your retirement days in a new fresh environment instead of spending it at home.
Fun Fact. The first phase of your retirement is known as the honeymoon phase, so why not go on a honeymoon trip!? I'll tell you later more about the different stages of retirement.
The beauty of retirement is that you can decide to go anywhere you want. So on your first day of retirement, you can plan a trip to go relax in the Caribbean, go on a cruise, camp in a national park, a European tour, theme park visit with your grandchildren. You can find more inspiration in my article, 20 Amazing Vacations, and Trips for 60-Year-Olds.
11. Make A Travel Plan
When you don't start your trip on the first day of retirement, you also can use your first day to start making travel plans and look for the best travel deals to destinations you've always wanted to visit.
This way, you've something to look forward to in the next couple of weeks or months.
I love traveling myself, and full-time and I wrote several helpful articles.
12. Give Yourself A Retirement Gift
It's your first retirement day, so why not treat yourself with a beautiful gift? Don't go crazy and spend all your savings right away. If there's something you have your eye on for a while, and you can afford it. Why not? You've worked very hard and are well deserving of a nice retirement gift.
This is a day you want to remember, so why not treat yourself with something nice? If you love to learn new things, then I definitely think that one of the best gifts you can give to yourself is an all-access pass to Masterclass.
13. Make A Road Trip
Do you love traveling and being on the road? You have all the time in the world. So where would you go? Hop in your car and drive to any place you want. You'll see people commuting from work, and it's a great feeling when you realize that isn't your world anymore. It can give you a liberating feeling to hop in your car and go anywhere you want without having to worry about being back in time.
Maybe you want to buy an RV and go on a longer trip with your spouse. Many retirees plan for a trip through all the states in the US. Why not start with a road trip on your first day of retirement? If you don't know where to go, you can find some inspiration in my article, The 20 Best Retirement Trips In The USA
[cp_modal display="inline" id="cp_id_fefb0″][/cp_modal]
14. Start Volunteering
Volunteering is a great way to stay active in retirement and to help out within your local community. Many retirees start with volunteering because it gives them a sense of fulfillment.
Maybe starting with an actual volunteering job is not something that's the first thing you want to do as a retiree. However, you can look around for volunteering opportunities and job openings on your first retirement day. You can go to the local community center and ask if there's a way for you to help out, or you can look online on volunteer.gov for several job openings.
I tell you all about the benefits of volunteering, in my article Why Do Retirees Volunteer?
15. Host A Retirement Party
You can use the first day of your retirement to celebrate it with friends and family by hosting a dinner or having a party. If you haven't celebrated your retirement (enough), then the first day of your retirement is perfect to plan a party. You'll have something to look forward to once you retire, and you have a positive start to your retirement with new and heartfelt memories to build on.
I created a helpful guide when you decide to celebrate your retirement at home, How To Celebrate Retirement Party At Home: 14 Tips
Also, it can be helpful to have a retirement party checklist, so it's easier to plan your epic retirement party, get it here!
16. Meditate To Relax
The opposite of having a party is relaxing. When you're able to relax and avoid stress on your first day of retirement, you probably enjoy your time much more. Meditation is a simple technique that, if you practice it for as short as 10 minutes a day, can help you control stress, and relax better.
And if you want to live your retirement in a happy, healthy, and relaxing mindset, it's best to start as soon as possible. So your first day is a great time to start or continue meditating. I use the meditation app Headspace that I would highly recommend to everyone. It's clear, practical, and very hands-on.
17. Get Inspired by TEDtalks or Podcasts
Retirement is a new chapter in your life. It's a big change, and it sometimes can feel overwhelming. But you can get inspiration from other people who faced challenges in their lives. Or have tips on how they enjoy their retirement. There are lots of inspiring online videos via TEDtalk or great retirement podcasts like Your Retirement Starts Today Podcast.
18. Babysit Your Grandchildren
If you've been looking forward to spending more time with your grandchildren once you retire, then why not on your first day in retirement? When your grandchildren live close by, it's easy for you to step in and babysit. But if they live a bit further away, you can plan to stay for a week or month.
19. Relax And Chill For The Day
After working hard for many years, it's time to relax and unwind and let it all sink in. So sit by the pool, patio, or in your garden and relax by reading a magazine, book, listening to music or drinking your favorite cocktail. Treat yourself by enjoying this newfound freedom where anything is possible, and you can control your schedule.
20. Have Lunch In Your Favorite Restaurant With Your Spouse
Celebrate your new life by going to your favorite restaurant and have a gourmet lunch together with your spouse. Perhaps, you're the only one retiring, or he or she is already retired, and now you both can enjoy it. And then its also a great time not only to celebrate it, but also positively talk about what you're going to do in the next few days, weeks, and months. It will be an adjustment for both of you, so good communication is critical not to get frustrated with each other. And to manage each other's expectations.
Many couples ask themselves if they should retire at the same time. It's a difficult question to answer, and for everyone, it's different. I explain more about the thing you need to consider when answering this question, in my article, Should Couples Retire At The Same Time?
21. Go For A Hike In Nature
Nature has so many healing powers on us humans. And going for a hike in nature is a great way for you to process everything that has happened. It can be hectic towards finally retiring, and when you're too busy, you're not able to process emotions, feelings, and (stressful) events. And by going for a walk in nature, you create space to let it all sink in.
22. Have A Massage
If you've always had a stressful job, you can treat yourself by giving yourself a relaxing massage on the first day of retirement. This way, you'll be more relaxed and create the time and space to unwind and detox from work. Probably one massage isn't enough, but it can be a great start.
23. Tick Off Something Of Your Bucket List
If you've already created a retirement bucket list ready, then the first day of retirement is the best time to check an item off. To celebrate your retirement and to come in the right mindset. That retirement is the time for you to do all the things you've always wanted to do.
Whether it's bungee jumping, traveling to a bucket list destination, or something else out of your comfort zone. When you start checking things off right away, the chances you're continuing to do things out of your comfort zone will be higher. It will make you feel alive, which is an excellent start for this new chapter in your life.
24. Avoid Watching TV All Day
Many retirees tend to fill up their retirement hours watching TV. And that's something you want to avoid in the first days and also later your retirement. Because by watching too much TV you're filling up your time: you waste it. And it can make you feel sad and depressed after a while.
So you want to fill up your time in retirement with meaningful activities that make you feel fulfilled and on things you always wanted to do. And watching TV aimlessly is not the way to do it. And if you nip in the bud early, you will prevent it from happening and turning it into an unhealthy habit later in retirement.
25. Avoid Aimless Scrolls Through Social Media
Also, avoid aimless scrolling the internet and social media. It's not that you can't go on the internet to check what other people are doing, looking up information or booking travel trips. It's the aimless scrolls to fill up the time you want to avoid.
Because let's face it always going on other people's social media accounts like Facebook, Twitter, or Instagram, it doesn't make you feel better or good about yourself. Social media is a wrong reflection of the reality of life. Everything seems perfect on social media, and comparing your life with theirs is a very easy route and unhealthy to take when you're not aware of your thought process.
The feeling of unworthiness can sneak up on you very quickly this way and is a reason for many retirees to get depressed. So it's better not to start with an unhealthy habit than to get rid of it later in retirement.
26. Don't Commit Before You're Retired
Now you're retired, you have all the time in the world. And other people will notice that too. They will approach you for favors, and if you don't say NO right away, you'll end up committing to too many things without properly enjoying your free time. You've worked very hard to have control over your own time and schedule, so you don't want it to be taken over by others again.
Give yourself a little breather and take the time for yourself to figure out how you want to spend your time in retirement. That sometimes takes a couple of weeks or months. You can explain to people why you're taking your time, so they understand where you're coming from. You can use words like: "I'm not saying NO, but I'm saying NO right now to give myself space to enjoy my retirement first and to figure out how I want to spend my time in retirement."
27. Create A Retirement Schedule
Having much more leisure than you're used to, can also be difficult. When you were still working you probably had a strict daily schedule, which was the same day in and out. This changes when you're retired.
It can be helpful to create a daily retirement schedule, and if you start with this on your first day of retirement, you know better what to expect in the coming days or weeks. You can easily fill in your activities in your agenda to see what you're up to in the coming days.
28. Learn About The Retirement Transition Stages
Retirement is a big life change, and it's important to know that you need a transition process. When you think about it: going from a structured life with a job for 40+ years to a life full of free time and endless possibilities. For many, it's exciting, but for many others, it can be terrifying too.
Everyone will react differently to life changes, but there are 5 typical retirement stages you need to be aware of. So you'll know what to expect and give you landmarks to help judge where you are and what lies ahead of you. And it's essential in any phase to be proactive and take charge instead of waiting for a situation to unfold.
Pre-Retirement – This phase is a couple of years before retirement up to your actual retirement day.
Honeymoon – This is the phase where you just retired. Your first day of retirement up to the first couple of weeks or months. Everything is new and you're excited, just like newlyweds, hence the name honeymoon phase.
Disenchantment – For some retirees, the honeymoon phase will be followed by a period of disillusionment. The reality of retirement hits in. And the dreams they had before about retirement, aren't the reality of their retirement right now. It's the time where many people ask themselves 'it this it?'
Reorientation. This phase is where retirees are actively developing ideas and move towards a more balanced life. It's an exciting phase where you build the life you want. You're orientating, thinking, and exploring new routes.
Stability – This is the stage of real "retirement." You're not planning, preparing, and moving towards retirement; you're living it and enjoying it. You get fulfillment in retirement.
You can find more information about these stages of retirement in my article, What Are The Stages Of Retirement?
29. Find Your Passion
If you know what you are passionate about, you'll easier find things to do that relate to that passion. However, many people lost their passion along the way just because they were too busy building a career.
A great way to start your retirement is to re-find your passion. You can find a helpful guide in my article How To Find Your Passion In Retirement?
30. Do Something Crazy
The last one on this list. I recommend you do something crazy on your first day of retirement. Do something you get excited about, but maybe also a bit scared of doing. Get out of your comfort zone, because that's really where the good things happen in life.
I'm not saying you need to do something dangerous, always be careful! You can just do something you always wanted to do. Maybe you can buy tickets for a concert or sports game. Or learn how to play guitar.
Whatever it is, doing something you always wanted to do is a great way to start your retirement!