When the retiree plans to live out their bucket list in retirement, then the best retirement gift you can give is a bucket list related gift. But what are great bucket list gifts for a retiree? Well, I've listed 25 amazing ideas in this article to help you out.
Thank you for supporting Retirement Tips and Tricks: Please note that links in this article are affiliate links. When you make a purchase using these links, we get a small commission at no extra cost to you.
1) The Bucket List Book: 1000 Adventures Big & Small
This Bucket List Book is a great gift for a retiree who needs more inspiration for their retirement bucket list. It's filled with 1000 around-the-world adventures and unique things to do per continent. The ideas range from sports-related endeavors, natural wonders, cultural experiences, culinary delights, and much more. It for sure will inspire the retiree with adventure ideas and fuels his or her wanderlust even more.
2) My Bucket List Journal
A retiree who plans on checking off his or her bucket list needs a journal to collect all their favorite memories and adventures. And this coffee table journal is an excellent retirement gift. That includes Bucketlist of 101 blank items, a world map, interviews with successful high profiles, enough space to insert pictures, inspiring quotes and beautiful photos from around the world.
3) Retirement Bucket List bucket & stationery set
This is the most literal retirement bucket list gift you can get for the retiree. It's a retirement bucket list bucket with stationery and a pen for the retiree to write their bucket list ideas. Or to use at a retirement party, so that guests can fill in great ideas for the retiree's bucket list. It comes in a decorative gift box and you can add Retirement Party Advice and Wishes Cards when you want to use it for a retirement party.
Read more: 30 Ideas To Make A Retirement Party Extra Special
4) 100 Things to Do Bucket List Scratch Poster
A great way for the retiree to keep track of their bucket list achievements is this Bucket List Scratch Poster with 100 things to do. From climbing a mountain all the way to jumping out of an airplane, etc. It's filled with cool and adventurous ideas that can inspire the retiree to get out of their comfort zone and live life to the fullest. You can frame the poster so the retiree can directly hang it up in their house and be reminded every day by all the fun things he or she can do in retirement.
5) Polaroid Instant Digital Camera
It's important to capture all the amazing bucket list adventures so the retiree doesn't forget about them. A modern and old-school approach is by taking photos with this Polaroid Instant Digital Camera. It has a Powerful 10 megapixel Sensor and the photos are printed in an instant. It's the most authentic way of capturing beautiful moments in retirement and an awesome bucket list gift.
6) Book: 50 States, 5000 Ideas
This book 50 States, 5000 Ideas from National Geographic is one of the most popular retirement gifts out there. And a great retirement gift to inspire the retiree with many ideas for their bucket list. It's a beautifully illustrated book with an abundance of ideas, inspiration and detailed travel information on where to go, what to do, what to see and when to see it in the 50 states of America. A retiree who plans on traveling in the USA can use this book as a detailed travel guide book and a great source of inspiration to fuel their wanderlust.
7) Go Pro Hero 8 Action Camera
The best camera to capture all the bucket list experiences is the Go Pro Hero 8. It can be used for any occasion, whether the retiree wants to use it to video their road trip through the USA, jumping out of an airplane or capturing family gatherings. This camera is the easiest camera to use and our go-to camera for almost anything. It has a built-in stabilizer (earlier Go Pro versions 1-6 doesn't!) that produces very smooth and high-quality images and videos. And because it's a small camera, it fits in any bag. Overall an awesome retirement gift that the retiree can enjoy for a very long time.
8) Book: Destinations Of A Life Time
Most bucket lists have a series of destinations someone would like to travel too. And you can give the retiree this book: Destinations Of A Life Time from National Geographic with 225 of the World's Most Amazing Places. A great source of inspiration that the retiree can use to add items to his or her retirement bucket list. This book is a photographic tour of the world's most spectacular destinations, inspiring ideas and travel information that the retiree can use to plan their next trip.
9) Wanderlust: A Traveler's Guide to the Globe
Another great book to give for retirement is this book: Wanderlust: A Traveler's Guide to the Globe. The retiree can read lists of mythic locations, epic trails, natural wonders, ancient cities, cultural treasures and bucket list ideas as Walk along the Great Wall of China or trek through Patagonia and set sail to the Greek Islands. The book is packed with full-color photos, illustrations, and fantastic overviews of each destination. Therefore a perfect retirement gift for a retiree with or without a bucket list.
10) The North Face Travel Daypack
When the retiree plans on traveling around the USA or the world, they need high-quality travel gear to make their experience the best it can be. And so a great retirement bucket list gift is this Daypack from the famous brand The North Face. It's one of the best and versatile backpacks out there that the retiree can use for any type of adventure in retirement: from hiking through National Parks to city trips in Europe. It's our go-to backpack all the time, so we can recommend it without any hesitation. You can even choose between different colors to see what fits the retiree style best.
11) Scratch Off World Map
When the retiree is an enthusiastic traveler, then this Scratch Off World Map is a perfect gift to give the retiree. He or she can scratch off all the places he or she has traveled to and also see what places are still left on their bucket list. It will definitely motivate the retiree to explore more and it's a fun piece of personalized art they can hang up in their house. A great conversation starter that leads to telling amazing stories about their adventures in retirement so far.
12) Book: 100 Parks, 5000 Ideas
A retiree with love for the great outdoors will love getting this book 100 Parks, 5000 Ideas as a gift for their retirement. The book is made by the experts of National Geographic and it's filled with helpful travel tips and beautiful photography. It showcases the best experiences, both obvious and unexpected, in the top national, state, and city parks throughout North America. A great source of inspiration for someone retirement bucket list.
13) Purposeful Retirement Book
Creating a bucket list is all about making the most out of your life. To have dreams and goals to strive after is the reason why many people like to create bucket lists. But a lot of retirees struggle with the instant amount of freedom they receive in retirement and they missing having daily goals and structure that came with having a job. And this book: Purposeful Retirement can help retirees bring happiness and meaning to their retirement. The award-winning author of this book (Hyrum W. Smith) encourages the reader to discover their true passion, re-imagine their life, and try new possibilities. So, by giving this book, you could give the retiree the best gift of their life. Without even knowing they needed it.
14) Retirement Bucket List Gift Basket
A perfect retirement bucket list gift is a gift basket, filled with different items and products the retiree can use to fulfill their bucket list in retirement. You can fill up a steel bucket with several products on this list and give it as a collected gift together with friends, family or co-workers. Check out my article: 25 Fantastic Bucket List Ideas where I give detailed inspiration and information on what to put in a Retirement Bucket List Gift Basket.
15) Oasis Kindle E-reader
Outliving a bucket list mostly means doing a lot of traveling in between. And one of the best travel gifts you can give the retiree is the tool for unlimited reading in retirement: the Oasis Kindle E-reader. It's waterproof and has an adjustable warm light to shift screen shade from white to amber. It reads comfortably just like real paper and it works with Audible so the retiree can pair the e-reader with Bluetooth headphones or speakers to switch seamlessly between reading and listening.
16) Leatherman Multitool
Any bucket list experience can get a lot easier with this Leatherman Multitool. It's an overall handy tool to have on the road and can be convenient in all sorts of occasions. From travel adventures on the other side of the world to the retiree's home garage. This Leatherman is a real powerhouse tool made of stainless steel that comes in a portable size and with 25 years of warranty. A practical retirement gift to enjoy for a lifetime.
17) Digital Picture Frame
After fulfilling a bucket list dream and capturing it you need something to showcase it. And this Digital Picture Frame is the perfect way to show all the adventures. The retiree can use it to display his or her favorite bucket list photos, and the coolest thing is that the whole family can connect to this device from anywhere in the world to share their photos instantly. This way the retiree can see all the adventures of his or her family immediately by watching their own digital picture frame.
18) Sony Noise-canceling Headphone
Another must-have travel essential is this world-leading Noise-canceling Headphone from Sony. Because when traveling in planes and vehicles you experience a lot of white noise that can make you tired. And with a noise-canceling headphone, you can listen to music in high-quality sound but also actively cancel out the white noise. This makes traveling more comfortable and a lot less exhausting and that's why it's a fantastic retirement gift as well.
19) Dom Perignon Gift Basket
Giving champagne as a retirement gift is, in this case, a great idea for two reasons. 1. Retirement is a celebration and by giving a bottle of champagne you give the retiree a great way to celebrate their retirement. And 2 checking off a bucket list item is a dream coming true and that also calls for champagne. And what better way to that is with a Dom Perignon Gift Basket with the world's best vintage champagne. You can even add a note: only open when you fulfill one of your bucket list dreams in retirement. It for sure motivates the retiree to go after what he or she wants most in life.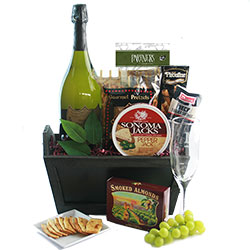 Dom Perignon Greetings – Wine Gift Basket
20) The Adventure Begins Travel Mug
What better way to say the adventure in retirement begins then with The Adventure Begins Travel Mugs. We use these mugs all the time when we travel around Europe with our rooftop tent. So, we know they can take a beating and are a perfect prop to use in many pictures. This set of two has a mug with the text "The Adventure Begins" and a mug with the text "The Adventure Never Ends". A perfect gift for a retiree who loves to camp or as a symbolic gift for any retiree.
21) Personalized Retirement Bucket List Mug
Another mug you can gift the retiree is this Personalized Retirement Bucket List Mug. A funny and inspirational retirement gag gift to give a retiree a couple of weeks before retirement or to use on their retirement party. It has the text: "Name's, Retirement Bucket List. Drop your wishes & bucket list suggestions here". So you can personalize it with the name of the retiree. It's fun to give the mug during the final weeks or days at work, so co-workers can inspire the retiree with fun ideas for their retirement.
22) Funny Retirement Bucket List T-shirt
A retiree who loves beer will love getting this funny Retirement Bucket List T-shirt. A t-shirt with a bucket filled with beers that comes in five different colors and where you can select a men's and women's fit and sizes from a Small to 3XL.
Read more: The 25 Best Retirement T-Shirts | For A Retirement Gift
23) Travel Beer Bottle & Can Cooler
A retiree who can't live without a cold beer and that has plans to travel in retirement needs this awesome gift: Travel Beer Bottle & Can Cooler. It chills beer bottles as well as beer and soda cans on the road and also has a built-in beer bottle opener. Its everything the retiree needs to enjoy a cold beer on one of his or her bucket list trips. Available in Black or Silver.
24) "Our Adventure Book" Wooden Scrapbook
After fulfilling a bucket list experience with taking many photos the retiree can create an awesome scrapbook to collect all their greatest memories when you give this Wooden Scrapbook "Our Adventure Book". It's a DIY photo album with a stylish wooden cover and an engraved world map. The retiree can mark on the map where their adventurous trips have taken them and save all their memorable photos in this book. And they can write comments on the side so that he or she can mentally repeat their fun retirement adventures whenever they want.
25) A Bucket List Experience
Make one of the retiree's dreams come true by giving him or her a bucket list experience as a retirement gift. Perhaps, they've mentioned multiple times what their biggest dreams are or what things they look forward too most in retirement. And when it is something you can organize and is within your budget or you can do together with friends, family, and co-workers it can be the best retirement gift out there. Maybe it's a hot air balloon flight, visiting far-away family (airplane ticket) or a wine tasting trip to Napa Valley. With a bit of creativity, organizing and including as many people as possible, you can do extraordinary things that will rock the retiree's world. Good luck!
Check out 101+ Ideas Retirement Bucket List Ideas for more inspiration.
Recommended Articles
The following articles might be interesting for you to read as well: