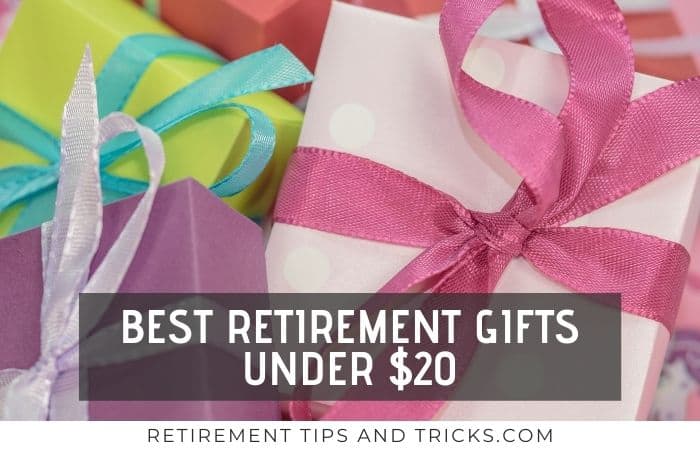 Are you looking for a great inexpensive retirement gift? Well, I've got you covered! In this article, I share 30 of the best retirement gift ideas under $20. So, let's get shopping!
Just a heads up, this post contains affiliate links. As an Amazon Associate I earn from qualifying purchases. Purchases you make through these links may earn us a small commission, at no extra cost to you.
1) The Legend Has Retired Whiskey Glass
This Whiskey Glass with 10 Karat Gold engraved text: "The Legend Has Retired" is a great retirement gift for a boss, coworker, relative, or friend. The glass holds 14 ounces and can be used for any type of liquor and only $16.
2) Travel Book: 50 States, 5000 Ideas
Does the retiree have travel plans? Then this book 50, States, 5000 Ideas is an excellent retirement gift for only $16. It's one of the retirement gift bestsellers on Amazon.
It's a rich illustrated book from National Geographic that gives the reader ideas and inspiration on where to go, what to do, what to see, and when to see it in the 50 states. And you get travel information on national parks, beaches, hotels, battlefields, ranches, out-of-the-way museums, and more.
3) Cookie Bouquet
Celebrate retirement by giving a nice bouquet of Thank You cookies for under $20. You can get an arrangement of fresh-baked, hand-decorated sugar cookies with a Thank You note (or custom) on top from Cookies By Design. They or the #1 Original cookie bouquet company and have fast delivery and can deliver cookies on the same day.
4) Retired Baseball Cap
This black and white Retired Baseball Cap is a perfect gift for your dad, uncle, boss, or co-worker. Who doesn't want to brag about being retired? It's only $12 and has an adjustable hook and loop velcro strap that fit most people.
5) Giant Wine Glass
Is the retiree a wine lover and just can't stop drinking? Then this giant wine glass shaped like a wine bottle with the phrase "Finally! A wine glass that fits my needs!" is a funny retirement gift for under $20.
6) Funny I'm Retired T-shirt
This funny retirement t-shirt with text: "I'm Retired. This is as Dressed Up as I Get" is a great gift for any retiree with a good sense of humor. It's a men's t-shirt made from 100% cotton and under $20.
7) Funny Beer Mug
Looking for a great retirement gift for a beer lover?
This Funny Beer Mug is what you're looking for. It's a 15 oz beer mug with the funny text: "This Beer Tastes A Lot Like I'm Not Going To Work Tomorrow". And is under $20.
8) I'm Retired Wine Glass
Looking for a funny retirement gift for a wine lover?
Then this wine glass of 15 oz. with the funny text engraved: "I Can Wine All I Want I'm Retired" is the perfect retirement gift for him or her. And only $15.
9) Personalized Coffee Mug
Looking for an awesome retirement gift for a true legend?
You can give him or her this personalized coffee mug with the text: "(Name) The Legend Has Retired". It's an 11 oz ceramic white mug with a premium hard coat and vibrant color text that is microwave and dishwasher safe. A great retirement gift that puts a smile on his or her face every morning when drinking their rush-free coffee. And is under $20.
10) Book: How To Retire Happy, Wild And Free
The Book How to Retire Happy, Wild, and Free is a great retirement gift under $20 and gives the reader inspirational advice and retirement wisdom that they won't get from their financial advisor. The book shares tips on fun leisure activities, creative adventures, and more info about physical well-being, mental well-being, and why having solid social support is important. All ingredients for a successful retirement.
11) Funny Retired Can Coolers
These funny Beer Can Coolers are a great retirement gift for a retiree that loves a cold drink while traveling, camping, tailgating, BBQ-ing, or relaxing by the pool. This 6-pack with the funny text: "Retired not my problem anymore" can fit 12 oz cans and are machine washable. And are under $20.
12) Retired Make-Up Bag
This Make-Up Bag with text: "You Can't Retire From Being Great" is a perfect retirement gift under $20 for your wife, mom, friend, co-worker, or relative. It's made from 100% cotton and linen and get's the best ratings on Amazon.
13) Book: 399 Games, Puzzles & Trivia Challenges
A lot of retirees are always looking for ways to keep their brain active in retirement. And that's why this book: 399 Games, Puzzles & Trivia Challenges Specially Designed to Keep Your Brain Young is such a bestselling hit and therefore a great retirement gift. And you can get it under $20.
14) I'm Retired Coffee Mug
This funny coffee mug: "I Don't Want To. I Don't Have To. You Can't Make Me. I'm Retired" is a fun retirement gift under $20 for a co-worker, friend, boss, or relative with a sense of humor. It's a white ceramic mug that holds 11 oz.
15) The Big Bucket List Book
Give him or her inspiration for their retirement bucket list with The Big Bucket List Book. It has a practical collection of over 130 fresh ideas for inserting life with different sorts of adventures for every budget.
16) Funny Wine Tumbler
This funny wine tumbler for $17 with text: "Retired under new management see grandkids for details" is a perfect retirement gift for her. A grandma that is going to love spending time with her grandkids in retirement. It's a 12 oz, BPA Free and made from 18/8 stainless steel. It's unbreakable, rust-resistant, and doesn't transfer the flavor of your drinks. It comes with a nice gifts box, a straw, a straw brush, and a clear BPA free lid to prevent spills.
17) Funny Retired T-Shirt for Grandpa
This cool T-shirt is a great retirement gift under $20 for a grandpa. It comes in 3 different colors and sizes from a small to 5XL with the funny text: "I'm Not Retired I'm A Professional Grandpa".
18) Freshly Baked Cookie Crate
If the retiree loves to bake you can give him or her a Freshly Baked Cookie Crate from Cratejoy. It's a gift box with high-quality, handcrafted, and organic ingredients to bake your own cookies for $20.
19) My Bucket List Journal
You can give the retiree this bucket list journal. It will make it easier for them to list all the things they want to do and achieve in retirement. It helps them live out their dreams and make the most of their retirement. Which is is a great gift for $13.
20) Insulated Stainless Steel Tumbler
This insulated stainless steel tumbler with "The Legend Has Retired" is a top retirement gift for a legend in your life who is retiring. It's a double-wall insulated cup made from premium stainless steel with a BPA Free press-in lid. It's perfect to keep hot drinks hot and cold beverages icy for many. Great for traveling, driving, camping, and other occasions. Available in black, red and white and if you order the red version it's $19.
21) Funny Socks
These funny socks "Do Not Disturb, I'm Retired" are a great retirement gift idea for a coworker, boss, uncle, grandpa, or friend. And under $20.
22) The Adventure Begins Mug
Retirement is one big adventure so The Adventure Begins Mug is a great retirement gift. Especially when the retiree has plans for traveling, camping, fishing, or any other outdoor activities. It's made from enamel steel and can hold up to 12 fl oz, and is $19.
23) Retired Tote Bag
Tote bags are always handy. Whether for shopping or a day at the beach. This can be her new favorite grocery bag in retirement. It is the ultimate retirement tote bag: "Retired and… Living the good life." Only $15 and a great retirement gift.
24) Book: The Joy Of Being Retired
Retirement is for some people a huge adjustment and struggle. And if you anticipate that for his or her future, then this book: "The Joy Of Being Retired with 365 reasons why retirement rocks — and work sucks" is a fantastic retirement gift. It's only $17 and will inspire them to create the retired life they want.
25) Funny I'm Retired Apron
This funny apron with text: "I'm Retired And You're Not Have Fun At Work Tomorrow." It has two pockets and you can order in 4 different colors: black, pink, red and green. So great gift for both men and women. From bbq pitmaster to cookie baker. And only $19.
26) Diamond Painting Kit
One of the most popular hobbies amongst female retirees is diamond painting. And you can get her this diamond painting kit for under $20 that has everything she needs to start diamond painting in retirement. It can be her new favorite hobby.
27) Book: Build Stuff With Wood
Nothing can be more satisfying and fulfilling than building something with your hands. And that is why a lot of retirees love to get creative in retirement and have arts and crafts hobbies. To help the retiree out with inspiration for new projects you can get this book: Build Stuff With Wood for $15 that has fun projects which require basic tools that everyone has at home.
28) Camping Hammock
When you think about retirement you think of someone relaxing in a hammock. And you can gift the retiree this lightweight and portable camping hammock that's under $20 that he or she can hang up anywhere. Great for hiking, camping, backpacking, the beach, or at home. You can choose between different vibrant colors.
29) Fruit Infuser Waterbottle
Staying healthy is important to enjoy retirement as long as possible. And drinking enough water is important. And with this fruit infuser water bottle, the retiree can enjoy delicious water without added sugar or calories. He or she can use it at home, in the gym, or during hiking, camping, or any other outdoor activity.
30) Hot Dog And Bun Toaster
This Hot Dog And Bun Toaster is one of the most popular kitchenware gifts on Amazon. And it's only $19. It's great for a pool party or just to use every other day when the retiree feels like eating a hot dog. You can make two hotdogs plus buns at the same time. The design is the retro look and you can choose between colors red or blue.
Recommended Articles
If you liked this article, you might want to read my other articles below: