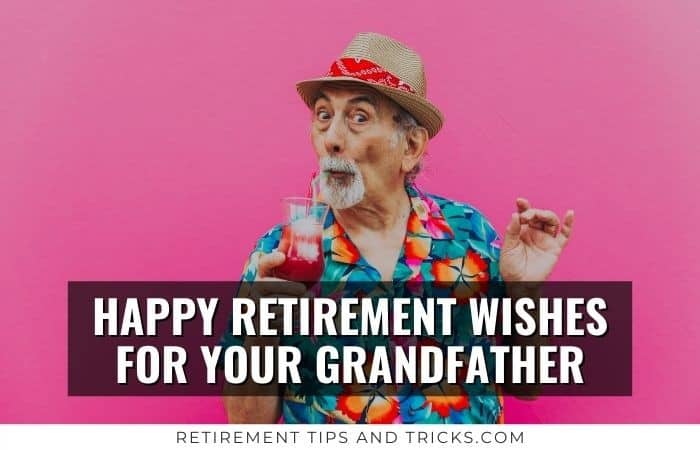 Your grandfather is retiring and you would like to wish him the best in retirement, but you are looking for words to say or write. Well, you have come to the right place! I've listed 50 happy retirement wishes for your grandfather in this article. Also, I've listed three fantastic retirement gift ideas for your grandfather below too. So continue reading.


---
Also, if you're looking for a unique retirement card to write your message, check out this beautiful Happy Retirement pop-up card. It is my favorite.
Retirement Wishes For Your Grandfather
1) Happy Retirement Grandpa! You deserve the retirement of a lifetime!
2) Congrats Grandpa. You've dedicated your whole life to your career. Now it's time for fun and adventure. Enjoy!
3) You are an inspiration, a hero, and a legend. Have a fantastic retirement!
4) You can finally enjoy your retirement and I can't think of anyone else that is more deserving than you.
5) Cheers to your retirement. May it be filled with plenty of naps, beer, sun, and watching sports.
6) You've got this Grandpa!
7) You're not retired, you're a professional grandpa.
8) Announcement: you're under new management. Contact us grandkids for details.
9) Cheers to you for finally being your own boss. Oops. Guess not. Grandma is the boss now.
10) Retiring is not the end of the road. It's the beginning of the open highway. Have fun with all the amazing road trips you have planned.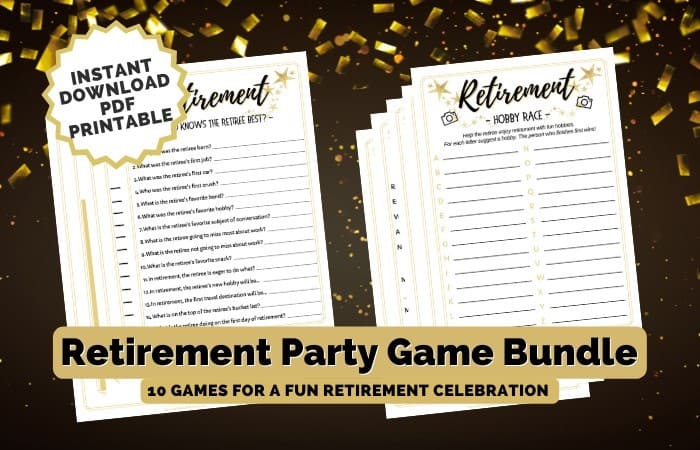 Tip: Add Humor With Fun Party Games!
I discovered the secret to a retirement celebration success: fun party games.
And that is why I have created a printable Retirement Party Game Bundle with 10 amazing party games.
You can share your wishes and advice with the retiree in a fun and memorable way.
11) Congratulations on your retirement. May it be filled with lots of fun, happiness, and family trips.
12) Young at heart. Slightly older in other places… Congrats on your retirement grandpa. Act young, wild, and free, and have the time of your life!
13) It's time to tick of all the things off your bucket list. There are no excuses anymore. Go get'em.
14) And so the adventure begins…
15) Retirement is the time to make all your wildest dreams come true. Call me if you need a partner in crime.
16) Cheers to you. Your beer will taste a lot better when you don't have to work the next day.
17) A retired grandfather is often a grandkid's full-time job.
18) Happy retirement! Create amazing memories and enjoy every minute.
19) Congratulations. Now the fun part begins.
20) Congrats. Your time is yours to enjoy!
21) You fulfilled all of your ambitions. Now it's time to achieve all your aspirations. Retirement is the start of life's golden phase. Give your childhood dreams one more chase.
22) Fill your retirement days with all the desires of your heart and make all your retirement dreams come true!
23) To my grandfather:

Throughout the years, you've always been a wonderful man, you see.
When I was small you took the time to bounce me on your knee.

As I grew older you were there I only had to call.
I knew I could count on you, you'd never let me fall.

So many hard times in my life you've helped to get me through.
I'm so glad God's given me a grandfather like you.
24) Congratulations on reaching this milestone finally. You're an inspiration for the entire family.
25) Let the relaxation begin!
26) Finally the time is there. We can finally hang out more. And what could be better than hanging out with grandpa?
27) Congrats Grandfather. Live each moment to the fullest!
28) Best wishes for this new chapter in your life. Doing what you want, when you want.
29) Wishing you the longest most joyous retirement possible.
30) Here is one very proud grandkid. You deserve a wonderful retirement. I will be there for you in this new adventure that is about to start.
31) Bless you wherever life takes you. May it be filled with love, health, and happiness.
32) Chase your dreams, spend time on your favorite hobby, and don't forget to invite me on your adventures. Have a fantastic retirement!
33) Hey Grandpa, enjoy the ride!
34) You deserve all the best things in life. I hope you have the retirement of your dreams.
35) Cheers to a never-ending vacation.
36) To the best grandpa in the entire world, congratulations on your retirement. Go out there and have fun.
37) Showering and getting dressed are now optional. Enjoy your lazy days in retirement.
38) The most exciting time of your life is about to start. Enjoy your newfound freedom!
39) If you ever get bored. Call me. I've got some fun ideas to do together.
40) Don't let anyone stop you. Have the time of your life in retirement.
41) Words cannot express how proud we are of you. You're the kindest and most hardworking person I know. You deserve to have a retirement filled with all the happiness in the world.
42) We're so grateful to have a grandfather like you. You're one of a kind. Enjoy the stress-free, exciting, and relaxing days in retirement.
43) Enjoy your retirement to the max. I love you.
44) I'm so happy for you. You've worked long and hard to reach this milestone. Enjoy the fruits.
45) I wish you a fun, sunny, blissful, and peaceful retirement together with grandma.
46) Have a blessed retirement. I hope this chapter in your life will be the best.
47) It's time for you to take care of yourself and do all the things you've always wanted to do. Wishing you a wonderful retirement.
48) Age is just a number… Chase all your dreams. Have no regrets.
49) A new and exciting journey is about to start. Can't wait to see where life takes you.
50) The stressful days are over. Only fun things ahead.
Retirement Gifts For Your Grandfather
I've listed three awesome retirement gift ideas for your grandfather below. Just in case you haven't found the most perfect retirement gift for him yet.
1) Masterclass One Year Subscription
As you wish your grandfather all the best in retirement you can gift him access to the best in the world. And by that, I mean a Masterclass Subscription. Masterclass is an online education video platform with over 100+ different masterclasses available. It's one of my favorite retirement gifts out there. And I've spent hours searching for the best, so I know what I'm talking about.
With a subscription to Masterclass, your grandfather can learn new skills from the best in the world. All from the comforts of his own home, at his pace, time, and device. For example, he can watch the Masterclass from Aaron Franklin who teaches Texas-Style BBQ, follow the Basketball Masterclass of Stephen Curry, explore acting with an acting Masterclass from Samuel L. Jackson, get better at writing with the 20 different Writing Masterclasses from the worlds' best writers. And I can go on and on. Definitely check out Masterclass if you want to make your grandfather's retirement fun and interesting.
2) Funny Beer Mug
If your grandfather loves beer then this funny beer mug is a home run retirement gift. It has the text "This beer tastes a lot like I'm not going to work tomorrow". Your grandfather will think of you every time he drinks out of this mug.
3) Book: 50 States, 5000 Ideas
When your grandfather has exciting travel plans in retirement then this beautifully illustrated book: 50 States, 5000 Ideas is the best retirement gift out there. It's filled with amazing travel ideas and fun experiences in every state. From the well-known to the unexpected. Made by the travel experts of National Geographic.