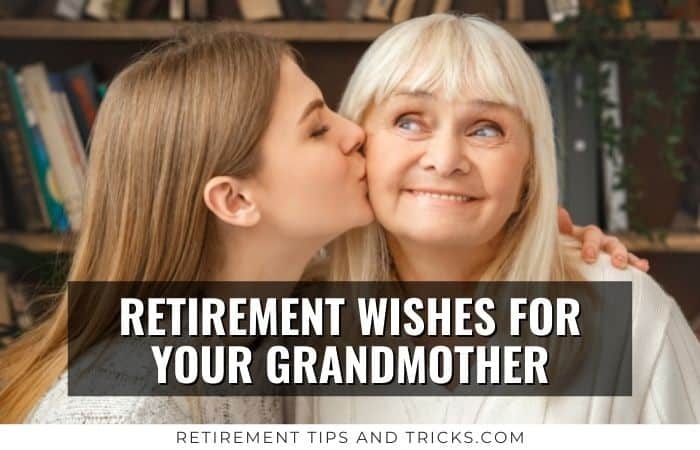 Your grandmother is retiring and you would like to wish her all the best in retirement, but you're looking for the right words to say or write on her retirement card. Well, no need to look further because I've got you covered! I've listed 45 retirement wishes for your grandmother in this article. Let's get started right away!


---
Also, if you're looking for a unique retirement card to write your message, check out this beautiful Happy Retirement pop-up card. It is my favorite.
Retirement Wishes For Your Grandmother
1) Congrats Grandma, have a wonderful time in retirement!
2) I'm proud of you. You deserve a magical retirement.
3) You're not retired. You're a professional grandma!
4) Goodbye Tension, Hello Pension.
5) The end of an era. But the beginning of spending more time with us. Yay, can't wait! Happy retirement!
6) A wise woman said "I'm outta here" and she lived happily ever after!
7) Congratulations! May your retirement be filled with many new adventures, meaningful moments, and a lot of happiness.
8) Yeah you're free! Enjoy ticking off everything on your bucket list. And don't forget to invite me on all your new adventures.
9) Cheers to you! Enjoy every day happy hour. You can wine all you want, you're retired.
10) Cheers to making all your retirement dreams come true!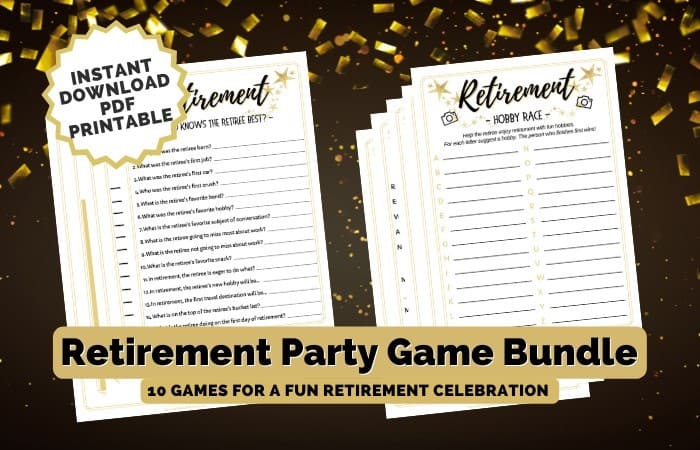 Tip: Add Humor With Fun Party Games!
I discovered the secret to a retirement celebration success: fun party games.
And that is why I have created a printable Retirement Party Game Bundle with 10 amazing party games.
You can share your wishes and advice with the retiree in a fun and memorable way.
11) Wishing you a fun-filled retirement!
12) Have the best time of your life. You deserve it!
13) No more boss to boss you around. Just us grandkids 😉
14) May your wildest dreams come true in retirement grandma!
15) You've worked so hard and dedicated so much time and energy to build your career. I'm so proud of all the things you have accomplished. Now it's time to enjoy all the other fun things life has to offer you. Have a blast!
16) Happy retirement grand, I'm looking forward to going on amazing adventures with you.
17) You've paid your dues, now put on your party shoes!
18) You have a new mantra: "Not my problem anymore, not my problem anymore". Enjoy all the stress-free days!
19) Let's hit the road grandma!
20) Enjoy the longest holiday of your life!
21) Unlimited adventure time has arrived. Enjoy every minute!
22) Congrats Grandma on your retirement. Can you take me with you?
23) Make this new chapter in your life the best one yet.
24) The day has arrived you finally stopped working and can start living.
25) Wishing you nothing but the best in retirement.
26) Dear grandmother, stay healthy, happy, and enjoy your retirement.
27) What do you call a grandmother who is happy on a Monday? Retired! Enjoy your never-ending weekend!
28) Happy Retirement! Getting showered and dressed is now optional.
29) You're only job now is to have fun!
30) Now every day is Saturday! Enjoy!
31) Dear grandmother, after climbing the mountain you can finally enjoy the view. Congrats!
32) Enjoy your freedom. You deserve it.
33) And so now the adventure begins…
34) You're free, I'm free (sort of) let's have some fun!
35) Dear Grandma, you're an inspiration. Cheers to you!
36) The One, The Only, The Legendary (your grandmother's name) Has Retired!
37) May you be proud of the work you have done, the person you are, and the difference you have made. I wish you a happy retirement!
38) Yes now it's time to focus on us grandkids. Can't wait to spend more time with you!
39) Go get 'em, Grandma, it's time to do all the things you've always wanted to do!
40) Hey grandma, you've got this!
41) Go follow your dreams. Have no regrets. It's your time now Grandma!
42) May your retirement days be as sweet as your delicious pie.
43) Time for fun, relaxing, and living life to the fullest. Call me if you need inspiration for your retirement bucket list.
44) Congrats on this huge accomplishment in life. I'm proud of you and looking up to you.
45) Grandma, you're a rockstar. Now it's time to live like one!
Five Amazing Retirement Gift Ideas For Grandma
Now that you have the words to wish your grandma the retirement of a lifetime, let's pick out an awesome retirement gift. And to help you out I've listed five amazing retirement gift ideas below that are either a beautiful keepsake, a personalized gift, or a practical gift that she can use in her retirement.
1) Online Masterclass Subscription So She Can Never Get Bored
This retirement gift is one of my favorites. If you want your grandma to never get bored and use her time in retirement on learning new skills and exploring new hobbies, this is the retirement gift for you.
Masterclass is an online video education platform, works just like Netflix, where your grandma can follow online masterclasses from the best in the world. Cooking classes from the greatest chefs in the world like Gordon Ramsay, Aaron Franklin, Thomas Keller, Alice Waters. Music classes from Alicia Keys, Carlos Santana and so many other great classes in art, business, science, sports, writing, lifestyle, and more.
With an annual membership, she has access to over 100 different classes which she can follow at her own pace, time, and device. New classes are added every month so there is a big chance that one of her idols is on the platform.
You can give this retirement gift individually, together with her other grandchildren, or as a family gift. She definitely will love it.
2) Funny Wine Tumbler
When you're looking for a funny retirement gift for your grandma, then gifting her this car tumbler with the text "Retired under new management see grandkids for details" is a great idea. Practical and funny. And a great reminder for her to have you always on her mind where ever she goes. It's a stainless steel cup that can be used for tea, coffee, wine, or something even stronger than that.
3) Spa Gift Basket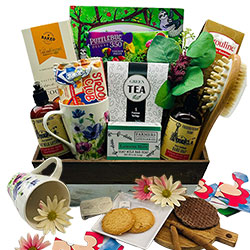 After working hard your grandma probably deserves a bit of relaxation in retirement. And you can help her out by gifting her a spa gift basket to have her own little spa days at home. At Design It Yourself Gift Baskets you can pick out amazing ready-to-go spa gift baskets to pamper your grandma. And add a little something extra as well.
4) Personalized Cutting Board
If your grandmother loves to host dinners or enjoys a cutlery board with cheese every now and then, then this Personalized Cutting Board is an amazing retirement gift idea. You can add her name and retirement date. It's a beautiful keepsake she can use for years to come.
5) Arts & Craft Projects Delivered At Home
When your grandma is looking forward to getting more creative in retirement, I've got the perfect retirement gift for you: Adults & Crafts curated Gift box from Cratejoy. With this gift box, you deliver fun and trendy projects for your grandma to create in retirement. You can choose one delivery or multiple ones (subscription) where she gets a different craft box delivered at home every month. She can learn new techniques like wood burning and engraving and create nice products to display at home. Interested?