Retirement is a huge achievement in someone's life that needs to be celebrated. But if you can't organize a retirement party because of social distancing or other reasons, how do you celebrate retirement virtually? Well, I've listed 30 amazing ideas in this article, to help you out. So continue reading.


---
1) Plan A Virtual Surprise Party
Now that online meetings are the new normal. You can plan a virtual surprise party via Zoom or Teams with all co-workers, family, or friends.
A great opportunity to do this as co-workers is to plan a last meeting with the retiree so that there isn't any suspicion. Or for friends and family, you can plan it on the evening of their first retirement day, or any other day around the actual retirement date. You can even send all guests an invitation.
You have to make sure the retiree is with someone who is in on the surprise to make sure that the retiree has a good internet connection and a laptop or mobile with enough power at the time of the party. He or she can even decorate the background with retirement decorations and others that are invited to the video call can use retirement party props to make it even more special.
Often a video group call can be a bit messy, crowded, and noisy. Therefore it can help to keep the group rather small so that everyone stays engaged. And keep it sweet and short. And to make one person the "master of ceremonies" that leads the virtual party so that everyone has the opportunity to say a couple of words to the retiree.
2) Send A Physical Gift
Whether you're planning a virtual retirement party or doing something else to honor the retiree. It is always a good idea to also send an actual physical gift to the retiree's home. One of the best gifts to send is a Champagne Gift Basket so that the retiree can celebrate and toast to their retirement with a nice bottle of champagne and delicious goodies this basket has to offer.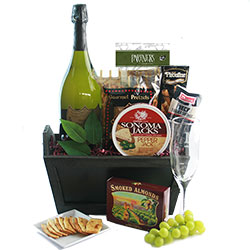 Sending a beautiful bouquet of flowers is also a great idea. Or when you would like to send a small gift you can always go for a funny I'm Retired Mug or I'm Retired T-shirt.
3) Make A Video Montage
Together with friends, family, and/ or coworkers, you can create a fun video montage for the retiree. You might think, well I don't have time for all that. But it doesn't have to be a lot of work.
With VidDay it's become so easy to create a video montage. You just have to send everyone you want to invite a recording link (no need to download anything) and they can record a video on their desktop or mobile. Once they submitted the videos you can watch them and VidDay turns all the collected videos into a beautiful montage for you to share or watch with the retiree. Easy peasy. And very affordable.
You can add simple instructions to ask everyone to say a couple of words, tell a funny anecdote, or let everyone answer the same (funny) questions about the retiree. Or leave the creativity to all the contributors.
4) Create A Virtual Memory Book
You can create a virtual memory book to celebrate the retiree's upcoming retirement. You can collaborate with the most important people in the retiree's life without having to do all the work yourself. Because with Newlywords creating a memory book has become very easy.
On their website, you just select a memory book template to your liking and invite others to submit memories, photos, and well wishes digitally. You can re-edit if you wish and have it printed and send to the retiree. Or download a PDF file to your computer right away to mail the retiree the virtual memory book.
5) Have A Virtual Happy Hour
In retirement every day can be happy hour, so why not make the retiree used to this idea by having a virtual happy hour on their first day in retirement. You can set up a time to meet virtually and toast together with a (self-made) cocktail or glass of wine. You can even share cocktail recipes ahead of time so during the group call you can all make the cocktail virtually and drink it together. It can be a fun activity to do.
Or you can send the retiree a nice gift box with gourmet California Wines or a Craft Beer Gift Box as an invitation to the virtual happy hour that is coming up.
6) Record An Audio Message
Perhaps you're not that great at speaking on camera, you also record a nice audio message to send the retiree. You can send a Personalized Recordable Greeting Card or record a voice memo on your mobile and email it or send it through apps like WhatsApp or Signal.
Getting an audio message makes it more personal and will be even better received than just a normal retirement card. The retiree can play it over and over again and really feels appreciated.
7) Host A Virtual Pub Quiz
Another fun way to celebrate someone's retirement virtually is to host a virtual pub quiz with questions about how well you know the retiree. You can do it live during the group video call where someone hosts a quiz and everyone needs to write down their answer and hold it up in front of the camera. Or you can create a digital quiz through platforms such as Quizmaker.
You can have questions about the retiree's personal and professional life for example: first job, name of pet, number of kids, number of years at the office, favorite holiday destination, biggest dream for retirement etc.
8) Create A Photo Slideshow
A lot of people like to create a photo slideshow and give a presentation about the retiree's life and career highlights. And you can still do this for example: during a group video call, the last meeting, or send it to all co-workers on their last day. It really let them feel appreciated at the office.
You can also do it for your husband, wife, father, mom, friend, or family member and send it to them digitally. Or watch it together.
You can use Animoto, an easy drag, and drop video maker.
9) Write A Column
When you're good with words, you can consider writing a nice column about the retiree to honor him or her. Perhaps you can read it out loud during their last meeting, publish it on the company's intranet or mail it to the retiree along with a nice retirement gift.
You can also publish it in the local newspaper, company newsletter or email it to the retiree and/ or co-workers, spouse, family, and friends.
10) Create A Digital Newsletter
A lot of big companies have monthly newsletters to keep their employees updated about all sorts of stuff, from important news to personal achievements of employees. So a cool way to celebrate retirement virtually is to create a newsletter about the retiree. It's a nice way of honoring or making fun of them. Depending on their sense of humor.
You can dedicate a part of the company's newsletter to the retiree's upcoming retirement date and fill it with fun facts, career achievements, and why they're going to be missed. You can interview co-workers, the retiree, and collect all sorts of fun photos. Creating a newsletter is a nice way to show the retiree that their work didn't go unnoticed and that they're going to be missed.
Also as a friend or family member, you can create a digital newsletter to send to the retiree and all the important people in his or her life. When someone receives a newsletter about the retiree filled with fun news they get the know them a bit better, but it also creates an opportunity to contact the retiree. And wish him or her all the best in the future. Canva is an easy to use Free Oline tool to create beautiful newsletters.
11) Interview The Retiree
A cool way to celebrate the retiree is to interview him or her. You can record it on video, audio, or just in writing and distribute it amongst co-workers, friends, or family.
For a company, it can be great to ask the retiree about his or her career and ask them about what they enjoyed most, their biggest regrets, their highest achievements, and what lessons they've learned over the years. This way it can be a fun tribute to the retiree but also an educational opportunity to show co-workers. The retiree shares wisdom and advice for the next generation and that is so valuable. Or make it a funny video and ask random funny questions.
When a friend or family member is retiring you can interview them about anything; personal and professional. With retirement, you close a chapter and go into the unknown so it's very natural to reflect on the past and talk about dreams for the future. For the retiree, the interview (video, audio, or in writing) can be a great retirement gift that they can watch, listen to, or read from time to time in retirement. It can serve as a great reminder of what they want most out of retirement.
12) Record A Funny Roast
Another awesome thing to do to celebrate retirement virtually is to record or host a funny roast. If the retiree has a great sense of humor and can take a few punches this could be a hit.
You can record the roast on camera in advance or do it live during a group video chat. And here are a couple of good tips for a funny roast:
Ask a maximum of 4-5 people to roast. Preferably a variety of people, so jokes come from different areas.
If possible, plan the order of speakers from funny to the funniest. Preferably, you to save the best for last.
Maximum of 5 minutes speaking time per roast to keep things short, sweet, and engaging.
If necessary, discuss the no go areas beforehand. Embarrassment and black humor are part of a good roast, but making someone very uncomfortable should not be the goal.
Let the retiree have the last word. He or she can take this moment to hold a (quick) speech or end with a (prepared) roast as well.
13) Collect Notes With Best Wishes
You can collect notes, cards, letters with best wishes for the retiree. It can be handwritten notes and cards that you put in a nice box to be delivered to the retiree's house. At Amazon, you can get advice and well wishes retirement cards.
Or you can ask people to email you with their wishes for the retiree and create a digital folder/ PDF file.
14) Deliver A Cake
A celebration without a cake is just a meeting. Therefore you can't forget to order a delicious cake or cupcakes and get it delivered to the retiree's home or office. Perhaps a nice idea is to deliver it during the virtual surprise party and have everyone. A nice idea can be to deliver cupcakes to everyone that is invited to the virtual surprise party so you can all eat cake together. And as finishing touch add a Happy Retirement Cake Topper.
15) Do A Virtual Champagne Toast
It can be a thoughtful idea to do a virtual champagne toast. As you plan your virtual retirement party you can have (small bottles) of sparkling wine delivered to each person that is invited and a big bottle of sparkling wine for the retiree. This way everyone can toast together virtually. You can put the bottles in nice gift bags filled with other goodies such as snacks, and cool retirement party favors. The moment of toasting is a natural opportunity for each person to say a couple of words to the retiree.
16) Organize A Retirement Driveby Parade
Organizing a retirement drive-by parade isn't really a virtual way to celebrate retirement but it is a fun way to honor the retiree at a safe distance. They will feel very much appreciated, loved, and celebrated with a fun car parade. So if that's your goal then this a great idea.
Together with co-workers, friends, and or family, you can schedule a time where you all drive by the retiree's house to celebrate his or her retirement. Each car is decorated with balloons and handmade signs. And the retiree's house can be decorated with a huge banner "The Legend Has Retired", a retirement cupcake or snack station, and other retirement decorations.
You can set up a gift bag table for all the presents and hand out goodie bags. With a message board, everyone can leave a nice message for the retiree. And to make it a bit more fun you can ask people to perform a song or give a funny speech while they drive by.
But you can do it the other way around. Instead of having people drive by the house of the retiree, you can consider driving the retiree around instead. Deck out the car in decoration and fill the backseat with snacks and drinks and visit the retiree's favorite people and places.
17) Leave A Message On Social Media
If you keep in contact through social media you can consider posting a nice message and/ or photo, video on social media to congratulate the retiree on their upcoming retirement. Make sure that before you post anything on social media the retirement is already announced publiclat by the retiree.
18) Send A Digital Retirement Card
You can send the retiree an ecard to celebrate their retirement. You can use Hallmark Ecards as an individual but if you want to send a card as a group you can use Groupgreeting. You create a group card, send the card link to coworkers, friends, or family so that they can sign the card. And after that, the card is sent via email to the retiree at the selected time and date.
If you don't know what to write on the retirement card? Check out these retirement card wishes and quotes.
19) Create A Digital Magazine
As a nice retirement gift and a fun way to celebrate the retiree, you can create an entire digital magazine about the retiree. You can interview coworkers and loved ones to share funny stories and answer questions about the retiree. In the magazine, you can display the retiree's favorite recipe, share fun facts and add beautiful photos, etc. You can use Flipsnack as a Free Online Magazine Maker.
20) Record A Speech
If you would normally give a speech, you can now record a retirement speech on video to share with the retiree or watch together during the virtual retirement party.
When this is something that you would like to do I recommend reading my article, How To Give A Retirement Speech where I share 18 tips to help you give the best retirement speech.
21) Create A Virtual Retirement Bucket List
As you wish the retiree the best time in retirement. You can make sure of it by creating a virtual retirement bucket list. With the endless free time on their hands, it can be sometimes hard to figure out what you want to do. And creating a virtual retirement bucket list can be a great inspiration for them.
You can create a file on Google Docs or a Pinterest Board that everyone has access to and can add cool ideas for the retiree to do in retirement. If you need some inspiration check out my article: 101 Ideas For Your Retirement Bucket List.
22) Visit An Online Escape Room
If you would like to do a fun activity to celebrate retirement virtually, you can visit an online escape room. This is a web-based escape room that you need to escape from by solving riddles and puzzles within a fixed amount of time. It's a fun experience, a virtual team-building opportunity, and a cool way to say goodbye to a retiree. Check out the 24 best virtual escape rooms here.
23) Create An Online Photo Album
A picture says more than words, so why not create an online photo album for the retiree. At Myalbum.com you can create beautiful photo albums. You can even add text and videos. The retiree can reminisce over and over again on the good old times with this online photo album. You can also have it printed and sent to the retiree as a nice retirement gift.
24) Have A Virtual Karaoke Party
You can have a virtual karaoke party via the Houseparty app. It's the same platform such as Zoom, but with the possibility to do karaoke. You can choose between 10.000 songs and can react to the performances in real-time. When the retiree has a favorite throwback time you can have a themed karaoke party for example: back to the seventies so everybody can dress up as well.
25) Play Virtual Games
If you want to add some fun to the group call you can play a couple of virtual games. For example, Never Have I Ever, Charades, or with the Houseparty App, you can play the classic card game Uno or the new game Pick-me. And with the app Quizup, you play trivia and general knowledge and Skribbl is an online version of Pictionary. Or you can just invent your own game.
26) Create A Farewell Music Video
Another fun thing to do to celebrate retirement is to make a fun music video on a popular or the retiree's favorite song. It's simple and fun to organize.
Email everyone that wants to contribute the instructions to recording a video while they sing or dance to the chosen song and ask them to send you their recorded videos. Via wetransfer.com it's easy to send files around the world (up to 2GB for free). Try to encourage people to be creative and dress up in fun costumes. And once you've collected all the videos you can edit them into one collective music video. You can use Magisto as a smart online video editor.
27) Count Down The Time
With the website Time And Date, you can create a countdown clock. You can publish this clock online so that everyone knows how much time there is left until the actual retirement date. It creates an opportunity for people to react to it and congratulate the retiree as soon as time is up.
28) Print A Photo (Collage)
You can create a beautiful photo collage with Canvaspop and send it to the retiree's home as a nice retirement gift.
29) Have A Virtual Dance Party
Hang up a disco ball, create a fun playlist on Spotify, share your audio through Zoom while everyone is on mute, and dance the night away. Do a TikTok dance together or stream YouTube choreography videos to share the same dance moves.
30) Enjoy A Virtual Brunch
Have brunch together to celebrate retirement. You can email the brunch menu a couple of days ahead so everyone can buy the needed groceries shopping. Set a time and enjoy your omelet and mimosa together while you engage via a group call.