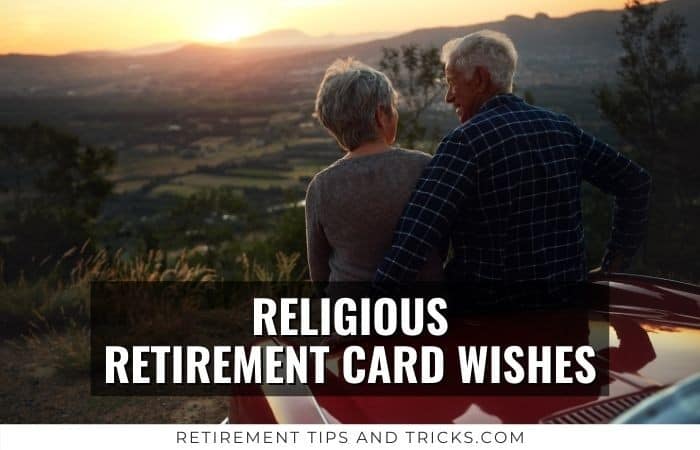 A religious friend, family member, or coworker is retiring soon and you would like to write the best retirement card to wish him or her a happy retirement. And that is why you might wonder, what do you write on a religious retirement card?
Well, no need to look further. I've listed 30 religious retirement messages, bible verses, poems, blessings, and prayers to help you out. And later in this article I also share the list of the best religious retirement gifts. So, let's continue below.


---
Discover 3 Secrets to wishing HAPPY RETIREMENT perfectly!
Join my newsletter and receive these secrets as a welcome gift.
Religious Retirement Card Messages
1) May God grant you the desires of your heart and make all your retirement dreams come true!
2) Best wishes on your well-deserved retirement. May God be with you for the best adventure of your life.
3) Congratulations! May God keeps on showering his love and affection on you.
4) Let us now share in your joy as together, we celebrate what God has done in your life. Today, as you retire, we pray that you will go on to what God has already planned, for you have such an awesome future when you place it in God's hands.
5) Happy retirement! I wish you all the best for this next chapter in your life. May the Lord bless you in wherever life takes you.
6) Congratulations on your retirement may God bless you with a life filled with love, health, and happiness.
7) Happy retirement! Know that God will be there for you in this new adventure that is about to start.
8) May God bless you with a fantastic retirement. Besides chasing your dreams and spending time on your hobby, don't forget to pray to God every day. Strengthen your relationship and enjoy each moment that God has planned for you.
9) Enjoy your freedom and never-ending weekends. Let God be there for you to enjoy the ride.
10) Best wishes on your retirement. You deserve all the best things in life. Let God lead the way.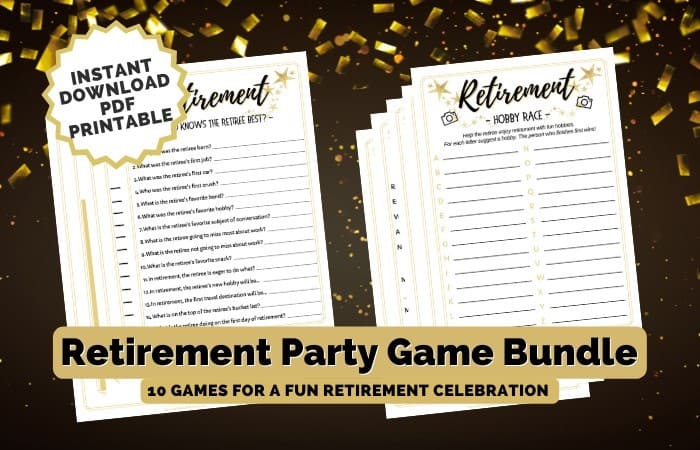 Tip: Add Humor With Fun Party Games!
I discovered the secret to a retirement celebration success: fun party games.
And that is why I have created a printable Retirement Party Game Bundle with 10 amazing party games.
You can share your wishes and advice with the retiree in a fun and memorable way.
11) You've worked really hard,
you've come this far,
I hope you know
how blessed you are!
New tomorrows,
brand new plans,
all of them
are in God's hands.

You'll have more
hours in the day
to hope, to dream,
to rest, to play.
You'll find new ways
to be inspired;
Congratulations!
You've retired!
12) Giving to others
seems to come
so naturally to you,
But I know
it doesn't happen
by accident…
You go the extra mile,
take the extra time,
give the extra thought…
and it really makes a difference.
Thank you! For being such a wonderful example of God's love.
13) Congratulations on your retirement. As you embark on the next adventure of your life remember this;
Happy moments, Praise God.
Difficult moments, Seek God.
Quiet moments, Worship God.
Painful moments, Trust God.
Every moment, Thank God.

14) Congratulations on your retirement. Thank you for faithfully sharing God's love, not only with your word but also with your life. You have made a difference in many lives because of His light in you. May God bless you with a wonderful retirement.
15) Happy retirement! Wishing you all the best and hope that God will be there in all your future plans.
16) Wishing you good health, happiness, and success as you move forward to this next chapter in your life! God bless you.
17) To one of the best and kindest people I've worked with, congratulations on your retirement! Let the Lord be with you.
18) Your graciousness, kindness, and wisdom are going to be missed. I pray God to keep you safe and well and may your retired life be blessed with love and joy.
19) As you retire, may God's graces be with you as you step towards your retirement dreams. Keep the courage as you face new challenges in life. Best wishes on your retirement!
20) Look back and be proud of what you have achieved, Look forward and create the bright future you so deserve. may God bless you on this next chapter in your life. Happy retirement!
21) For your dedication and hard work you deserve the best retirement ever. Enjoy this new journey in your life. Cherish every moment and have lot of fun. May God be with you. Happy retirement!
22) "Commit your work to the Lord, and your plans will succeed." Proverbs 16:3
23) "Whatever you do, do it from the heart for the Lord and not for people." Colossians 3:23
24) "Let God grant what is in your heart and fulfill all your plans." Psalm 20:4
25) "Be strong! Be fearless! Don't be afraid and don't be scared by your enemies, because the Lord your God is the one who marches with you. He won't let you down, and he won't abandon you." Deuteronomy 31:6
26) "Instead, desire first and foremost God's kingdom and God's righteousness, and all these things will be given to you as well." Matthew 6:33
27) "Trust in the Lord forever, for the Lord is a rock for all ages." Isaiah 26:4
28) "Know him in all your paths, and he will keep your ways straight." Proverbs 3:6
29) "I can endure all these things through the power of the one who gives me strength." Philippians 4:13
30) "For I know the plans
I have for you,"
declares the Lord,
"Plans to prosper you and not
to harm you, plans to give
you hope and a future." Jeremiah 29:11
Discover 3 Secrets to wishing HAPPY RETIREMENT perfectly!
Join my newsletter and receive these secrets as a welcome gift.
Religious Retirement Gifts
If you haven't found the perfect retirement gift for your religious friend, coworker or family member. Not to worry, I've listed the five best religious retirement gifts below.
1) God's Bucket List Book
Retirement is the time to do all the things you want to do. And to give the retiree some great inspiration for their time in retirement you can give this book: What If God Wrote Your Bucket List?: 52 Things You Don't Want to Miss. It isn't a list of crazy things you can do but a more spiritual bucket list that will strengthen the relationship with God. "It's a practical, biblical, grace-filled, and fun way to live out your walk with Christ" according to author Steve Brown. An absolute winner as a retirement gift.
2) Retirement Blessing Travel Mug
Whatever the retiree's plans are, an insulated travel mug always comes in handy. And this insulated travel mug with biblical retirement poem is very unique. It's a memorable retirement gift and a sign of appreciation for a special someone. And did I say handy? The travel 16 ounces travel mug hold keeps any hot or cold beverage at the right temperature for a long time due to the doubled walled stainless steel interior and plastic exterior.
3) Personalized Framed Blessing
Another great religious retirement gift is a personalized framed blessing. It's a nice keepsake that is beautiful on the day of gifting but also many years from now. It's a great reminder of you as a person but also something to hold on to in retirement and lifts them up whenever they feel down. This beautiful framed blessing that can be customized to your liking has the following text:
"May you always have work for your hands to do. May your pockets hold always a coin or two. May the sun shine bright on your windowpane. May the rainbow be certain to follow each rain. May the hand of a friend always be near you. And may God fill your heart with gladness to cheer you."
4) Biblical Retirement Guide
Many retirees need a little help to make their retirement a succes. The sudden endless free time on their hands can be a struggle. Gifting a retirement book such us An Uncommon Guide to Retirement: Finding God's Purpose for the Next Season of Life is a great idea. The writer, Jeff Haanen gives biblical and practical tips on how to listen to God's voice for their calling in retirement and how to live a purposeful and god-honoring retirement. The retiree will truly love getting this as a retirement gift.
5) Inspirational Journal
This beautiful turquoise journal features the encouraging Serenity Prayer on the cover and is silver gilt-edged. It has 240 lined pages and each page has an inspirational passage at the bottom. It's a great retirement gift that can either be used as a notebook or journal.