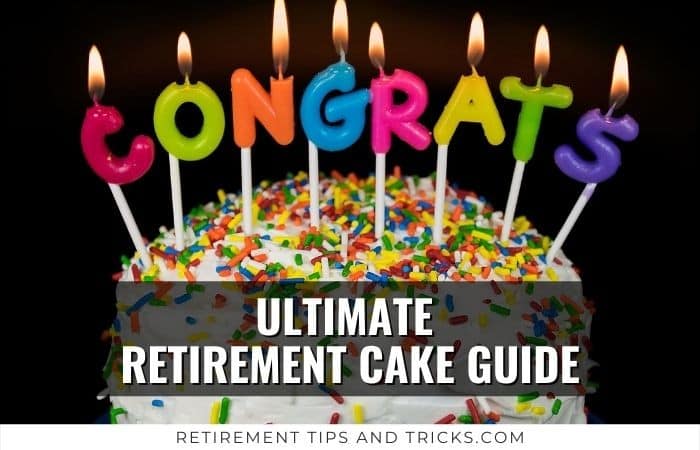 Someone is retiring and you're busy organizing a retirement celebration and you're wondering, do you put candles on a retirement cake?
In general, you put a cake topper that says 'Happy Retirement' or 'The Legend Has Retired' on top of a retirement cake, instead of candles. Also, people write 'Thank You', 'We Will Miss You', 'Enjoy Retirement', Cheers To Your Retirement' or 'Congrats' on a retirement cake with icing or edible letters. Also, you can put numbered candles on the cake to point out the number of working years.
In this article, you'll find everything you need to know about what to put on a retirement cake. So let's continue reading.


---
There are a lot of different and amazing options you can put on a retirement cake, but the most popular one is a sparkling cake topper that says 'Happy Retirement'. Almost any cake will look awesome with this cake topper, but there are also some other cake toppers that can be a great fit for your retirement cake. Here are my favorite ones you can get on Amazon.
Best Retirement Cake Toppers
Happy Retirement Cake Topper
The Legend Has Retired Cake Topper
Officially Retired Cake Topper
These are a couple of favorites but there are also retirement cake options such as 'The Queen Has Retired', 'We Will Miss You', 'Goodbye Tension Hello Pension' that you can get here.
Best Retirement Cake Candles Ideas
Making a wish while blowing out candles from a cake is a great start to any retirement (party). It's the official start of an exciting new chapter and that's why a lot of people like to stick to this tradition. Here are a couple of ideas you can do with candles.
Best Retirement Cake Sayings
Another great idea is to write a funny or sincere saying on a cake to make it more personal. For example, you can put a favorite or go-to-saying of the retiree on top of the cake or wish them the best on their (travel/ hobby) plans in retirement. And to help you out I've listed my 10 favorite retirement cake sayings below:
The Best Is Yet To Come
And So The Adventure Begins…
Hello Forever Weekend
Cheers To Your Retirement
Retirement Is Oh So Sweet
When You've Survived This, Retirement Is A Piece Of Cake
You Can't Retire From Being Awesome
You've Been An Inspiration, Thank You
No Work Ahead
This Cake Tastes A Lot Like; You're Not Having To Work Tomorrow
Still not yet what you're looking for? Check out my article with almost 100 Retirement Cake Saying Ideas.
Amazing Retirement Cake Ideas
To make a retirement celebration even more special you can get creative with a fun theme for the retirement cake. For example, you can decorate the cake in the same theme as the retirement party or create a cake that matches the retiree's plans for retirement such as travel, their favorite hobby, the beach, etc. And put matching sayings on top of the retirement cake. Here are 5 amazing retirement cake ideas:
1) Clock Themed Cake
A clock cake is one of the most popular retirement cakes. You can write Wish You The Best Time In Retirement, Great Time For Great New Beginnings, or Enjoy Your Retirement Time and use the words eat, sleep, shop every hour. Here is a video tutorial on how to make this last retirement cake.
2) Travel Themed Retirement Cake
You can make or order a travel-themed cake for a retiree with travel plans and write 'Bon Voyage' (boat lover), 'Adventure Awaits' or 'The Adventure Begins…' on top of the cake. And for someone that has planned a road trip in retirement you can put the text 'Retirement is Not the End of the Road; It is the Beginning of the Open Highway' on top of the cake.
3) Champagne Retirement Cake
Champagne is the ultimate symbol for a celebration, therefore a champagne-themed retirement cake can be perfect for any retiree. On top of the cake, you can write 'Cheers To Your Retirement' or 'Cheers, Now Every Day It's Weekend'.
4) Who Cares I'm Retired Cake
A messy cake with the clock letters all over the place is also a popular retirement cake. And it has the perfect text on top 'Who Cares I'm Retired'. Here is an example of what the cake can look like.
5) Beach Themed Retirement Cake
Retirement is the time to relax and therefore a beach-themed retirement cake is a great idea as well. And you can put the text 'Sit Back, Relax and Enjoy' or 'Surf Is Up' on top of the cake.