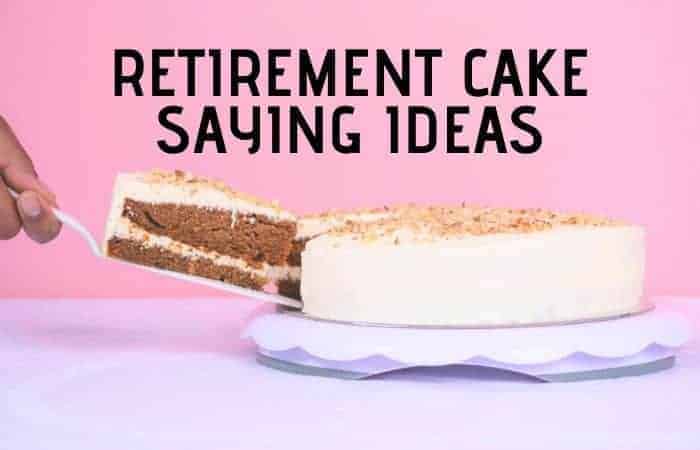 You're ordering or baking a retirement cake, but you're probably wondering what to say on a retirement cake.
Popular Retirement Cake Saying Ideas:
Happy Retirement (name)
Goodbye Tension, Hello Pension
Let The Fun Begin
We Will Miss You, Enjoy
Best Wishes On A Happy Retirement
Congrats On Your Retirement
Retirement: Where Every Day Is Saturday
Retirement Makes Life Sweet
The Legend Has Retired
Time To Relax
You Worked Your Whole Life For This Cake
Wait! There is more. In this article, I've listed 100 fun, unique and classic retirement cake-saying ideas to help you out. So, continue reading.


---
Discover 3 Secrets to wishing HAPPY RETIREMENT perfectly!
Join my newsletter and receive these secrets as a welcome gift.
Before You Order or Bake A Retirement Cake
To make a retirement cake extra special, you want to put the perfect saying on the cake. So, you want to make sure the text reflects the personality or retirement plans of the retiree best and the theme of the cake.
You can think about what plans does the retiree has for retirement? For example, travel plans, hobbies, etc. And see what kind of cake saying in this article fits perfectly with that and start baking or ordering a cake within the same sort of theme. Or think about what fits the retiree's personality best and create a cake that compliments that even more. Check out all sorts of retirement cake decorations here.
Short, Sweet, and Simple Retirement Cake Sayings
Often, there is not a lot of space on a cake, so you want to keep it short and simple. So, check out these cake sayings below that fit perfectly on any type of retirement cake.
1) No More Mondays!
2) You Will Be Missed
3) Officially Retired
4) Start Living!
5) The Best Is Yet To Come
6) Bon Voyage – travel-themed cake
7) Dream Big!
8) You're Free…
9) Don't Leave Us!
10) Hello, Forever Weekend
Retirement Cake Sayings For Your Co-Worker
Your co-worker is retiring, and you want to make sure their last day or retirement party is extra special with a delicious retirement cake. And these below cake sayings from funny to sincere are great to put on your co-worker's retirement cake.
11) Thanks For All The Great Memories
12) Work Will Suck Without You
13) Retirement: The World's Longest Coffee Break – coffee themed cake
14) Happy Retirement! The Great Escape – cake with a prisoner (retiree) is escaping from a prison cell
14) Free At Last – cake with handcuffs
15) The One, The Only, The Legend
16) Cheers To Your Retirement – cake with two champagne glass/ beer glasses
17) Good Luck On Your Retirement
18) Thanks For XX Years Of Service
19) Goodbye And All The Best
20) When You Gotta Go, You Gotta Go – PortoPotty Cake
21) Wishing You Much Happiness And Health In This New Chapter In Your Life
22) Retired: Goodbye Crap, Hello Nap
23) Enjoy Your Time In Retirement – clock themed cake
24) Eat, Drink And Be Retired
25) Wishing You A Long, Happy, And Healthy Retirement
26) For The Dedication And Hard Work, You Deserve The Best Retirement Ever
27) To One Of The Best People (name company) Has Ever Had
28) Retirement Is Oh So Sweet, Take A Treat
29) Who Cares? You're Retired – a messy cake
30) Thanks For The Fun, Laughter And Good Times
31) Retirement Is the Icing On The Cake
32) When You've Survived This, Retirement Is A Piece Of Cake
33) Take Me With You!
34) Cheers, Now Every Day It's Weekend
35) Retire From Work, Not From Life
36) Congrats On Your New Job: Having Fun
37) Thank You For The Music (name) – cake with music symbols
38) Jippie Kayee, You Don't Have To Work Ever Again
39) Retiring, You'll Wonder I You Every Had Time To Go Work
Retirement Cake Sayings For Your Boss
Your boss is retiring. If he or she was a legend, you could make sure of that by writing this on the retirement cake. Or you can take advantage of this opportunity by making a bit of fun with your boss. Because what's your boss going to do about it now? So, below are awesome cake saying ideas to put on your boss'es retirement cake. And make sure to also check out my article with 44 Fantastic Retirement Gifts For Your Boss.
40) Retire Like A Boss
41) You Can't Retire From Being Awesome
42) By Touching So Many Lives, You've Changed The World
43) Officially Retired From This Crap – toilet roll cake
44) You're Gonna Miss Us – cake with emoji 😜
45) Good Luck With Your New Boss: Your Wife!
46) Now You Can Do Anything You Want, As Long As Your Wife Agrees
47) You've Been An Inspiration, Thank You
48) You Were An Absolute Legend
49) A Truly Great Boss Is Hard To Fun, Difficult To Part With And Impossible To Forget
50) Hooray, You Cannot Boss Us Around Anymore
Retirement Cake Sayings For Your Husband
Your husband is retiring, and you want to celebrate this huge achievement in his life by creating a beautiful or funny retirement cake. Check out these cake saying ideas for your husband's retirement cake below and if you're also looking for a great retirement gift?
Read more: 40 Awesome Retirement Gifts For Your Husband
Or give him our Ebook Five Steps To Happiness In Retirement, the #1 handbook for a happy, healthy, and fulfilling retired life.
51) Retired: Young At Heart, Slightly Older In Other Places
52) Great Time For Great New Beginnings – clock-themed cake
53) After Years Of Dedication, It's Time For A Permanent Vacation
54) May You Be Proud Of The Work You've Done, The Person You Are And The Difference You've Made
55) You've Paid Your Dues, Now Do As You Choose
56) Unstressed, Refreshed, Inspired: Retired
57) The Start Of A New Chapter In Your Life – book-themed cake
58) Congratulations On Working For Your Wife Now
59) Congratulations On Your Hard-earned Retirement
60) The Countdown Is Over – Happy Retirement
61) Piece At Last
62) Congrats, You Made It – cake with a finish line
63) Retirement Just Ahead – road sign cake
Retirement Cake Sayings For Your Friend or Family member
Make the retirement cake for your friend or family member extra special with one of these cake saying ideas.
64) Best Wishes On Your Next Adventure In Life
65) Make The Rest Of Your Life, The Best Of Your Life
66) May Your Days Be Filled With Joy and Happiness
67) Life's A Beach When You're Retired – beach-themed cake
68) Enjoy A Fabulous Retirement, (name)
69) Adventure Awaits – world map-themed cake
70) No Work Ahead – traffic sign cake
71) Retirement Is Not The End Of The Road. It's The Beginning Of The Open Highway – road trip/highway-themed cake
72) 1. Rest, 2. Relax, 3. Repeat – To-Do List Cake
73) This Cake Tastes A Lot Like; You're Not Having To Work Tomorrow
74) Retired. Under New Management. See Grandkids/ Spouse For Details
75) Enjoy This New Journey In Your Life
76) Miss Retiree (Year) – Crown and sash-themed cake
77) The Queen Has Retired – cake with a photo of the retiree
78) Oh The Places You'll Go – travel-themed cake
79) Where One Chapter Ends, And Another One Begins – Book-themed cake
80) It's The Perfect Time To Live Out Your Bucket List – bucket list-themed cake
81) Sit Back, Relax and Enjoy – hammock/ lounge seats themed cake
Retirement Cake Sayings For Yourself (the retiree)
As a retiree, you want to go out with a bang and treat your co-workers at the office or guests at your retirement party with a delicious retirement cake. And these retirement sayings below are great to put on your retirement cake.
82) Retired and Living Happily Ever After
83) Hi-Ho, Hi-Ho, It's Off The Work No Mo
84) I'm Retired. If You Want To Talk, You'll Be Charged A Consulting Fee
85) I Thought I Retired, But Now I Just Work For My Wife
86) I'm Not Retired. I'm A Professional Grandma/ Grandpa
87) Retired: Not My Problem Anymore
88) I Don't Have To, I Don't Want To, You Can't Make Me. I'm Retired
89) Cheers To No More Traffic Jams – traffic-themed cake or Cheers-themed cake
90) I'm Outta Here
91) Thank God It's Friday Everyday Now!
92) Retirement Rocks! – rock & roll-themed cake
93) I Won't Be Back – Terminator-themed cake
94) The Fun Can Begin!
95) I Worked My Whole Life For This Cake
96) This Is It
97) Hitting The Road
98) I Gotta Get Out Of This Place
99) Yes, I'm Free
100) Bye, Felicia
Recommended Articles
The following articles are helpful for you to read as well: